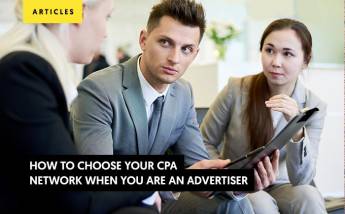 Advertisers: How To Choose Your CPA Network
When we talk about affiliate marketing, we often focus on the role of the affiliates who is central to the affiliation process. But how does it work when you are an advertiser? Above all, how do you choose the CPA network(s) to work with?
Here is an article that can help you to make the good choice of CPA network and therefore, to optimize your digital presence as much as possible.
How do you become an advertiser?
First things first, let's be a little semantic. An advertiser is a company that has a product (to sell, to download, or to subscribe to) and relies on others to advertise it for them. They're looking for users to acquire their product, which is why they trust publishers to manage the ad and bring high quality traffic to the offers. Advertisers have to set some rules on how offers can be promoted regarding traffic allowed, ads used, and how it's gonna be promoted. Then, it's up to the publishers to develop traffic that best meets the needs of the advertiser, and thus increases maximum conversions.
Between publishers and advertisers is the affiliate program which it secures and facilitates the relationship and the transactions between the two parties. As an advertiser, after choosing the CPA network and concluding the financial conditions with it, you will support to your account manager to put your offers into the platform. If the publishers are interested in one of your offer, they can suggest promoting your product. We will come back to this point later on.
Advertising spaces, when approved manually or automatically, will receive the affiliate link which includes the so-called ID of the advertising space and of the publisher, information about the offer. When the offer is published, you should make verification of the orders which were made through affiliate links. If the order was actually made through the publisher's affiliate link and all conditions were fulfilled, you should approve it and the publisher will get his payout displayed in his profile.
Affiliate network is the best way to increase digital revenue
How can advertisers get profit from an affiliate network ? First of all, keep in mind that with this type of network, you can have access to hundreds of thousands of publishers who are either bloggers, media buyers, SEO or marketing specialists. Publishers are determined to earn money and the level of their income depends only on themselves. That is why they desperately want to attract as many purchasers possible to your offer. This is where advantages for advertisers arise.
Indeed, publishers will do most of the job - which means caring about expenses on attraction and advertising campaign, dealing with several separate agencies on SMM, bloggers, content and so on. To put it simply, you just publish your offer and those specialists propose their services on your conditions in order for you to increase your revenue.
Also, CPA model is undoubtedly advantageous for advertisers since you pay not for clicks or views but only for targeted actions. In this particular model, the advertiser only pays when the action takes place. Unlike other marketing tactics where you pay to advertise your brand with no guarantee of sales, CPA marketing allows you to only pay after the sale occurs at a rate you determine.
Key ideas to keep in mind when you choose an affiliate network
There are a lot of affiliate networks. But if you are looking for an efficient cooperation, you must look after several things:

Traffic volume.
The more publishers, the more the affiliate network could generate traffic, and so, make more sales of your offer. Feel free to ask them about their most successful cases - many CPA networks don't mind sharing their success.
However, quantity doesn't always means quality. Make sure publishers are strongly selected by the CPA network to bring high-qualified traffic on your website. Furthermore, make sure that the affiliate network uses an anti-fraud solution, fraud is still a major scourge in affiliate marketing and the CPA network needs to guarantee your e-reputation.

Terms and conditions.
It is mandatory to understand clearly who pays who and for what, how the results will be tracked, which activity is required from the actors of the advertising process, as a result of communication with the representative of an affiliate network. Ask for feedback and run away from networks who are telling you that business will take care of itself!

Reputation and transparency.
How many advertisers and publishers work with this CPA network, which companies work with this network,… those are the things you need to see when you are interested in affiliate programs. Transparency and reputation are essential, and if you want to be sure, look at the references of the CPA network. The better are the names of the other advertisers, the more qualified the CPA network could be.

Feedback from your partners.
The ability to contact each other helps build a long-term business relationship. Therefore, advertisers and affiliate networks must communicate with each other to make decisions about traffic quality, or simply to have recommendations on the offers description. As such, the trust you place in your account manager is central in the choice of a CPA network. The account manager will be your main partner to your success. He must accompany you in the use of the platform and has to advise you when needed. Using affiliate networks can sometimes cut down on marketing costs, as advertisers tend to have less need to spend big budgets on advertising elsewhere.

Statistics.
The numbers don't lie. Data reports from the CPA platform should show all information needed on traffic: traffic sources, conversion rate, cost per click and many other indicators. This will be very helpful to help you increase your performance. Information in the offer review in the catalogue of affiliate programs is constantly updated and is an aggregated indicator that helps both publishers and advertisers. As such, we think that a real-time monitoring of results is a good indicator of the quality of a CPA network. That's why lemonads works hard to update as soon as possible its in-house and advanced reports tab.

Competitors.
Avoiding affiliate networks used by competitors in order to reduce competition can be viewed as a mistake. You should search actively for the networks in which most competitors are present. Where competitors are present, you are more likely to find the most relevant publishers to your industry.
How to prepare a contract with a CPA network
Now that you have all the tools to choose well your network, think about the brief, which is the basis of an advertiser's work in the affiliate marketing. The more detailed it will be, the easier it will be for you, publishers and affiliate programs to work together on your offer. There is an unwritten rule in affiliate marketing that says, "the implementation depends fully on which requirements you specify".
Pricing model. As you all know, the core model of the affiliate marketing is CPA (Cost per Action). There are three main types of target actions which are paid for by advertisers:
CPS (Cost per Sale) — where an advertiser pays for a purchase made by a customer. It is the most popular pricing model in affiliate marketing.
CPL (Cost per Lead) — where an advertiser pays for attracted user who signed up in the service, completed a questionnaire or an application for some service.
CPI (Cost per Install) — where an advertiser pays for mobile app or game installation.
Rate. The commission rate depends on the margin, the target action type, the category of goods & services, the allowed traffic source and can be formed in different ways. If your company is present in several countries, you can set different rates for each of them. By doing so, you will stimulate the weakest markets and strengthen your position where it is already stable. Therefore, if you are planning to place offers in several affiliate networks, do not set different rates in each of them. Publishers can work with different affiliate networks, and they tend to choose offers where the rate is higher. This will give you a distorted idea of the affiliate network and quality of your offer.
Sales volume. If you set the commission rate which depends on the volume of sales generated by publishers (bonus system), it will be also a good way of stimulating activity. It can be applied after the first launch of offer has been implemented and you have already collected and analysed statistics.
Fixed sum of payment. In CPL and CPI models, you can set a fixed sum of payment. It happens because it is rather difficult to foresee future revenues from these clients. This is where you can set different rates for different product categories. Choose the rates in accordance with margin, average goods price, as well as the sales plan.
Direct competitors. If you set the rate too low, the publisher who is working with your product category will change and work with your competitors. But the lowest rate is not a competition : you can attract publishers by fast verification, bonus programs, etc.
Rewards. For example, if you sell luxury articles, and only watches participate in the affiliate marketing program, publishers won't be thrilled by selling different type of products and receiving a reward only for one. It is fair to reward publishers for each category, even if they differ.
Cookies. Cookies "sticks" to the user and follows him while he is on Internet to help him remember passwords or his last search queries. They also track which affiliate link a customer used to come to the advertiser's website. Affiliate networks use "Last Cookie Wins" model when action attributes to the publisher whose cookie was attached last.
Contract type. It depends if you choose a general or exclusive contract. The latter means the advertiser cannot work with other networks. It provides more profitable finance conditions and additional bonuses which motivates to promote the offers of this advertiser.
Keep in mind that your offer is a proposal which you make to a publisher. Before publishers start "selling" your offer, you should "sell" your offer to them. You can provide as much information about your offer as you want, but the more information you give, the easier it is for a publisher to promote your product and to define your target audience.  When your offer is posted, you will need to wait for at least three months before judging the quality of the network.
The first month will be spent on the time when you provide all necessary information and your manager post it in the section "All programs". Thus, the network sends emails to all publishers to attract them to your offer. It is the time when publishers start joining the program and try different business models and advertisers start getting first money.
The second month is the time when active sales begin
The third month is when the advertising campaign should get to the point where you can upload the statistics and estimate the efficiency of order-

To sum it up, an affiliate network can be a very effective tool of expansion and sales stimulation for advertisers. Even if you do not know the publishers personally, you know that you are working as a team and publishers know that their earnings are your income.  But, you should also remember that the popularity of your offer among the publishers depends on how much information you provide and how fast you give them feedback.
To find out more, feel free to visit our dedicated page for advertisers.
Accelerate your Conversions, Increase your Revenue
with lemonads
---
You would like