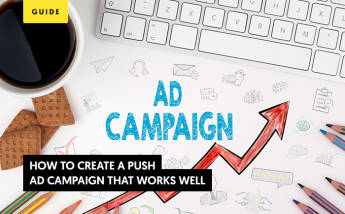 How to create a push ad campaign that works well
Advertisers have many ways of growing their traffic. Running push campaigns is one of them. Push ads are short and clickable messages sent by a website to a base of subscribers. They look similar to push notifications only they're sent from websites (not apps) and can be sent on mobile or desktop.
In this section, we'll talk about the function of push campaigns. After having a look at the creative part (how the ad should look like -color associations, text, and images) we will consider the technical part: frequency, targeting, and testing. We'll give you some advice on how to optimize your push ads campaigns to boost traffic and conversion.
Why choose push campaigns?
Advertisers explore various marketing channels to grow and engage their traffic. Social media, email marketing, or SMS are other channels they can use to reach new visitors. However, they all serve different purposes.
Website Push campaigns
Push ad campaigns are different from mobile app push notifications. They are not limited to mobile devices and aren't delivered by apps but by websites. They look the same and deliver messages in real-time thus generating a high response rate. They're less intrusive than text messages because they don't require personal information to be sent out.
Push ad notification campaigns to have this unique way of delivering real-time information to internet users. They also don't require any app building, therefore, allow advertisers to save a lot of money. Overall website push campaigns (or push ads) are an important channel for various kinds of websites since it gives them instant communication on both desktop and mobile devices.
How to create effective and profitable push campaigns
Now that you've found out where the push ad fits in the marketing scheme. Let's take a look at how you can create effective and profitable push ads. We'll tackle the creative part along with the more technical aspects of push marketing like targeting and tracking.
Finding traffic sources
Push ads are not randomly delivered to internet users. Those users are part of a network's database once they have gone through the process of allowing push ad notifications.
Any website can choose to monetize their traffic by asking the user to allow or not push notification. It's quick and very simple. Whenever the user is browsing, they will get a small pop-up at the top of their screen asking them if they'd like to allow push notifications. If they do, then all they have to do is click yes, they're instantly registered by the push ads network without further information. If they don't then the pop-up disappears and that's it.
It doesn't even disrupt the user experience as it's not a huge in-your-face pop-up.
Networks collect their users from publishers who own websites. If you'd like to know how it works we've got you covered with an article all about push ad networks for you to read. In this article, you'll also find out how to find a suitable network to match your needs to the right traffic sources.
Creating an award-winning ad
Push ads are essentially one image, one title, and one text. Choose your words and creatives wisely and you'll reach conversion every time. Let's see what are the best practices you can use.
Title and body of the push ad
Both the title and the body are limited in characters which leaves no room for mistakes if you want your ad to be effective. Put yourself in the shoes of the recipient of the push message keeping in mind that your goal is for them to click. If you don't offer value to the recipient there's a great chance they won't click on your ad. Here's a list of do's and don'ts to enlighten you:
Be unequivocally clear in your message: vague messages are not the way to go with push ads. Patient customers don't run the streets nowadays, they don't want to give time to try and understand what you're saying. Write simple, basic sentences and clearly state what it's about.
Depending on your platform you will get different character limits for your copy (40 to 120 characters). Identify your key value proposition and place it at the beginning of your copy. Users must understand what it's about in just a glimpse.
Use FOMO (fear of missing out) to create need and urgency. When the number of products or the redemption time is reduced, customers are more likely to line up to buy. Look at those pizza or cronut places that only offer a limited number of items a day to preserve ingredients' freshness. They're always full and the line attracts even more people.
Don't use Clickbait. Disappointing your audience is not what you want to do. They won't remember it if you offer something they don't need but chances are they will remember if you clickbait them with something exciting and don't end up giving them. Also, since push ads work on the CPC model it would be a shame to pay for hundreds of clicks and get 0 conversions.
Push campaigns' image
The image is the first thing your eye is drawn to in such a format. For that reason, it should be simple and eye-catching at the same time. Since it's quite small there's no room for getting into details with it, try and avoid mixing image and text as it will not be readable.
Colors matter
They are already associated with items in our heads. According to the digital synopsis "Red encourages appetite, blue provides a sense of security, green stimulates harmony, orange promotes enthusiasm, purple is associated with royalty…". They also are coded and seasonal: red and green for Christmas, all black for black Friday, pastel colors for Easter, pink for all things beauty-related.
Icons
Icons are proven effective, they can represent your message and/ or even be funny.  Try to not use the same ones over and over again otherwise, it will get boring for the recipients of your ads. Try to incorporate some fun!
Emojis
Emojis are always a good idea to catch your customers' eyes. They make the customer feel on the same level as the company, therefore, making brands more human and reliable. However, they should be picked out carefully and not appear in the copy but rather as the image or in the title to maximize results. If you want to know more about how emojis increase CTR here's an article from Semrush that's super interesting.
According to Hubspot here are the top-performing emojis to encourage Click-Through
You need a set of several catchy images to switch things up a bit during your campaign. Maybe test out 10 of them and keep the 5 best ones to rotate. By doing so you will prevent your customers from getting bored with your campaigns.
One quick way to find creatives that are proven to work in your competitive landscape is to check them out thanks to a spying tool. It will give you some inspiration for your push campaigns.
Minding marketing pressure
Frequency
To keep push notification the way it is: a high engagement communication channel, you must be careful with the frequency of your push campaigns.
Where to draw the line is quite hard to tell at this stage but your network will give you the tools to find out what the best frequency is for your audience. Monitoring your click rates, bounce rates, and opt-outs after each campaign you should have enough data to adjust your frequency and not drown your customers.
Targeting
One other way to prevent your customers from drowning in ad fatigue is targeting. Once they've opted out there's no way to get them back. Unlike with emails, you can't provide several options for them to feel more at ease or understand why they've unsubscribed. You can't go fishing them back.
Nowadays, personalized messages are the only way to go if you want to run effective marketing campaigns. With push traffic, you can't go into personalized messages with names or interests since you don't have that kind of information. However, you can target devices, geos, and timeframes.
There are 4 types of targeting options:
Testing and Optimizing push campaigns
Timing
Timing is such an important part of push advertising since they are by nature an immediate ad format requiring an instant response from the user. Depending on the nature of your message they won't be as reactive if they're working or sleeping. Try and monitor time zones when you run push ad campaigns around the globe. If they don't receive your message at an appropriate time they will most likely ignore it.
It requires some thinking and effort but it's what makes it more personalized for the user.
Try and put yourself in their shoes and think about what you're trying to sell them. There's a time for everything, you don't want to send out gambling ads on Monday mornings or a promotional message at 3 in the morning. Subscribers will be more reactive if the timing suits them. Of course, you can try and target night owls with your latest offer on laser removal but it won't pay off as much.
Tracking and Learning from tests
Analyzing your work is the best way to find the formula for successful push campaigns. While the click rate provides the information on how many people clicked on your notification there are other metrics you can follow to assess performance. Clicks are important because they lead to conversion but the best way to understand your customers' behavior is to tag your notification with the proper UTM parameter. It will allow you to read the data on Google Analytics and find out how much time people are spending on your landing page, which of them are visiting your websites, and how many are converting.
Bounce rates and opt-outs counts are usually useful to tell if your customers are disappointed in the ad or on the contrary if it lived up to their expectations. They may not have converted this time around but it doesn't mean they won't next time!
Optimization
Networks usually provide the tools for you to analyze the data in the process of running your push ad campaign. By observing the data you can replace creatives, make your targeting more precise, and change other parameters.
Here are some steps you can take to optimize your campaign while it's running:
Check your Ad Rank 1h after launching your campaign
Thanks to Ad Rank you can find out if your ad will be shown to users or not. If you check it soon enough you can fix it by changing your creative or CPC.
Your ad Rank can indicate either "HIGH", "MEDIUM" or "LOW".
If your ad rank is "HIGH" then you're fine if it's "MEDIUM" it means your campaign is not getting much traffic, if it's LOW then it's kicked out of the bidding.
Check your Win Rate right after your campaign starts
Win Rate will show you how you rank in the bidding.
The more impressions you get the more bids you win. If your Win Rate is low you can increase CPC.
Assess your creatives' performances
It's best to determine the push notification and landing pages that convert the best at the beginning of your campaign. Some push ad networks allow you to A/B test several sets of ads and landing pages to test them out.
Check out CTR to evaluate the effectiveness of your creative, the higher it gets the better. To assess your landing page, you can look at your conversion rate.
Your A/B test can be one day or one hour, all you need is a significant amount of data to ensure that the relationship you've found is not random.
Switch targeting by devices
If you're running your campaign on both mobile and desktop you can see which one is working the best. Maybe your landing page is not adapted for mobile and you can either change it or deactivate it.
The same applies to different OS or browsers that could be outdated.
Turn off non-pertinent traffic sources
To optimize the cost of conversion you can follow the performance of the different traffic sources you're using and turn off the ones that don't convert (or the ones which are too expensive).
Create a push ad campaign conclusion
When preparing your push ad campaign you have to be mindful of every detail. From the color of the image to the targeting it's important to find what will appeal to your customer.
Your push ad network should provide you with some great tools to target the right audience. Ideal frequency and timing will be clearer after a few trials but it's important not to pressure your customer too much. Keep in mind the push ad format is non-intrusive and should be used as such. Once the campaign is launched it's crucial to be very quick at monitoring results and take actions to optimize the cost of conversion and the effectiveness of your campaigns.
Accelerate your Conversions, Increase your Revenue
with lemonads
---
You would like