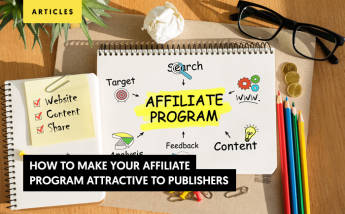 How to Make Your Affiliate Program Attractive to Publishers (Guide 2022 for Advertisers)
Even after accounting for the economic backlash of the global COVID-19 health crisis, the digital marketing industry generated more than 320 billion US dollars in 2020. That number is set to increase by more than 10% every year until 2027, when the industry will be worth approximately $640 billion. Affiliate advertising is responsible for generating about 15% of the industry's total revenue, so these marketers will produce close to $96 billion by 2027.
The statistics above are indicators that the affiliate marketing industry is here to stay. As a matter of fact, this form of digital marketing ensures that advertisers only pay when they get results, so these businesses get more bang for their buck. However, advertising companies also have to figure out how to develop a superb affiliate program in order to attract the best affiliates, which in turn will produce the highest-quality customers.
At lemonads, we've worked with some of the top advertisers in multiple industries, so we have an in-depth understanding of the elements that make up a great affiliate program. Below, we'll go over the definition of an affiliate program, explain the role that publishers play in the ecosystem, and give you tips on making your affiliate program more attractive for publishers.
What Are Affiliate Programs?
Before delving deeper into the tips to attract more qualified marketers, let's go over the definition of an affiliate program. In simple terms, affiliate programs are designed by companies that want to work with third-party marketers known as affiliates in order to achieve a specific goal.
An affiliate program contains all the information that marketers need to participate in an advertiser's marketing scheme. This means that it includes details about the users you want to target, like their location, age, gender, interests, and device type. Additionally, the program should also include any resources you've developed for your publishers, like landing pages, logos, and other materials they can use in their campaigns.
Keep in mind that the objectives may vary from one program to the other, but they usually revolve around increasing sales or establishing a better brand identity.
It's believed that more than 81% of companies use affiliate marketing because this approach is performance-based, which means that advertisers only pay after users have completed a certain action. This can be as easy as simply viewing an ad or as complex as making a purchase and confirming that the product was received.
Explaining the Publisher's Role
Publishers are one of the marketing specialists that can participate in your affiliate programs, but not all of these affiliates are the same. The type and quality of the traffic generated by publishers can vary tremendously, so you need to understand the role that these marketers play in order to choose the best provider.
A publisher is tasked with generating traffic (digital visitors that use either desktop or mobile devices), showing ads to these users to produce impressions, and ensuring that part of these impressions turn into either leads or customers.
While the publisher's role may be simple to understand, crafting engaging content and ensuring that the ads produce the right results is not easy, especially given the short attention span of modern consumers. As a general rule of thumb, publishers that produce the best content tend to attract more engaged users, which are more receptive and have a higher chance of becoming paying customers.
For this reason, advertisers need to work with the best publishers and make sure that only the top platform owners participate in their programs.
How to Make Your Affiliate Program Attractive to Publishers
Now that we've gone over the definition of an affiliate program and the importance of choosing the best publisher, it's time to go over the tips to help you attract better affiliates.
In order to develop affiliate programs that attract reliable publishers, you have to:
Compare Your Commission Rates to the Leading Competitors
It's common for the top publishers to develop content for topics they are passionate about, but the main goal of any affiliate is to make money. Besides looking for brands that their audiences will relate to, publishers also try to work with the companies that have the best commission rates.
Commissions are relative, so what makes a great payout in one industry may not be so good in another. Therefore, you need to do your homework and research the leading competitors to figure out how high their commission rates are.
You should make sure that your commission rates are competitive enough to garner attention from the top publishers. That said, if you don't have the capacity to match the leaders' commission rates, you should set this as one of your short-term goals.
Analyze the Competition and Learn from Their Campaigns
Besides their commission rates, you should also analyze competitors and learn from their programs. Remember, these programs contain details like the locations being targeted, the type of product or service being promoted, the constitutes a conversion, the types of ad allowed, potential traffic sources, and other pieces of information.
There's a reason why the leading programs attract the best publishers. So, you should go beyond the financial aspect and figure out what else is making publishers flock to the leading advertisers' programs. Just make sure to adjust these features according to the resources that you have available and set goals to catch up with the leading advertisers as soon as possible.
Collect and Display Performance Metrics
Although this tip is heavily geared towards ecommerce platforms, it actually applies to any advertiser that's developing an affiliate program. Instead of focusing on the program itself, leading publishers have also learned to look at the advertiser's website performance metrics before deciding if they should work with a company.
The idea behind this practice is that advertisers with the best performance metrics (ecommerce or otherwise) are more likely to engage digital users. So, if an advertiser's site has great performance metrics, the target audience will be more receptive to their branding and publishers will have an easier time generating conversions.
Keep in mind that not all publishers do this, but having your metrics ready can be useful if you want to work with the top publishing platform owners in your industry.
Be Flexible and Proactive
Despite the fact that many companies develop an affiliate program with the intention of following it rigorously, maintaining flexibility is crucial for advertisers that want to work with the top publishers. If you are open to publishers, give them a bit of flexibility when they request something, and proactively reward the best performers, you'll have a higher chance of partnering with marketers that generate high-quality leads.
Some of the steps you can take to show your flexibility and proactive nature are give the best affiliates higher commissions, help your marketers maintain good metrics, and provide crucial product information to publishers even when they don't request it.
Look the Part
This may sound like advice you'd give a person who's preparing for a work meeting, but you need to make sure that your company looks the part. This means that your brand must look like an attractive option for publishers, and in turn, the target audience.
All industries are different, so you need to evaluate your company and figure out how to portray a professional image. Some steps you may want to take include:
Make sure your website is functional and attractive
Review and update security certificates on your site
Proofread all written content and make sure that all images on your site are relevant
Promote an Attractive Product or Service
It doesn't matter how good a marketing campaign is, if a product is boring or unattractive, publishers won't be able to generate conversions for you. The best way to avoid this phenomenon is to choose a product or service that your target audience is actively interested in. Or, you can also promote solutions that improve the audience's life quality from a general perspective, but these goods are much harder to come by.
Inspire Credibility
It's important to note that inspiring credibility is not the same as making your company look good. To inspire credibility, you need to show visitors that your brand is registered with the right authorities and taking steps to create a safe environment for its digital visitors. In addition to security certificates, you should also adhere to GDPR rules and any other relevant regulations.
Keep a Close Eye on the Technical Elements
The technical elements of your program will also help determine what type of publishers you attract. By technical elements, we're referring to the conversion flow, type of commission, cookie duration, and similar variables. Again, there is no one-size-fits-all formula, so you need to figure out what the leaders in your industry are doing and create a tailored version for your program.
Provide Useful Resources to Your Publishers
Quality publishers already do a great job developing content, but the more resources you provide to them in your program, the more time they will invest into optimizing their campaigns. Therefore, you should provide as many resources as you can, including landing pages, basic ad copy, images, and other functional assets.
Explore Different Program Management Alternatives
All affiliate programs come with a certain degree of administrative and managerial responsibilities. From issuing payouts to reviewing publisher requests, you need to figure out how to manage your program without elevating your costs too much.
When it comes to managing an affiliate program, the two most popular choices are to appoint an in-house team to handle the administrative side and working with an affiliate network. Keeping your program in-house increases your level of control, but it can also represent a costly investment. Ad networks, on the other hand, can relieve pressure and ensure that your program runs smoothly. And, if you partner with the right provider, you won't have to relinquish control or worry about increasing your expenses too much.
Find Out More About Developing the Best Program for Your Affiliates
Building an affiliate program that attracts quality publishers isn't easy. But, focusing on getting top-notch publishers is one of the best ways to increase your chances of success.
If you're ready to learn more about developing the best affiliate program and working with a leading affiliate network, contact lemonads and our team will be glad to help.
Accelerate your Conversions, Increase your Revenue
with lemonads
---
You would like