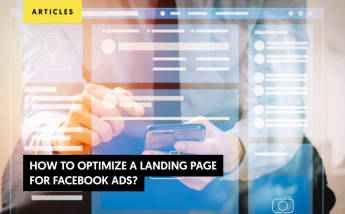 How to Optimize a Landing Page for Facebook Ads?
To be successful affiliates need to leverage every single resource they have available, including social media platforms like Facebook. As a matter of fact, Facebook Ads is a great way for marketers to connect with their audiences in a safe, fun, and engaging way. However, affiliates also need to ensure that all parts of their social paid campaign are generating better results, including every Facebook ad landing page being used.

If you are new to Facebook Ads, we invite you to watch this video.
Although creating and adjusting campaign landing pages is essential, not many affiliates have experience or practice when it comes to adjusting this content. At lemonads, we've partnered with countless affiliates and seen firsthand how optimizing a Facebook Ads landing page can improve the results you get.
Below, we'll go over the definition of Facebook ads landing pages and tell you why you need to build these for your campaign. We'll also go over tips on setting the right expectations and optimizing the landing pages for Facebook ads.
What Is a Facebook Ads Landing Page?
Before going any further, let's go over the definition of a Facebook Ads landing page. In simple terms, this is the page where users are directed to after clicking on your Facebook ad and it directly influences the steps that these people take after interacting with your content.
Facebook aims to create the best possible experience for its users, so the social media platform expects landing pages to be relevant to the ad. The landing page should represent the company running the ad, plus users also expect these pages to be secure and easy to understand. Note that Facebook actually has requirements that you need to adhere to, some of which cover the content on the landing pages you choose. Always keep these in mind when creating a Facebook campaign to make sure that your ads run without interruption.
Keep in mind that you can either use a standalone page located on an external site as a landing page, or you can also create a specialized tab in your Facebook business page.
Why Should You Include a Facebook Ads Landing Page?
Most seasoned affiliates are aware of the benefits of using landing pages, but these are actually a requirement for Facebook Ads. At the time of writing, Facebook did not allow marketers to promote direct affiliate links on their ads. This doesn't mean that you can't promote offers on the social network, but you need to get creative and invest time into developing quality landing pages that encourage users to convert.
Additionally, if you use a landing page you'll also reduce traffic to the actual offer page and ensure that only interested users see it. In the vast majority of cases, this improves every significant performance metric, including CTR, conversion rate, and bounce rate.
Setting Up Goals and Expectations for Your Facebook Ads
One of the most important things you need to remember is that not all Facebook ads have the same goal. There are many different ad formats affiliates can choose from, so you have to verify that the type of ads you run also align with the objective you're looking to achieve. Facebook ads convert almost 10% of the time, so they do a stellar job at engaging users and maintaining customer interest.
Every offer is different, so take a look at what counts as a conversion in order to figure out what your main goal should be. At the same time you should set up smaller goals, like launching the campaign or optimizing your ads every few weeks, that help you monitor and track your progress.
While the smaller objective may vary, there are usually three main goals that companies want to achieve, which are to:
Improve Branding and Company Reputation
In most cases, advertisers try to do more than simply building brand awareness. However, it's not uncommon to find offers where advertisers only want to improve branding and company reputation. You'll still need to collect information or verify each interaction somehow, but these tend to have a simpler conversion than other types of ads.
Changing the way consumers perceive a brand is very different than generating sales. Facebook ads are a great way to mold people's mindset, but you have to produce brand-boosting content and leverage the platform to your advantage.
Collect Contact Information and Produce Leads
Producing leads is one of the most common goals for any affiliate campaign. Unlike branding and reputation improvement campaigns, lead generation ads tend to be more direct and they often attempt to convince users to leave a name, email address, and other pieces of information required for a conversion.
An effective landing page for a lead generation campaign needs to be user-friendly, attractive, and functional. In addition to traditional design elements, you should also include contact forms when necessary and CTAs strategically placed to encourage users to take advantage of the offer.
Generate Sales Immediately
Finally, many advertisers develop affiliate offers that aim to produce direct sales. The type of product, price range, and audience vary tremendously, but all direct sales campaigns are suitable for a more direct approach. Affiliates may not be able to promote a direct link, but they can always develop landing pages that are clearly designed to help users complete a purchase.
How to Optimize Your Landing Pages for Facebook Ads
Now that we've covered the basics, it's time to go over the tips to optimize your landing pages for Facebook ads. Remember, every one of your creatives should have a dedicated Facebook ads landing page, so you need to set time aside to go through this process.
Let's go over 6 tips to create a better Facebook ad landing page.
1. Always Rely on Your Analytics Data
Optimizing your landing page is about improving its performance, so you need to install a tracker, collect enough information, and analyze the data you have available. You should always make decisions based on your analytics data rather than your gut or personal preference because users dictate the success of your campaign.
2. Find a Reliable Landing Page Builder
The first thing that users notice when they go onto your landing page is its design and color scheme. However, the design part is directly influenced by the landing page builder you choose.
Most affiliates don't have experience coding, so a landing page builder is a great way to develop a lot of different pages at a great price. That said, you need to partner with a reliable provider that gives you the tools to develop engaging and attractive pages that load quickly and work properly.
3. Run A/B Testing
Unfortunately, your landing page design is subjective, which means that the only way to find the best combination is to evaluate what your audience likes. The best way to do this is to conduct A/B testing and make a decision based on your results. But, remember to wait until you have statistically significant data before making any adjustments.
Additionally, it's important to start by testing bigger variables like color schemes, headings, and images. Once you've identified a good base design, you can work on tweaking smaller variables, such as the headers, font, and CTA text. Consumer preferences are constantly changing, so remember to run periodic tests in order to verify that your content and overall approach remain effective over time.
4. Develop Valuable and Relevant Content
Facebook users are usually not looking for a product or service when they come across an ad they like. So, if a user does click on an ad, this person doesn't necessarily want to see salesy content right off the bat.
Most people in the scenario above want to learn more about the product or service featured in the ad before they even think about buying it, so developing high-quality pieces of content that deliver valuable information can improve the performance of your landing pages. In case you feel like you've already done this, you should use a heatmap and analyze bounce rates to determine whether your audience agrees.
5. Be Clear About the Upcoming Offer Page
Your landing page for Facebook Ads serves a similar purpose to a pre-lander in a regular affiliate campaign. Not only should your landing page discuss the product or service in great detail, but it should also clearly tell users what to expect next when clicking on the offer link. This will help ensure that only interested users see the offer page, which can exponentially improve conversion rates.
6. Optimize Smaller, Yet Important Variables
Dozens of different variables affect the user experience of your landing page. Each one of these variables may not be as impactful as the page design itself, but together they heavily influence the way users feel about your site.
Some of the small variables you need to keep an eye out for include:
Title and Headers
The title of your landing page is one of the first things users see when accessing your page, so it affects the perception your visitors have right away. You need to experiment with different lengths, wording, and formats to find the best alternative. The same concept can be applied to all the headers on the page, so make sure to test out a few different styles until you hit the sweet spot.
URL
Many affiliates don't realize this, but the URL of a site directly affects how users feel about it. Some users have actually learned to trust long, unreadable, or otherwise complex web addresses due to negative experiences in the past. Instead of opting for an obscure URL, always select relevant and user-friendly web addresses that instill confidence in your audience.
Intersite Linking
It may seem irrelevant, but having strategically-placed intersite links can make visitors feel more comfortable while also giving your Facebook ads landing page more credibility. Remember, you don't want to draw attention away from the offer itself, but letting users access your platform's contact page is always a good idea because it makes them feel safe.
Code and Other Technical Elements
Slow loading times, elements that aren't functional, and similar issues are usually due to a coding error. Testing your entire site may take time, but you can always use an automated website checker to examine your site quickly. These platforms can also help you spot technical errors that aren't directly related to your code, like server errors that need to be addressed by your hosting provider.
Calls-to-Action (CTAs)
Your CTAs should tell users what actions you want them to take, but the actual text you use is not the only variable you can change. You can try out different CTA button colors, shapes, and locations to determine which one works best.

Continue reading by finding out how to optimize your ROAS from your Facebook Ads.

Ready to Develop a Killer Landing Page? Contact lemonads Today
Building a superb landing page for Facebook ads can be challenging, but this practice can improve the overalls results you get. If you want to learn more about developing the best affiliate marketing social media campaigns, follow our blog or contact us today and we'll be glad to help.
Accelerate your Conversions, Increase your Revenue
with lemonads
---
You would like