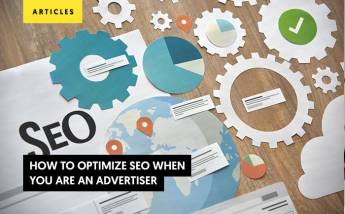 How to optimize SEO when you are an advertiser?
Just like a physical shop, any merchant site must be able to attract visitors in order to transform them into customers and thus ensure the marketing of its products.
While there are many ways to capture traffic on an online store site, the royal road remains natural traffic, also known as organic traffic, resulting from the referencing of its web pages on Internet search engines such as Google.
In this article, we come back to the nature and potential of organic traffic for an e-merchant in order to guide you and advise you on the SEO actions you can implement to take full advantage of its power.
What do we really mean by organic traffic?
If one asks what is organic traffic, most web marketing professionals and especially SEO experts will answer unanimously and rightly that it is visitors from search engines. On this generic definition, we will add a few clarifications:
Search engines such as Google generally offer 2 types of implementations of the pages and sites indexed in them. Thus, when you type a query in a search engine, the result page will offer both sponsored results (paid and monetized on a cost-per-click model) and natural results that theoretically depend on the relevance of your web pages. In the case of Google, the sponsored results can be differentiated from the natural results by the discreet affixing of the mention "Advertisement". This distinction can sometimes be confusing and in the SEO logic, when we talk about organic traffic, it is to refer to non-sponsored traffic from search engines. Not to be confused with sponsored traffic (SEA) which can sometimes be called "paid organic traffic".
The notion of organic traffic also refers to a statistical analysis of websites that can be found, for example, on the measurement tool "Google Analytics". In this sense, it is important to specify that organic traffic is measured in terms of unique visitors and not the number of pages viewed. Thus, if you capture 10 visitors coming from the natural results of a search engine and that they each visit 3 pages of your site, you will obtain in statistics an organic traffic of 10 visitors for 30 pages viewed.
Why should you maximize the organic traffic of your e-commerce site by developing your SEO?
Let's be clear, search engines are unavoidable for 100% of Internet users, so it is a vital communication space for any professional with a commercial activity on the web. Their impact on the success of an e-merchant site is at many levels:
Notoriety.
Visibility.
Credibility.
Image.
Qualified lead generation.
Turnover development.
But in order for your e-commerce business to fully benefit from the organic traffic from search engines, you must have several objectives in common:
Index a maximum of my pages in search engines (SERP's).
Cover a maximum of affinity keywords and related to my activity and my products.
Cover the keywords with the highest traffic potential.
Cover the most qualified keywords about my activity and my products.
Get the best positions in the search results on the related keywords of my activity.
All the SEO work will aim at optimizing your site and its content to maximize the achievement of these different objectives. In this sense, there are 2 types of SEO strategies that must be carried out simultaneously:
The SEO strategy of positioning on the "star" keywords of your business: this involves positioning your pages on the generic keywords with the highest traffic potential on your business. This type of keywords are generally short queries composed of 1 to 3 words and for which search engines record a very large number of monthly searches. These "star" keywords are limited in number and rarely exceed a dozen different queries. By nature, this typology of keywords is very competitive, meaning that most of your competitors are also looking to position themselves on it, so you will have to produce a great deal of SEO effort and therefore a significant financial investment to be able to conquer them and appear on the first page of results. Getting back on these keywords has benefits on two levels: on the one hand, you will capture a large number of moderately qualified visitors who will ensure a good development of your turnover, on the other hand it will give you notoriety and image since you will be identified as one of the leaders in the activity concerned. Nevertheless, it should be noted that this is a medium qualified traffic which, if it presents a consequent transformation rate, may also increase the bounce rate of your site (the bounce rate corresponds to the percentages of visitors redirected to your site who will not perform any action on the page and will come out of it immediately. A high bounce rate is in the long run harmful for the whole of your website's referencing).
The SEO strategy for positioning on the "long tail" keywords of your business: this strategy can be summed up with the well-known expression "it is with small streams that great rivers are made". In fact, here you must aim for a positioning on a very large number of complex requests (several hundreds or even several thousands). These complex requests are made up of several consecutive words (in the order of 4 to 10 words) and can take the form of a sentence or a question. They are hyper-qualified queries about your products and their characteristics. If from a unitary point of view these queries have a low traffic potential, they also have an excellent transformation rate and are generally not very competitive. It will therefore be easier to position your pages in the search engines on the results to which they correspond and it is by multiplying them that you will be able to maximize the volume of traffic generated. This work of the ant gives you a low bounce rate and a good indexing on this type of queries theoretically offers a greater stability of your positions over time compared to indexing on "star" queries.
Where to place your SEO efforts according to your type of merchant advertiser?
Not every merchant site is based on the same business model, these differences in operation intrinsic to each advertiser's business lead to specificities that have a direct impact on the SEO strategy to be implemented. In order to have a synoptic vision of the different SEO actions to implement, we will define 3 main types of online merchants:
SEO priorities for an e-merchant retailer
By nature, an e-merchant positioned on the resale of products offers a large and constantly changing catalogue. That is to say that the products offered for sale are regularly updated with exits (products removed from the site) and entries (new products offered). From an SEO point of view, this implies ephemeral product pages, so it will not be strategically interesting to capitalize on their indexing since they are doomed to disappear.
It will therefore be necessary to maximise the indexing work on the pages of the different levels of categories and sub-categories, which are sustainable over time. For these pages, this will result in a major effort to produce consistent SEO optimized content supported by a strategy of netlinking (external links pointing to these pages with an optimized affinity anchor from sites of related themes with if possible a good index of popularity called "Trust Flow") and internal networking (internal links of your site, if possible to be organized in a funnel method called "silos" and aiming to feed the pages of higher level by integrated links on optimized anchors from lower level pages).
The product pages, if they do not deserve an effort or financial investment on the optimization of their content, should not be neglected, because they are likely to be indexed in Google's SERPs. Thus, for each product removed from the site, i.e. a product page that disappears, it will be necessary to ensure that a redirection in 301 protocol is implemented in order to keep the benefits of its indexing and maintain its position.
SEO priorities for an e-merchant producing products
An e-merchant site that manufactures the products offered for sale will generally offer a reduced and stable range of products over time. Thus, in addition to making a special effort to SEO optimization of category pages, it will also be interesting to capitalize on the indexing of product pages whose content and netlinking will also be optimized for SEO.
SEO Priorities for a Fee-Based Service Provider
The provision of paid services on the Internet can take different forms: online subscription, direct one-shot purchase, request for quotation, capture of contact details of interested prospects, etc.
Whatever the business model of the fee-based service provider, one technical element is common to all these players: the form. Whatever the type of implementation, these service sales sites will be based on the correct filling of a form by the Internet user. These "form" pages on which the rate of transformation of SEO traffic will be judged are generally optimised in terms of neuroergonomics, which limits the amount of text that can be implemented on them. Thus, from an SEO point of view, the effort will focus on the development of related pages that can be implemented on a "blog" or "news" or " files " space and it is on these same pages that the bulk of the SEO effort will be focused in terms of content production. Through internal networking, it is these related pages that will give power to the "form" pages. It will therefore be necessary to produce consistent, SEO-optimized and quality content on a regular basis to maximize the number of related pages.
Tips for not generating your own SEO competition
The goal of SEO is to make your site attractive to search engines so that they index your pages as well as possible, but as everything has its opposite, bad practices can lead search engines to depreciate your site by applying a penalty system.
One of the behaviors most penalized by search engines, especially by Google, is duplicate content, that is to say the fact of having pages containing content similar to that which can be found on other web pages. Thus, in case of duplicate content search engines will apply penalties ranging from a de-indexation of the page concerned to a complete blacklisting of your site. For any e-merchant, a site blacklisting is clearly a disaster and it will be very difficult and long afterwards to get back in the good graces of the search engines. It is therefore necessary to avoid at all costs any situation of duplicate content.
Unfortunately, it is not enough to simply make sure you implement unique content on your pages. Indeed, the technical structure of your site can unintentionally create cases of duplicate content without your knowledge. Depending on the technology of your site, especially that of the market's leading CMS, the simple fact of assigning the same page to several categories can create a situation of duplication by duplicating your page under 2 different URLs and thus place you in a situation where you have 2 identical pages on your site cohabitating and competing in the eyes of the search engines.
It is therefore imperative to have a full knowledge of the technical architecture of your site and its techniques for classifying and implementing pages. In case your site generates duplicate pages, you can refer to the robot.txt file to guide search engines and avoid duplicate content.
This problem of duplicated content also applies to other websites. Unfortunately, there is no chronological notion or property of a content, search engines will consider that a duplicated content belongs to the most powerful site having implemented it and not the one who is the real owner. Thus, a site with a better popularity index than yours and a greater power could steal your content and benefit from it where the engine would consider that you are at the origin of the plagiarism and penalize you. Fortunately, there are many monitoring tools available that allow you to detect duplicate content situations.
What to remember about this article :
Organic traffic is traffic from search engines.
Organic traffic helps develop brand awareness, image and revenue. It is a qualified traffic offering a good transformation rate.
Your SEO must target the keywords "stars" of your business as well as a multiplicity of "long tail" requests.
The SEO optimization strategy allows you to develop your organic traffic, but it must be thought and adapted according to your type of e-merchant.
You must absolutely avoid any collateral effects due to duplicate content issues.
Accelerate your Conversions, Increase your Revenue
with lemonads
---
You would like