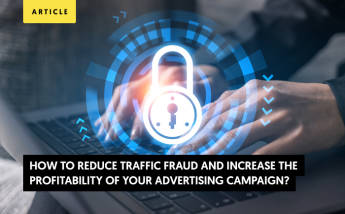 How to Reduce Traffic Fraud and Increase the Profitability of Your Advertising Campaign
Fraudulent traffic cost advertisers a whopping 42 billion US dollars in 2019 and that number can increase to a staggering $100 billion by the end of 2023. Put simply, ad fraud is a monumental obstacle that 69% of marketers view as a major threat to their marketing budget. However, many affiliates are not aware of these deceptive practices and how they work, when can explain why their campaigns keep underperforming despite having good metrics.
If left unattended, ad fraud can drain your budget without producing any revenue while still producing positive metrics, at least on the surface. Also known as traffic fraud, this unethical practice undermines the value of the online marketing industry and reduces the credibility of all digital publishing platforms. For this reason, marketers need to understand ad fraud, monitor their campaigns regularly, and prioritize anti-fraud measures when looking for an affiliate network.
In this article, we'll discuss the impact that ad fraud has on the advertising industry and go over the different types of traffic fraud. We'll also give you a few tips to help prevent, identify, and address ad fraud in your ads campaigns.
The Spread of Ad Fraud in Digital Advertising
Not only do they purloin around $115 million per day, but fraudulent parties are constantly developing more sophisticated ways to exploit the advertising industry. Many elements contribute to the spread of ad fraud, including:
Novice Marketers Failing to Implement Anti-Fraud Best Practices
Ad fraud is almost as old as digital marketing itself, so established ad vendors and savvy marketers have been taking the steps to combat this phenomenon for decades. That said, new affiliates and publishers are not always aware of the threat that fraud poses, so they don't take the necessary steps to protect their campaigns. This has increased the number of fraudsters that are successfully targeting ads and allowed them to develop innovative approaches that are extremely hard to detect.
Ad Fraud Technology Grows at an Alarming Pace
To many experts, the quick rise of digital ad fraud is not surprising. While vendors and marketers have been actively trying to combat ad fraud for years, the rapid adoption of new technology has created the perfect environment for fraudsters to target digital ads. Consumers are now using ultra-powerful devices to browse the internet, but smartphones and other gadgets also play an instrumental role in traffic fraud.
For example, unethical parties often design malicious code that can commandeer consumers' devices and use them to perform a variety of fraudulent interactions that drain a marketer's budget without producing results.
Different Types of Ad Fraud
Ad fraud is an umbrella term that includes a variety of unethical activities that range from deceitful clicks to producing fake traffic in the form of bots. Some of the different types of traffic fraud include:
Bots and Non-Human Traffic
As the name suggests, bots and non-human traffic is generated by malware that mimics human interactions. These pieces of code can make it seem like your ads are getting plenty of impressions on your ads, but in reality, your creatives are being scanned by a piece of malware.
It's worth noting that bot traffic is traditionally easy to detect, but fraudsters are starting to develop sophisticated pieces of code that copy human behavior more accurately.
Click Farms and Click Injection Malware

Click farms are large organizations dedicated to producing false traffic in the form of empty human interactions. In these operations, low-wage workers are paid to click on ads, watch videos, and perform other fraudulent actions that are very hard to detect if you don't know what to look for. Click farms can target all types of devices, but they usually specialize in mobile ad fraud.
Ad Injection and Stacking
Ad injection is the process of placing adverts on a website without the publisher's consent. This can draw attention from the legitimate ads on the site and reduce the publisher's credibility after users start clicking on these deceptive adverts. Ad stacking is a similar practice, but scammers usually place their code on top of an existing ad, thus "stacking" their content on top.
GEO Masking
GEO masking is a common type of fraud where scammers replace high-quality traffic coming to your site with lower-value users. Fraudsters also ensure that the low-quality traffic sent to your website appears legitimate, so you won't notice until you start analyzing your statistics.
Pixel and Cooking Stuffing
Tracking pixels and cookies are a common way to attribute interactions to the right party. Fraudulent parties can hijack both of these tools and use them to extract money or generate additional profits at the expense of the publishing platform.
Domain Spoofing, Ghost Sites, and Many More
Domain spoofing aims to exploit the real-time bidding system used in most ad delivery platforms. This can take several forms, like URL substitution and custom bot browsers, but all domain spoofing methods aim to trick advertisers into thinking their ad is being displayed on a quality placement when it's not.
What are the Best Ways to Reduce Traffic Fraud and Increase Campaign Revenue?
Publishers and affiliates that own a popular site need to take the necessary precautions to reduce traffic fraud, which in turn will help increase their campaign revenue.
To help combat ad fraud, publishers and affiliates have to:
Identify Third-Party Tools that Can Combat Ad Fraud
The ad fraud protection industry has been growing at a fast pace in the last few years, so marketers now have a wide variety of solutions available that can help them monitor and prevent deceitful interactions. However, there are many different providers to choose from, so you have to put in the research to find a platform that offers the right features.
When looking for an anti-fraud tool, remember to look at:
Online reviews
Feature list
Partners and integration features
Types of fraud that can be detected
Prevention and monitoring solutions
Ease of use
In addition to the above, you should contact the provider's support department to evaluate the quality of their customer service and, if possible, check out their knowledge base and other self-service resources.
Review Conversions and Other Post-Click Statistics
Although there are many different types of digital ad fraud, most of them aim to drain your budget while still producing superficial results. Savvy marketers need to delve deeper into their post-click statistics and review conversions as well as other metrics that will help determine the real performance of their campaign.
Besides conversions, you should also check metrics like net profit, number of transactions, number of leads produced, average subscription length, lifetime value, total revenue, and the average value of each order. If most or all of these seem too low for the number of clicks and impressions you're generating, you should carefully examine your traffic.
Spot Patterns that Help You Stop Fraudulent Transactions
Big data sets are used by business analysts to identify loss patterns and areas of improvement. Similarly, marketers need to look at all the resources they have available to protect their ads against fraud.
For example, if you notice potentially fraudulent traffic coming from one specific GEO in your campaign, you can block out any related IPs or blacklist the entire region.
But, keep in mind that the concept applies both ways. In other words, you should also look at industry patterns to understand what other marketers are doing wrong.
A good example would be the implementation of ads.txt, which was designed to prevent ad injection. Unfortunately, research suggests that around 15% of websites that have implemented the ads.txt code have errors that are still costing them money, so double-checking your setup is always a good idea.
Develop a Consistent Manual Review Process
Relying solely on anti-fraud software leaves room for error, so it's important to develop an elaborate and consistent manual review process. As we mentioned before, this should include a deep analysis of actionable metrics, but you should also evaluate your traffic sources and other parts of your campaign.
Work with a Security-Focused, Reliable Network
Your biggest safety net against digital ad fraud is the affiliate network you work with. Reliable networks always implement a variety of traffic monitoring and quality grading systems that help keep all stakeholders in their ecosystem safe. In many cases, these anti-fraud measures kick in automatically and don't require any additional actions on behalf of publishers, but it's important to ensure that the network you choose has a robust protection system in place.
lemonads has spent years developing proprietary software to guarantee effective protection against know types of fraud as well as more sophisticated methods. Our anti-fraud team is constantly identifying new forms of deceitful interactions and creating additional tools that guarantee the quality of our traffic.
Learn More About Reducing Ad Fraud in Your Campaign
Ad fraud can become a huge obstacle that depletes your resources without producing anything in return. The good news is that publishers and affiliates have a variety of options to help them monitor, identify, and prevent fraudulent traffic on their ads.
The tips above should help you understand ad fraud, how it works, and what you can do to prevent deceitful interactions in your campaign. If you're interested in learning more about reducing traffic fraud and protecting your ads, stay tuned or contact us today and we'll be glad to discuss our in-house solutions.
Accelerate your Conversions, Increase your Revenue
with lemonads
---
You would like