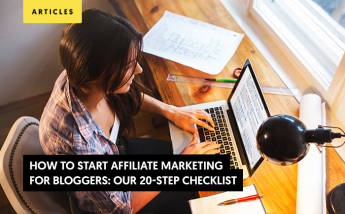 How to Start Affiliate Marketing For Bloggers: Our 20-Step Checklist
Establishing a successful blog is a great way to take control of your working hours, specialize in something you're passionate about, and most importantly, make a good living. While there are a few different ways to monetize a blog, the best alternative is affiliate marketing.
In simple terms, affiliate marketing is a strategy where companies that want to promote their products (advertisers) get help from affiliate marketers to generate leads. Affiliates are independent marketers that specialize in driving traffic and engaging users through a collection of channels. And, blogs are among the most popular and successful channels for affiliate marketing.
At lemonads, we've helped countless bloggers transform their site into a revenue-generating machine by finding the best programs. In this article, we'll provide a 20-step checklist to help you get started with affiliate marketing for bloggers.
Is Affiliate Marketing a Good Way to Monetize Your Blog?
Before going over our 20-step checklist, let's take a moment to evaluate if affiliate marketing is a good fit for bloggers.
More than 85% of all businesses employ affiliate marketing to some degree, which means that bloggers can choose any industry to work in. Not only this, but affiliate commissions for leads or sales can range from a couple to hundreds of dollars for each conversion. If set up properly, affiliate bloggers can make thousands of dollars consistently by simply producing content and working on their campaigns.
Our 20-Step Affiliate Marketing Bloggers' Checklist
Now, it's time to go over our checklist to help you develop a better affiliate blog.
As you've probably imagined, blogging requires a huge amount of writing! While you also have to publish some video materials and preferably take your photos, you'll have to spend a significant amount of time developing engaging text. But, it's important to understand that text copy doesn't always inspire readers, so you need to focus on creating engaging materials.
One of the best ways to stand out from the crowd is to identify the best tone for your blog and stick to it throughout your posts. For example, if you leverage humor in the first few posts and you receive positive feedback, this should become an essential part of your blog.
Now, let's go over our 20-step checklist for affiliate marketing bloggers.
1. Pick Your Niche
If you already have an established blog that has a clear niche, you can move on to tip number two.
If not, then the first thing you want to do is select a niche. A niche can be defined as a very specific topic or area that most of your blogs will cover. Choosing a niche that you're passionate about can help make the blogging process less tedious, but this doesn't guarantee your blog will be profitable.
Instead, we suggest you select your affiliate niche based on more tangible variables, like popularity and the number of businesses that you may be able to partner with.
2. Research Potential Affiliate Goods
Once you have chosen a niche, you should start looking into the potential goods you can promote in your affiliate blog. Again, you can choose from virtually all verticals, from software applications to gardening supplies and everything in between.
Instead of starting with specific brands, look at products on Amazon and similar platforms to identify potential partners and build a list that you can research later on.
3. Identify Competitors
In addition to advertisers, you also have to keep a close eye on the competition. By analyzing competitors, you can figure out what techniques they are using, avoid as much testing, and hit the ground running.
Just remember to use powerful marketing intelligence apps that allow you to see where campaigns are being developed and which advertisers the programs come from.
4. Conduct Keyword Research
Keyword research is an integral part of any blog that wants to get good SEO rankings.
You need to use tools like the Google Keyword Planner, KWFinder, or similar platforms to find the relevant terms that drive the most traffic for each blog you write. Remember, not all tools are the same, so always opt for a reputable provider.
5. Find the Best Affiliate Network
Find the Best Affiliate Network for bloggers: Affiliate networks are platforms that help affiliates find the best advertiser programs. But, keep in mind that affiliate networks vary in quality, size, and benefits. Therefore, you need to find a reliable network that also partners with top advertisers across multiple industries. At lemonads, our main goal is to help our affiliate bloggers find the programs that give them the highest chance of success, so get in touch with us today to learn more.
6. Think About How the Keyword Will Be Incorporated
It's one thing to choose a keyword, but another to include it in the content you create. Unfortunately, this often creates an issue because incorporating certain keywords can impact readability and other variables that ultimately affect rankings. To avoid this, remember to evaluate how easy it will be to incorporate each keyword to ensure that your research doesn't slow down your writing later on.
7. Improve Your Branding
Online users much prefer branded content to generic materials.
Therefore, having a blog that doesn't have a clear branding or identity won't produce the results you're looking for.
You should consider investing resources into developing a branding strategy that revolves around enticing readers and boosting the credibility of your blog.
8. Develop Superb Content
Needless to say, a blog is only worth as much as the content it features. The problem is that many affiliates fail to make this connection, so they produce low-quality content or plagiarize materials from other sources.
The only way to achieve high rankings, drive traffic, and engage visitors is to produce superb-quality content. The exact materials will vary according to your industry, but how-to articles, guides, and comparison pieces are among the most popular alternatives.
9. Ensure that Your Blog Has Lead-Capturing Features
It's common to see amazing blogs that drive a huge amount of traffic, but don't have forms, pop-ups, or other lead-generating features. Make sure to include a combination of elements that help you collect email addresses, names, and other contact information from your visitors to help you build a mailing list (or lead list).
10. Build a Good Backlink Profile
Even the most seasoned bloggers have a hard time achieving high Google rankings. Countless variables affect Google rankings, but one of the most important ones is a website's backlink profile. Therefore, you need to ensure that the websites linking back to your posts are high-quality and distance your blog from low-quality pages.
11. Work on the Technical Side of Your Blog
Remember the countless factors that impact your search engine rankings? Well, a large portion of these is located right on your blog itself. The speed, content quality, metadata, keyword usage, and other variables of your blog need to be optimized for better SEO, which in turn will help you drive more traffic to your site for free.
12. Be Honest in Your Content
Yes, we understand that you are trying to make money through your blog. But, this doesn't mean that you should misinform readers for the sake of conversion.
Whenever you write a piece of content, be transparent and honest in your content, regardless of whether it's an informative piece or a review that can make you money.
13. Include Strategically Placed Calls-to-Action (CTAs)
A CTA is a button or similar element that tells users to take a certain action. You should have strategically placed CTAs throughout your content, including above the fold, in the middle of your articles, and at the bottom of each piece.
14. Leverage the Power of Social Media
It doesn't matter how accurate or useful your content is if no one sees it. Social media networks like Facebook have become the perfect distribution channels for affiliate bloggers. Just make sure to drive users who will find the content engaging to avoid hurting the site SEO.
15. Build an Email List
Email lists can be used as additional distribution channels as well as direct ways to move users down the conversion funnel. If you haven't already, you should take the time to start an email list and update it with new recipients as well as reader unsubscribes.
16. Choose an Email Marketing Tool
There are dozens of marketing tools that help you automate your email efforts, but not all of them deliver the best results. Take the time to research all the alternatives and choose a provider based on your requirements.
17. Pay Close Attention to Page Speed
Page speed is a crucial SEO ranking factor, but a slow blog also increases bounce rate. To avoid any issues, you should pay close attention to your page speed and run regular tests to ensure that no elements are weighing it down.
18. Keep Keyword Intent in Mind
Going for keywords that have a higher search volume is tempting. But, a higher volume doesn't mean that you'll get a higher number of engaged users. Instead, you should pick keywords based on intent, in other words, the action that users want to fulfill by researching a particular term.
19. Install at Least One Tracking Tool
Tracking tools are a standard in the affiliate world, so make sure to install at least one reliable monitoring platform on your blog to measure the success of your content.
20. Add an Affiliate Disclosure to Your Site
If you're making money through affiliate links, you may be required to place a disclosure on your site or at the top of every article. You should consult with your local authorities, and if necessary, add an affiliate disclosure. Besides helping you stay out of trouble, disclosures have also been observed to boost transparency and increase reader trust.
Want to Make Money from Your Blog? Contact lemonads Today
There is no question that online users can choose from hundreds of thousands of blogs. That said, with a little creativity, hard work, and organization, you should be able to develop a blogging platform that contends with the leaders and allows you to build a successful affiliate business.
Is your blog already online and reeling in traffic? Then it's time to start making money. Get in touch with our team of lemonads and our affiliate marketing experts will be happy to help you find the best program.
Accelerate your Conversions, Increase your Revenue
with lemonads
---
You would like