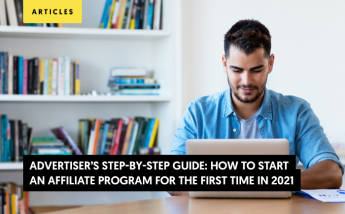 How to Start an Affiliate Program for the First Time in 2022 (Advertiser's Step-By-Step Guide)
While the term marketing was officially introduced just over 100 years ago, the practice of promoting products and services in order to get more customers has been around for centuries. Today, companies that want to promote their products can take advantage of many different channels to bring in more business. And, when analyzed objectively, there's no doubt that affiliate marketing is among the top approaches. That said, companies that want to promote their services have to figure out how to start an affiliate program that's attractive and effective in order to be as profitable as possible.
Starting an affiliate program may be challenging, but this process can have a major impact on your profits and completely transform your business. Companies that want to advertise (or advertisers) have to figure out the exact products or services they want to promote, the locations they want to target, and many other variables.
At lemonads, our team works closely with advertisers and affiliates from a collection of different industries, so we know what steps you need to take to develop a program that gets the right results. Below, we've put together a comprehensive guide on how to start an affiliate marketing program, plus we'll also provide tips on choosing the best network.
What Is Affiliate Marketing?
Before learning how to start an affiliate program, it's crucial to understand what affiliate marketing is and how it works.
While all industries and advertisers are different, the main goal of most marketing campaigns is to either raise awareness or boost revenue. Affiliate marketing is a form of advertising where companies work with third-party marketers that promote the advertisers' services and products through different channels. Advertisers are only required to pay when an affiliate generates conversions, which makes affiliate advertising a type of performance marketing.
Although some affiliates still generate physical sales for commissions, the affiliate marketing industry is now mostly digital. Advertisers can generate affiliate links and assign each one to a specific marketer. So, when a user requests a quote, asks a question, or makes a purchase using a specific link, advertisers can see where it came from and pay a commission to the affiliate that generated the interaction.
This is how you should determine the best affiliate payout for your affiliate program.
Depending on their unique requirements, advertisers can determine the locations where the ads can be displayed, type of customer they want to attract, and the advertising channels that marketers can use, among other variables through the affiliate program.
Defining Affiliate Programs:
An affiliate program is an agreement that contains all the information about an advertiser's commission structure, including who can participate, how much the commission is, and what affiliates have to do exactly to generate conversions. In simple terms, your affiliate program should contain everything that your affiliates need to successfully launch a campaign and earn commissions by generating leads or sales for your business.
Perhaps the most famous is Amazon Affiliate Program. But, 4 out of 5 companies at a global scale employ some type of affiliate marketing because it's suitable for businesses of all sizes. And, the best part is that it provides a scalable alternative that you can use to boost revenue without overloading your team.
Is Affiliate Marketing Right for Your Company?
The decision of whether to start an affiliate program or not isn't easy to answer. This is because affiliate marketing is a great option for companies that sell both digital and physical products. To make the best choice, you have to weigh the pros and cons of affiliate marketing, ensure that you have the right setup, and carve out time to manage your program if you choose to create one.
With the above in mind, affiliate marketing is becoming popular because it works for all industries, with a few small exceptions. As a matter of fact, it's the leading type of advertising for many big verticals and it comes at relatively low risk because it's performance-based.
Remember that you need to have a website that's powerful enough to handle a potential surge in traffic without malfunctioning. You should also have alluring content and an attractive product because, regardless of how good an affiliate campaign is. If your audience isn't interested in the products or services you offer, there's very little chance that affiliate marketing will change that.
On the contrary, affiliates are specialists in helping you find people who are actively interested and willing to pay for your solutions. So, if you need an independent specialist to help you track down potential customers with laser-like accuracy, affiliate marketing is the right call for you.
Benefits of Developing an Affiliate Marketing Program
Learning how to start an affiliate program has many great benefits, like the fact that affiliates often use a multichannel approach to attract customers. Instead of focusing on one channel, you can allow advertisers to drive traffic to your site through social media, email campaigns, paid ads, video content, or any other platform that you deem relevant.
At the same time, you can also narrow down the scope as much as possible and work with different types of affiliates to attract specific traffic. For example, you can work with YouTube influencers to send users to your site after watching a video about a product or service you offer.
In addition to the above, some of the benefits of starting an affiliate program for your company include:
Relatively Low Risk
With other forms of marketing, you run the risk of making an investment that doesn't generate a profit. Even with popular types of advertising like email and SEO, you can track how you used your budget but you don't get a set number of leads from the money you invest.
Affiliate marketing, on the other hand, only requires that you pay when marketers generate a conversion. Keep in mind that, as the advertiser, you set the parameters for what a conversion is. This means that you can ask affiliates to collect contact information, generate qualified leads, and even produce sales, but you also need to match the commission accordingly. The harder the conversion, the higher the commission should be.
Minimal Starting Up Costs
Let's be clear: starting an affiliate program does require an investment. For starters, you'll have to invest a significant amount of time into figuring out what type of consumer you want to attract, from what area, and the solution you will promote to these users. Furthermore, you also have to think about creating materials for your advertisers to use, like custom banners, landing pages, and downloadable logos.
However, the cost of creating a campaign is still minimal compared to running a traditional advertising campaign or managing individual digital channels. This makes affiliate marketing extremely accessible, especially for businesses that already have a functional website in place.
Improve Brand Awareness
It's no secret that consumers love companies that have clear branding. Not only this, but people tend to be more receptive to marketing messages that come from brands they know, even if this means paying a slightly higher price. The problem is that having a branding strategy has always been associated with businesses that have a larger marketing budget.
By partnering with the right affiliates, you can boost your branding and help consumers get familiar with your company. There are many types of independent marketers including affiliates that specialize in small business promotion, so you can take advantage of the boost in branding regardless of the size of your company.
Boost SEO Performance
Search engines generate a massive portion of internet traffic, so having a good SEO ranking can help secure your long-term success. The problem is that reaching the top 10 positions of Google search results is extremely difficult and most users never get past the first page when conducting a search, so being among the top ranking companies is the only way to generate a significant amount of business.
One of the ways that search engines calculate your rankings is by analyzing user behavior on your site. Affiliate marketing drives engaged and interested users to your website, so they spend more time browsing through your pages and interacting with your content. This, in turn, gives you an SEO boost that can gradually help you get into the top 10.
Get In-Depth Performance Statistics
Like other forms of digital advertising, affiliate marketing gives you access to huge amounts of behavioral data that's collected from prospects and customers. You can use a tracking platform to see how users behave when interacting with your landing page content. This data can help you make adjustments and test out different variables to see which combination generates the best results.
Depending on the type of relationship you have with affiliates or your network, you can also gain access to the data these parties collect. This will give you an even more comprehensive view of the decision-making process users go through before becoming conversions and you can use this new information to build better programs.
Reduced Workload (for Advertisers' Team)
Affiliate marketers can take advantage of a collection of different channels and develop campaigns using different structures. If you work with a group of affiliates, you'll cover more ground collectively than you would be using the resources you have available. And, the best part is that you can achieve this without putting additional pressure on your marketing team.
In many cases, affiliate marketing is so effective that advertisers choose to replace most of their efforts with this approach. This relieves even more pressure from your marketing team, so your team members can focus on producing awesome content, answering customer concerns, and honing in on your branding in order to delight current customers.
Income Stream Diversification
Affiliate marketing programs require some upkeep but they are not resource-intensive, so you can run them at the same time as you run other forms of online promotion campaigns. For example, you can have social media profiles, optimize your site for SEO, and launch email campaigns to get customers through more traditional channels.
This results in a diversified revenue stream that creates a more stable financial ecosystem than focusing on one single type of marketing.
Scalability
Even though some marketing techniques can generate a lot of sales in a short period of time, not all of these can grow with your business.
Affiliate marketing is a rare form of advertising that's fully scalable and suitable for companies of all sizes. From small businesses that serve a local audience to national conglomerates, affiliate marketing can help you create a sustainable and scalable marketing system that reels in a predictable number of sales every month.
Larger Reach (Local, National, and Global Markets)
The affiliate marketing industry relies on content publishers that target different audiences across the world. Not only this, but ad networks also specialize in buying and selling traffic from third parties, so these platforms create huge galleries that allow advertisers to reach users at a local, national, and global level.
This is one of the reasons why affiliate marketing is so scalable. It can help transform a local company into a regional and national provider. And, when ready to take the step, you can even target the international market using the same method.
Ensure a Positive ROI
If set up properly an affiliate campaign will always yield a positive return-on-income or (ROI) because it's performance-based. This means that you will only pay a commission whenever you receive a lead or customer in return.
With the above said, if you want to generate leads you need to make sure that your sales team has a high closing rate. Furthermore, companies that are looking to generate sales should be ready to pay a significant commission for each conversion.
Best Niches for Affiliate Marketing
Learning how to start an affiliate marketing program requires a lot of research, but you also need to understand the chances of success your business has. As we mentioned earlier, affiliate marketing has proven to be effective for almost all industries out there, with a few exceptions like government contracts, gas station sales, and some industrial specialties.
However, digital affiliate marketing can actually produce stellar results if you're in the right industry. Some of the best niches to create an affiliate program for include:
Ecommerce
Ecommerce is perhaps the most natural fit in terms of affiliate marketing. And, the best part is that an e-commerce platform can sell products and goods from a huge collection of industries. So, if you already run a business, creating an e-commerce platform on the side and using affiliate marketing is a great way to give your company a boost in performance.
The key to starting an affiliate program for e-commerce platforms successfully is to develop great landing pages and work with top affiliates. That said, the price of your products will also affect the efficiency of your program. As a general rule, the higher the cost, the lower the expected conversion rates should be.
Beauty
Beauty products have become part of our identity as humans, with many brands now making goods for all genders. The beauty industry is another natural fit with affiliate marketing because consumers are always looking for the newest trends, how-tos, and new types of products, which makes for great content.
The beauty industry is volatile in the sense that trends rise and fall quickly, so businesses in this vertical need to ensure that their programs are updated on a regular basis.
Fashion and Retail
The fashion and retail industry is closely intertwined with beauty products because they attempt to attract a very similar audience. That said, fashion and retail brands are ruled by seasonality and predictable yearly patterns, so creating affiliate programs for this industry is more straightforward than with other verticals.
Consumers are also used to purchasing clothing and similar goods online, especially if these are available at a discount or through a promotion, which makes retailers the perfect fit for running an affiliate program.
Technology, Mobile Apps, and FinTech
Every year, manufacturers create more powerful devices, including smartphones, tablets, and other gadgets that can support a variety of different apps. This has led to a huge surge in the popularity of electronic devices and mobile apps. And, both of these work extremely well with affiliate marketing campaigns designed to attract interested customers.
Not only this, but the rise of cryptocurrencies and blockchain technology has also altered the financial technology landscape for good. Affiliate marketing is a great way to capitalize on this trend and make the most of the advancements in this field.
Learn the benefits of Affiliate Marketing for Fintech Lending Businesses this year.
Healthcare and Nutraceuticals
The healthcare and nutraceutical industries pose great alternatives in terms of compatibility with affiliate marketing. This is because modern consumers are more interested in living a healthy life and looking their best by taking supplements and other products that are part of the nutraceuticals industry.
If you are in healthcare and Nutra, remember to pay close attention to the regions you target and make sure that your program respects local regulations as well as cultural differences between areas.
B2B Companies
One of the biggest myths surrounding affiliate marketing is that this approach is only suitable for B2C industries. While not all verticals are compatible, many advertisers have found success in creating affiliate programs to help attract B2B audiences. Case in point, marketing intelligence platforms and business-oriented VPN providers like AHREFS and ExpressVPN.
As with other types of B2B marketing, you need to change the way you approach your entire scheme in order to be effective. For example, you should expect much lower conversion rates (may vary by industry!) and higher commissions, but you'll also be generating much higher profits from each conversion your affiliates generate.
How to Develop Your First Affiliate Marketing Program
Now that we've covered the basics, it's time to go over the steps on how to start an affiliate marketing program. Besides including all of the information about your commission structure and how to qualify for payouts, remember that your affiliate program will essentially be your calling card to affiliates. This means that affiliates will carefully analyze your parameters and research your brand before they start a partnership, so you should put in the effort to delight these marketers.
Before going over the steps you need to take, remember that there is no formula for guaranteed success. You need to figure out which steps apply to your business, find out if you're missing any specific actions, and create a tailored plan for your business.
The steps that you need to take to create your first affiliate program include:
Define Your Goals
Before you start putting together data or deciding how much you will pay per conversion, you need to define your goals. In this step, you should create a list of both short and long-term objectives and how you plan to achieve them. You should be as detailed as possible and include each specific goal, the ideal time frame, and how you plan to make it happen.
Your list of objectives will include generating a specific amount of money, but you have to set up small milestones that help ensure you're headed in the right direction. For example, your plan can include starting an affiliate program that's basic and eventually creates a more complete plan with a better structure after learning from the first attempt.
Review the Competition
Leading competitors hold the gold standard in terms of affiliate marketing, so they can tell you what techniques and programs are working. But, remember that you'll need to leverage a powerful affiliate marketing intelligence tool to unveil what competitors are doing in their programs.
With the right marketing intelligence and competitor analysis tool, you can see what landing pages the leaders are offering in their programs, how big the payout is, and the ads that are producing the best numbers. While advertisers don't have direct control over each campaign, this data can help them develop programs with specific requirements that generate more conversions with the same budget.
Figure Out the Affiliate Commission
Deciding how much you'll pay for each conversion is extremely tricky, mainly because there is no exact way to calculate this number. As you can imagine, the price of your product will directly impact the size of the commissions you pay. So, the more expensive your products and services, the higher the dollar amount you'll have to offer per conversion.
In general terms, affiliates are more motivated with higher payouts, but this obviously represents an exponentially bigger investment for advertisers. With that in mind, affiliates may be able to generate enough sales and quality leads to justify commissions that are as high as 50% of the price of your goods.
Determine Audience and Other Important Elements
There are several details you need to define when starting an affiliate program, but the audience is certainly among the most essential. The audience refers to the group of people you want to target, which can vary based on age, location, interests, device type, and other distinct characteristics. So, you should work on creating buyer personas that help you hone in on the ideal audiences.
To determine what audiences you should target, take a look at your current customer base. After all, these are the prospects that completed the entire buyer's journey, so you should segment your current client list and group similar customers together. Once you start seeing the different patterns, you'll be able to set a location and demographic data for your program.
Search for Affiliates
Once you have created your program and work out all the specific details, you need to put it out there and try to attract reliable affiliates. Remember the best affiliate marketers want to work with well-known brands or businesses that have the most beneficial programs.
If your company doesn't have a great reputation just yet, you can work on making your program enticing for the best affiliates. And, the best part is that you don't have to necessarily raise the commission. You can get more affiliates by doing things like creating default materials and targeting areas where consumers are more engaged.
Keep in mind that you can find independent marketers or join affiliate networks that help you track down the best marketer for your program.
Independent Marketers
In theory, working with independent affiliates allows for the establishment of a better relationship. The main problem is that tracking down the best affiliates without any leads is virtually impossible. You can always attempt a trial and error scheme, but you'll likely spend all of your budgets before you find even one reliable partner.
Affiliate Networks
Affiliate networks are platforms that specialize in finding the best affiliates and linking them to the most relevant offers. Therefore, affiliates often partner with these networks in order to simplify their search and focus on activities that generate profits. Advertisers also benefit from this setup because it means that they attract top-notch affiliates without having to invest any time and money into promoting the program.
Provide Training for Your Marketers
It's true that starting an affiliate program doesn't take up a huge amount of time, relatively speaking. But, you should still produce resources that affiliates can learn from in order to ensure that their marketing methods align with your branding. A great way to do this is to create training materials like videos, knowledge bases, and similar resources that help affiliates by teaching them.
Monitor the Performance of Your Affiliates and Program in General
Like other forms of online promotion, you need to pay close attention to the performance of your affiliate and your program, in general, to ensure there are no issues.
Monitoring your affiliate is easy through an affiliate network. And, you may be able to request reports from your affiliates depending on the type of relationship you have with them. Measuring the success of your affiliate program is easier because you have access to all of the data through your own tools. But, you need to figure out if there are areas of improvement and potentially run a few tests to figure out which requirements work best.
Choosing the Best Affiliate Network
Affiliate marketing works best when it's part of a healthy advertising mix, but this technique can take up a lot of your resources. From managing affiliates to quality-controlling the traffic you get, you need a dedicated team to handle your program comfortably.
If you just pile it onto your team's collective plate, you may end up burning out many of your employees. In these cases, working with an affiliate network can help get you the best of both worlds. That said, finding a reliable affiliate network isn't always easy, especially if you consider the number of options you can choose from.
You need to analyze your unique circumstances and figure out what specific requirements you need to look for in your affiliate network. Some of the elements you should evaluate include:
Network Size
The network size refers to the number of affiliates that are currently registered with the platform. As you can imagine, the higher the number of affiliates, the greater your chances of getting positive results.
Features
The list of features varies tremendously from one network to the next, but some of the basic elements you should look for include security measures, tracking tools, and a responsive customer support team.
Fees
Likewise, the price of working with a network can change depending on a variety of elements. High prices don't always equal reliability, so research each option and contact its support team to evaluate its quality before making a decision.
Transparency
Knowing where the traffic comes from, exactly what security measures are in place, and how much running a program will cost (including all fees!) will help you decide which network is the best.
Ready to Launch Your Program? Contact lemonads Today
Starting an affiliate marketing program may seem daunting, but it can give your website and whole business a huge boost that goes beyond financial gain. We hope our article above helps you on your quest to develop a program that generates the best results.
To learn more on how to start an affiliate marketing program, contact lemonads today and we'll be glad to help.
Accelerate your Conversions, Increase your Revenue
with lemonads
---
You would like