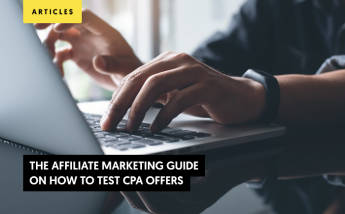 The Affiliate Marketing Guide on How to Test CPA Offers
In the past couple of decades, affiliate marketing has evolved from a seldom-used strategy to one of the most effective advertising techniques available. It's estimated that 4 out of 5 companies around the world leverage some focrm of affiliate advertising, so marketers have a wide selection of companies they can partner with. But, this also means that all affiliates have to learn how to test CPA offers and find the best program for their specific skill set.
At lemonads, we specialize in connecting affiliates with superb advertiser CPA offers, so we know the importance of testing out each program before building an entire campaign around it. Below, we'll define a CPA offer and go over the steps to test the different affiliate programs you have available.
What Are CPA Offers?
Before going any further, let's go over the definition of a cost-per-acquisition (CPA) offer. In simple terms, a CPA offer is an agreement between the affiliate and the advertiser or network. Also known as the affiliate offer, this contains the requirements, payment amounts, and all other details about the deal between the two parties.
CPA offers vary tremendously because they can be developed by advertisers of all sizes and industries. Some are extremely easy to apply and monetize, while others are a bit more challenging. As a general rule of thumb, the harder it is to monetize, the higher the offer payout will be.
There are basically no set standards for a CPA offer, so you need to review each one individually. These may come directly from the companies that are advertising their products, or you can also find them in dedicated CPA networks that specialize in connecting top-notch affiliates to world-class offers, like lemonads.
Why Should You Test Different CPA Offers?
As seasoned marketers know by now, split testing their ads can yield better results and reduce the amount of work required on their behalf.
Similarly, testing a CPA offer will allow you to verify if you can easily monetize the offer and whether it's worth developing a campaign before investing heavily in a program.
In other words, testing your CPA offer will allow you to make better decisions based on the results you get, which can boost revenue without necessarily increasing your workload.
Benefits of Finding the Right with CPA Offers
Taking the time to test your different alternatives can bring numerous advantages, including:
Ensuring Simple Conversions
While it's true that more difficult conversion flows yield higher payouts, choosing a CPA offer with a simple conversion is a sure-fire way to get good results. Even the most seasoned affiliates tend to have simple conversion campaigns running at the same time as more complex ads.
Just remember to review your earnings and make appropriate projections based on the size of your future campaign to get a good idea of your earnings. If your traffic source is good, the results you get should be sustainable in terms of growth.
Creating Low-Cost, High-Profit Campaigns
The most important benefit of testing your CPA offers is that it allows you to develop low-cost, high-profit campaigns. Not all offers are ultra-profitable, but you can narrow down the list of options by testing a few programs and continuing to work with the ones that show the most promising results.
Gaining Full Control of Your Assets
The traffic generated on your site, the creative elements you develop, and all other assets you have are only valuable if you use them properly. If you take the time to test a CPA offer, you'll be able to improve the way you create and leverage these assets, improving efficiency as well as profitability at the same time.
How to Test CPA Offers and Find the Best Alternative
Now that we've covered the benefits of testing your CPA offers, let's go over the steps you need to take to find the best alternative for your specific case. All affiliates are different, so you'll need to evaluate your unique circumstances and add or remove testing steps as necessary.
In general terms, the CPA offer testing process can be divided into four steps, which are:
1. Compare CPA Networks and Direct Advertisers
Before you even think about the industries and niches you want to work with, you should decide whether you want to work directly with an advertiser or with a CPA network.
The difference may seem trivial now, but the source of the offer will define the type of support and resources you receive with your offer. Keep in mind that offers from direct advertisers tend to be harder to get approved to and don't always provide comprehensive resources in terms of campaign creation.
When partnering with a CPA network, affiliates usually receive better support. And, because networks work with a variety of different advertisers, you can usually find an offer that has a simple application process or automatic approvals.
Look at Different Offer Sources
As with most other things in life and business, the best affiliate offers are hard to find. To be successful affiliates have to identify the best offer sources out there.
If you want to work with direct advertisers, you should look at the leaders in the industries you're interested in working with. For instance, Hostgator, Twitch,  ExpressVPN, Norton Affiliate Program are among the leaders in their respective fields, and all of these companies have renowned affiliate programs with great payouts.
Offer aggregators and CPA program specialists like lemonads are the first points of call for marketers that want to work with networks, so don't hesitate to get in touch with us if you're interested in working with various programs at once.
Forge Solid Relationships with Advertisers and CPA Networks
If you take the time to communicate with your network or advertiser to show your interest, you may be rewarded with exclusive deals. You should take the time to forge a good relationship with your current offer sources to ensure that you are getting a boost from helping them grow.
2. Evaluate the Offer Itself
Now, it's time to inspect the offer itself and figure out whether or not it's a good fit for your publishing platform, traffic sources, and other assets. Remember to look at:
Product Popularity
You've probably heard this before, but the quality of an ad doesn't matter if you're trying to promote a bad product. While some affiliates feel like they have a grasp on what products are popular with their audiences, the best way to confirm this is by running social media polls and gauging how users feel about the good being promoted.
Legal Matters
Different countries and regions have distinct laws surrounding advertising, including the products that can be promoted. For instance, if you're working with cryptocurrencies, you may not be able to run campaigns in certain parts of the world. So, you need to evaluate all legal angles before you choose an offer and start running ads.
Culture, Location, and Language
Like the legal side of things, you also want to evaluate the audience's location, culture, and language. These three variables will help you determine what types of creatives will yield a positive effect. For instance, if you're running campaigns in highly religious countries, you have to refrain from using images that consumers in these regions may find obscene.
Seasonality
The time of the year affects the way some products perform in terms of sales, a phenomenon that's known as seasonality. Some seasonal items, like winter coats or beachwear, are pretty obvious while offers require a bit more thought. For instance, exercise equipment, anti-virus software, and health supplement sales tend to be much higher at the beginning of the year when consumers are traditionally starting to make improvements to their lives.
Ad Formats Allowed
The ad formats allowed are important for obvious reasons. Although running the exact same ad is not always a great idea, you can easily recycle old campaigns and optimize them for a new audience. However, you need to ensure that the offer allows ad format's that you've worked with before or that you're comfortable working with at the very least.
Conversion Limits
Many beginner affiliates don't realize that most offers have a limit of daily conversions. After this limit is reached, affiliates are not paid for any additional conversions generated. So, it's always good to check what the limit is because you'll know the maximum amount of money you can generate daily and when to stop running ads.
3. Financial Variables You Should Look At
Additionally, affiliates should also evaluate financial variables when assessing whether or not to work with a CPA offer. For instance:
Payouts
The payout is the amount of money that you receive after generating a conversion in the offer. This value can range from a few cents per sale to thousands of dollars for a single purchase depending on what product is being promoted. Remember not to get carried away by high payouts because these usually come in CPA offers that are harder to convert.
Minimum Withdrawals
Although it's not at the top of the list, verifying minimum withdrawals will help you avoid any nasty surprises later on, especially if you're just starting. You should also check out the different withdrawal options and how much it costs to use each one to understand how much it will cost you to get your funds.
4. Test Live Campaigns
After checking out all of the details listed above and varying that they work for you, it's time to launch your ads and test the CPA offer campaign in a live setting. The variables you want to keep an eye on include:
Traffic and Costs
Testing your traffic on the CPA offer is the first step of your live trial. After preparing your creatives, remember to target the ads based on the offer requirements and narrow the number of people that see your content. Also, monitor the cost of your conversions and note which ones have an ROI of 0 or more. Remember, you need to run your ads without adjusting them until you collect enough data to optimize them properly.
Ads
There's a good chance you've already worked in the vertical you're testing out, so simply follow the steps you normally would when developing your creatives. Make sure to create a few different sets and test our completely different creatives. Once you find a good base design, start testing smaller variables, like the CTA text and button color.
Landing Pages and Pre-Landers
Some CPA offers have a landing page that users are directed to after clicking on an ad. The landing page is easy to check for every offer because you only have to verify that it actually works. If the landing page is live but it doesn't produce any conversions, there's a good chance you need to find another offer.
Find Out More About Finding the Right CPA Offer
Finding the best CPA offers may take time, but this can have a great impact on the revenue you generate without requiring more work. If you are interested in learning more about finding the best offer and tracking down the top sources, contact lemonads today, and our team will be glad to help.
Accelerate your Conversions, Increase your Revenue
with lemonads
---
You would like