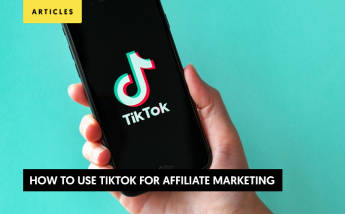 How to Use TikTok For Affiliate Marketing: Guide 2022 to Monetizing TikTok Traffic
A huge number of social media platforms have been developed over the last decade, but only a small percentage has captured the attention of consumers as a whole. As an affiliate marketer, knowing which platforms provide the best alternative in terms of traffic monetization is crucial for success. That said, promoting offers on Facebook and other leading platforms means facing tough competition, so working with alternative platforms can help affiliates get more exposure with less effort.
This is where TikTok comes in.
In simple terms, TikTok is a superb alternative that allows you to promote affiliate offers and connect with ultra-engaged users. That said, setting up a TikTok affiliate marketing campaign isn't always easy, especially if you're new to this network. Fortunately, at lemonads we've seen hundreds of affiliates develop successful campaigns to monetize  TikTok traffic, so we're familiar with the steps you have to take to monetize this type of traffic.
Let's go over the benefits of using TikTok for affiliate marketing as well as the steps you need to take to develop a successful campaign.
Introducing TikTok
Before going any further, it's important to evaluate TikTok and understand the elements that make it a popular platform.
Modern digital consumers spend a lot of time on their mobile devices, but they also have a very low attention span. While Facebook, Instagram, and similar platforms catered to mainstream audiences, TikTok has thrived by delivering an awesome experience to users seeking micro-entertainment.
TikTok allows users to send short videos that are 15 to 60 seconds in length. In most cases, users share news about their day, fun content, and other types of video content designed to entertain their followers. If you think about it, it's the perfect platform for content publishers that want to generate a profit from their viewers. But, developing a strategy for affiliate marketing on TikTok isn't easy, so you need to learn as much as you can about your audience and the techniques at your disposal.
Analyzing TikTok Usage Statistics
Can you monetize TikTok? The simple answer to that question is yes, but knowing the audience is crucial for success. TikTok has roughly 800 million monthly active users, making it one of the top 10 most popular social networks on a global scale in terms of usage.
By November 2019, the video-based social media network had amassed 1.5 billion downloads and most of the platform's uses were aged 24 and under. The majority of the platform's user base is in Asia, but it's also growing in popularity in the US, Europe, and South America.
As far as country tiers go, About 22% of TikTok users are located in tier-3 countries, while tier-a and tier-2 make up about 44% of the platform's user base.
What You Need to Know About TikTok Ads
Before going over the steps on how to monetize TikTok traffic, it's important to understand the different nuances that influence the performance of your campaign. Some of the elements you need to keep in mind include:
TikTok vs. Other Video-Centric Social Media Channels
Although it's a popular platform that some consumers adore, TikTok does have shortcomings when compared to YouTube and other social media channels.
For instance, you can't upload videos longer than 60 seconds, which means that this network isn't ideal for promoting complex products that need to be covered more thoroughly. That said, TikTok also caters to consumers' preference for mobile, interactive content.
TikTok User Demographics
Most TikTok users are younger than 25, so it's safe to assume that these consumers have limited acquisitional power. For this reason, you should evaluate the verticals you're promoting, ensure that they have a high chance of engaging younger users, and make sure that these products are within budget.
Types of TikTok Ads
There are many different ways to promote offers on TikTok, but paid ads offer an easy and effective alternative to reach relevant users. TikTok ads are still relatively affordable and you can choose from 5 different formats, including:
Branded lenses
In-feed video ads
Brand takeover ads
TopView ads
Hashtag challenge
Effect ads
Advertising Campaign Cost
As for advertising costs, it's worth noting that TikTok isn't as competitive as other platforms. Before June 2020, the platform had strict regulations that only allowed a handful of companies to promote their services. Since then, the social network has opened up its marketing features and allowed marketers to launch their campaigns.
Because it's still relatively exclusive, TikTok advertising costs are a bit higher than similar platforms. That said, the platform allows you to engage with hundreds of millions of users that haven't been bombarded with ads, which increases your chances of building a successful campaign.
Tracking and Optimization
It's worth noting that TikTok offers basic click and conversion tracking, but any respectable affiliate will need to implement a third-party tracker to monitor the performance of their ads.
The good news is that TikTok connects with a huge variety of third-party tracking tools, including Appsfluer, Tune, AppMetrica, Kochava, Adjust, myTracker, and many others. Plus, if you're working with a provider that's not on their list of supported partners, contact the TikTok support team to learn more about your options.
How to Use TikTok For Affiliate Marketing
Now that we've discussed the platform's crucial features, it's time to go over the steps on how to make money on TikTok.
The exact steps required for success are different for every affiliate, but the TikTok traffic monetization process requires a few additional steps when compared to conventional affiliate ads. This is because TikTok doesn't allow the placement of direct affiliate links on your ads. But, you can still promote offers by sending users to a landing page that contains your affiliate links.
In essence, the TikTok monetization process takes place over three different stages:
1. Build Your Audience
For starters, you need to implement a plan to consistently rack up more followers. To attract more users to your account, remember to:
Post Regularly
As with search engines, social networks are ruled by algorithms and TikTok is no different. Posting frequency is one of the variables that the platform takes in place when determining how many people see your content.
Generally speaking, the more content you post, the better for your following. The good news is that it doesn't take much time to develop new TikTok content thanks to the app's intuitive video designer.
Interact with Content Relevant to Your Niche
TikTok doesn't allow you to share images or text posts, but you can leave comments and interact with content that's relevant to your affiliate marketing niche. Interacting with relevant content is another great way to increase the reach of your materials, so don't be afraid to spend some time watching and leaving comments of your own.
Connect Other Social Media Profiles to TikTok
If you already have other social profiles you use for affiliate marketing, connect these to your TikTok to amplify the impact of your content.
2. Select an Affiliate Program for TikTok
Once you have a decent number of followers, it's time to start tracking down the right offer.
Choose a Niche You're Passionate About
In case you don't have a specialty already, this is the best time to pick a niche. Just make sure to choose a vertical you're passionate about, whether it's sports accessories, makeup, or spiritual content. If you're passionate about the industry, researching and developing content will not be as tedious as working with verticals you're not interested in.
Stick to Your Expertise Level
Running ads on TikTok is expensive, so it's common to see tempting offers with high payouts. But, working with these can be a huge mistake unless you've got the experience and resources to develop large-scale campaigns. In other words, make sure to stick to your expertise levels and work with programs that align with your current knowledge.
Work with Reliable Offer Sources
When choosing an offer, you have the option of working directly with an advertiser or joining a network. The main difference is that a network gives you access to multiple offers from a variety of advertisers, giving you more control and flexibility in almost every sense.
At lemonads, we've worked restlessly to build relationships with some of the best advertisers and affiliate publishers out there. You can count on our team to help you find the best offers designed for affiliates of all levels. To learn more, don't hesitate to reach out and our team will be glad to help.
3. Capture Contact Information with Lead Magnets
Remember, TikTok doesn't allow you to place affiliate offer links on your ads nor your content, so you need to capture contact information using a form on a landing page to generate leads. Depending on the type of offer, leads are nurtured until they complete the steps to become conversions or they are sent to advertisers for certification.
To collect information from as many users as possible, you have to:
Develop Quality Content
The quality of your content will directly impact the effectiveness of your campaign, so make sure to invest resources into developing superb materials before posting. This will help increase engagement and ensure that your ads were developed with your final objectives in mind.
Provide Instant Gratification
Consumers, especially those from younger demographics, love instant gratification. And, in these cases, simply providing a checklist or tips won't cut. Instead, you need to offer a discount code or a similar reward for users to provide their information in exchange.
Test Out Different Variables
There are dozens of variables within a single ad that can influence the performance of your content. Finding the best combination from the very beginning is next to impossible. But, you can always conduct extensive a/b Testing to find the ideal mix of creative and written elements based on results.
Implement Bridge Pages and Set Up an Affiliate Marketing Email Campaign
There's a strong chance you'll find affiliate marketing TikTok offers where advertisers are looking for immediate sales, which usually come with a short cookie life. In these cases, the conversion flow is similar to lead generation with the difference that it has two additional steps, which are the bridge and sales pages.
The bridge page comes after the lead collection page and it should prepare users for the offer. It works like a pre-lander, so it can help boost conversion rates and allow you to register more sales. Remember, your bridge should not be complicated, so keep it simple and straight-to-the-point just like a pre-lander.
Whether the sale goes through or not, savvy affiliates use the contact information they collected to develop gradual email campaigns that help them register conversions on other offers.
Learn More About Promoting Offers on Social Media
Learning how to monetize TikTok may take time, but this platform is ideal for affiliates that want to explore creative traffic sources.
If you want to know where to find the best offers, contact lemonads and our team will be glad to help.
Accelerate your Conversions, Increase your Revenue
with lemonads
---
You would like