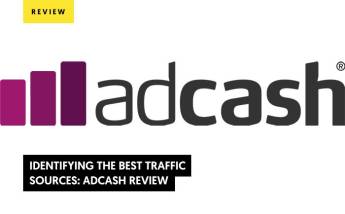 Identifying the Best Traffic Sources: Adcash Review
Affiliates have a number of important decisions to make before starting to run their campaigns. This includes choosing the right offer as well as having a dependable tracker in place. In addition, digital marketers need to find strong and reliable traffic sources for the ads they create.

There are dozens of traffic sources available on the market, but Adcash has earned a solid  reputation for being one of the most reliable DSP providers out there. Founded in 2007, Adcash is well-established and, to date, has more than 10,000 active campaigns running in 196 countries across the world.

This fully integrated online advertising platform is consistently used by thousands of media buyers, affiliates, and marketers alike, including a large portion of lemonads users.

So, having monitored the Adcash story for a while now, we've provided a comprehensive review in order to better understand the range of products and services the platform has to offer.

Let's check out our findings.

What is Adcash?
Adcash is a well recognised demand-side platform (DSP), providing mainstream traffic on a global scale. With more than 12 years industry experience, the company has heavily invested their resources into the development of cutting edge optimization technology, whilst providing the best user experience for their customers.

The company has put a lot of emphasis on making affiliate marketing easy for everyone. Affiliates have an intuitive platform and world-class support at their disposal, while publishers enjoy a set of specific benefits that help to monetize their traffic.

Adcash has seen many improvements since first being launched. Before, the platform could only be controlled by a users account manager, so any campaign changes needed to go through them. Now, the platform has introduced an easy to use self-service option where advertisers are able to run all of their campaigns independently to oversee every step of the creation process. If they get stuck or need to ask a specific question, they can reach out to the Adcash support team for real time solutions.

Notable Adcash Features
By keeping publishers and advertisers at the center of their world, the Adcash team has been able to develop highly effective ad formats and a robust infrastructure supporting more than 10 billion ad requests per day. In addition to its ad formats and bid type options, Adcash brings dynamic features to the table such as:

An Ultra-Intuitive Interface
Having an easy interface is extremely valuable in digital marketing. There are dozens of amazing tools out there, but it can take a long time to get to grips with complex platforms that are not organized/displayed very well.

One of the reasons why Adcash was originally a managed-only platform was that the original interface design was a bit too overwhelming for customers. Now, more than a decade later, the Adcash team has redefined its interface and developed one of the most thought-out and easy to use backend designs in the industry.
Dedicated Account Managers
In addition to marketers having the ability to manage their entire campaign from scratch, there's also the option to get your own dedicated account manager.

Account managers support advertisers by guiding them through the campaign creation process, explaining different onsite features, whilst providing real time assistance if and where needed. For affiliates and other stakeholders managing huge campaigns, this can help relieve a lot of pressure, allowing them to free up time and focus on other important aspects of their daily operations. Adcash's account managers are multilingual, with representatives able to communicate in Spanish, Italian, English, Chinese, Russian and more.
Comprehensive Manual Options
Affiliates who prefer to work alone can also opt to manually toggle and input their campaign preferences. This includes tracking, targeting, ad formats, and bidding models, all of which need to be calibrated based on the specific goals of the campaign.  

Needless to say, this feature is usually recommended for experienced affiliates that understand how the different settings affect their campaigns. Up-and-coming marketers should always get input from their account manager if any questions arise.
Easy Campaign Creation
Whether users choose to collaborate with an account manager or take on the campaign creation process alone, the entire set up takes just a few minutes. There are two different setup options you can use to create your campaign, but we'll get to this a little later on.


The User Interest Feature
Of all the add-ons attached to the Adcash DSP, the user interest targeting feature may well be the most powerful of them all.

In simple terms, this feature allows marketers to target their audiences based on their specific interests.

By deploying this technology into their campaigns, advertisers can reach users based on their specific interests. This allows them to tailor their campaigns to user preferences whilst, at the same time remaining GDPR compliant. They do this by clustering users, rather than targeting individual fingerprints and cookies.

Your ads are then shown to users based on their recent onsite activity, thus increasing your chances of converting. By doing this, advertisers can be sure that their ads are only displayed to the right audiences.

This means that you'll receive ultra-engaged traffic from audiences that are genuinely interested in your product and, if people are more likely to see the value in your ads, they are more likely to convert.

CPA Target
While automatic bidding tools can save marketers a lot of time, many question their efficiency. To address this uncertainty once and for all, Adcash developed CPA Target. CPA Target is an automated dynamic CPM bidding tool that only requires your CPA goals and tracking information, in order to effectively do its job.

This innovative piece of proprietary technology allows for the optimized distribution of resources. It's designed to do exactly what you would do, i.e, finding the areas that perform the best, identifying those areas that are not producing conversions, and allocating the campaign budget effectively. Sit back and relax whilst the CPA Target feature does all the optimization for you.
What Affiliates Need to Know About Adcash
We've seen thousands of lemonads users run multiple campaigns with Adcash and the results have been truly impressive. Like any other platform, succeeding with Adcash requires practice, but the learning curve seems to be much shorter due to the platform's core focus on simplicity.

With the above in mind, here are some of the most important things affiliates should keep in mind before deciding if Adcash is the right platform for them.

Campaign Creation
There are two options to choose from. The Express Wizard for quick campaign creation or the Advanced Setup approach to manually adjust settings for key performance. Marketers that choose the express option will be directly sent to the ad format page. Those who choose the advanced alternative will be able to toggle the different options according to their preferences.

Before going any further, we want to stress the importance of a proper campaign setup. Affiliates that choose to manually set up their campaign need to triple check that all the information on the campaign creation page is accurate.

Having the right offer, URL or tracking code as well as setting macros appropriately, and ensuring all ID fields are filled in properly will help guarantee a strong conversion ratio.
Targeting Settings
First, you will need to set the right targeting. Choose from setting options like:

OS
Location
Device
Connection type
User interest
Website category
Internet service provider
The blacklist and whitelist management options are also found in this section, so you can easily switch between the two and update each database simultaneously.
A Caveat on ISP Targeting
Identifying the right carrier on ISP targeting is not always straightforward. In our experience, the best thing to do is reach out to the Adcash customer support team and they'll be able to help you choose the right option.

If you're confident in your research ability, you could also Google which option will best serve your end goal.

Completing the Setup
As far as the rest of the setup goes, the process is relatively simple. You can choose from ad formats like:
Interstitial
Pop-Under
Push Notification
Native
Display
At this stage, you can start crafting your creatives and review traffic projections based on your choices.
Budget and Payout Specifics
Adcash users will need to set up the budget, bids, and ad capping. The three supported bidding models are CPC, CPM, and CPA Target. If you choose CPC or CPM, the platform gives you a suggested bid that many marketers use as a starting point.
In our experience, the suggested bid doesn't drive a huge amount of traffic, so setting this option higher than the recommended number from the get-go is a good way to ensure more visitors.
Report Creation
Marketers have four different options when it comes to report generation, which are:
Through a reporting API
Detailed reports you can request directly from Adcash
Statistics via the platform's interface
Daily spending summary available through the platform
Traffic Quality
Adcash has spent years building exclusive relationships with some of the top real-time bidding partners in the industry. The platform has earned the reputation of a reliable DSP, providing mainstream traffic from all corners of the world.
While we found that the ISPs chosen can greatly impact visitor volumes, marketers that take the time to test every option should be able to find valuable traffic from virtually any region.
Payment and Minimum Deposit Requirements
The cost of starting an account can vary depending on the setup you choose. If you want to have a managed campaign, your budget needs to be at least $1000.
Marketers that opt to self-manage will only need a $100 starting investment, which can be deposited through Skrill, PayPal, bank transfer, credit cards, and other means.
Get More Updates from the Best Affiliate Platform
From stellar support to an intuitive interface, the team at Adcash have found a winning combination that works for marketers, publishers, and consumers alike. We hope this gave you an idea of what to expect from Adcash and how partnering with them can positively impact your results.
If you want to find out more about the best traffic sources and DSP platforms for affiliates, stay tuned, or contact us today. Our team is always happy to help!
Accelerate your Conversions, Increase your Revenue
with lemonads
---
You would like