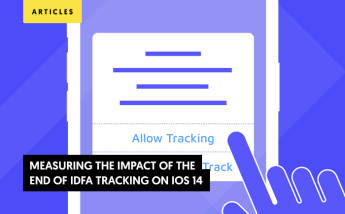 Measuring the Impact of the End of IDFA Tracking on iOS 14
The mobile industry is in a state of constant evolution because the technology that powers these devices is constantly being improved upon. This has led to the development of powerful operating systems that are updated on a regular basis. Device manufacturers like Apple take advantage of these device updates to make adjustments that are perceived as positive, but they can actually have a negative effect on the digital marketing ecosystem and user experience as a whole.
IDFA tracking is a great example of a feature that has been removed to improve user experience on iOS devices, but this may actually affect the content that people see in a negative way. Not only this, but the end of IDFA tracking also signals tough times ahead for mobile publishers. So, these platform owners need to know what changes to expect in order to make adjustments and reduce the negative impact.
At lemonads, we've formed lasting partnerships with some of the top mobile publishers across multiple verticals, so we're familiar with the role that IDFA plays and how its discontinuation will impact earnings generated from iOS devices. Below, we'll go over the effects of the discontinuation of IDFA and how it will affect iOS publishers.
What Is IDFA Tracking?
Before going over the updates that Apple is introducing, let's go over the definition of IDFA and IDFA tracking. For starters, IDFA stands for "identifier for advertisers" and it's a unique identification number that's assigned to each device by Apple. As you can imagine, the IDFA is used to help identify devices without revealing any personal information whatsoever about the device's owner.
IDFA tracking is a form of user monitoring that uses the identifier for advertisers to track behavior across the web. Before Apple's iOS 14 release, the IDFA was shared with advertisers by default in order to deliver more relevant ads and produce a better overall user experience. However, since the introduction of iOS 14, IDFA tracking is disabled by default. This means that each individual user has to proactively activate this feature for advertisers to get access to this information.
2021 IDFA Tracking Update and Its Effects
As we covered in the previous section, IDFA tracking isn't going away forever. This technology is still available on Apple tablets and smartphones, albeit harder to access. As part of the adjustment, Affiliate Advertisers, affiliates, media buyers, and other stakeholders need to educate consumers about IDFA tracking, what its benefits are from their perspective, and how to activate this feature.
That said, there's a relatively low chance that a large number of consumers will start activating IDFA by default. To make sure they're prepared, publishers need to measure the potential impact for a definitive loss of IDFA tracking and figure out how to remain profitable even without this feature.
Here are 7 ways that the end of IDFA will impact mobile content publishers.
1. Restricted IDFA Access Request
As we mentioned before, the biggest and most important change in iOS 14 is that IDFA information will not be sent to publishers right away. However, users will see an IDFA request as a notification whenever a publisher wants to access this data. Imagine the same alerts that users get for push notification subscriptions, but it will be for IDFA tracking instead.
Remember that customers will not see the term IDFA tracking, but they will simply be asked if they want to allow you to track their activity across other apps and websites. The message is very straightforward, but it has a dry nature that can potentially encourage users to reject the request.
This is a major alteration to the established monetization and attribution methods as these depend heavily on IDFA to be accurate. The idea is to give users more control over their privacy, but the adjustment will also sacrifice user experience and affect all stakeholders in the mobile content industry, including end-users, advertisers, networks, and tracking tool developers.
2. Increased Acquisition Costs
IDFA has been available to mobile content publishers for a while, so they've built entire platforms around the fact that this information could be accessed freely. Now, because users have to allow IDFA tracking explicitly, the monetization scheme in place becomes less effective and, therefore, produces less revenue.
The lack of IDFA tracking has the potential to increase acquisition costs for all stakeholders across the board. There are many reasons for this, but one of the main ones is the decrease in the actual quality of the traffic being generated. This is because the attribution system won't be as accurate, which leaves a larger margin of error and will likely result in users seeing irrelevant ads.
2.1 Loss of Tracking Ability
Besides the attribution itself, mobile publishers will also lose the ability to accurately track users across the web. This results in having less information available about the audience, so the content developed won't be as engaging or personalized as in previous campaigns. The worst part is that this will directly impact tracking platforms as well, so you'll need to reassess the tools you use depending on how they adjust to Apple's iOS 14.
2.2 Increased Costs of Attribution Tools
Speaking of the platforms that specialize in tracking through IDFA, these providers will have to make major changes to their tools over time. The key challenge is to find an effective alternative to IDFA tracking before iOS 14 becomes the most popular iPhone and iPad operating system.
Leading tracking platforms will undoubtedly find new attribution methods, but this doesn't mean that the price of these tools will remain steady. As a matter of fact, there's a huge chance that the price of these tracking tools will end up increasing, which could put more financial stress on mobile publishers.
2.3 Limited Targeting Accuracy
Besides tracking and commission attribution, the discontinuation of IDFA tracking will also affect the targeting options that mobile publishers have available. For example, features like campaign retargeting and lookalike audiences depend heavily on IDFA. Without this information, affiliates will only be able to use these two features to target a limited number of people.
IIn iOS 14, retargeting features and lookalike audiences only encompass users that accepted the request for tracking, creating a limited pool of people you can reach with advanced targeting.
3. Lack of Attribution System That's Suitable for iOS Mobile Developers
One of the biggest issues with the discontinuation of IDFA tracking is that Apple's proposed solution isn't suitable for mobile advertisers. The company has developed an in-house, privacy-oriented attribution system that's available to networks.
But, the sad reality is that it's a basic (and almost rudimentary) solution with limited capabilities. For example, publishers are only allowed to see statistics for all of the interactions tracked, but there is no user-level data available for review. This means that developers and mobile publishers can't segment ROI or attribute conversions properly.
4. Faster Mobile Market Consolidation
The lack of IDFA tracking will create an asymmetric ecosystem over time because small publishers won't be able to keep up with networks. Networks and large publishers have the resources to develop in-house solutions quickly and restart operations right away.
Smaller publishers, on the other hand, will have to invest resources into developing a solution quickly. But, ineffective marketing can produce disastrous results and cause these publishers to forfeit these monetization schemes and, in many cases, the platform as a whole. This will result in the absorption of smaller players and an acceleration of the consolidation of the entire industry.
5. Partial or Full Disruption of Attribution Service Providers
Tracking and attribution service providers will likely find an answer for the lack of IDFA tracking, but this doesn't mean that they will find this solution quickly. Many attribution providers will be forced to either deliver poor services to their customers or shut down temporarily until they have a solution that works.
If your attribution service provider is already experiencing difficulties, remember that this disruption may continue for a while. As more users adopt iOS 14, the loss of IDFA tracking will become an even bigger problem, so you need to find a provider that has a feasible solution as quickly as possible.
6. Reduced Digital Advertising Efficiency
The digital marketing industry has thrived because it delivers a great experience for users while allowing advertisers as well as publishers to engage with them effectively. The premise is that online channels can be tracked, monitored, and improved. But, with the loss of IDFA and accurate attribution, the efficiency of digital advertising as a whole may go down dramatically.
7. Difficulties for Large and Small Stakeholders Alike
Increased user acquisition costs, the loss of accurate tracking, and a poor user experience will only create additional barriers for large and small stakeholders alike. For instance, keeping audiences engaged was already challenging. Now, IDFA tracking will make this step even more challenging. But, because large stakeholders work with bigger error margins, smaller publishers will feel the worse impact.
Is Digital Fingerprinting the New Best Tracking Method?
Although some technologies haven't been perfected, there are some alternatives that could replace IDFA tracking overtime. While it's true that none of these provide the exact same accuracy and widespread availability, some of these alternatives are effective enough to merit an opportunity.
Digital fingerprinting is one of these alternatives. While somewhat controversial, this type of tracking monitors a large number of variables that range from the device specifics like screen size and OS version being used to the location and carrier of the user. The idea is that every person has a unique combination of variables, which makes it possible to track individual users.
There are some challenges to adopting digital fingerprinting technology at a large scale, for instance, it's a power-intensive activity. So, you need to determine if you have the resources to make this alternative work.
Want to Develop a Winning Campaign? Contact lemonads and Find the Best Affiliate Programs Today
IDFA tracking may be out the door for good, so learning how this will impact the mobile affiliate landscape is essential if you want to remain successful. To learn more, contact lemonads and our team will be glad to help.
Accelerate your Conversions, Increase your Revenue
with lemonads
---
You would like