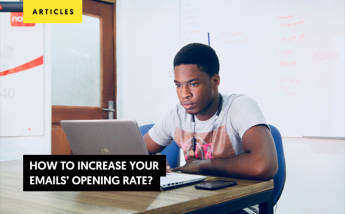 How to increase your emails' opening rate?
Email marketing is a fascinating world. We thought you might ask, so we are delivering to you all of our top 12 tips to increase your emails opening rate. The last tip may seem simple but it's the most important of all. Emailing is here to stay and we are still learning methods on how to write the perfect email to captivate your subscribers' attention.
If you haven't already, check out this article that explains email marketing in detail, it will put the basics in place before reading our best tips to increase your opening rate. We precisely explained why it's an important part of your business marketing strategy and why it shouldn't be forgotten. We also gave you a few tips to get started. Now more than writing a good email, we want the email users to open it first. Here are our best tips to increase your emails opening rate. Are you ready? Let's do it.

If you don't know what email marketing is, we invite you to start by reading our article: What is email marketing? and Which Affiliate Products Make Money In Emailing?
Segment your list
This is the number one tip you need to keep in mind. A segmented list made of sub categories of subscribers increases the opening rate by 14.31% compared to a non segmented email, says Mailchimp. It also performs better in terms of clicks, with an average performance that is 100.95% higher than a non-segmented list. If you are still not convinced, segmenting your list makes it easier to know your crowd to build a strong relationship. Lyris shows that 39% of marketers that segmented their email list had encouraging high open rates.
Regularly cleanse your list
To keep a good health on your overall emailing campaigns, we recommend you often look at your feedback and statistics. The point is to deliver to the right person an email so it performs well. Scrubbing your list will also make it cheaper for you, as email service providers charge based on a number of emails you are using. Pay attention to bounces, the hard ones and the soft ones. These are two types of bounces in email marketing. The soft one is a temporary problem that can be fixed on the second try, but the second one is a dead end and is no longer a valid email address. This will significantly improve your ROI because only people interested in your company will receive your emails.
This goes hand in hand with spam, you don't want people to be annoyed by recurrent (and not wanted) emails. So, delete all the emails that directly end up in the spam inbox. We suggest cleaning your list often, like twice a month or every week if you find the time. Your business will only benefit from it. What's a good time to scrub an email marketing list you may ask? If your opening rates are low, it's probably a good time to give it a good scrub and make a fresh start.
Select the right time and be consistent
Never underestimate the relevance of a consistent schedule. It's about creating a habit in your audience's routine. Every Tuesday at 11am, they will receive your email and take a bit of time in their day to read it. This is a major rule to follow to perform well in your email marketing campaigns or your weekly newsletter. What is the best time to send an email? Well we announced it before. A few researches have shown that sending emails on a Tuesday at 11am is the best time to send an email so it performs at its best.
Write a perfect subject line
We can all agree on this, the subject line is the first thing a subscriber reads about an email. What we suggest to make your email marketing perform is that you take the time to write a good headline. It needs to be personal, for example "How are you?" and you can use emojis when it is appropriated. Keep this in mind: you need to spark your reader's curiosity to make him want to open to find out what this email is about. A subject line that triggers emotions, fear, pain… is going to perform better as our brains tend to be more curious about those emotions.
Write like you would write to a friend
We said it earlier, emails that are more personal perform best. Take care of your audience, make them feel special and give them attention and care. It makes such a big difference to create more than a seller-buy relationship and actually build trust. Think about it for a second, receiving an email that feels like an old friend wanting to know how you are doing, wanting to share with you some interesting content is the way to go for an email marketing strategy.
Add a pinch of humour
Humour is such a great way to exchange and create a bond with your subscribers. It will make them enjoy opening your emails and if you regularly add humour, they know it will be a good time to read your email. It's a very light-hearted way to connect with your audience and we can all use a dose of laugh. You can be open but be careful not to fall into controversial jokes as it will tarnish your brands name. Keep it fun and general.
Use great images in your emails
Images have the power to inspire a being by just looking at it. It's very important to choose impactful images to add to your emails, no matter if it is a newsletter or an email marketing campaign. We have a mainly visual memory and seeing your name pop up will be automatically associated with inspiring and beautiful images. In short: make it nice to look at.
Insert your audience's name in the subject
This is personalization at its best. People are drawn to their name and you will automatically catch their attention. This study by the Stanford Graduate School of Business shows that inserting a name in an email increases the opening rate by 20%. And on top of that, it boosts sales by 31%. Now you need to listen to this: don't use it too much. Otherwise you will make your audience run away in the opposite direction. Insisting too much isn't the way to go, make it subtle and only use it at the right time, for the right email.
Always use a CTA
Email marketing needs to lead somewhere. It needs to have an aim. Think about it as a game: your email is the first step, after opening your email, your readers should be able to access the second level of the game, the CTA. They should be rewarded at the end of the game by your awesome content. This is very important because without a CTA your emails will be considered pointless and therefore the opening rate for your next emails will be lower. So make sure to add a Click To Action to your emails.
You can add these CTA for example:
Example: visit my new website.
Example: subscribe to my YouTube channel.
Example: download my free guide.
Example: purchase our restocked items
Example: Today is your birthday! Here is 20% off.
Ask questions
Asking questions in your subject line is a good way to increase your opening rate. A question is directly asking for attention and subconsciously want your audience to reply by opening the email. Inserting questions in your emails can increase the opening rate up to 61%. Keep it casual, and choose the right question to stay in line with your email content. "How are you today [name]?" works wonders for a newsletter for example.
Use the right words
Using power words in your headline is very important as it is these few words that will determine whether or not your email is worth opening. Some words have a stronger psychological effect than others. The wording choice affects whether or not your email will go through the spam filter. Those words are called "SPAM trigger words". This includes words like "clearance", "email marketing", "credit"... To sum it up: choose your words wisely.
Keep it simple and short
Last but not least, we highly recommend you to keep your emails simple and short. This will impact your opening rates for your future email marketing campaigns. An email should be short enough to be able to read it anywhere. Bear in mind that more than half of email users open their emails daily on a mobile device. It should be enjoyable and quick to look at to keep the reader's attention. The ideal length for email marketing is around 125 words to 200 words. These short emails perform better and have actions taken increased by 50%.
Conclusion
All these tips should work wonders on your email marketing campaigns, but it will take a little bit of time to build up and actually show encouraging results. Stay focused on the technique and strategy by following these steps for your business. Opening rates is everything when it comes to email marketing. An unopened email is a lost lead. A lost lead is a lost customer. You should do everything that is in your power to increase your emails opening rate in order to have a successful business by creating a strong relationship with your audience.
Accelerate your Conversions, Increase your Revenue
with lemonads
---
You would like