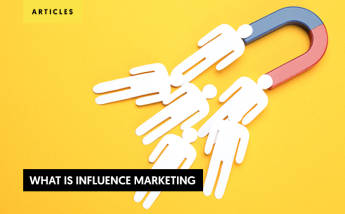 What is Influencer Marketing? 2021's relationship with influencers.
You might have heard the word influencer before. If you had, you have an idea of what influence marketing is all about. In this article we will tell you what influencer marketing is, how it works, is still relevant today, and how to do it.
What exactly is influencer marketing?
Influencer marketing is a type of social media marketing that uses endorsements and product mentions from individuals that have built authority in a certain niche. These individuals influence the market through their opinion and because of that they are called influencers or content creators.
With social media and the speed of communication, people started believing more in the advice of "normal people" than in what tv commercials were telling about a certain product.
If you think about it, influencer marketing changed the world of advertising forever. For a moment, a model crossing the Pont Alexander in Paris showing her flawless lipstick was completely overrated. Those million-dollar commercials were replaced for a couple of thousand dollar checks for teens that would go in front of their smartphones and record a simple makeup tutorial while speaking about that same lipstick.
People felt closer to the idea of a woman who showed her skin before and after makeup but most importantly sympathized with their personality. For once, ladies don't have to relate with a perfect and photoshopped model or actress and also understood the products in a more "normal life" standard.
Influencer marketing scaled up real fast because of that. Products suddenly were selling better from influencer marketing than with any other marketing strategy and some people got very rich because of it.
If we keep thinking about the makeup industry, Kylie Jenner can be a perfect example of this. After promoting and endorsing millions of dollars worth of makeup and beauty products, she decided to create her brand. Kylie cosmetics was huge overnight. Yes, we know it wasn't a billion-dollar company before COTY bought it (as we were told), but it was worth a couple hundred million dollars at least, as Forbes confirmed in June 2020. However things went, it doesn't matter. Why? Because if it's said in social media it must be true.
Types of Influencer Campaigns
1. Sponsored Content
The first type of influencer marketing campaign is the classic Sponsored Content. Brands reach out to influencers that have an interesting audience for their products or services. They send the influencer a brief with some guidelines, instructions, and requirements. Then, the influencer creates a piece of content following that brief and adding their personal magic touch. The format of sponsor content can be a picture, a video, or a blog post featuring the product or service.
2. Reviews
As we mentioned before, the success of influencers relies on the fact that we believe much more in normal people talking about their real experience with a certain product than in one way advertising.
Unboxing videos are a great success. The client can follow the experience of buying a certain product from A to Z. Some of the social media influencers that do unboxing videos have been paid for it or have received for free the products.
The process is similar to sponsored content campaigns. The brand will brief the influencer with some broad and flexible guidelines. If you as a brand want to use this kind of content, you have to trust 200% on the quality of your product, otherwise, it can turn against you. Most influencers have some ethical boundaries and will not promote things they don't like or won't use.
3. Competitions and Giveaways
How does it work? A brand provides influencers with free products that they can give away to their followers. People love free stuff so it is a win-win-win situation. The brand gains some exposure, the influencers get attention and enlarges their audience by offering free stuff, and well, the followers get to win some cool, new products.
The competitions or giveaways can include some call to action like tag 3 friends that like the post or follow the IG account. Like this post, tag this post for 3 friends to comment. Follow the brand and like this post…
4. Product Collaborations
Product and brand collaborations are very in fashion a while ago and they have great success. An example can be Nike Jordans collaboration with JBalvin amongst others. The collaboration gives force to the brand and the artist.
Smeg and Dolce Gabbana.
A fashion icon designing patterns for cool home appliances is a great example of collaboration.
Karl Lagerfeld for H&M
This is not a recent example but is one of the coolest. When this collaboration happened, the icon Karl Lagerfeld was the Creative Director of Chanel. The collection sold out instantly. This allowed him to be seen as a pop figure but also send a message of fashion being available for everyone. For people who love Chanel but didn't have the money to buy a Chanel item, having access to a piece designed by him in H&M was amazing.
Dior + Nike.
The comfort of sneakers is the brand luxe.
Gucci + The North Face.
Louis Vuitton + NBA
5. Long-Term Brand Ambassadors
As the name implies, a long-term ambassador is an influencer who partners with your brand for an extended period. They are frequently seen as "the face of the brand".
As opposed to other influencer marketing examples, instead of one post, a Brand Ambassador promotes the brand for several months or even years.
An example of Brand Ambassador in George Clooney for Nespresso... what else?
6. Takeovers
In the tactics we saw before, your brand is displayed and promoted in the influencer's channels. In takeovers, the influencer comes to your platforms.
In a takeover, the brand gives the influencer access to its social media channels of choice for a set period, usually a day. Some special occasions would go up to a week.
Some content examples can be behind-the-scenes or 'day-in-the-life of posts, videos, and stories to keep your audience interested and engaged.
To use this type of campaign, there has to be a very serious contract and several disclosures. As the influencer is taking over your account, you have to give passwords and access to your full account.
How to build your influencer Campaign
1. Know your Audience

As in any other campaign, you need to know Who do you want to reach? To choose the right influencer for your campaign, you need to know who you are targeting. How is this segment being approached and who are they following?
2. Which Influencer?

Picking the right partner is essential. This next step is selecting which influencers to work with. By choosing the right people, the company will team up with partners who reflect company values and most importantly be sure you're reaching the right audiences.
Finding influencers is a task that requires one very important thing: Getting under your target audience's skin. You need to identify which are the top influencers in your niche, where your potential customers spend time, which influencer recommendations they are already taking into account and what channels are the best places for your product or services. Are you more likely to partner with a youtube influencer, or an Instagrammer? Check out what your competitors are doing and how they are using influencer marketing on their behalf.
The factors to take into account when choosing your influencers are:
- Audience Size and Audience growth.
- Reach - How far their posts go. The post can travel far beyond their inner circle. The posts may be boosted by other, larger personalities, or they may have a sizable following base across different platforms.

- Engagement - Engagement measures how much someone's fans interact with them. The most important is to check if their audience is engaged. This means that if an influencer has 100k followers and only 1k likes in a post, the audience is not engaged enough. People follow them, but they tend not to interact. If their fan base is not interacting, this influencer won't bring you a lot of visits as a consequence.
By contrast, someone who has just 10,000 followers but gets 1,000 likes is converting 10 percent of their audience. A larger proportion of people are interacting with them. So it's better to focus on engagement rather than Audience size.
- Influencer's Voice and Values - It's radical to be aware of the tone of voice, the language, and most of all the values an influencer carries and spreads. This person, in a way, will be the face of your brand. How they speak about your product should be a major factor in your decision. What things do they support, what things are they against, do they seem a match to your business? Check how they did with other products or brands. Do you like the way they expressed their opinion? How did your target market react to those posts? As we said in the beginning, get under your customer's skin as much as you can.
3. What's your offer?
When you approach the influencer you should have a structured offer.
Influencers are well aware of their importance in purchasing decisions today and their value for brands.
Some years ago, an influencer would be happy by receiving a product to review and a product as a reward. Today influencers can be very expensive.
Just to give you an idea, the most expensive influencers right now are The Rock who charges USD 1'015.000 per post on Instagram. In second place Kylie Jenner USD 986.000 and Cristiano Ronaldo USD 889.000 as informed by GQ in "the list of Instagram's highest-paid celebrities in 2020".
You must design your offer and have several options in mind as you approach the influencer or their marketing agency. Make some research on the influencer's pricing. If you have a 10k budget, you can't even get close to saying hello to The Rock. Be realistic, and no worries, there are hundreds of amazing influencers that fit your budget.
What do you need to promote?
For how long?
Your guidelines. What to mention ...
How will you pay? (Are you paying cash, in a product, by performance…)
Make your offer attractive to the influencer. Think that it's a partnership and treat them as partners. The closest they feel to your brand, the better they will work for it.
4. Set your KPI's
Before you even start your influencer campaign, you need to know how to measure the success of your campaign.
Are you working on the awareness of your brand? Or is it purely sales? Do clicks and visits have the same interest as sales or leads?
Digital marketing is data. And you need to know what data is relevant for you in advance.
Conclusion:
Influence marketing works and it's a great way to promote your product or services. People trust some influencers' opinions and follow their lead when choosing or trying new stuff.
There are different types of influencer marketing campaigns and you can choose depending on your goals. If you want to enlarge your Instagram follower base, a giveaway can be interesting. People love free stuff and if they need to follow you and comment on a post to win a cool set of your product THEY WILL. It all depends on how attractive you and your influencer/partner are. If you are expecting to build trust, bringing a long-term brand ambassador can be a sweet way to bring along their fans to like you and trust you.
Follow the easy steps we gave you to build your campaign successfully. Walk on your target market's shoes. Get under their skin as much as you can to understand where the right influencers for your business are.
Do you want to approach an influencer with an affiliate proposition?  You might want to learn about how affiliate marketing works and why is it interesting for you.
Accelerate your Conversions, Increase your Revenue
with lemonads
---
You would like