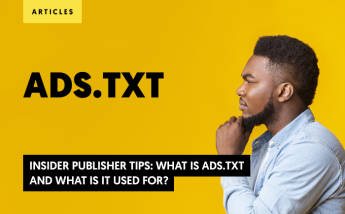 Insider Publisher Tips: What Is Ads.txt and What Is It Used For?
For the last decade, consumers, publishers, media buyers, and many other affiliate stakeholders have been clamoring for more transparency on the supply side of the ecosystem. This is because a more transparent affiliate ecosystem makes it harder for deceitful actors to sell counterfeit traffic and perform other types of fraud. This, in turn, has a positive impact on all other areas of the affiliate industry, which translates to sustained growth.
With all of the above in mind, finding a standard by which most publishers and other stakeholders are willing to abide by is extremely challenging. That said, the creation and implementation of ads.txt files are proving to be superb alternatives that may help publishers take control of their inventory.
Our team at lemonads stays updated with the latest trends and changes that impact the affiliate marketing landscape. In this article, we'll go over the definition of ads.txt files, how they work, and explain how to create these for your website.
Defining Ads.txt
Before discussing ads.txt files, let's take a moment to define these and go over what they entail. The ads.txt movement is a project spearheaded by the Interactive Advertising Bureau or IAB and it was developed to improve transparency in programmatic advertising interactions.
The letters A-D-S in ads.txt stand for "authorized digital seller" and this type of file is easy to add to your publishing platforms. When you implement ads.txt files, they basically declare who is allowed to redistribute your inventory so that unscrupulous distributors don't sell false traffic pretending that it comes from you.
One of the biggest challenges is the adoption of ads.txt files. But, assuming that most publishers and distributors agree to implement this simple change, the result would be an ecosystem where all brands and other buyers are 100% confident in the quality of the traffic they buy.
How Do Ads.txt Files Work?
In the affiliate context, ads.txt creates a public record that advertisers and other media buyers can access in order to find out who is actually distributing a specific publisher's traffic.
As the name suggests, ads.txt documents are text files, which means that they are easy to create, upload, and manage once they are in your root domain. They can only be added to the domain by the webmaster, which makes them a great way to authenticate the information that comes from publishers and distributors.
Uploading and finding a text file that has already been uploaded is easy via the OpenRTB protocol because the platform already features all the fields to enter the required data for an ads.txt file. Once implemented on your site, potential buyers will be able to verify which distributors are authorized to distribute your traffic and avoid fraudulent interactions.
How Can Buyers Use Ads.txt Files?
If ads.txt is adopted by both a publisher and the ad network this individual is working with, buyers will be able to check each provider's tags and ensure that these match in order to verify their authenticity. If the tags match on both publisher and distributor, then the traffic being purchased is legitimate.
Moreover, if buyers are purchasing traffic from a wide range of sources, the IAB Tech Lab developed a specialized crawler that can pull ads.txt files from various websites simultaneously. Which, in turn, can help buyers verify their traffic without having to perform the process manually.
The Impact of Ads.txt In the Current Affiliate and Entire AdTech Landscape
The unauthorized distribution and counterfeit selling of digital inventory are two of the biggest issues in the affiliate marketing industry. Before the creation of ads.txt, the only way that buyers could verify if a network was allowed to sell traffic from a publisher was to contact the publisher directly. Needless to say, this was extremely time-consuming and didn't always produce results.
By creating a database that contains information about which sellers are allowed to distribute what traffic, the IAB is giving buyers the ability to verify this information in a matter of seconds.
Now, it's important to note that all stakeholders in the ecosystem are thrilled. SSPs and other distributors that profit from obscure or undisclosed selling practices are not interested in adopting ads.txt.
Are There Any Disadvantages to Ads.txt?
A small percentage of reputable publishers are resisting the chance because it means that they will have to invest more resources into adding a text file and keeping it updated across all their websites. Nevertheless, most agree the adding ads.txt files represents a small sacrifice that's necessary to keep counterfeit traffic sales to a minimum.
Counterfeit Inventory: The Main Driver Behind Ads.txt Adoption
While ads.txt files don't completely eradicate counterfeit inventory, the adoption of this technique does deal a huge blow to malicious parties that are using domain spoofing to distribute fake traffic.
Domain spoofing is the process of making an ad request appear as if it's coming from one website, when in fact it's coming from a completely different and unrelated platform.
As you may already imagine, domain spoofing is the main technique used to sell counterfeit inventory because it helps fraudsters mask low-quality traffic and make it look like it's coming from a great website. The buyer pays top dollar for the impression, while the fraudster sells a low-cost interaction at the highest possible market value.
If adopted by all or the vast majority of publishers and distributors, ads.txt files can actually eliminate the domain spoofing issue once and for all. Which, again, would not eliminate counterfeit traffic -- but it would help lower instances across the board.
How to Create an Ads.txt File
At the time of writing, it's estimated that out of the top 1000 sites on Alexa, more than 40% had already adopted ads.txt files.
As with all text documents, it's extremely easy to create and edit an ads.txt file. You can use NotePad or any other standard text editor to create the first file and edit it afterward. Keep in mind that the ads.txt file may require different formatting depending on the network or networks you're partnering with. With that said, most ads.txt files will contain at least four lines of data, which are the domain name, publisher identifier, account type, and network tag ID if available.
Domain name
The domain name refers to the distributor website URL. If the SSP is distributing traffic from more than one domain, you need to choose a canonical name that covers the entire advertising system or platform. For example, if you are creating an ads.txt file and you're using Google AdSense, the canonical name of the domain will be www.google.com.
Publisher Account ID
The publisher ID information is often placed by trade platforms and exchanges whenever a request is generated. Note that this can be an alphanumeric code that consists of several dozen characters, but there is no reason why it should be handled manually.
Account Type
The account type basically tells buyers if they are dealing directly with the publisher or with a reseller through the network. When labeled as "DIRECT" then the publishers are selling the traffic directly to the network, which buyers tend to like. When it's labeled as "RESELLER" then the traffic is being sold to the network by an intermediary, so buyers don't get to interact with the actual publishers.
Optional - Identifier Issued by the TAG (Also Known as TAG ID)
Lastly, some ads.txt files also include the TAG ID (TAGID), which is an identifier that's provided by a certified entity known as the Trustworthy Accountability Group. The rule of thumb should be that if the publisher possesses a TAG identifier, it should definitely be included in the ads.txt file because it adds another layer of credibility.
Implementing Ads.txt Files
To upload your ads.txt file, simply follow the same process you would follow to update the root of your website. You can use FTP or a file manager that gives you access to the root of your domain in order to place the file there. If you're paying for quality hosting, there's a strong chance this service is included as part of your service package.
Keep in mind that ads.txt only works when the files have been properly uploaded. When creating your ads.txt, make sure that it doesn't have any errors or mistakes. You can research ads.txt validators online to verify this, but you'll need to find a reliable provider.
Want to Find Out More? Get in Touch with lemonads Today
Whether you're a new publisher who is starting to garner attention or a seasoned webmaster that's running multiple sites, implementing ads.txt files can help improve your reputation while also giving you more control over your traffic. With that said, ads.txt files are only part of the solution as you also need to ensure that other areas of your publishing platform are protected against potential threats.
If you want to learn more about the latest industry updates or find out how to monetize your traffic safely, contact lemondas today and our team will be glad to help.
Accelerate your Conversions, Increase your Revenue
with lemonads
---
You would like