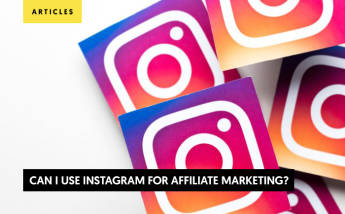 Can I Use Instagram for Affiliate Marketing? Guideline for 2021
Instagram has become the second most popular social media platform in the world. Boasting roughly 1 billion monthly active users, the image-based network generated almost 10 billion US dollars in advertising revenue in 2019 and that number is projected to grow significantly by the end of 2020. However, many marketers still have doubts about Instagram affiliate marketing, so they are not sure whether this network is suitable for promoting their Affiliate Programs.
At lemonads, we collaborate with content publishers that specialize in different types of traffic, including social media platforms like Instagram. In our experience, social traffic has a lot of potentials, but knowing which variables affect the performance of your campaigns can exponentially increase your odds of success.
With the above in mind, deciding to promote an affiliate offer on Instagram isn't always an easy choice. Below, we'll go over the definition of affiliate marketing and discuss Instagram's potential as an affiliate sales channel. We'll also provide a few tips to help marketers that want to test our Instagram affiliate marketing and find the best Affiliate Program for this type of traffic.
What Is Affiliate Marketing?
Before going any further, it's worth noting that not all Instagram users are familiar with affiliate marketing, so let's take a moment to define this practice.
Affiliate marketing is a type of promotion strategy where website owners, media buyers, app developers, content publishers, emailers, and other marketers (known as affiliates) promote a brand's products or services to make a commission from their sale.
Companies looking to promote their services are known as advertisers, and these businesses rely on affiliate marketing because it's a performance-based approach. To make a revenue, affiliates must produce results while meeting certain criteria, which varies depending on the advertiser's program.
Affiliates can use a variety of promotion channels to promote the offers they work with, including Instagram and other social networks.
Is Instagram a Good Place to Promote Affiliate Programs?
Remember, all affiliates and advertisers are unique. So, you need to evaluate your specific circumstances to determine if Instagram is a good fit for you. You'll need to invest a significant amount of resources into studying your audience, developing a schedule, and crafting quality creatives. Therefore, you need to ensure that you have the ability to carry these tasks out without putting too much stress on your budget.
That said, Instagram is a superb channel to promote affiliate programs for a variety of reasons. Some of these include:
Reach Billions Across the World
Besides having 1 billion users that are active every month, Instagram records a whopping 500 million daily active users that are scattered throughout all parts of the world. According to the platform, 90% of its users follow at least one company profile. Regardless of the language, location, or industry, there's a strong chance Instagram can help you reach the audience you want to target.
Engaged Users
The average Instagram user spends 53 minutes browsing through the image-oriented platform every single day. There are more than 95 million photos uploaded daily, so the vast majority of Instagram users are extremely engaged, either because they are posting or checking out new content.
Large-Scale Creatives
Although it may be designed for mobile devices that have a relatively small screen, Instagram allows for the creation of large-scale creatives that revolve around the product being promoted. Not all posts should feature this structure, but you should always use large images to develop attractive, engaging content.
Security and Credibility
Even before it was acquired by Facebook, Instagram earned a reputation for being a fun, exciting, and safe app for younger demographics. Instagram is an awesome place to promote the affiliate programs you work with because it instills confidence in users and gives the product as well as your brand more credibility.
5 Tips on Promoting Affiliate Programs Through Instagram
One of the most challenging parts of promoting affiliate programs through Instagram is the fact that the platform doesn't allow users to place outgoing links on each post unless you have 10,000 followers or more. Therefore, promoting a specific product in every post is challenging, but savvy affiliates have found a way to work around this obstacle.
Some affiliates opt for placing a permanent link on their profiles, so users can see all the products being promoted by that marketer in one single place. You can also opt to change the link on the profile description to match the product in every individual post, but this represents an additional step every single time you schedule a new publication.
Also, it's important to note that consumers behave differently on social networks, so you need to make the right adjustments to ensure that your posts have a higher chance of converting. Let's go over some tips to help you successfully develop an affiliate marketing Instagram campaign.
Focus on Delivering Value, Not Selling
Unlike conventional web users, consumers that are browsing through Instagram aren't looking for products or services to purchase immediately. In most cases, they aren't looking for products at all, so you need to change your approach a bit and focus on delivering value, rather than selling.
Affiliates that specialize in generating quality content increase their chances of getting sales later on. This represents a more gradual approach, but it's the technique that yields some of the highest success rates in our experience.
Shoot Your Own Photos
Besides avoiding stock photos and generic images, you should always shoot your own images.
Yes, we're aware that some Instagram accounts feature such good photography that competing against them for users' attention can be intimidating.
However, a bit of creativity and the filters you have available go a long way. So, you should take the time to learn how to shoot amazing photos and ensure that all the imagery on your posts is originally yours.
Leverage the Power of Stories
Instagram developed the Stories feature to compete with Snapchat. But, the image-based network has taken it to the next level by transforming Stories into one of the most popular elements that users take advantage of every single day.
The Stories feature allows affiliates and other Instagram users to share short videos. These can be permanent or expire and become unavailable after a specific period of time. Additionally, the videos could consist of still images, content recorded directly through the mobile device, or prepare creatives with more production value, depending on what works best for your audience.
Create a Blog or Site that Works with Your Instagram Profile
Having a colorful and lively Instagram profile is always a great idea, but this doesn't necessarily mean you'll have space to properly promote your products. For this reason, many Instagram affiliate marketing specialists also develop additional sites, blogs, and other platforms that work in unison with their profiles.
For instance, having a website that features a gallery with Instagram posts containing items available for purchase can entice consumers to buy products while making them feel like it's all part of the experience.
Invest in Instagram Ads
Many marketers indeed choose to promote products through Instagram because it's free, but investing in boosting promotional posts can also improve the performance of an affiliate campaign. If your budget allows it, you should invest in Instagram ads as this will increase exposure and help you reach more specific demographics.
How to Choose Your Instagram Affiliate Niche
If you're an established Instagram influencer, you likely have a good idea of the niches and industries that can help you generate significant profits.
But, it's also common to rack up millions of followers by posting fun, entertaining, and valuable content without specializing in an industry or type of audience. In these cases, you need to determine which verticals you should work with and what types of offers are the most beneficial to your specific case before you start publishing affiliate content.
To choose the right niche, remember to:
Review Your Current Follower Base
You may have a follower base that consists of users from all demographics. But, more often than not, a specific type of content tends to attract a unique demographic. Before you decide on your niche, take a look at your follower base, and try to identify similarities between users. Look for things like:
Age
Location
Gender
Preferences and interests
Think About Topics You're Passionate About
You should always choose topics that you're genuinely interested in and passionate about, even if you don't know much about these.
There's a strong chance you'll have to invest a significant amount of time into research regardless of the industry you choose. So, you should always opt for specialties that would like to learn more about as this will make the learning process a lot easier.
Study Other Successful Affiliate Campaigns
This may be tricky for influencers who are transitioning into the world of affiliate marketing, but you need to learn from competitors and analyze successful campaigns to understand what other marketers are doing to succeed.
Remember, you'll need to employ marketing analysis tools and conduct competitor research, so make sure you have the tools and knowledge you need to collect information as well as transform it into actionable data.
Where to Find the Best Affiliate Offers for Instagram Traffic
The affiliate programs dictates the terms, conditions, and specifics that a marketer needs to follow to register conversions and generate a profit from an advertiser's program. In addition to the product itself, the offer will also dictate the steps needed to complete conversions as well as audience requirements, such as location, age, and gender.
Professionals that specialize in affiliate marketing on Instagram can either work directly with advertisers or join networks that give them exclusive access to different offers. Your best bet is to partner with a reliable network as these allow you to work with multiple renowned advertisers while creating a safe environment for all stakeholders.
At lemonads, we help Instagram affiliate marketing specialists find the best programs from some of the top advertisers in the world. If you're looking for awesome programs to help you monetize your Instagram following, contact us today and we'll be glad to help.
Contact lemonads and Start Monetizing Your Instagram Traffic Today
Social networks like Instagram can help affiliates develop robust campaigns, but you need to take the time to research your audience and find the ideal affiliate programs. If you're interested in learning more about monetizing social traffic, follow our blog or contact us today and our team will be glad to help.
Accelerate your Conversions, Increase your Revenue
with lemonads
---
You would like