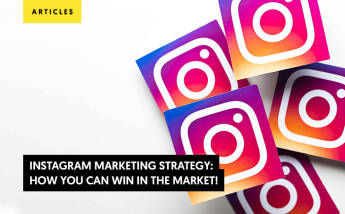 Instagram Marketing Strategy: How You Can Win In The Market!
Instagram marketing strategy is no longer the stuff we make, but it's all about the stories we tell!
Since Instagram got launched in 2010, not only it scaled in becoming what it is today, but it has brought the world to its attention by driving not only people, but also their pets on the platform!
It's insane if we think that over 800 million monthly users are active on the site and more than 60 million photos are posted each day, with 1.6 billion daily "likes"!
On Instagram we can find a huge number of influencers with a massive amount of followers. You may have noticed the increase in brands who've developed a presence on Instagram striking awareness and achieving their goals!
If you're a brand and you're seeking in achieving the same goals well... guess what? you're in the right spot and with the right plan, you can become an influential brand, too!
So, let's discover all the proven tactics in our Instagram marketing strategy you must be aware of, to aim for success through:
Instagram Marketing Strategy: From Beginner to Pro
Instagram Sponsored Native Ads
Interactive Branded #Hashtags
Instagram Stories
Instagram Optimization
Instagram Marketing Strategy: From Beginner to Pro
Instagram, similar to many other social advertising platforms, gives you full control to target specific genders, age ranges, locations, interests, behaviors, and more. You can even target a custom or lookalike audience to show ads only to your direct list of leads or to those who like a similar product as yours.
What advertisers should really catch, is the fact that Instagram uses Facebook's demographic data to serve up ads to the appropriate parties. Since Facebook bought Instagram, this has only proven to be more effective than ever!
This makes Instagram's platform super valuable for advertisers that are looking to target a niche audience, since Facebook already has an in-depth history in an all-inclusive detailed demographic targeting options!
So, are you ready to switch to a business account?
Benefits For Business Profiles
Call-to-action Buttons:
Followers can directly get in-touch with you by clicking a button from your Instagram page just like they would from your website.
You could even direct them, with a link in bio, to your website, landing page or anything you would like your audience to see and discover!
Create and publish Instagram ads:
Instagram ads costs are based on a variety of factors. The model is based on CPC (cost-per-click) and CPM's (cost per impressions), and prices are determined according to Instagram's ad auction.
Access Instagram analytics tools:
They are called Insights, which provide stats about the impressions and reach of your posts. Through your Insights, you can view statistics like impressions, engagement data, and even get a breakdown of the demographics of your followers, including information on their age, gender, location, and most active hours of your target audience, just like on Facebook.
Once you've unlocked the free perks that come along with a business profile, you need to start using them to track metrics and understand your audience in order to succeed .
Instagram is surly a great place to advertise your products, but Instagram, like any other place you would advertise, is a place where the user experience comes first!
If you're too invasive or don't know how to engage your audience, expect them to never follow or buy from you ever. Your Instagram marketing strategy here, would be increasing excitement, without looking like you're trying too hard.
An Instagram marketing strategy you can't ignore, is for sure knowing your posting times!
You need to keep in mind that over-posting, is not going to get you anywhere, so let's see when you can you post:
and what time:
As we can notice, the best days and hours to post, are when your followers are online: Monday and Thursday from 9 am considering that from 6 to 9pm there is a huge peak!
Ready to discover all our Instagram Marketing Strategies? We'll make you a pro in no time!
Instagram Sponsored Ads
Instagram ads have highly  mainstreamed on the platform. Not only you can control exactly how much you want to spend on them by setting an ad budget, but you can also showcase one sponsored ad or multiple ads with the carousel feature!
This gives brands the ability in targeting your audience!
This is a huge change for Brands and for Instagram itself! Sponsored posts were seen only by users following a brands account, but now they're shown in a discovery-mode while someone is just spending time on their Instagram account increasing brand awareness!
Now, as a brand, you can promote photos, ads, videos to anyone that fits your target audience to increase your reach!
Take a look here below:
Your Instagram Marketing Strategy here, would be in using engaging content to drive target demographics in seeing your ads!
Know that you can turn your existing posts into sponsored ads so, keep an eye on the ones that engaged more than others!
You can also push these high-performing posts so that your potential customers can see in the form of sponsored ads.
Run multiple posts to different audiences simultaneously for even more engagement. There are many different forms of sponsored ads that you can post such as:
Photo
Video
Carousel/Dynamic Ads
Stories
Stories Canvas
take a look!
These are for sure the greatest ways to connect with your audience!
Interactive Branded #Hashtags
Instagram marketing strategies are so many, but for sure, interactive branded #hashtags are the greatest ones you could ever apply to your instagram marketing!
If you're looking to create instant engagement, interactive hashtags are a great way to earn it!
Let's see how some big brands used interactive #hashtags to get a full vision of what we're talking about:
#LikeAGirl ! This challenge went viral!
#ShareACoke
#IceBucketChallenge is one of the most known interactive #hashtags that people challenged worldwide!
#PutACanOnIt! Red-bull surely scored their intent!
#PetsAtWork ! Purina knows the office star has arrived!
Did you just see why this is one of the best Instagrams marketing strategies you could ever do to gain instant engagement?
That's right!
Get ready to create your own!
Instagram Stories
If you want to generate leads... well, you've just figured out your next Instagram marketing strategy "Must do"!
Instagram Stories come in a "slideshow" format which are shown for 24 hours from when you publish it!
The best part, is that you could either save and republish them whenever you need and/or highlight them as your "favorites" right under your bio for anyone to see at any time!
This feature is very similar to Snapchat stories. In fact, they are Instagram's direct competitor, but Instagram gave a different use of the - already existing feature - by giving brands brand awareness and to influencers and people the chance in earning a different kind of visibility!
let's peek some Instagram Stories to get inspired from and know how to put in use this Instagram marketing strategy!
Brands can use stories without having to worry about posting content that aligns with the "aesthetic" of your brand or your Instagram page.
Instagram also makes it easy to experiment with different types of content in the Stories feature like photos, short video, rewind video, live video or Boomerangs.
You can use so many tools like Canva, FreePik and InVideo to create amazing images and videos for your stories or even for your pictures in your feed!
You can also tag other accounts in your Stories, which is great if you're collaborating with another brand or influencer to increase your traffic and brand awareness!
The great thing with stories, is that they're unlimited and your Instagram marketing strategy would be in creating fun, eye-catchy visuals with face filters, text or stickers to engage your audience!
If you want more engagement, your marketing strategy would be in partnering with a couple of influencers who are already making a killing on Instagram to collaborate with!
What are you waiting for?
Instagram Optimization
Your Instagram marketing strategy is in making sure you track your metrics!
When you have measurable results and know exactly what's working and performing better for your Instagram page and posts, only then you can start knowing where to improve and start optimizing!
Tracking your follower growth rate would be your first Instagram marketing strategy.
In fact, the total amount of followers you have is commonly seen as a vanity metric and it truly is from the outside, but the reality is that if your follower growth rate aren't real and won't help your brand at all, they'll be unless to a marketing point of view.
So make sure you target the right audience and stick to it! Don't try to get those followers just because of a number: you won't go anywhere!
A next Instagram marketing strategy will be your link in bio!
That is another metric you can measure to see how many people are clicking through to your URL!
Instagram only allows one link to insert in your Bio, so if you have more than a link to show, such as a YouTube Channel, a Portfolio, an eCommerce site, landing page, blog or anything you want people to discover, you need to use a tool to gather more than a link in once!
In fact, you can use many tools for your links in Bio such as LinkTree, Shorby, SkedLink, LnkBio, campsite, contactinbio and so much more!
Next, make sure you measure engagement rates as an Instagram marketing strategy! You engagement rates are those "likes and comments" you get and they'll truly be helping you to understand what it is, that your audience loves, likes and are more engaged with!
Find out the average engagement percentage of your total followers as well as the average engagement rate of each post to get a clear picture of how your page is performing and you'll be set!
Instagram Marketing Strategy Conclusions
Instagram has dominated the social media market, so where are you? Read the social media affiliate marketing guide to know more.

Images are being daily shared, ads are amazing impossible not to notice and brand awareness keeps in getting higher chances in being discovered each second!
Remember, Instagram holds over 800 million monthly active users!
You have so many ways to highlight whats your mission, your tone of voice and so much more for people to discover and buy your products or services simply while users are in discovery mode! And all at the right times and days!
So, grab all our Instagram marketing strategies and get ready to shine! We know we'll be hearing about you soon!
Have you got more Instagram marketing strategies? We know there are tones out there, so feel free to drop them in our comments here below!
Accelerate your Conversions, Increase your Revenue
with lemonads
---
You would like