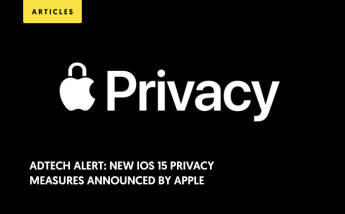 AdTech Alert: The 15 iOS Privacy Measures Announced By Apple
Apple has been making a huge splash in adtech in the last few months, and it's not done yet. In addition to introducing its app transparency tracking framework back in April, the technology giant has announced even more changes in its next iOS release at its World Wide Development Conference (WWDC). And, needless to say, these updates will have a huge impact on advertisers, publishers, as well as all other stakeholders in the affiliate industry.
At lemonads, we maintain one of the top affiliate networks in the industry, in part, because we stay updated with all relevant changes in order to make the appropriate adjustments. In this article, we'll go over the most important privacy changes that Apple announced at the WWC and explain how each one will impact the affiliate industry.
When Will iOS 15 Be Released?
Before delving into the chances that Apple announced, it's important to understand that these changes won't come into effect until the release of iOS 15. The tech company announced back in June that iOS won't be rolled out until fall of 2021.
That said, the public beta version has been online since June 30th in order for developers to test it and for users to get the first glimpse. Developers actually have access to a 4th-stage release of the software already as many are already anticipating the official release.
Pundits believe that the official release date of iOS 15 will be exactly on September 13th, which is also the same day that the iPhone 13 is set to hit stores. And, even though Apple's privacy updates will likely put pressure on the affiliate industry, iOS 15 is also bringing
New AdTech iOS 15 Updates Announced at the WWDC Event
For years, Apple and other smartphone developers have been working on improving privacy. Consumers are now more concerned than ever before, to the point of factoring in privacy when choosing a new device or provider. This has led Apple to introduce privacy-centric features, like app labels that give users easy access to information about the developer's privacy concerns. Or, the introduction of the app tracking transparency framework.
Now, the company has announced a few more updates in iOS 15 that will directly impact publishers. These include:
Privacy Dashboard Updates
The first and probably biggest change that Apple is introducing is the addition of a privacy dashboard, which allows users to see which apps and websites are tracking them and when this is happening.
For many, this is an extension of the app tracking transparency feature from iOS 14.5, which prevented apps from collecting information and selling it to media buyers, advertisers, and other parties.
In iOS 15, users will be able to access a dashboard that contains all of the privacy settings and permissions in place. You can actually see exactly which apps can use data like location, microphone, camera, and photo library, as well as how often this data is used by which parties.
Blocking of Invisible Trackers
Email marketing has been one of the most powerful forms of advertising for years. Its success is due, in part, to the fact that each email contains a pixel-sized image file, which tells the sender when your email was opened. At the same time, these trackers collect data from users, including IP addresses, device details, internet connection specifics, and other valuable information.
While many browser extensions already block these trackers, Apple shocked the digital advertising industry by announcing that it will introduce similar features to its Mail application. From a publisher/advertiser perspective, the move will prevent stakeholders from knowing when consumers have been engaged by the emails sent out, making the optimization process extremely difficult to complete.
All Audio Being Processed Through Siri
At the time this article was written, Siri (Apple's default voice assistance) could only work if a device had an active internet connection. But, the company announced at WWDC that Siri will work without the internet in the upcoming iOS 15 operating system.
This will allow it to process all speech on the device itself, so that any recording never leaves the device. Besides boosting privacy and addressing safety concerns, Apple also announced that the move will help Siri respond faster to voice commands.
Publishers and other stakeholders that were adjusting their platforms for voice searches should still make improvements. But, these entrepreneurs and platform owners need to wait until the new updates have been introduced to have a better understanding of how the new voice search system will work through Siri.
Bonus: New iCloud+ and Safari Privacy Features
Besides blocking trackers and processing voice searches through the device, Apple is also introducing changes to its iCloud service, and it's doing so under the moniker iCloud+. People that already pay for iCloud will enjoy the upgrade without additional costs, so they will start seeing improvements in the interface as soon as they download the iOS 15 beta release.
Let's take a look at some of the iCloud updates you can expect to see in iOS 15.
Private Relay
The iCloud+ upgrade will offer a new feature called Private Relay, which will be only available through Safari at first. Initially known as Oblivious DNS-over-HTTPS, this feature is the result of heavy collaboration between Cloudflare and Apple.
In simple terms, this service is a combination of a DNS-over-HTTP with proxy servers. In other words, when this feature is on, no party on the internet can track your browsing history. This includes internet [providers as well as other stakeholders that operate between your device and the server it is requesting information from.
Hide My Email
For the last two decades, consumers have been sharing their email addresses whenever they want to sign up for a newsletter or similar service. However, unreliable publishers would collect information and try to monetize these emails without delivering value. Which, in turn, had a negative influence on the number of users signing up for online content.
Apple's Hide My Email feature allows users to generate random email addresses, sign up to newsletters with these accounts, and receive the updates to their usual iCloud email. The main goal is to prevent users from having to share their legitimate email addresses if they are concerned with how it might be used.
Default Two-Step Authenticator
It's worth noting that Apple is introducing so many new features into iOS 15, the company didn't have enough time to cover them all at the WWDC. One of the most intriguing privacy updates is the addition of a default two-factor authentication in Apple devices. This means that users can set up an additional verification to sign in without the need of a third-party app.
What Can Publishers Do to Mitigate the Impact of These Updates?
There is no doubt that Apple is shaking up the online advertising industry with all of it's new updates. But, even though it seems like they spell doom for most publishers and other advertisers, the stakeholders that start making adjustments immediately will have the highest chances of success.
In our experience, the best thing you can do is develop a marketing machine based around the new changes that Apple is introducing in its next iOS release. This will help you keep your audience engaged while also increasing your chances of achieving long-term success.
Contact lemonads and Start Monetizing Your Traffic Today!
Are you ready to boost your affiliate marketing efforts? It doesn't matter if you're a publisher that wants to monetize traffic or an advertiser looking to partner with the best affiliates, our team will be glad to help. Get in touch with us today!
Accelerate your Conversions, Increase your Revenue
with lemonads
---
You would like