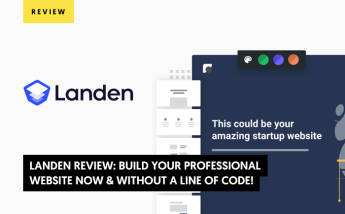 Landen Review 2021: Build Websites That Will Drive In More Traffic!
Our Landen Review will uncover all you need to know to understand if they're the right website builder platform for promoting yourself or your business in such a crowded place!
Promoting yourself with a professional website is a must in 2021 to stand up through competition and it's surely the only way you can make a difference!
Users are becoming more demanding and want simple reliable information they can turn to when needed, and this is why businesses that understand users' needs are updating, changing, and creating more professional user-friendly websites than ever!
Keeping up with trends and technology is surely bringing businesses higher results and are more efficient than ever, but you must choose the right website builder tool that can truly help you succeed in achieving your goals.
And Landen can bring so much to your website by designing it with a good visual and powerful editor that balances flexibility and ease-of-use with no coding experience needed!
Landen's outstanding features will help you focus on your copy while giving you advanced customization!
So, let's delve deeper in knowing more about Landen's website builder tool to see how effective they are and how they can easily help you build strategic and professional websites that will drive in more traffic and conversions than ever, all by overviewing:
Landen Review Company
Landen Review Features
Landen Review Pros & Cons
Landen Review Pricing Plans
Landen Review Conclusions
Landen Review Company
Who is Landen and why them?
Landen's website builder platform can help you generate something truly unique by offering unique websites based on your use-case and not with generic templates anyone can use.
Just follow and answer questions about your product, what you are building, and which content you exactly need so they can come up with the perfect solution, showing you which website will work better than others for your business and get their editor a place to start.
Landen is filled with a variety of useful and outstanding features that would help your business not only stand out but also help it in growing including blogging tools, email lists collecting information within Landen, or through third-party services like MailChimp!
Landen is used mainly by solo entrepreneurs, freelancers, startups, and established businesses!
If you are looking for simple CMS with attractive landing pages built around specific use-case or need to launch a blog and capture users' email addresses, you've "Landen" in the right place!
Landen will offer a truly efficient onboarding experience so, let's get into knowing all of their outstanding features to get started!
Landen Review Features
As we said, Landen will blow your mind with many features that could help your business grow!
Not only you can start to select the kind of content you'd like to include, pick from a large number of color schemes, font presets, specify the art style to make your design your own, but you can also select from a wide range of illustrations, images, videos and icons and so much more!
Images on each website are optimized and responsive on smartphones and tablets as well as computer desktops.
Let's delve further:
Content First
Enter your content and the editor will make automatic layout adjustments to accommodate and perfectly blend it in. Landen's editor makes it super easy for you to focus on the copy, instead of moving pixels around.
Flexible design
Change around layouts and design preferences without having to worry about your content.
And check it in a Real-time preview!
You can see your design change as you type, upload, and adjust it.
Useful Globals
Set your site-wide preferences to quickly and easily achieve a beautiful and consistent look.
Colors & Fonts
Pick a color preset or completely customize every single color on your site with a code reference color. Landen also comes with many preset fonts, but you can also pick from any of 900+ Google Fonts!
Buttons, Shadows & Roundness
Customize your preferred button style, preferred shadow depth, corner roundness, and site width.
Art Library
Modern websites rely a lot on illustrations, mockups, and icons to add character. Landen comes with lots of free content included!
Illustrations & Mockups
To the right (or left) of your feature text, you can add a product display just like the ones in the hero section and, if you want to show off your website in a browser or your app on a phone, Landen has beautiful mockup templates for you to pick!
Icons & Icon Decorators
Add icons to your titles, features, or item grids from thousands of included icons, or directly upload your own preferred one. Would you like to customize your icons? You can! Make them stand out with colorful backdrop shapes!
And that's not all! You can also…
Autosave
No need to click the save button, all changes are automatically saved.
Snapshots
Regular snapshots help you restore to an earlier version of your site.
Duplicate
Duplicate sections and pages to speed up your design process without losing any of your done work.
Section Dividers & Section Hiding
Add playfulness to your site with built-in section dividers and you can also hide any section to quickly remove content without deleting it.
Gradients
Quickly design beautiful gradients for section backgrounds.
Videos & GIFs
Upload videos and animated gifs! You can upload art wherever you want!
Markdown Support
Style almost any text with markdown formatting.
Adjustable Spacing
Change the padding, minimum height, maximum width, and more.
Variations
Many sections offer multiple layouts and design variations!
EXTRA FEATURES
Each website can contain:
What are you waiting for? Check more by clicking on each extra feature!
Time to check about Landen Review Pros & Cons!
Landen Review Pros & Cons
Landen Review Pros
Fast and simple: ready in no time
Easy and Clean
Very Intuitive
Having a free plan
Block templates are really great!
New features added all the time
Very responsive team
Affordable yet powerful
Updates are pushed really fast
One of the best UX for a landing page builder
Great balance between power and simplicity
Fair pricing
Design patterns and styles that are chosen for the templates are quite a in vogue
Landen Review Cons
None
That's right! Landen researches their cons by seeing what they could improve and they truly do it with instant updates by making their platform greater!
So, let's check Landen's review of their pricing plans and see how much it will cost you to get started!
Landen Review Pricing Plans
Their pricing plans are actually affordable! From solopreneurs to established startups, businesses are actually growing online!
Landen has 4 pricing plans:
Free Forever $0
Startup $29/mo or 299/yr
Growth $49/mo or 490/yr
Business $99/mo or 990/yr
All include a 2-month trial if you apply to their annual billing!
Free Forever: 1 website with only 1 member accessing your account and it's limited to most of Landen's features
Startup: 3 sites, custom domains, custom code, email lists, blog tools, and analytic features and can remove Landen's branding.
Growth: 15 websites with up to 3 team members accessing the same benefits of the startup plan plus removing Landen's branding
Business: 75 websites with 5 team members accessing all the same benefits of the above and you can remove Landen's branding plus you can export the code site HTML/CSS and JS for maximum flexibility.
Landen also permits you to create custom payment plans based on how many team members and clients are involved in a given project.
Would you like to create a custom payment plan? Contact them here!
Landen competitors and Alternatives
Landen Review Conclusions
As we arrived at our conclusions and as we just outlined in our Landen Review, Landen is the first choice of solo entrepreneurs, freelancers, startups, and established businesses proving in achieving effective results in their business growth!
If you are looking for a perfect professional website builder platform and a simple CMS with attractive landing pages built around specific use-case, or need to launch a blog and capture users' email addresses, Landen is the right place for you!
We hope our Landen review fully answered all your queries and if you are curious to check some amazing Website examples made with Landen's platform, check more in their Showcase!
It's time to stand up from the crowd and build your mind-blowing professional website!
Accelerate your Conversions, Increase your Revenue
with lemonads
---
You would like