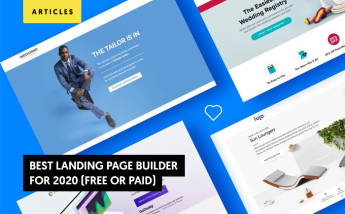 Top 10+ Best Landing Page Builder 2022 for Affiliate Marketer You Must Discover! (Updated)
Delve into our Top 10 best landing page builder platforms for affiliate marketers article to peek and pick the right platform that fits your needs to create an outstanding professional landing page to boost your conversions!
Having a landing page is a must in 2022! It's that page on your site that is designed to convert visitors into leads that will make the difference for your business!
We'll overview dedicated landing page builders that focus exclusively on page creation and optimization and others that are more of an all-in-one software proving landing pages as part of their offering but are not exclusively specialized in a single area of marketing technology.
It's all about who you are, what you need, and how you need it to be done to drive your audience!
So, let's delve deeper in knowing the top 10 best landing page builder tools for you to discover and pick the right one that just perfectly fits your needs:
Instapage: Top Landing Page Builder
Instapage Best Landing Page Company
Instapage lets you create a personalized post-click experience in minutes. It's a better alternative to attract your client and it's much better than regular advertising, but one of the most peculiar characteristics is that they offer the largest integration ecosystem!
Let's check all Instapage Features and see why it's the top winner landing page builder!
Instapage Best Landing Page Features
Instapage Landing Page Builder:
You can employ a fully customizable builder to create stunning, conversion-friendly landing pages with contextual element editing, over 5,000 fonts and 33 million images to work with.
Template Layouts Based on Industry & Use Case:
No matter what kind of campaign you're creating, Instapage's 200+ fully customizable and optimized templates are designed to increase your conversions.
Image Asset Manager
Add and edit your own photos in the Instapage landing page design tool to further personalize your promotion or offer. Instapage updated image editing features to include:
Easy folder organization allows you to arrange and locate images within vast image collections
Scroll through hundreds of photos in seconds
Click images to upload
AMP Landing Pages
You can build mobile pages that load instantaneously by creating a better browsing experience and drive more conversions with Google AMP-powered landing pages.
Instapage has the only builder that allows you to create and A/B test landing pages using the AMP framework, no developer required.
Instablocks® & Global Blocks
Quickly build hundreds of personalized landing pages by using individual page blocks that you can customize, save and reuse, all by choosing from a selection of pre-designed block templates such as headers, footers, testimonials and so much more or create your own custom blocks from scratch. For managing and updating global templates in a single click, check out Global Blocks, part of the Enterprise plan.
Alignment, Grouping & Distribution
Instapage allows you to easily group elements, align elements or groups of elements and distribute them as needed, for pixel-perfect landing pages.
Plus, you can Edge Measurement and Custom Fonts by Google & Typekit and, with their Axis Lock, you can "lock" an element or group of elements so that they only move within the horizontal or vertical axis for exact alignment.
Widgets
Effortlessly add layers of functionality to your landing pages with widgets.
Overwrite Protection
Improve productivity and streamline workflow by preventing users from overwriting each other's work.
Form Builder
With Instapage you can add customizable forms with multiple fields, drop-down lists or radio buttons in just a few clicks.
Lead Notifications, Direct Lead Bypass & Lead Backups
Receive an email and dashboard notification when you generate new leads with Direct Lead Bypass Instapage servers and send leads directly into your CRM or marketing automation platforms. Visitor data will never be collected or stored by Instapage.
And, finally, with their Lead Backups, you can automatically backup  your leads for download or import into other tools!
Lead Routing
Connect forms to as many integrations as you'd like to route leads to multiple tools.
Customizable Confirmation Messages & Thank You & Confirmation Pages
Customize the confirmation message that appears when visitors complete your form and let your newest subscribers know you appreciate their interest after they have submitted their information in your opt-in form with an on-brand thank you page!
Digital Asset Delivery
Set up an automatic digital asset delivery system: with a few clicks you can ensure that when your lead opts-in for the offer, it's made available for them with an immediate download.
True Server-side A/B Split Testing
Optimize your landing pages for conversions with A/B testing capabilities on both our standard landing pages and AMP pages. Track visitor behavior, test variations with new elements, layouts, and/or designs and increase your conversion rates.
Heatmaps
Heatmaps provide detailed insights on how your visitors interact with your landing pages. This better informs you on what page elements to A/B test!
Conversion Analytics
Directly integrate with Google AdWords and Analytics for easier attribution and make real-time cost-per-visitor and cost-per-lead metrics visible right in the Instapage platform. Then, pass lead metadata down to your CRM or marketing automation system!
Drop-In Pixel Tracking
Use drop-in pixel tracking to track external conversions or for retargeting visitors who don't convert on your landing page.
Page Grouping for Campaign Management
Instapage has simplified campaign management. PPC marketers can quickly build ad groups for their different ad channels, products, features and demographics.
Real Time Reports
Get real-time data, over any time period, across all your devices at any time.
AdMap® & Postclick Score®
Visualize your advertising campaigns and connect unique post-click experiences to every ad. Increase conversions with 1:1 ad-to-page personalization!
And after you import your ad campaigns with AdMap®, generate your Postclick Score® and track your progress towards achieving 1:1 ad-to-page personalization.
Dynamic Text Replacement
Quickly improve PPC performance by matching copy to your visitor's search.
Publishing to Unlimited Domains
Unlike other landing page platforms, Instapage allows you to publish pages to as many unique domains as you or your client's need.
SSL Certificates & GDPR Compliance
Verify that all interactions are secure and encrypted so visitors willingly enter their information knowing that their privacy will not be compromised!
Instapage complies with the GDPR data privacy and security standards. They've updated their "Privacy Policy" and "Terms of Service", giving EU customers more control over their data share.
Let's check Instapage's Pros & Cons!
Instapage Best Landing Page Pros & Cons
Instapage Pros
Instapage makes it fairly simple and straightforward to manage your online marketing campaigns.
Respond to the progress of your campaigns as and when they progress
Change an existing landing page
Add contributors and collaborators to help your entire team get a bigger picture and work together towards the promotion of your landing pages;
Organize your related landing pages into grouped campaigns;
Watch your leads grow in real time, right from your Instapage dashboard!
Instapage WYSIWYG Editor
Amazing and immense Integrations tools and services for use to integrate
Built funnels for any website whether for e-commerce, digital products and services, informational service by using instapage to convert your visitors with much for your desired offer.
Instapage has many advanced features such as AMP Landing Pages, Global Blocks, Page Creation & Migration Services, etc.
Instapage truly turns clicks into customers.
Instapage Cons
No free plan to try out the platform before choosing a plan;
The software is great but it is very expensive;
Limited icons & images in the free library;
Making changes to the mobile versions may take time;
Limited in adding elements visible in the mobile version of the landing page.
Font types available can be expanded, but not able to upload.
Instapage Best Landing Page Pricing
Instapage following plans they have for you to choose based on your needs:
Business Plan
Enterprise Plan
And there is no free version you can try before signing up.
Business Plan Billed Annually Price
Business Plan Monthly Billed Price
As we can see Enterprises pricing plans are customized by the needs required, but let's check further what Instapage offers for each plan!
Instapage Business Plan offers:
No Conversion Limits: Unlike the competition, Instapage will never penalize you for getting conversions.
#1 Landing Page Builder: The cornerstone of what has made Instapage so successful since 2012.
Instablocks: Quickly scale with page blocks that you can save, reuse, and update globally.
Thor Render Engine: Provides the fastest landing page load speeds in the industry.
Postclick Score: The post click score measures your ad to experience relevancy. It's the percentage of ads that send traffic to a unique post click experience.
AdMap: Visualize your ad campaigns and effortlessly connect ads to relevant post-click landing pages all in one place.
Multi-Step Forms: Easily collect additional information from your prospect by turning complex forms into multiple steps.
Server-Side A/B Testing: you can run split tests with no page load delay.
Heatmaps: The only landing page platform that lets you visualize visitor behavior.
Conversion Analytics: The only landing page platform with advanced conversion analytics dashboards.
Dynamic Text Replacement: Quickly improve PPC performance by matching copy to your visitor's search.
SSL Encryption: Instapage protects your landing page data by automatically creating an encrypted link between server and browser. All landing pages display a security padlock and HTTPS address, reassuring visitors that your data comes from a secure source.
GDPR Compliance: Instapage is a secure conversion platform that protects you and your customers' personal data, right out of the box. The data you collect with Instapage is processed securely and in accordance with GDPR requirements.
Google Single Sign-On (SSO): Sign up and log into Instapage easily, using the Google account associated with your company.
With the following integrations:
Zapier Integration: Zapier gives you the ability to integrate Instapage with hundreds of other apps to automate your work.
Salesforce Integration
Marketo Integration
HubSpot Integration
The Enterprise Plan offers offers the same as above including in addition:
Enterprise SSO (Okta & OneLogin): Sign up and log into Instapage easily, using the leading Enterprise providers.
1:1 Ad-to-Page Personalization: Dynamically deliver relevant post-click landing page experiences to every audience to increase conversions.
Real-Time Visual Collaboration: Speed up your team's landing page review, approval and launch processes with on-page visual commenting.
Editable Global Blocks: Edit a page block once and have your changes reflected on every page the block appears.
AMP Pages & Experiences: Build mobile pages that load instantaneously, create a better browsing experience and drive more conversions with Google AMP-powered landing pages.
Direct Lead-Bypass: Bypass Instapage servers and send leads directly into your CRM or marketing automation platforms. Visitor data will never be collected or stored by Instapage.
Audit Logs: Troubleshoot issues and manage account security by tracking account history.
Guaranteed Uptime-Enterprise SLA: Instapage guarantees your landing page experiences will be available 99.9% of the time.
Ad Spend Conversion Attribution: Instapage is the only platform that shows the cost of conversion by each split test variant and personalized experience.
Page Migration Services: Easily scale out your marketing campaigns and get started quickly. The Instapage Launch Team can help rebuild your current landing pages in Instapage using the flexible design features in the builder.
Dedicated Launch Specialist: Launch Specialists are all about helping you see value quickly. Your Specialist will guide you through setup and early training sessions.
Customer Success Manager: Success Managers are a dedicated touchpoint for strategy and insight. Your Manager will give you 1-on-1 advice, guide you through advanced training, and ensure you have VIP access to new features.
Custom Feature Implementation
Instapage also has an "Advertising Conversion Cloud" benefit for enterprisers, making your PPC campaigns more profitable than ever!
Time to check all about Unbounce's Best Landing page builder!
Unbounce: Top Landing Page Builder
Unbounce Best Landing Page Company
Unbounce offers some advanced features and their custom-built landing pages are amazingly smooth to understand with good user experience in making your work easier to create with no coding needed.
In fact, their landing page builder is not only great to use, but you can also have a wide range in picking thousands of excellent customized templates!
Unbounce is going to save you way more time than it actually costs and, once you're up and running, it's pretty hard to do without it!
Let's check their features to get a better understanding of their landing page builder tool!
Unbounce Best Landing Page Features
In terms of performance, Unbounce's landing page builder is one of the smoothest you could ever use and it will give you complete freedom over your design choices, so, let's discover some of their amazing features:
Landing Pages & Templates
Unbounce landing page builder and other tools at your complete service by helping you smoothly create any landing page by:
Drag-and-drop builder: Add, remove or customize any part of your landing pages with just a few clicks.
100+ templates: Build pages in minutes from a template or create your own from scratch.
Clone & edit: Save time by duplicating and editing your most successful landing pages for new campaigns.
Copy and paste: Simply copy and paste elements from one landing page to another without having to recreate them from scratch and saving a huge amount of time.
Full control: Customize every detail to the pixel and simply add your branding without limitations.
Quick publishing: Publish landing pages straight to your WordPress site with Unbounce's WP landing page plugin or to your own custom domain.
Popups & Sticky Bars
With Unbounce you can easily create popups and sticky bars to generate leads:
Drag-and-drop builder: Fast builder to create your popups and sticky bars.
Templates: Pick a template and customize it to your needs or build your popups from scratch!
Targeting & triggers: Who sees your popups? Discover it by knowing exactly how and when they're triggered and dynamically swap content based on visitors' keywords (Dynamic Text Replacement).
Schedule: Schedule campaigns that run automatically to show your most relevant promotions.
A/B testing: Test different messages and offers to maximise the impact of your popups and sticky bars.
A/B testing
Test and improve your landing pages through extensive A/B testing! Unbounce provides this feature on all of its plans, allowing you to optimize your landing pages and popups for maximum performance.
Setting up your A/B testing campaigns will help you test different pages, smaller variations testing pages having a lead generation form, and the ones that don't or test specific elements such as calls to actions to check which work better!
This A/B testing feature will change your way in marketing your products or services and you can do it within a matter of clicks! See what works better and apply the same strategy to other campaigns that are succeeding in driving traffic and conversions!
Reports & analytics
With Unbounce you can measure your landing pages' performance!
This is an interesting insight you could use to see how your landing pages are performing and how your A/B tests are doing and by easily accessing this information from Unbounce's dashboard!
To get better results you can also integrate with Google Analytics!
Dynamic Text Replacement
Match the content on your landing page to the search queries visitors type! This will help you  maximize relevance and increase conversions!
Guess what? You can also combine this feature with dynamic keyword insertion in Google Ads to create paid search campaigns that match user intent at every interaction! Not only would you be boosting relevance, but your messages will have such a greater impact on users, encouraging them to convert instantly!
Smart Traffic™
Unbounce's new feature is jaw Dropping! Unbounce says Smart Traffic™ boosts conversion rates by 20% on average by doing all the work for you!
An AI-powered conversion tool that automatically sends traffic to the most relevant landing page, sounds amazing, right?
How does it work?
AI optimization: Unbounce's AI algorithm starts optimizing in as few as 50 visits.
Automated CRO: Increase conversions without waiting for tests to reach statistical significance.
Fast results: Use Smart Traffic™ to test landing page variations faster.
AMP landing pages
Accelerated Mobile Pages (AMP) are designed to make a web load faster for mobile users, reducing loading times to an average of just one second and helping your visitors remain on your page without bouncing out!
Create AMP landing pages that load up to 85% faster than standard mobile pages:
Create AMP landing pages: Without the usual development hassle.
AMP templates: Unbounce provides mobile optimized AMP templates for you to customize or start from scratch.
Up-to-date: Unbounce will keep your pages and code up-to-date with the latest AMP standards.
Lead Form Builder
Create and add forms to your landing pages to get better results from a dedicated form builder and optimization tool and this is where you really need a specialist tool to maximise conversions!
Time to discover their full pros and cons!
Unbounce Best Landing Page Pros & Cons
Unbounce is a great platform to build amazing landing pages, but let's check their full pros and cons!
Unbounce Pros:
Quickly build and publish landing pages
Quickly create variants for testing
Excellent templates and third-party sources like ThemeForest for more templates
Highly customizable
Great landing page builder
Split testing - A/B testings
Unbounce Cons:
You can't split test existing landing pages created outside of Unbounce
You can't add custom classes to buttons so you would need to rebuild them in HTML, but will prevent you from tracking goals in Unbounce.
Highly priced plans!
Unbounce Best Landing Page Pricing Plans
Unbounce offers 4 pricing plans where you can access most of their features even in their cheaper plans:
Launch: $80/month
Optimize: $120/month
Accelerate: $200/month
Scale: $300/month
Let's check here:
While many software provides the coolest features only on their expensive plans, Unbounce doesn't really engage in this!
All Plans Include:
Unlimited landing pages, unlimited pop ups, unlimited sticky bars!
There are various integration options associated with each level of service as well.
Extra Pricing with following capabilities:
$200/month for Accelerate (capped at 2k conversions)
$300/month for Scale (capped at 3k conversions)
Since Unbounce allows a vast majority of its features to customers on each plan, this could really help you get started and maybe switch or upgrade later on to access more monthly unique visitors or create more popups!
Time to check all about MainChimp's Best Landing page builder!
MailChimp: Top Landing Page Builder
MailChimp Best Landing Page Company
All Mailchimp's plans include unlimited landing pages, even their 'Free Forever' plan, which lets you send 10,000 emails per month to up to 2,000 subscribers.
With the Mailchimp/Square partnership, you can now sell items straight from your landing page, but, unfortunately, in MailChimp there are only 8 landing page templates available for you to pick.
In fact, since they are not a dedicated landing page builder, MailChimp doesn't include as much customization as Instapage or other alternatives, but does contain basic landing page creation for simple use.
MailChimp Best Landing Page Features
All landing pages you publish are live on the web and have a unique URL, so you can share them and use them in your other campaigns and marketing materials, but MailChimp uses simple features.
Use landing pages with other campaigns: Landing pages are versatile, so you can pair them with other Mailchimp campaigns to target contacts in all phases of your marketing plan.
Create an ad with a call-to-action button linked to your landing page.
Share on social media: Post to Facebook, Instagram, and Twitter to drive traffic to your page without ever leaving your Mailchimp account or copy your landing page URLs and share them on any social networks.
Tag contacts on signup: Landing pages with a signup form can add up to five tags to contacts who subscribe. You can organize contacts into an existing tag or into a new tag so that you can segment similar contacts later.
MailChimp Best Landing Page Pros & Cons
Mailchimp Pros:
Unlimited landing pages
Tracking options: Facebook Pixel, Google Analytics or MailChimp's own tracking
You can trigger automations through your landing pages: The automation editor isn't the most user-friendly to use though
All templates are mobile responsive
Designs are modern and well-designed
Due to Mailchimp's partnership with Square, you can sell items right from your landing page without setting up ecommerce and it's free but, Square will charge a flat processing rate
Mailchimp Cons:
Mailchimp's has a low selection of templates
You're not able to customize your thank you/confirmation page and there are fewer options for editing form settings than there are with other tools
If you want to use your own domain name or buy a new one, you'll need to upgrade to their Standard or Premium plan
Limited features in editor and you cannot add custom HTML
No A/B testing
You can't save your own templates to use later
It's not possible for search engines to index your landing pages
No integration with Shopify
MailChimp Best Landing Page Pricing Plans
Free plan available
$9.99/month for Essentials
$14.99/month for Standard
$299/month for Premium
Check here below the following pricing plans that can deliver the features you need to access:
Time to check all about HubSpot's Best Landing page builder!
HubSpot: Top Landing Page Builder
HubSpot Best Landing Page Company
HubSpot is an all-in-one software solution for marketers as it includes CRM, forms, marketing automation, sales pipeline and so much more!
HubSpot is a marketing, sales and service software that helps businesses grow., but their landing page builder is not 100% customizable!.
HubSpot Best Landing Page Features
Its landing page building is exceptionally feature-rich:
dozens of mobile-friendly landing page templates,
multi-device previewing, personalized content,
personalized CTAs
A/B testing for your cross-funnel marketing needs
HubSpot is relatively easy to set up and use but it may require a technical person to connect the back end of the platform to a website.
However, HubSpot offers several online courses, videos, and training resources to help its users become experts!
Once it's set up and enabled, users can create, build, and publish landing pages in a matter of minutes without the need of HTML/CSS or other coding knowledge.
HubSpot also makes it easy to edit and make changes to landing pages after they are live!
HubSpot Best Landing Page Pros & Cons
HubSpot Pros:
Pairs well with best in breed point solutions
Directly integrates with Hubspot's other tools
Add live chat and bots to pages
Ad management
HubSpot Cons:
Mobile optimization (with free and starter plans) has limited features
No ad-to-page mapping
Making mass changes to groups of landing pages is not available
Pixel-perfect landing page designs not available
Lacks AMP functionality
No easy way to scale landing page production
HubSpot isn't truly specialized in post-click landing page software, but they understand that the best way to build their inbound marketing software company is to use post-click landing pages.
HubSpot Best Landing Page Pricing
$40/month for Starter
$800/month for Professional
$3,200/month for Enterprise
Time to check all about GetResponse's Best Landing page builder!
GetResponse: Top Landing Page Builder
GetResponse Best Landing Page Company
Create stunning landing pages with GetResponse and convert your traffic together with your leads into more business!
And, as they say, "even if web design is not really your thing"! In fact, it's easy to create what you're really aiming to have, bringing your idea to life and track its performance by amazing pre-made templates. But let's check more!
With GetResponse you can:
Grow your contact list
Offer exclusive
incentives and convert
high quality leads.
Show off your products and sell them
Use ready-made sales funnels to add products or services to your page and watch your sales grow.
Promote your webinars
Drive traffic to your registration page and attract crowds to your online events.
GetResponse Best Landing Page Features
GetResponse has many features. Let's see them all:
Drag-and-drop Editor
Get creative and build your page in minutes. Move, resize, crop, group, color, and reshape any element of your landing page.
Mobile View Workspace
Happy with your desktop design? Switch to the mobile view workspace to tweak and optimize your landing page for mobile conversions.
A/B tests
Get easy access to all the data on your landing page performance and run AB tests to find your best design or content. Track clicks and conversions, getting valuable insights into your visitors.
You can use images, offer downloadable content, or display a sign-up form upon a visitor's scroll. Take advantage of the available lead generation tools to ensure higher conversions!
Check here below!
And that's not all!
Connect the dots with conversion funnels
Promote your offers and generate leads with prebuilt marketing funnels.
Your landing page can be much more than a solo page designed to trigger simple actions. With GetResponse Conversion Funnels you can turn your page into a fully operational online store.
GetResponse Best Landing Page Pros & Cons
GetResponse Pros:
A/B testing with all plans
Unlimited landing pages & visitors with all plans
Custom domains
180 templates
150+ integrations including Shopify, PayPal & Stripe
Email support for all plans
GetResponse Affiliate Program (Click here)
GetResponse Cons:
Not a dedicated landing page builder
No AMP functionality
Lacking personalization and ad-to-page mapping
Heatmaps features not included
No SSL certificates, SOC2 compliance, or Enterprise security
Visual team collaboration not available
Automation builder only included with higher-tier plans
GetResponse Best Landing Page Pricing Plans
GetResponse has a free trial for you to test and see if it perfectly fits your ideal landing page builder platform!
Their pricing plans offer:
Time to check all about WIX Best Landing page builder!
WIX: Top Landing Page Builder
WIX Best Landing Page Company
WIX is an outstanding website builder! Their builder certainly is not designed for robust landing page creation and optimization, but they are easy to build and you can start creating one for free and only pay once you believe it's ready to launch.
It can take you days, but it will save your work and let you edit when you log back in!
Not only is it simple to use, but each point on the dashboard is easy to sense what that option can help you create and you can also peek at other templates for inspiration!
Let's see their features!
WIX Best Landing Page Features
Let's see all their amazing features and get to know who's WIX and what they can do for you:
WIX Editor
Start from scratch or choose from over 500 designer-made templates. With the world's most innovative drag and drop website builder, you can design any website you want.
Stunning Templates
Choose from over 500 designer-made templates for every business
Mobile Optimized
Your website will automatically look amazing on any device.
Unlimited Fonts & Total Design Freedom
Express more than words with over 100 fonts or upload your own and design your site exactly the way you want with innovative drag and drop.
Scroll Effects
Add dimension to your site with parallax, reveal, zoom-in or fade-in scrolling.
App Market
Manage your website and grow your business with powerful web apps.
Industry-Leading SEO
Follow your own personalized SEO plan to get your website found on Google.
Advanced Design Features
Bring your site to life with animation, video backgrounds and scroll effects.
Media Galleries
Display your images, videos and text in a beautiful gallery layout. You can drag in your own or check their stock!
WIX Pros & Cons
Let's get a quick overview.
WIX Pros:
Unlimited bandwidth on all plans except Combo plan
Custom domains with all eight plans
Unlimited pages
Many Templates to choose and customize
WIX Cons:
No AMP page creation
Lacking heatmaps function or A/B testing
Scaling page production is not included
Designs are not 100% pixel-perfect customizable
WIX Pricing Plans
Pretty great, but what are their pricing plans?
Website:
$13/month for Combo (personal use)
$17/month for Unlimited (entrepreneurs & freelancers)
$22/month for Pro (complete online branding)
$39/month for VIP (priority support)
Business:
$23/month for Business Basic
$27/month for Business Unlimited
$49/month for Business VIP
$500/month for Enterprise
You can also pay directly the annual bill of about 280€ more or less, depending on which features you used; plus, the domain can be acquired for 1 up to 3 years and get renewed later one!
Depending on how many years you choose to have your domain for, the price will vary, but take into consideration that it's about 65€.
Time to check all about Leadpages' Best Landing page builder!
Leadpages: Top Landing Page Builder
Leadpages Best Landing Page Company
Leadpages is quite difficult to use in building a website or a landing page and it doesn't exclusively focus on post-click experiences.
The company works primarily with small businesses who need a website and some conversion tools, but let's check some of their features to get a better idea!
Leadpages Features
Built-in conversion guidance
Leadpages algorithm predicts your page's performance before you publish it and tells you what to tweak, so you can guess less and grow more.
Unlimited lead collection & traffic
Leadpages will never charge you more for your success, giving you unlimited web visitors or lead collection.
Unlimited page publishing
Create dedicated landing pages for each and every traffic source or campaign without fear of dreaded publishing limits or "bandwidth exceeded" error messages.
Code-free drag-and-drop customizations
Quickly and easily craft professional-looking landing pages without the need to hire outside help.
Mobile-responsive, high-converting templates
Get a head-start with a gallery of more than 200 professionally designed templates that take the guesswork out of the creative process.
Features & functionality to fit any need
Add a countdown timer, video player, Calendly schedule, OpenTable reservation widget, and more within the Drag & Drop Builder.
Leadpages Pros & Cons
Leadpages Pros:
120+ mobile-responsive templates
Built-in on-page payments (only with Pro and Advanced plans)
Alert bars and popups
40+ standard integrations
Unlimited traffic and leads
Leadpages Cons:
No AMP functionality
Lacking scalable creation capabilities
Not all templates are free
Limited customization and personalization
No ad-to-page mapping
Not SOC 2 compliant
Pro Sub Accounts only available in the Advanced plan
1-on-1 Quick Start Call only available in the Advanced plan
A/B testing, email triggers, and specific integrations only available with higher-tier plans
Lacks Enterprise-grade security
Leadpages Best Landing Page Pricing
$48/month for Pro (3 websites)
$199/month for Advanced
They also have annual plans which are much more expensive! Expect to pay 500€ + for their annual billing based on the features you chose to use!
Time to check all about Wishpond's Best Landing page builder!
Wishpond: Top Landing Page Builder
Wishpond Best Landing Page Company
Wishpond has a "marketing made simple" with a landing page tool within their builder, having an all-in-one solution rather than being a dedicated software for landing page creation and optimization.
Let's check out some of their features!
Wishpond Features
Ready to get all out of their features? Let's check them out!
Real Time Analytics
Keep track of your campaigns in real-time with built-in analytics. See data on page visitors, conversions, and each new lead that converts on your campaigns.
Easy Third-Party Conversion Tracking
Looking for a simple way to track conversions on Facebook and Google ad campaigns? Canvas makes adding tracking pixels a breeze with a simple copy and paste functionality that will have you tracking full-funnel conversions in no time.
Powerful A/B Testing
Optimize your campaigns for performance using built-in A/B testing. In one click set up A/B tests that allow you to test different messaging, images, videos, and more.
Seamless Drag-and-Drop Functionality
Never worry about coding pages again. Simply select an element from the content panel and drag it anywhere on the page you want. Canvas is a true "What You See Is What You Get" editor.
Quickly Group Objects for Fast Changes
Select groups of objects and move them anywhere on the page for maximum flexibility. Try advanced features like copying, aligning groups of objects, and more.
One Click Mobile Optimization
Use an editor designed to look amazing on tablet and mobile devices. Use Canvas' powerful one click mobile optimization feature to quickly align text and objects so they look great anywhere.
And 200+ mobile-responsive templates!
Wishpond Pros & Cons
Wishpond Pros:
Two options: do it yourself or done for you
Unlimited landing pages, social contests and popups
One-click A/B testing
300+ integrations
200+ mobile-responsive templates
Wishpond Cons:
Lacking scalable creation
Lacking AMP functionality
No SSL certificates, SOC2 compliance or Enterprise security
Heatmaps not included
No Google Ads integration
A/B testing and Custom JavaScript-only available on higher plans
The builder limits the number of leads you can generate monthly
Limited customization and personalization
First-in-line customer support and free implementation coaching only with Rapid Growth plan
Wishpond Pricing
$49/month for Starting (up to 1,000 leads)
$99/month for Everything You Need (up to 2,500 leads)
$199-2,989/month for Rapid Growth (customizable from 10,000 to 1 million leads)
Time to check all about Pardot's Best Landing page builder!
Pardot - SalesForce: Top Landing Page Builder
Pardot - SalesForce Company
Pardot focuses primarily on B2B as part of the Salesforce ecosystem and they also present themselves as a marketing automation platform instead of a robust landing page builder.
In fact, Pardot doesn't have a huge stock of templates. They offer five layout templates built with responsive design.
Using responsive design guarantees a consistent, optimized web experience when loading a landing page on any device, so, this doesn't help a lot if you can't find the right template to use.
Let's check more of their features to really understand if their platform fits your needs!
Pardot - SalesForce Features
Pardot's Features:
Streamlined Lead Management;
Smarter Lead Generation;
Effortless Email Marketing;
Seamless Sales Alignment;
Insightful Reporting;
Artificial Intelligence.
Pardot - SalesForce Pros & Cons
Pardot Pros:
Integration with Salesforce
Success specialist team with all plans
Fully customizable URLs
Pardot Cons:
Pixel-perfect landing page designs not available
No AMP functionality
Creating personalized pages at scale is very difficult
Third-party reviews highlight that the software is too advanced for small businesses (better for agencies/organizations with dedicated sales teams) because users must know coding
Only 50 landing pages with the Growth plan
Multivariate testing only available with Plus and Advanced plans, or with a Growth plan for an additional cost
No dynamic content with the Growth plan
Google Ads integration is not available with the Growth plan
Pardot - SalesForce Pricing Plans
$1,250/month for Growth
$2,500/month for Plus
$4,000/month for Advanced
Last, but not least, it's time to check all about Elementor's Best Landing page builder!
Elementor: Top Landing Page Builder
Elementor Company
Create stunning landing pages with Elementor, but is purely a WordPress page builder with no advanced creation or optimization features!
It could be a little more difficult in creating, but let's check further into it!
Elementor Features
Pixel Perfect Design in WordPress
The only complete design platform to offer pixel perfect design yet produces 100% clean code. Take your design vision and turn it into a stunning custom-made web site.
Get More Traffic, Leads & Conversions
Design forms visually, integrate them with your favorite marketing tools and generate more traffic, leads & conversions.
Extendable & Developer-Friendly
Thousands of developers have contributed to the Elementor open source project, building themes, add-ons, and products, by further extending the functionality.
Create Any Website You Can Imagine
Elementor was built for designers, developers, marketers and entrepreneurs. You can create stunning landing pages, design a blog, customize your online store – everything is within reach!
Elementor's Building Dashboard
Elementor Pros & Cons
Elementor Pros:
Free version available
50+ widgets and 300+ templates with all paid plans
Popup builder and sticky elements with every paid plan
Dynamic content & custom fields capabilities
Role manager & 24/7 support
Elementor Cons:
Hardly any features with the free plan (only a drag & drop builder and 30 basic widgets)
Not a robust landing page solution, just a WordPress plugin
Lacking scalable page creation
No SSL, SOC2 compliance, or Enterprise security
Personalization features are non-existent
No AMP pages or heatmaps tracking
Elementor Pricing Plans
$49/year for Personal
$99/year for Plus
$199/year for Expert
Top 10 Best Landing Pages Conclusions
As we arrived at our conclusion, we hope our full top 10 best landing page builder article truly clears which one fits your needs and get ready to succeed by achieving your goals now!
It's time for you to plan and set up a landing page for your next promotional campaign!
Accelerate your Conversions, Increase your Revenue
with lemonads
---
You would like