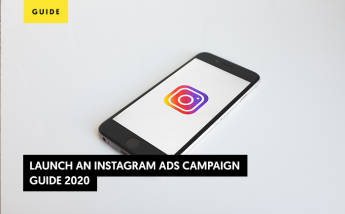 Launch an Instagram Ads campaign - Guide 2022 (tips inside)
One billion Instagram accounts are activated every single month, 90 percent of accounts follow a business on Instagram. As a social marketer, Instagram ads are a tool not to neglect. It is a great opportunity for small businesses to create engaging ads to target the right audience and convert them into sales.
Understanding Of Instagram Ads
Instagram ads can be found in the Instagram feed as a post or in Stories. The presentation of it is similar to every Instagram post but you can see appear the label "Sponsored" under the account name. The particularity of sponsored posts is the call-to-action which can be found at the bottom of the image. This call-to-action allows for driving traffic or conversions.
Price Of Instagram Ads
The price may vary due to multiple factors such as:
ad format
time of the year
targeting
ad placement
But more generally, the average price is $1.20 cost per click for ads placement.
The price always depends on what you are ready to invest in. The positive point with Instagram ads is that you have total control of your budget.
Different Instagram Ads Formats Available
The most popular types of Instagram ads are:
Instagram Photos Ads example :
Instagram Stories Ads example :
But you can find several more ad formats such as:
Video ads
Carousel ads
Collection ads
Instagram Shopping ads
IGTV ads
Explore ads
Each format works best for different goals and different call-to-action.
The 2 ways to advertise on Instagram: from the application or using Facebook Ads Manager
Using The Instagram Application
Create an ad directly from the application is the easiest way to start advertising on Instagram. Choose for example one post that's performing well on and promote it. It is a similar method to Boost Post on Facebook.
To advertise on Instagram you will need a business or creator account. You will be able to create the ad by clicking on the promote label under the picture post. You have to connect a Facebook Business Page to your Instagram account. If you don't have a Business Facebook Page you'll have to create it to be able to create your ad.
Follow by choosing the options for your ad as to how look you will run the ad and the targeting of it.
Using Facebook Ads Manager
Now Facebook owns Instagram. The advertising tool for these platforms is combined. That means you can use Facebook Ads Manager to create advertising on Instagram.
You can personalize your audience and other features.
Step 1# Start To Create Your Campaign
On the page of Ads Manager go on Campaigns ad click the button +Create. You can decide to create your campaigns in two different ways.
The default version is Guided Creation. This version will help walks you through every step that you need to take to create an ad campaign. If you are new to the Instagram advertising world we advise you to choose the default version.
If you are more advanced you can switch to the Quick Creation button.
You will need to choose your campaign objective between the different possibilities that Facebook Ads Manager offers. Here are the objectives meaning:
Brand awareness: Increase awareness of your business or products among users who haven't heard of you yet.
Reach: Shows your ad to as many people as possible in your target audience.
Traffic: Drive clicks to your website, to your app, or to any other URL you choose.
App installs: Get users to download your app when they see the ad.
Engagement: Increase the number of comments, likes, shares, event responses, and offer claims you receive.
Video views: Share your video with those most likely to watch it.
Lead generation: Gather lead data from users who click on the ad.
Messages: Get users to send a message to your brand account.
Conversions: Drive sales and sign-up conversions on your website or app.
Catalog sales: Promote sales of products from your online store catalog.
Store traffic: Direct users to your brick-and-mortar location.
After you selected your objective you'll have to name your campaign. It is important to choose a specific name as it will help you keep track of your campaigns once you will run more than one campaign.
Step 2# Choose Your Audience
As Instagram has been bought by Facebook, you have access to powerful targeting options. This allows you to have a variety of targeting choices to apply to your campaign.
Step 3# Choose your ad placement
In this section, you can now decide where you want your ads to appear on Instagram and/or Facebook.
You have to options available:
Automatic Placements: The tool automatically tracks your ads where it considers it will perform the best.
Manual Placements: For this second option, you will choose where your ad appears.
Step 4# Determine Your Budget And Schedule
You can here regulate the budget that you want to spend on your campaign and for how long.
You can choose between two types of budget:
Daily, which offers a maximum daily spend
Lifetime, for an ad with a set lifespan.
You will also have access to a bid strategy option, to help you understand how your budget is spent.
Step5# Create The Actual Ad
You will now be able to create the actual ad. You will first need to choose the format that you want for your ad.
You can now choose a call-to-action button and the URL that people will be connected to when they'll click on your post.
It is at this time of the ad creation process that you can activate a Facebook pixel on your website or app. Pixels will give you information about your audience and how they interact with your ad.
And that's about it. You just created an Instagram ad!
4 Instagram Tips to Skill the best practices.
1. Great Understanding Of Your Audience
Knowing your audience and realizing what they want is crucial. Perceive your audience correctly and you will be able to create a message that connects with them.
Ask yourself these two questions:
What solution does your product or service offer them?
What do they need and want?
Keep their goals and values in mind as you create your ads.
2. Every Character Counts
You can use up to 2,200 characters for most Instagram ads. Be aware that only the two first rows of text will appear without being cut off.
Be mindful of the process to choose these first two lines. They will count a lot as they will help your audience and motivate them to click on your call-to-action button.
3. Create Engagement
Posting your ad is like posting your organic content. You will need to be available to respond to and answer comments and likes.
Your response can make a difference in driving purchases.
4. Test, Test & Test
Test different campaigns and see how your Instagram ads in Facebook Ads Manager perform.
Check your insight is key to refining your strategy and use at its fullest your Instagram ads budget.
The 4 Best Strategies For Maximum Results
1. Video Ads
We already know that the videos are way more captivating than an image but 72% of the content shared on Instagram is just images. By adding videos you can stand out from the crowd. Your video should be bled nicely into the Instagram feed which means it should not be too much self-promotional. For example, offer a quick tip or advice or direct them to a free lead magnet.
Do not start your video with a logo screen, it looks too promotional and people tend to rapidly scroll to something else. Build some captions inside your video ads because most people watch videos with the sound off.
2. GIFs or Boomerangs
GIFs are also really good to capture attention and there is a lot less involvement by you making one. Instagram as Boomerangs builds to it which allows you to hold on to the button and get a quick video then snaps back and forward. If you do an Instagram story ad you can always make use of stickers within the story to add a little bit of playfulness and authenticity.
3. Polls and Sliders
Instagram stories now have the capability of adding poles and little emoji sliders to further increase engagement.  You can ask a question as a poll where people can vote on or you can ask a more open-ended question. Polls will engage more because you are asking less of them, just to tap an answer versus writing something out. You can DM every person who responded to it which is a great way for a small business or a local business to engage with their prospect. It is a great way to turn a cold audience that never heard of you before into a really warm audience.
4. Working With An Influencer
Influencers are just not for big brands and you don't have to work only with influencers with millions of followers. You can easily find more mid-level influencers that can give your business, service, or product a show up for a lot less than you think. Find someone in your local area who overlaps with your audience with 10 of thousands of followers. Dm them and ask them how much they would charge for either a photo or a 30-second video, more Instagram Ad Ideas.
Accelerate your Conversions, Increase your Revenue
with lemonads
---
You would like