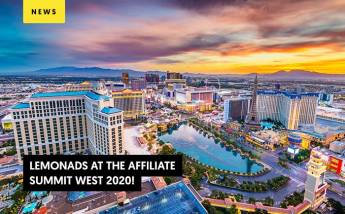 lemonads At The Affiliate Summit West 2020!
From January 27 to January 29 2020, one of the best affiliates trade show and conferences in the industry took place: the Affiliate Summit West 2020 in Las Vegas.
An event that lemonads could not miss. Our team was there to show our platform and answer all the questions publishers and advertisers had regarding lemonads.
What is the Affiliate Summit West ?
Year after year, the Affiliate Summit West has become the industry's #1 event. Over 6,000 affiliate marketers are present for a simple purpose : connect and interact on innovations and new trends in affiliation or more generally in digital marketing and performance marketing.
As such, the ASW20 is recognized for the quality of the conferences it organizes with renowned speakers and always on the lookout for new trends in affiliation.
This year was particularly rewarding with high-quality interventions.
This year was particularly rewarding with very high level interventions. A special ovation for Tim Burd, Co-founder of Ad Leaks and digital marketing expert. He knew through his speech how to decrypt in a very simple way the new Facebook algorithm.
You can find the video to his keynote presentation on Youtube.
lemonads at the ASW20
As a major actor in affiliate marketing, lemonads was very present throughout the 3 days of the fair. After 1,037 shared goodies, 1,231 business cards distributed and as many handshakes, our team comes back with more tips to share with teams and partners with the aim of always being at the forefront of new market trends.
"It was 3 tiring but very rewarding days. These 3 days allowed us to find our partners and exchange with them on their 2021 perspectives. It is always a pleasure to meet them physically during these fairs. But also to meet many people who will hopefully lead to new partnerships," said Charly, Advertiser Key Account Manager at lemonads.
lemonads warmly thanks the organization of the Affiliate Summit for this wonderful event. We will be keen to come back next year. And you, are you going to join us at the #1 event in affiliate marketing? Book the date already, ASW2021 is scheduled for February 2-4, 2021.
Accelerate your Conversions, Increase your Revenue
with lemonads
---
You would like