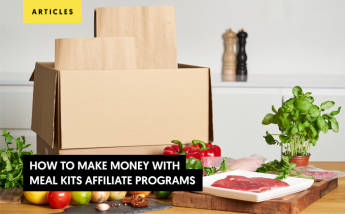 How to make money with Meal Kit Affiliate Programs
Ideas for bloggers to monetize their activity
In this article, we will speak about your opportunities as a blogger in the Meal Kit Affiliate program world. To monetize your blog, you need to create great content and have a good traffic volume. But relevancy is key. If you link offers that are unrelated to your content or audience's interests it's just a waste of time. It's like offering winter coats on a Caribbean beach.

Some meal kit affiliate programs pay great commission rates. The payout landscape goes from flat fees for each of your referral subscriptions to a percentage of their total purchase. You can really benefit from these partnerships if you are the right publisher.
The basics
If you've never before promoted products or services on your blog, check out this article on how to become an affiliate marketer and do affiliate marketing on your blog.
Affiliate marketing is the promotion of another's business product or services in exchange for a commission when your referral makes a purchase.

The 5 easy steps of Affiliate marketing are:
Choose a meal kit delivery affiliate program that relates to your audience.
Select the offers you'd like to promote.
Obtain a unique affiliate link for each offer.
Add the affiliate links or banners to your piece of content.
Every time your referral takes action using your links, YOU GET PAID
Relevant Niche Blogs and Ideas
As we mentioned before, Your offers have to be relevant to your audience at the moment they have contact with certain pieces of your content. Otherwise, it makes no sense and you immediately lose authority.

This is why we made this list of the niches that have opportunities to partner with meal kit affiliate programs:
1. Food Bloggers

You are always writing about great restaurants, recipes, and experiences around food? We guess Covid has challenged your creativity a bit while finding new subjects.
Being a foodie is not just adoring food but being opened to try new things. If they read you, is because you propose new things.
Meal kits can be interesting to foodies as they are open to newness, they enjoy cooking and just like everyone else, sometimes they lack the creativity or the time to cook from scratch.
Your foodie followers will be seduced to try meal kit subscriptions once you show them the creative recipe proposition and ingredient variety these companies have.
Inspire your audience by sharing your own experience with this service with an "unpacking" version or a cookout.

Another idea can be challenging them to make the best-looking plate with the same meal kit.
Cool meal kit services you should check out: Martha and Marley Spoon, Blue Apron, Home Chef amongst other top food affiliate programs.
2. Mom / Dad / Parenting Blogs

We get exhausted just by thinking how busy a parent's day is. From dusk till dawn they are working. This can be an extraordinary help for them to offer their families a delicious, super balanced meal with very small time-spent in the kitchen.
Encourage them with the idea of using these meal kits as a family activity. Turn the boring night routine into a fun, creative moment to bond.
Some great companies offer family-friendly dishes that the little ones would adore.
Others offer cultural cooking experiences that can stimulate kid's curiosity about other countries and/or cultures.

Family-friendly and kids meal kit subscription services you should check out: Takeout kit, Little Spoon and Nurture Life.
3. Fitness Blogs

Meal kit affiliate partners are an amazing opportunity for fitness bloggers as well. Some of these companies offer Keto, Paleo, Mediterranean programs amongst others.
Your audience can truly relate to these products. Even the most dynamic people would appreciate this solution and skip the nerve-wracking task of planning 3 meals a day.

You could propose to the readers who are hesitating about starting a Keto regime, to join a Keto expert meal program, for example. This way, they can have a better, clearer idea of what they can cook and in what portions.
Sometimes creativity and time are deal-breakers when making radical habit changes. Meal kit delivery programs are the solution to that and you have plenty of creative ways to encourage your audience to give it a try.
Cool meal kit services you should check out: Optavia, Daily Harvest
4. Senior Citizen Blogs

Some seniors are tired of thinking about what to eat with the same ingredients they get each time since ever.
There are very convenient programs offering meals fueled with the vitamins, and nutrients the elderly need to be healthier. Diabetic, heart fragile diets amongst others.
Encourage your audience to subscribe by addressing how boring alimentation becomes once they cant' eat all the things they loved. Propose them to have a nice healthy food experience designed by doctors hand in hand with chefs.
Some nice services you should check out: Silver Cuisine, Bistro MD
5. Nutrition or Weight-Loss Blogs

If you write or create content for this niche, kit meal affiliate programs are super relevant for you. Most of these meal delivery services offer portioned, balanced meals and ever respect vegetarian, gluten-free, dairy-free amongst other dietary restrictions. Their boxes are packed with superfoods, organic fruits, veggies, and another bunch of your keywords.
Reducing the calory intake at night can make great changes in just a month. You can encourage your weight loss audience to try the "less than 55 Calories" Meal kit at dinners for an x period of time, for example.
Everybody has an idea of what's healthy and what's not. It's just that sometimes microwave a frozen pizza it's way faster. But there are healthier options you can point your readers to.
Some companies in the meal kit industry have healthier frozen options. Encourage your readers to subscribe to one of the flash-frozen meal delivery services that have healthier options. You can make a piece in how long it took you to microwave pizza with 3k calories compared to a nutritious delicious dish with 600.
Give your readers the idea of learning recipes in a fun and practical way by subscribing to a meal kit plan. By doing so, they will also be discovering new fresh ingredients...

Cool meal kit services you should check out: Diet-to-go, Veestro, and Green Chef.
6. Life Hacks Blogs

Your audience is probably the busiest on the planet and your blog is all about giving them the ultimate tips to make their life easier.

Meal kits are another cool hack to add to your list. We are sure they will love it because they are all about trying things that make their days seem longer.
Motivate your audience to have meal kit dinners on the weekdays and leave the long preparing dishes for the weekend.

One part of your readers don't like to cook. Remember there are also flash-frozen super healthy meal kit plans that they just have to unfreeze and serve.
Cool meal kit services you should check out: Once-a-month-meals, Home Bistro, and Dinnerly.
7. Pregnancy Blogs

Mothers-to-be are all about learning hacks on how to make their pregnancy as healthy and smooth as possible.
Give them the idea to subscribe to a meal kit delivery program, starting some weeks before their due dates. By doing so, they won't have to struggle with meal planning for their family while being underslept and busy with the new baby.
Cool meal kit services you should check out: Optavia, Daily Harvest, Daily Harvest, Dinnerly, Hello Fresh, Sun Basket.
8. Sustainability, green life Blogs

You are informing your audience about sustainable ways to do things. There are Meal Kit solutions for green people too. Some of these companies are focused on seasonal ingredients, local farming, antibiotic-free, hormone-free, non-GMO, organic agriculture, and other of your interesting topics.
You can encourage them to try these solutions for their busy life while being faithful to their environmental principles.
Some of the companies that are sustainability centered are: Sun Basket, Mama Sezz, Daily Harvest,  and Hello Fresh
If your blog niche is not on this list, no worries.  There are plenty of other products' affiliate programs that can be interesting for you to make money. Check out our Top 20 Affiliate programs for 2021and identify other opportunities in the affiliate program world that suits your content and your audience.
Remember: Relevancy is key.


When you chose affiliate programs, evaluate what partners can be interesting for your audience or which product/service relates better to the subject of your content. This way you won't be selling winter coats on a Caribbean beach.
Accelerate your Conversions, Increase your Revenue
with lemonads
---
You would like