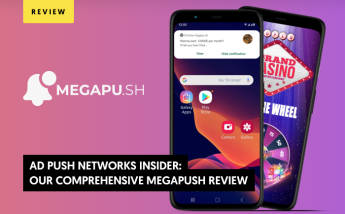 Ad Push Networks Insider: Our Comprehensive MegaPush Review
Megapush review - What are the most important elements affiliates have to focus on to build successful campaigns? Choosing the right CPA offer and vertical are both crucial, plus media buyers and other affiliates also have to learn how to optimize their ads.
However, if the ads network you choose doesn't provide quality traffic, there's a low chance you'll achieve the goals you set during the planning process.
As you probably already know, dozens of different ad networks provide every imaginable type of traffic out there. All of these offer distinct benefits and advantages, so affiliates have to analyze each option until they find the ideal fit. That said, going through each one can take a lot of time, so we've put together a series of ad network reviews to give you the inside scoop on the best networks at your disposal.
In this week's edition, our spotlight is on MegaPush, a well-established push notification network that offers a variety of amazing features for affiliates.
Introducing MegaPush
MegaPush is among the first ad networks that specialized solely in push traffic -- but a lot has changed for the platform since its inception. The ad network was founded back in 2016 and it quickly earned a reputation for delivering high volumes of quality traffic at a very reasonable price, all through an incredibly simple interface.
Today, MegaPush supports a few different ad formats, but push notifications remain the platform's most valuable type of traffic. According to the network, MegaPush members can take advantage of more than 5 billion impressions, 450 real unique subscribers, and 35 million clicks daily, making it one of the most comprehensive platforms available to affiliates around the world.
Types of Campaigns Supported in MegaPush
Although the platform earned a name as a premier source of push traffic, it's important to note that affiliates can launch a variety of campaigns through MegaPush. As a matter of fact, there are event push notification variables available, which allow affiliates to generate more profits thanks to more intricate campaigns.
The three main campaign types supported by MegaPush are push notifications, first-page ads, and SMS campaigns.
Push Notifications
Push notifications are one of the most popular and effective ad formats available to affiliates. These ads are presented to user devices like other notifications, which helps increase engagement. Ideal for dating, gaming, finance, and various other verticals, MegaPush offers top-quality push traffic that comes from hundreds of superb partners.
Furthermore, the platform also offers two additional types of push ads, which are Click2Call and Click2SMS.
Read Push ads networks: How to choose and what to expect
Click2Call
As the name suggests Click2Call (C2C) push ads aim to encourage users to make a call. Many advertisers put out C2C offers that are highly profitable, so MegaPush's unique ad format is a great choice for affiliates who want to generate revenue from these deals.
Click2SMS
Similar to C2C, Click2SMS (C2S) is a type of push notification available at MegaPush. These ads' main goal is to generate text message-based subscriptions, which count as conversions for affiliates.
First-Page Ads
First-page ads operate using the same technology as pop advertisements, so you can say that this is MegaPush's version of this format. Ads that appear on the first page draw all of the user's attention and provide a significant amount of space to develop quality creatives. Moreover, first-page ads offer more intricate targeting settings than other formats available on the platform, including filtering by gender, age, location, IP address, and other variables.
SMS Campaigns
Media buyers and other affiliates that have large phone number lists can take advantage of the SMS campaigns available on MegaPush. This unique format allows affiliates to reach their audiences via text message, plus the campaign creation process is extremely simple. The best part is that the amount charged per message is static, which allows affiliates to make accurate projections of their expenses and earnings.
Advantages of Working with MegaPush
MegaPush is an optimal choice for affiliates that run their own website, media buyers, and other seasoned marketers. The ad network helps affiliates promote a variety of mainstream verticals and it also offers adult traffic for marketers that specialize in this industry. Not only this, but the platform is extremely flexible and it allows payments via a variety of methods, including credit card, debit card, Qiwi, WebMoney, PayPal, bank transfer, and many more.
Additionally, the biggest advantages of working with MegaPush include:
User-Friendly Interface
When joining a new ad network, many affiliates struggle to learn the new platform's ins and outs. This can be the difference between spending weeks figuring out how features work and establishing a successful campaign in under an hour.
Fortunately, MegaPush has focused on creating a simple interface that is easy to navigate. The platform also offers intuitive features that are clearly labeled, so affiliates can learn how to navigate and operate the ad network almost instantly.
Diverse Traffic from High-Quality Sources
In addition to being among the oldest, MegaPush is also one of the largest ad networks that serve mostly push traffic. The company has invested a lot of its resources into acquiring traffic from more than 100 different sources, which allows it to serve dozens of popular affiliate verticals.
Thanks to the hundreds of traffic sources, MegaPush allows affiliates to target a global audience and promote products or services in more than 200 countries and regions around the planet.
Low Minimum Bids
Many affiliates are concerned about taking the next step and working with a top-tier ad network because of the related expenses. The good news is that MegaPush is still among the most affordable platforms and it allows you to place bids as low as $ 0.001, so you can take maximum control over your budget.
In addition to having low costs, MegaPush gives you full control by allowing you to cap ads based on the number of clicks, budget, and other variables
Ideal for Campaigns of All Sizes
Thanks to its global reach and low bidding minimums, MegaPush is an ideal platform for campaigns of all sizes. It's the perfect platform for affiliates that are learning the ropes because it has a short learning curve and doesn't require a huge budget.
With this in mind, MegaPush is by no means a beginner-only ads network. Seasoned affiliates can choose from a variety of GEOs and leverage its multiple ad formats as well as targeting settings to create complex campaigns that generate significant revenue. Not only this, but the traffic volume does not compromise the quality of the network, which means that it has the ability to grow along with your efforts.
Worldwide Traffic Available Through CPC Formats
The push notification ads available on the platform are available in virtually all countries and regions, so affiliates have the ability to reach a global audience through CPC-based campaigns. Affiliates that are planning to run the same ads in multiple countries just have to change the language, currency, and other location variables to launch separate campaigns.
While relatively simple, CPC campaigns can be extremely profitable and still have relatively low costs, especially when compared to other bidding models.
High Conversion Rates
Perhaps the biggest advantage of MegaPush is the quality of its traffic, which translates to a more engaged audience and higher conversion rates. In addition to partnering with premium traffic sources, the platform has also focused on creating a great experience for users. This means that the people that get push notifications and other ads on the MegaPush network are often more willing to absorb the message and interact with these creatives.
Superb In-House Tracking
Even though most media buyers and other affiliates choose to implement numerous trackers, it's important to point out that MegaPush offers a robust in-house tracking feature available to all of its members. Affiliate marketers can choose from a variety of macros available through the MegaPush tracker, including age, gender, CPC bid, country, click identifier, and many more.
Verticals that Perform Well on MegaPush
The magnitude of its reach and flexible ad format combination have made MegaPush one of the most popular push notification ad networks. Thousands of affiliates rely on the platform to develop successful campaigns, but marketers also need to learn which verticals have a higher chance of converting on the platform.
According to our research, the top verticals to run on MegaPush include:
News subscriptions
Dating
Forex and other binary options
Healthcare and Nutra
Sweepstakes
Gaming
Leisure
Home and outdoor hobbies
Fashion and retail
MegaPush Pros and Cons for Advertisers and Publishers
MegaPush has employed a combination of creative features and a robust infrastructure to become one of the leading ad networks available today. The platform offers a series of advantages for both publishers and advertisers, but you should also consider MegaPush's shortcomings to ensure you're joining the right network.
Publishers
With the right platform, publishers can consistently monetize traffic on their sites while still delivering excellent quality content. The MegaPush pros and cons for publishers include:
Pros
Used by top-notch advertisers that develop more profitable campaigns
Easy to integrate
Customer support team available 24/7
User-friendly interface
Robust in-house tracking
Cons
Not many tutorials have been developed by the ad network
Advertisers
Advertisers can either promote their own products or another company's offers depending on the setup, but MegaPush is a great option either way.
Pros
Low CPC rates
More than 12 million clicks registered monthly
Non-intrusive ad formats
Global traffic sources
Cons
The long learning curve when compared to other platforms
MegaPush Alternatives and Competitors
Find Out More About the Best Ad Networks Out There
MegaPush is undoubtedly one of the best and most popular ad networks for push notifications. Also, to push traffic, affiliates can also use the platform's first-page ads and SMS campaign features to develop original, highly engaging content.
In addition to the above, MegaPush has a great combination of affordability, quality, and user-friendliness, so it's among our top picks for the best ad networks available today.
Interested in learning more about MegaPush and other top networks for affiliates? Follow our blog or get in touch with lemonads and our team will be glad to help.
Accelerate your Conversions, Increase your Revenue
with lemonads
---
You would like