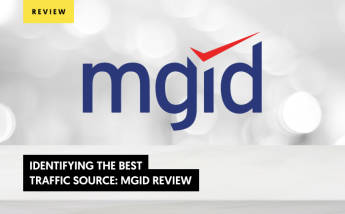 MGID Best Traffic Source? (review 2021)
Due to the large variety of offers' verticals and countries that affiliates can work with, there is always a necessity to find a reliable and flexible traffic source. Many affiliates, both experienced and newbies, find native advertising a worthy alternative to social and display traffic.

When it comes to Native Advertising, all roads lead to MGID with a stable reputation on the market and a sustainable Top Native Advertising Platform Worldwide position. Tens of thousands of affiliates successfully perform their best results with MGID's traffic volume of up to a billion impressions globally each month.

We have noticed that many lemonads' users drive MGID's traffic to our offers; that is why we have decided to review this trusted native ad platform.
Generally about MGID
MGID is an innovative pioneer in native advertising with an impressive number of AdTech awards that drive revenue growth for all the ecosystem participants. Founded in 2008, the company has 11 offices worldwide and keeps growing day by day.
When it comes to numbers, MGID has:
32K+ content websites
100K+ new campaigns annually
850M+ unique visitors monthly
185B+ content recommendations monthly
MGID can guarantee all demand being filled with local propositions from Brands and Agencies
in vernacular languages, unlike any of our competitors. Being Open RTB compliant and supported by 350+ in-house tech team members, MGID is ready to support any integration type. Also, what is essential, the MGID will provide 100% transparency with full control over all placements and advertisements.
Why Native?
Native ads match the content and design of the web page they are located on, with the implication that Native ads:
Help to avoid banner blindness, aiding ads that recommend the content most suitable to the users' interests
Do not irritate and are organically intertwined into the users' interactions with the website
Suggest a more subtle and indirect selling approach rather than standing out as hard-sell advertising
On average, have 60% higher CTR across all platforms and formats
Native advertisements registered a 9% higher lift for brand affinity and an 18% higher lift for purchase intent responses than traditional banner ads.
MGID Ad Formats
MGID's publishers are provided with the best solutions for traffic monetization. The line between the editorial and paid content begins to blur, as the audience appears to be receptive to native ads, and the overall reaction to them is quite positive. The native ad format is widely offered by many ad networks and social media platforms. Native ads are flexible and take on a variety of shapes:
Header. A unit that is placed above the content. Provides maximum audience engagement thanks to the high visibility rate.
Sidebar. A widget that is easy to implement and because of the sidebar location preserves site structure.
Smart. MGID Smart Widget automatically creates an infinite combination of formats to monetize the existing audience, acquire new visitors, and retain users.
In-article. The advertisement feels like 'yet another article,' but it is different from the other organic content labeled as 'Ad' or 'Sponsored.'
Under-article. Customizable, responsive, and flexible Under-Article Unit that is generally agreed as "must-have" in Native.
Mobile. A widget that will appear only for mobile web users.
Optimization insights and handy MGID dashboard tools
Any offer requires focused attention on optimizing an ad campaign. MGID recommends doing a test campaign and collecting all the data for further optimization. They also advise using Premium Bundles and High-Performance Bundles, where CPC is 20-30% more expensive; the other way round, this is guaranteed to increase the conversion rate.
Inside the MGID dashboard, you can find a handy tool - traffic insights. The Traffic insights tool is the almanac of MGID traffic. With it, you can preliminary estimate what MGID can do for you and how much it will cost.
Also, for your convenience, MGID has developed the Price Recommendation Feature. It calculates the actual CPC by analyzing your ad campaign. You will get enough traffic and not overpay for clicks.
There is one more feature in the dashboard for which many affiliates pay for third-party service. The tool Rules-Based Optimization has been designed to automate the process of advertising campaign optimization.

What is campaign optimization at this point? You need to continually monitor the statistics, analyze the actual data, compare it with the goals, turn off the non-performing sources, and adjust the CPC to more effective ones to bring the actual values ​​closer to the target ones. It is quite time-consuming and takes a lot of manual work.
Moreover, the optimization process typically occurs according to the elaborate conditions that directly hint at the automation. This tool will save time and resources and remove the human factor in errors and response rate.
To this end, MGID has implemented the Rules-Based Optimization functionality. Their optimization rules extend to all possible conditions and analyze the campaign performance with each statistics update, rather than checking once in a certain period.
Rules-Based Optimization supports three types of rules:
Blocks the widget / sub-source, provided that the specified condition is met
Changes the CPC coefficient based on the target value of the specified parameter
(the rule determines the coefficient itself)
Changes the CPC coefficient to the value specified by you, provided that the specified condition is met
Targeting Options
Front end targeting options, which can be made by the client from the dashboard:
GEO: country, states type of device
OS and version of OS
Browser
Browser language
Time
Back end targeting options, where the agency needs to ask the Account Manager for help:
General creatives rules
Every advertising unit consists of a title and a thumbnail image.
An ad unit is a coherent medium that sells or promotes a product, service, or idea.
Together bold visuals and strong titles drive better customer engagement & increase click-through rates (CTR).
On the other hand, a misleading or unclear message of an ad unit may worsen user satisfaction & increase the bounce rate of a website.
Therefore, every ad unit should target its audience and give users a clear understanding of what is on the landing page.
The thumbnail image is the key element to an ad unit as it draws the user's eye and keeps their attention. However, make sure that the advertised content is tailored to the product/service you promote.
We suggest trying different combinations of thumbnails and titles. A/B testing is a perfect solution to understanding what works best.
A properly written title can be a powerful tool. Do not underestimate the potency of words - it's immeasurable. Although images attract a user's attention at first, a good title boosts your conversion rate.
Do you need intrigue, mystery, or urgency in your ads? Do not hesitate to contact the MGID team. Our best copywriters will help to create effective titles for any product, content, or service you offer.
Most common reasons for rejection
One of the most common reasons for advertisement rejection during the moderation process is its relevance to the landing pages they refer to. Being relevant does not mean that you have to be boring in your creatives. Instead, you can play with your product's origin, benefits of its use, play with verbal associations, etc.
Some prohibited practices that lead to rejection from our moderation team include:
copyright infringement
security and privacy violation
cloaking
amateurish image concepts
clumsy PS editing
websites under construction
fake elements used in webpage design
impersonation of legitimate sources
celebrity endorsement
aggressive clickbait
You should avoid these practices to pass moderation faster in the future. Regular cooperation and a consistent level of deep trust for a while will allow us to have fewer doubts regarding your campaigns.
Recommendations
At MGID, we make sure that advertising campaigns do not contain deceptive, false, or misleading content. To pass moderation faster, we recommend following the tips mentioned above and making your marketing campaign as straightforward as possible. Do not hesitate to ask the MGID compliance team if you are unsure about your campaign's legal permissions or certain creative ingredients.
Some creative approaches that show good results with the Healthy Living vertical in MGID:
Every marketer knows that when people see something they don't know anything about, they become curious; thus, MGID recommends using creatives depicting weird exotic plants and supplement it with a headline containing the pain of the offer's audience.
The same thing works with strange and straightforward liquids. This approach bribes the ease of solving the problem.
MGID Creative course
You can also get the exclusive course on native ads, "How to Boost Advertising Results with Native Ads," by MGID Creative and Compliance team.
During the program, you will learn how to:
Create huge profit ads and landing pages
Be compliant and forget about the word "REJECTED"
Utilize tips and tricks for different cultures, such as Vietnamese or Indian
MGID Competitors and Alternatives
Complete a list of the best native advertising platforms.
Bottom Line
In summary, there are many reasons why affiliates choose MGID when compared to the variety of different ad platforms. You can earn plenty of benefits while working with them, such as a personal account manager, lots of useful tools and information, and a massive volume of native traffic.

And last but not least, MGID has prepared a special bonus for all lemonads users. Just follow the link and get a 25% bonus on the first deposit!
Accelerate your Conversions, Increase your Revenue
with lemonads
---
You would like