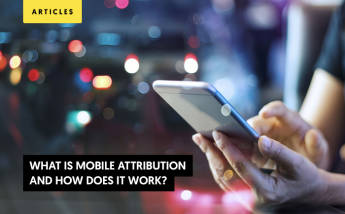 What Is Mobile Attribution and How Does It Work?
Did you know that mobile devices have become the leading type of traffic on the internet? It's estimated that almost 51% of all internet traffic comes from mobile devices and this trend has been the same since early 2017. It's no surprise that mobile marketing has become one of the most common marketing techniques and that the technology powering this type of marketing has advanced at an alarming pace over the last few years.
Take mobile attribution, for example. While some digital attribution models have been around for a while, mobile attribution technology is constantly improving, resulting in a better experience for advertisers, publishers, networks, and consumers alike. At lemonads, we've worked closely with some of the top mobile attribution technology developers in the affiliate world, so we know the impact that this type of tool has on the entire industry.
Let's go over the definition of mobile attribution, how it works, and
What Is Mobile Attribution?
Mobile attribution is a process that allows you to determine which campaign, partner, and channel generated each app download. In simple terms, mobile attribution tracking allows you to see how your marketing campaign is performing and which steps users followed before downloading your app.
This process employs a variety of innovative technologies that range from real-time tracking to cross-network integrations, which means that it needs to be developed properly to produce accurate readings.
Although developing a solid system may be difficult, a reliable mobile attribution mechanism reduces the amount of time you need to invest into verifying data, so you can focus on optimizing other areas of your campaign.
There are many different mobile attribution models, but these can all be broken down into single-touch attribution and multi-touch attribution. As the name suggests, single-touch attribution models consist of only one contact point. In other words, it attributes conversions to one single event, which doesn't fully portray the buyer's journey of a huge collection of different products.
Multi-touch attribution is more dynamic because they measure two or more events that lead up to each conversion. Multi-touch attribution is recommended for mobile more than with any other form of digital advertising because users often see a variety of different ads before finally converting. This is also the reason why many advertisers create mobile attribution windows designed specifically for users on these devices.
How Does Mobile Attribution Work?
Isn't mobile attribution just another type of tracking? The answer is yes and no at the same time. Yes, mobile attribution works in the same way as other types of tracking in the sense that it helps you determine what actions users took before becoming conversions. With that in mind, this type of tracking provides unique insights that aren't available through Google Analytics and other conventional platforms.
A mobile attribution provider can tell you whether users installed your app after watching a video, seeing an ad, or visiting a specific website. You can see how users that learned about your platform through different channels behave and create a plan to target the most profitable segment as well as use the best ads in case you notice a significant difference in performance.
The attribution process is simple. Whenever a user acts like watching a video ad, clicking on its CTA, or visiting the ad landing page, the attribution platform collects information from this person. The data collected includes:
Advertising ID
There are billions of people using countless smartphones and other mobile devices, so stakeholders need the ability to tell these apart. A device's advertising ID is a unique string of numbers and letters, which allows advertising platforms to identify each smartphone, tablet, and mobile device out there.
IP Address
As you may already know, your device's IP address is a piece of information that allows it to communicate with other machines through the internet. Your IP address changes depending on your location, so it can be used to determine where you are connecting to the internet.
User-Agent
Similar to the advertising ID, the user-agent string is a line of text that identifies the operating system installed on the device as well as the browser being used. While it may not be a great identifier by itself, the combination of advertising ID, IP address, and user-agent is unique for every single device, so it works as additional verification.
Timestamp
The timestamp is a simple metric that reveals when a user clicked on a mobile link. Not only does it include the actual time and time zone in which it's being measured, but the timestamp also includes the date of the interaction. Like the user-agent, it can be used in combination with other identifiers to single out a specific device.
First Install and Other Pieces of Data
First install is a metric that shows the time and date that an app was first installed on a mobile device. Note that, in most cases, this metric is only registered after the app has been opened for the first time. Moreover, there are many other pieces of information collected by mobile attribution platforms, but these can vary depending on your provider and the plan you choose.
Mobile Attribution vs. Web Attribution: What's the Difference?
If you've worked with web campaigns in the past, you may be wondering why mobile attribution tracking doesn't rely on cookies, tracking pixels, and similar technology. The truth is that mobile apps are completely different from web browsers, which makes all of these technologies incompatible.
The biggest difference is that websites only get information from browsers, so web tracking is based solely on the information available through the platforms used to access the internet. Mobile apps, on the other hand, collect data directly from the devices, which allows for more intricate and accurate monitoring.
The 5 Most Common Types of Mobile Attribution Models
As a mobile advertiser, you need to understand the different attribution models to find the best partners. As we mentioned previously, the most general categorizations are single and multi-touch attribution models. That said, many sub-categories vary depending on the steps required to complete the conversion.
Some of these include:
1. First Click Attribution
First click attribution is a type of single-touch model that only measures the first click on an ad as the event that caused the conversion. This type of attribution is often used to measure brand awareness and it's not particularly common in affiliate marketing or other types of performance marketing.
2. Last Click Attribution
Last click attribution is the most common type of attribution model used today. This model measures the last click on an ad as the direct responsible for generating a conversion. Additionally, this model relies on a simple conversion flow, so ads that use lack click attribution are often easier to convert.
3. Linear Attribution
Linear attribution is among the simplest types of multi-touch attribution systems. In this mode, every single click is counted and everyone is given the same amount of credit for producing the conversion. The payout may vary because it can either be divided into the number of touches or each touch may receive a set commission, it all depends on the program.
4. Position-Based Attribution
Position-based attribution revolves around the idea that the most important interactions are the first one, which introduces a user to a product, and the last one, which convinces a user to convert. Therefore, this type of attribution only measures the first and last interactions, without considering the touchpoints between the two.
5. Time Decay Attribution
Time decay attribution is a bit more difficult to understand because it provides attribution based on the time that passes between the conversion and the previous interaction. In this model, the shorter the amount of time, the higher the percentage of the attribution. Likewise, the longer the time-lapse, the lower the percentage that's attributed to the conversion.
Best Practices for Mobile Attribution Success
There are many different attribution models you can opt for, so you need to make a choice based on your specific needs. As a general rule of thumb, you should find a mobile attribution platform that has a robust security system in place to protect the information you receive. Not only this, you should take the time and optimize your attribution window and improve the results you get.
Furthermore, other best practices you should keep in mind include:
Choose Partners Wisely
There are thousands of awesome mobile publishers, but not all of these have the technology to allow for intricate mobile attribution. Therefore, you should try to find mobile publishers that allow you to extract data and gain insights from the attribution system in place. This may narrow down your options, but it justifies working with a limited pool of publishers.
Ensure Consistency
You should review the platforms you work with (affiliate networks, marketing analytics, etc.) and make sure that the tagging system used by your provider is compatible with all of these tools.
Adjust Ad Server Settings
Having restricted IDs is a common practice, but it can compromise your mobile attribution. Instead, you should create an ad server with unrestricted IDs to improve the accuracy of your attribution system.
Evaluate Different Sources
Finally, you shouldn't rely on just one tracking or attribution system! You should implement a few different alternatives, all of which give you a view from a slightly different angle. This will allow you to create a more holistic mechanism that offers a more comprehensive view of your marketing efforts.
Want to Launch the Best Campaigns? Contact lemonads Today
Mobile attribution tracking may be a bit difficult to wrap your head around, but it's an absolute necessity for advertisers that target smartphones and similar devices. If you want to find a network that helps you track down the best mobile publishers, contact lemonads and we'll be glad to help.
Accelerate your Conversions, Increase your Revenue
with lemonads
---
You would like