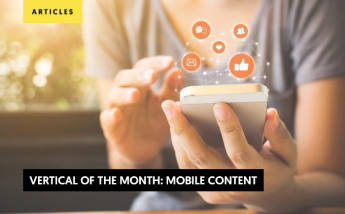 lemonads' Vertical of the Month: Affiliate Mobile Content Offers
Did you know that there are more than 14 billion mobile devices around the world? Even more impressive, that number is set to rise to almost 18 million in the next four years, which is equivalent to more than 2 devices per person.
Even before the introduction of smartphones and other powerful devices, network carriers and other companies have been profiting from mobile content. And, although it's been around for decades, this vertical is still reaching new heights in terms of performance as well as revenue production.
The technology that powers mobile devices moves at break-neck speeds, which directly affects the content that's available for these gadgets. But, thanks to the evergreen nature of this vertical, affiliates that specialize in mobile content will always have something new and interesting to work with.
At lemonads, we regularly see thousands of successful affiliates develop mobile content campaigns, so we understand what marketers need to do to stay competitive.
In this edition of vertical of the month, we'll explore mobile content and analyze the industry's most important numbers. We'll also go over some of the industry's biggest advantages, talk about new regulations you should keep in mind, and discuss the most popular types of mobile content today.
What Are Mobile Content Offers?
Affiliate mobile content offers are programs designed by advertisers who want to sell a subscription or product for a mobile device. Simply put, mobile content is an umbrella term that encompasses any type of product or service designed for smartphones and similar devices.
We'll go over some of the most popular types of mobile content offers later in this article, but it's important to note that these can either be one-time payments or subscriptions. For this reason, you may find programs that offer single payouts as well as recurring monetization, depending on the advertiser.
This type of content has been around since the widespread adoption of mobile devices. In the early days, mobile content consisted of ringtones, wallpapers, call forwarding, and hold music subscriptions. Today, they include all types of mobile apps as well as other products designed for customers who own these devices.
Mobile Content By the Numbers
Even before the start of 2020, the global phone industry had reported the worst decline in their worldwide shipments, which led many affiliates to believe that the industry had finally hit its peak. However, it's estimated that the mobile app industry alone is worth almost 190 billion US dollars in 2020 -- and it only makes up a portion of the mobile content industry.
Not only this, but research suggests that consumers still spend at least 90% of their mobile time on apps, so the drop in new device purchases hasn't affected the usage rate. Mobile users still make up more than half of all traffic and they've downloaded almost 35 billion apps in the first quarter of 2020 alone.
Furthermore, exciting technologies such as 5G, augmented reality, and foldable screens are keeping consumers interested by promising new experiences. So, many pundits believe that the slight drop in global shipments is due to consumers waiting for these technologies to become mainstream.
Advantages of Working with Mobile Offers
Mobile devices are popular in all regions of the world, so they offer a unique opportunity for affiliates. Some of the biggest benefits of working with mobile content offers include:
Large Traffic Volumes
As we mentioned previously, mobile makes up more than 50% of all internet traffic, so you'll always be able to attract large volumes of users. But, remember that modern consumers are more demanding than ever before. Your content has to be user-friendly and deliver valuable information in order to bring users and keep them engaged.
It's important to note that in some tier-1 regions desktop is still the predominant type of traffic. Furthermore, in these countries, customers tend to be protective of their data as well as contact information, which makes it harder to get conversions. Tier-3 countries, on the other hand, usually have much higher mobile usage rates and these users tend to be easier to convert.
Ideal for All Types of Affiliates
Whether you own a set of popular publishing platforms or you specialize in media buying, mobile content offers are ideal for all types of affiliates. It works extremely well for seasoned marketers that are looking to monetize the most profitable areas as well as newcomers who are learning the ropes by targeting low-tier regions.
Also, remember that mobile traffic is almost more affordable than desktop and it also allows extensive targeting, so you should use these to your advantage in your campaigns.
Mobile Device Adoption is Still Increasing
Despite the fact that smartphone sales are declining, the number of mobile users is set to keep increasing at least over the next four years. In 2020, it's estimated that 6.95 billion people used mobile devices on a regular basis. That number is set to increase to a stunning 7.4 by the year 2024, which will represent around 91% of the global population.
Understanding New Mobile Regulations
A reduction in sales can become a challenge, but it's not the biggest hurdle the mobile content industry has faced. Since 2018, governments around the world have started adopting stricter measures to regulate the mobile content industry. This, combined with a new wave of security-conscious consumers, has made it more difficult to convert certain types of offers.
These difficulties have produced mixed results that have impacted stakeholders in distinct ways. It's true that the new regulations have lowered conversions, but this has encouraged affiliates to find other avenues, reducing competition in the mobile content industry at the same time. Marketers that take the time to understand regulations like the GDPR can make the right adjustments and create mobile campaigns that produce great results.
Mobile Content Affiliate Categories
Now that you have a better understanding of the mobile content industry, let's take a look at the most popular categories you can work with. The best part is that you don't have to specialize in one type of mobile content. You can test out different options depending on your experience and choose the verticals that generate the most profit.
Keep in mind that in the list below we'll include products for mobile devices as well as offers about these gadgets. In these programs, affiliates may be promoting a chance to win a free mobile device or accessories, but they're still included in mobile content offers because of the audience they target.
Some of the most popular types of mobile content include:
Antivirus Software
Cybercrime is on the rise and it's not only affecting companies. Digital criminals are now stealing identities, committing fraud, and finding other ways to target consumers. And, the pandemic has simply exacerbated what was already a big issue.
Because of this, antivirus software has become one of the leading types of mobile content for affiliates. With several leading companies and many up-and-comers, affiliates can find a huge variety of offers that are suitable for different expertise levels.
Utility Apps
Utility apps include all platforms that serve a functional purpose and deliver practical value to users. Examples include smart tools, currency convertors, professional calculators, translation apps, meditation guides, and passport managers, just to name a few. Like antiviruses, there's a list of clear-cut leaders and a wide list of newcomers who are attracting a lot of consumer attention, so you'll definitely be able to find an offer that suits your requirements.
Mobile games have taken the world by storm and they now make up a large portion of the overall gaming industry. With billions of users playing games on a regular basis, gaming offers allow affiliates to develop extremely lucrative campaigns with relative ease.
It's worth noting that there are two main types of mobile game categories, which are:
Entertainment
Role-playing games (RPGs), arcade, and racing games are just some examples of entertainment games. In these games, users often play a specific character and only participate for recreational purposes. Entertainment games can be paid, free, or freemium, which allows users to make in-game purchases.
Gambling
While this varies depending on the version being played, mobile gambling games mimic casino settings and give users the ability to win money by placing wagers. There are dozens of mobile gambling game subcategories, but the most popular ones include card games, roulette, and slots.
Video Content
Affiliates can also choose to work with video content offers. As the name suggests, these programs aim to promote video content, which users can view in exchange for their contact information or through a paid subscription.
Video offers may include online education courses, detailed how-tos, and similar content. Just pay attention to the conversion flow and product to ensure that you'll have a good chance of converting customers.
Wallpapers
Wallpapers are among the oldest types of mobile offers, but the industry has done a great job of keeping up with consumer trends. It's true that wallpaper offers have lost some traction because users can source these graphics from a variety of places. But, wallpaper offers still offer relatively high conversion rates because they offer creative bundles at a very low price.
Horoscopes, tarot readings, and other astrology-related activities have always been popular. Consumers now rely on astrology apps to help guide them and make better decisions, so there are hundreds of different offers to choose from. And unlike other types of mobile content, the competitive landscape is even in this vertical, so most of these offer relatively high payouts.
Sweepstakes
Sweepstake offers may not be promoting mobile content per se, but these programs often incentivize consumers by offering a smartphone or similar device. This means that they aim to attract the same consumers who are interested in getting better mobile content. So, sweepstake offers are usually developed in the same way as mobile content ads.
The great thing about sweepstakes is that they don't only come from mobile content developers, but from any brand that wants to create awareness.
Find Out More About the Best Verticals at lemonads
Mobile content is a very interesting vertical that has been around for a while. Recent changes in the global landscape have prompted some affiliates to abandon this industry, but the statistics still indicate that mobile content is a great specialty for any affiliate.
We hope the article above helps you understand the mobile content offers and create the best possible campaigns. To find the best mobile content offers, contact lemonads and our team will be glad to help..
Accelerate your Conversions, Increase your Revenue
with lemonads
---
You would like