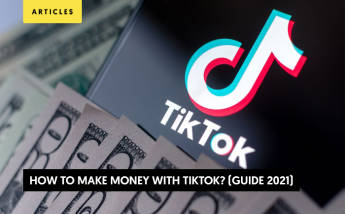 How to make money with Tik Tok without being an influencer?
How to make money with Tik Tok without being an influencer? You are realizing the potential of this media app and if you are here is because you want to know how to make money with Tik Tok, right?
If so, you are in the right place. We will explain to you in less than 5 minutes what TikTok is, and how to leverage it with affiliate marketing.
TikTok 2021 Overview
Tiktok is an app used for creating and sharing short video content. It was launched in China (Douyin) in 2016 and in 2017 for the rest of the world as TikTok. Both Douyin and Tiktok use the same software however their networks are separate respecting the Chinese censorship restrictions.
According to Datareportal, the platform has been downloaded 2 billion times and has 732 million monthly users. This makes Tik Tok the seventh biggest platform, beating "older" big names like Twitter, Pinterest, or even Snapchat. You can add to this massive number, 600 million users in China counted under the Douyin name.

This achievement took TikTok less time than Facebook or Instagram. Some consider that this number explosion has a lot to do with confinement as people were searching for new ways to use their home-time. But even after this parenthesis in our storytime, TikTok continues to grow.
TikTok Users
Tiktok is available both for iOS and Android in 155 countries and 75 different languages.
One thing is for sure. TikTok's creators got under the younger generation's skin. They understood GenZ's better than all the rest and gave them an app that was all they were dreaming for.
A recent study by Statista shows that 47.4% of TikTok users are aged between 10 and 29 years old. After 2020 the audience changed a bit. However, at the end of 2020 more than 62% of their users were in this age segment but now it's not exclusive for youngsters. But the number of adult TikTok users is growing fast. So no. Tiktok is not just for kids.
The daily time-spent average on TikTok is 52 minutes. That is almost one hour per user, where you can earn money.
Ways to make money with TikTok
Tiktok ads
Like in other social media platforms, you can pay for TikTok ads. These are the available formats right now.
In-feed video ads - 15-second videos that appear organically as the user is scrolling through content. In-feed video ads can have a song or sound playing in the background like all TikTok videos.  You can choose the Call to action (CTA) from a list we add below this ad format description.
Brand takeover ads- This full-screen ad is the most expensive ad format. Users only see one "brand takeover ad" a day when they open the app.
TopView ads- Similar to brand takeover ads. The difference is that instead of being the first thing users see when they open the app, a Top View ad is the first in-feed post after 3 seconds of use.
Hashtag challenge- On TikTok, user-generated content (UGC) is everything. TikTok hashtag challenges create deeper engagement by encouraging users to participate and interact. Most of the time these Branded Hashtag challenges are kickstarted by influencers.
Effect and Branded lenses ads- Tik Tok features AR filters, just like Instagram and Snapchat. The branded lens is an AR filter you can overlay on your face or in your environment. And it's a popular feature: according to TikTok, 64% of users have tried using filters and lenses before.
In addition to filters and lenses, brands can also create stickers for users to add to their TikTok s. While brands might want to dabble in creating their own filter, it is a slightly more technical process. Do get in touch with us if you would like to explore a TikTok AR lens or filter for your brand.
Different countries might have products or services that are prohibited. Before you think about advertising on TikTok check out the list of TikTok ad requirements for every country.
In general TikTok ads that promote the next list of products or services are strictly forbidden.
Sexual products, services, or entertainment.
The promotion sale and access facilitation to Casinos and gambling.
Cigarettes and tobacco products.
Counterfeiting and piracy.
Drugs and paraphernalia.
Police and military gear and equipment.
Political Ads.
Protected animal species and products derived from these protected animals.
Hazardous chemical products.
Human organ related.
Abortion services.
Pre-natal sex determination
Funeral Services
Weaponry and weapon parts.
Affiliate Marketing
Affiliate marketing is a strategy in which an advertiser pays you as a publisher a commission for any qualified lead or conversion you bring to their business.
How to Use TikTok For Affiliate Marketing
TikTok doesn't allow the placement of direct affiliate links on your ads. But, you can still promote offers by sending users to a landing page that contains your affiliate links.
To start your affiliate marketing activity in TikTok you need to:
1. Choose a Niche - What are you Passionate About?
It's not a secret that we all work better when we do something we love. You see the girls that are successful TikTok influencers in the makeup vertical. They have probably been hanging around makeup since they were little girls and they truly seem to enjoy it.
In your case, it is different because you are not necessarily using your face for affiliate marketing. But you have to constantly create content about the products you are promoting and relating to that niche of people is crucial. If you don't know what they need you simply won't know what to sell.
That passion is now your Niche. By choosing a niche, you are restricting your creative brain to wander and promote things that are not related to your audience. You are simply giving your business a structure.
2. Build Your Audience
The more the merrier of course. But most importantly the more relevant the better.
How to do it?
Post Regularly
Interact with Content Relevant to Your Niche
Connect Other Social Media Profiles to TikTok
Keep those 3 things in mind. People get attached to consistent content creators. If you don't give them a bite all the time, they just lose interest. Post regularly, interact, and bring your followers from other platforms to your TikTok account.
3. Learn how to promote offers on social networks
There is no better way to win money than knowing how to get there. Sounds ridiculous, maybe, but if you don't have a notion of how to promote products and services in your TikTok account, you will most probably waste a lot of time and money. You can learn from some affiliate marketing courses online.
4. Select an Affiliate Program for TikTok
The first steps are probably the longest and the ones you'll need to invest more time in. Once you already have a consistent count of relevant followers, You can start thinking about the products and services you will promote.
If you are interested in making money on TikTok with affiliate marketing, we crafted a complete guide on how to use TikTok for affiliate marketing that you will love.
Conclusion:
You don't like to dance around or show your pretty face to the camera but you want to profit from TikTok's boom. The ways you can make money on TikTok excluding influencer marketing are Tiktok ads or affiliate marketing.
The most important thing to start affiliate marketing activities is to have a defined niche and a solid, engaged audience. After that, you can choose from a great list of affiliate programs that adapt to perfection to your niche.
Accelerate your Conversions, Increase your Revenue
with lemonads
---
You would like