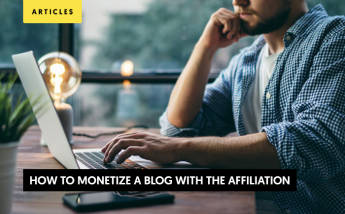 How To Monetize A Blog With Affiliation: Strategies To Earn Money!
Have you been wondering "How to monetize a blog with affiliation?" If you've stumbled upon several suggestions not worthy of any attention like throwing ads into your blog and hope it will eventually pay off… well, forget what you've read and stick here!
We'll uncover all you need to know on how to monetize a blog with affiliation and many other ways you could take in options without making you waste any of your time! We know you've been on a long painful journey, so let's help you out, here!
Monetizing a blog with affiliate marketing isn't a one-and-done thing and you'll surely need to put in some serious effort to get worth-wild results for users to spread your words!
Your focus is mainly being someone reliable for others and getting seen and shared, bringing users seeking your help as you might resolve their issues, skilling or informing them about something they've been needing!
It sounds easy, but it's actually not. You're not just going to write amazing content and leave it there for people to discover it, but there are many ways in promoting your content and of course, using smart SEO keywords could really help you rank organically!
For this, we have many articles on how you can use your strategy in writing catchy headlines and how your content should be laid out! Don't miss them to improve and use them in your everyday marketing strategy!
Now, let's discover all you need to know to learn in earning skills to start monetizing your blog through:
Monetize a blog with affiliation: Top 5 Essential Points
How Can You Monetize a Blog?
How to Monetize a Blog With Affiliation: Final Thoughts
Monetize a Blog With Affiliation: Top 5 Essential Points
Whether you've just started a blog or you've had it for some time, never forget these five essential points you must always keep in mind to succeed over time!
Focus
Blogs need focus. You need to have a specific industry, niche, or topic that you write about constantly and not jump from one topic to another. People want to visit a blog and keep revisiting it because it fills a need or avoids it. If you don't focus on this, your audience will turn elsewhere and lose interest making you lose traffic!
Quality
People think that blogging is about pushing out an enormous amount of content. Not true!
Quality over quantity. Needs to be thorough, well-written, and cite its sources. If a study is referenced, it needs to be linked to. Don't "economize" on quality if you're serious about monetizing your blog.
Value
Your blog needs to deliver value. What can you teach other people about? What are you an expert at? Take the time to deliver value. Create thorough tutorials and informative posts that interweave things like videos and other media to truly help people understand or figure something out. Value is a precursor to income in any industry, but especially in blogging.
Engagement
How engaging is your content? Does your blog incite people to spend a lot of time reading articles, watching videos, or messaging on a forum? The more people engage with your content, the more likely they'll be willing to purchase something from you. Without engagement, there's very little chance of monetization.
Authority
How much authority do you have? How well-known are you in your field? The more authority you have, the more likely you can monetize your blog quickly.
For example, if you have a large social media following and you decide to launch a blog, you can drive traffic quickly.
If you do so, you'll surely succeed over time, otherwise, you'll find it nearly impossible to drive any respectable amount of traffic and ultimately monetize your blog.
Let us show you how to monetize your blog with affiliate marketing in a simple, actionable way that will make you get those so desired results you've listed!
And remember… when we think about how to make money blogging keep in mind to always follow and apply the following strategy:
But let's understand this better, shall we? Ready to delve deeper? Let's go!
How to Monetize a Blog?
Before discovering how you can monetize a blog, have you ever thought if you should start monetization from day 1 or should you wait till you have a certain number of daily visitors or email subscribers?
This is the biggest question many have, and to answer we need to determine how exactly you're going to monetize your blog!
So, let's check which are the most practical ways for bloggers to make money through their blog with:
Affiliate marketing
Selling a book or product
Offering services as a consultant or freelancer
Sponsorships and advertising
Selling your blog for a profit on website flipping platforms or through a website broker
The method you choose will determine how soon you should start monetizing your blog and each method has different traffic and time requirements.
Let's go through them one by one for you to have a complete overview and understanding of which method would be the right fit for you!
Affiliate Marketing
We strongly advise experimenting with affiliate marketing before trying any other methods.
Before, let's see what affiliate marketing is!
It's a blog monetization method in which you make money by earning a commission for every sale you refer to a third-party product.
You don't own the product and there's no investment required! All you need is just to drive sales to earn money and there's literally no entry barrier in affiliate marketing.
If you have a blog where you publish content and you can register as an affiliate for most companies, you're set and can start from day 1.
How? Because you don't need a thousand visitors per day to make sales!
You'd have to start promoting your blog to get more visitors to earn a commission on every sale you make.
Here's how the business model works:
Done correctly, affiliate marketing can be a very profitable business model!
How to do it? Surely, you can't just start posting links and banners on your site without any idea of what, and by this, you'll have to always have a strategy to not look like an awful scamming blog!
The very first thing you need to do is get to know who is on your blog and get to know them to understand what could truly attract them in clicking to purchase a product or a service.
Ask yourself what they're searching for. It's very important to find common characteristics and build up a profile of your audience as it allows you to give your audience relevant value.
You could create the perfect landing page and send your visitors to the highest-converting sales page in the world, but if you don't understand your audience, it'll be useless!
Let's say you write about cooking and hand out amazing recipes to try out for any occasion. You could make incredible affiliate marketing with kitchen suppliers shops or ingredients for traditional recipes for your audience to buy to help them following your recipe as you do!
Affiliate marketing is all about getting the right audience in front of the right offer, in the right way and affiliate marketing with a blog is no different!
Have you checked out lemonads affiliate marketing for bloggers?
85% of Publishers successfully increase their revenue within the first 3 months of using lemonads! To not mention that lemonads® is the NextGen Hub of the Affiliate Marketing Industry!
It handles billions of conversions every year for forward-thinking businesses around the world!
Check here below for yourself!
lemonads has become the benchmark in terms of Affiliate Network surpassing all other CPA Networks in just 3 years thanks to their innovativeness and always updating to keep up in 202!
Let's check another way to monetize a blog!
Selling a Book Or a Product
You're a writer? Writing and selling a book (or ebook) could be a good way to monetize a blog!
Of course, it would take a lot of time and effort, so make sure you find the right audience to sell to, but, in the long run, a book is a good way to monetize a blog.
Another good way would be to sell physical products and turn your blog into an e-commerce store!
Do you want to sell digital products? Go for it. Digital products are online courses, videos, eBooks, membership sites, and so much more for your customers to access directly online by paying a one-time or monthly fee for your products or services.
It is one of the fastest-growing industries in the world that's projected to reach $300+ billion by 2025!
One great thing about these offers is that the commission rates are often much higher than physical products and sometimes over 50%!
Offering Services As Consultant or Freelancer
Selling services on your blog is quite similar to selling products and you don't need a lot of traffic allowing you to start offering services from the very first day.
You can offer services as a freelancer in any niche, for example, web development, blogging, content writing, graphic designing, accounting services, video editing, and so on.
The advantage of selling freelance services on your blog instead of a freelance portal is that you simply get to brand yourself as an expert and charge much higher rates!
Consultancy services can pay a lot more than generic freelance services because consultants solve bigger problems as compared to freelancers who're more involved in operational tasks.
Either way, you can sell services is an easy way to start making money with your blog even if you have just a few hundred visitors!
Let's check another way to monetize a blog!
Sponsorship and Advertising
Finding a sponsor for your blog is no easy task, but if you succeed then you could earn a lot!
Of course, to make it happen, you'd have to already have a concrete and real audience.
Advertising Ads could be away! You can sign up and start running ads on your blogs right away, but on the other hand, the time and traffic needed to see any significant earnings from ads are substantial.
So, consider running ads only when you get to 1000 visitors a day.
Let's check our next way to monetize a blog!
Selling Your Blog
Why would anybody think to sell its own blog?
Well, there are plenty of investors interested in buying successful blogs and because a profitable blog is a legitimate business with value, Actually, there are probably more buyers/investors than you would expect!
You don't have to be an expert to sell a blog, with the help of brokers, anyone can sell a website or blog, but remember, by deciding this option, you'd be letting it go to someone else and your work would be done.
How to Monetize a Blog With Affiliation: Final Thoughts
Remember, making money from your blog is not only possible, but it can be an extremely lucrative business. It might take a few months before you see real earnings but don't let that discourage you from continuing to try.
However, if you want to be a truly successful blogger, one that makes more than just a little money on the side every month, then you have to think of your blog as a business.
That's something that will really motivate you!
You're not just writing for the sake of writing or connecting with readers: you're using your blog as a means to build a business.
There's no accident in how some blogs can make a killing while others struggle to earn anything and it's all about strategy and continuous effort.
That's the main secret!
We truly hope you've enjoyed this guide to knowing how to monetize a blog with affiliation and other options to earn a successful way in earning with tips and tricks!
There are many other monetization strategies you can try with your blog and these are just the most popular ones, but we truly believe that the best way to monetize a blog is with the affiliation method that tends to generate a lot of income for a lot of bloggers!
Accelerate your Conversions, Increase your Revenue
with lemonads
---
You would like