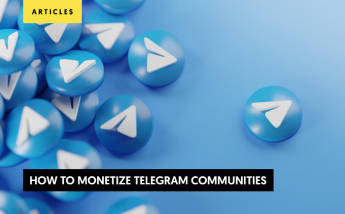 How to Monetize Telegram Communities: A Step-By-Step Guide
Innovative devices and lightning-fast internet connections give publishers the ability to connect with their audiences in a variety of different ways. But, even though cutting-edge features and new enhancements seem to be all the rave, a large portion of consumers are still interested in relatively simple features, like the ability to message friends and family easily. Publishers can target these consumers, identify the apps they use, and monetize telegram communities with the right strategy.
With the above in mind, developing a winning formula takes time and an in-depth understanding of your target audiences and the platform they are using. Telegram is already the leading messaging app in several territories and it's quickly becoming one of the most used platforms around the planet. For seasoned affiliates, the rise in Telegram popularity also represents a great opportunity to make money from these users.
At lemonads, we work closely with publishers that employ the most innovative channels to keep their audiences engaged. Our team has witnessed first-hand how the right Telegram monetization strategy can boost the performance of our affiliates' campaigns. We've put together a step-by-step guide explaining the advantages of using Telegram and how you can make money from traffic on this app.
Telegram By the Numbers
As of January 2021, Telegram had more than 500 million monthly active users, making it the fourth most popular messaging app in the world at the time of writing. In simple terms, Telegram is an innovative messaging app that focuses on privacy, consumer empowerment, and service quality.
Although the platform was initially launched in 2013, Facebook's acquisition of Whatsapp and following privacy policy updates fueled the adoption of Telegram. The result has been stellar: there are more than 1.5 new million users every day.
Additionally, the team behind Telegram has pledged to keep the app free of costs and advertisements. The app is funded privately by its owner, but it has remained a crowd favorite due to how transparent their creative team has been throughout the years.
What Are Telegram Groups and Channels?
Before delving any further, let's discuss how Telegram works and why it's an attractive option.
In simple terms, Telegram is a privacy-focused messaging app that's competing with established leaders like Whatsapp and Facebook Messenger. It's an open-source piece of software that features encryption technology to keep users and their conversations safe.
With that said, Telegram was designed to create a safe and fun environment for users to communicate with each other. This includes features like custom sticker creation, the ability to share rich media, and the creation of groups as well as channels.
Telegram Groups
There's a strong chance you've used mobile messaging apps that allow you to create groups with your friends and family. Telegram's group-creation feature is similar because it allows you to create private chat rooms and invite members to join individually. Once they enter the group, users can send messages, posts, rich media content, and other materials to all other members.
As with other messaging apps, creating a group can help you connect with multiple users at the same time, but things can get a bit chaotic. This is especially true when group members start sending messages simultaneously. That said, having a group also allows a level of dialogue that's impossible through other features.
Telegram Channels
Telegram channels are like social media groups, rather than private chat rooms. Through their Telegram channels, publishers can distribute content and create a resource for followers to check out whenever they want updates about your community. Think about it as a one-way broadcasting mechanism that's extremely convenient for consumers.
Contrary to Telegram groups, channels don't allow fans and followers to leave their feedback, so these platforms don't allow for as much exchange of information. That said, channels are perfect for publishers that want to run polls, share funny content, or publish content designed to product clicks and nothing else.
Tips on Producing Impactful Content
All audiences and industries are different, so you need to develop content that's personalized to the users you want to target. Remember, users don't turn to Telegram when they want to make a purchase, so you need to get creative and figure out how to market advertiser goods without coming off too strong.
While all publishers are unique, the goal of the content they produce is the same: engage users and produce conversions. To increase your chances of producing successful content, you need to:
Find the Right Industry
Even if you already think you know which industry you're specializing in, you should take the time and try to identify the best vertical for your case. Choosing the best industry is not an easy task because you need to find a field that you're passionate about and popular with consumers. And, you have to verify that the leading brands have affiliate programs that you can benefit from.
If you're not sure where to start, evaluate your experience and figure out if you will specialize in an industry that you have experience with. Affiliates that decide to work with new verticals altogether should take the time to research, learn as much as they can, and understand that it will take a few tries before they figure out the best strategy.
Choose Keywords Wisely
The keywords you choose are the life and soul of your content. After all, keywords are the terms that your audience uses to find your Telegram group. So, you need to implement the right terms and target keywords that your audiences use to track down your content. Just make sure to use a reliable keyword research tool that gives you accurate volume and alternative keyword data.
Generate High-Quality Content
This may seem obvious, but many publishers recycle their content and end up burning out their groups before they can generate significant profits. To avoid this, you should set time aside to produce fresh high-quality content regularly. This includes the creation of custom images, valuable written content, and any other materials you publish through your group.
Step-By-Step Guide to Monetize Your Telegram Communities
Now that we've discussed the different types of Telegram communities you can create and how to produce great content, let's go over the steps to monetize users on this app.
Remember, there is no one-size-fits-all procedure for success. You need to evaluate your specific industry as well as the resources you have available to create a tailored strategy for your Telegram communities. That said, there are some general steps you can take to improve your chances of success.
To monetize Telegram groups and channels, you need to:
1. Select a Niche You're Familiar With
When searching for a niche, you should consider opting for a specialty you've worked with before. Besides shortening the learning curve, working with an industry you know about means that you'll be able to conduct better competitor research. So, instead of struggling to find your footing, you'll be able to hit the ground running from the beginning.
One thing you should remember is that the more specific the industry, the better. For example, a general electronics review website may attract a lot of traffic, but it will consist of all types of users that have different interests. Instead, you can develop a laptop review website, which will narrow down the type of user that will visit your site and give you a better specific content you should produce.
Finally, working with a known vertical also gives you an advantage in terms of audience understanding. If you know what challenges prospects face, your content has a higher chance of producing stellar results from the get-go.
2. Create Nested Communities
Now, it's time to create nested communities, which are groups and channels that consist of people who are interested in your industry and the products you're promoting. This is where your affiliate creativity comes in because you can create communities as you see fit. If you want to open up a space for dialogue, a Telegram group may be the best alternative.
But, if you're looking for something that's more like a traditional publishing platform, a channel may be the ideal option for you.
You can amplify your results by creating different nested communities that revolve around the same topic but are slightly different. For example, one community can be about car improvements and the other about vintage vehicle restorations. This can help you make more money from the same audience while also growing each community at the same time.
3. Look for Affiliate Programs in These Niches
Once your communities are growing at a consistent pace, you can start looking for affiliate programs in these niches. Remember, you can find affiliate programs directly through advertisers or join affiliate networks that specialize in connecting publishers and advertisers, like lemonads.
In general terms, affiliate networks have an easier application process, plus these can help you find offers that allow Telegram traffic. While it's a leading platform, programs that allow Telegram traffic are still relatively rare, so working with a network can simplify the process and save you a significant amount of time and hassle.
4. Develop Telegram Campaigns
Your Telegram campaigns can take a variety of shapes because you can go for a fully organic approach, paid ads, or a combination of the two. Again, the perfect combination will vary depending on your specific circumstances and industry, so you have to consider all possibilities and figure out the best formula for your specific case.
The good news here is that Telegram allows you to share affiliate links organically without restrictions, so you can employ virtually any form of direct organic advertising. That said, you may find some restrictions if you're running paid ads, but you can always develop landing pages and other creatives to overcome these obstacles (and increase conversion rates) at the same time.
Ready to Make Money From Your Telegram Community?
Monetizing Telegram communities may be challenging, but this budding messaging platform has proven to be a great source of traffic. If you are interested in monetizing Telegram communities, get in touch with lemonads and we'll help you find the best affiliate programs today.
Accelerate your Conversions, Increase your Revenue
with lemonads
---
You would like