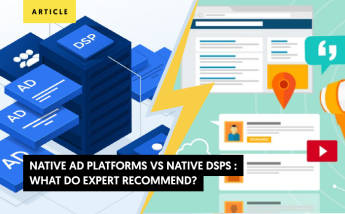 Native Ad Networks vs. Native DSPs: What Do Experts Recommend?
According to some projections, the digital advertising industry will be worth more than 355 billion US dollars by the end of 2020. This constitutes more than half of the projected global advertising spend, which stands close to $587 billion.
In addition to the size of the market, the statistics above also indicate the number of options advertisers have available to promote products and services. Needless to say, there are dozens of digital channels to choose from and hundreds of different ad formats that allow you to connect with your target audience.
Native ads are among the most popular ad formats because they allow you to deliver a concise message without stirring negative emotions in the target audience.
However, affiliate marketers can choose between different ways to acquire this type of traffic for their campaigns, with the two most common being native ads networks and native demand-side platforms (DSPs). Below, we'll tell you the difference between working with a native ad network vs a DSP and give you a few tips from some of the most knowledgeable experts in the industry.
Native Ads Network Overview
Before comparing native ad networks and native DSPs, it's important to understand the unique aspects of each platform.
As the name suggests, native ad networks specialize in collecting native inventory from a huge pool of publishers and making it available to advertisers who want to promote their services.
These ad networks act as middlemen and focus heavily on curating a large library of quality native traffic from different demographics. Additionally, by working with a leading native ads network, advertisers can secure premium native traffic that boosts their campaigns' performance.
Pros
Networks that focus on native ads work to keep the balance between the demand and supply sides. Publishers have to go through a thorough vetting process, so advertisers have access to top-notch spots and highly profitable traffic. As a matter of fact, some of the top publishers in the world don't sell traffic directly nor through DSPs, so the only way to take advantage of top sites is to work with a native ads network.
Not only this, but there are native ad networks for every single niche, including fashion, business, video games, and much more. Ads networks also offer traffic on CPC or CPI bidding models, so advertisers can protect their campaigns from underperforming traffic by working with one of these platforms.
Native networks also offer robust tracking abilities, so you can assess the performance of your campaign at any given moment. Most advertisers tend to also use additional tools, but having a good in-house tool is important for verification purposes.
If you have any questions about tracking or any other feature, ads networks usually provide comprehensive customer service resources like a self-service hub, access to a support team, and a dedicated account manager.
Cons
Ad networks offer a wide set of features, but they also have a few setbacks that are worth noting. When using an ad network, you won't have as much freedom in terms of capabilities. Depending on the ad network, advertisers may only be able to track their campaign, pause it, and optimize a handful of areas, but this will vary between providers.
It's also important to note that setting up a campaign in a native ads network may take anywhere between a few minutes and two days or more. The reason for this is that account managers play a huge role in the setup, launching, and performance of your campaign. If you work with a manager that's not as responsive as you'd like, you may have to start your campaigns after a day or two, but this is not always the case.
What are Native DSPs?
Demand-side platforms emerged in the early 21st century and it's safe they have changed the digital marketing landscape for good. Now, with the help of a native DSP, advertisers can automate purchases and acquire high volumes of traffic seamlessly.
DSPs rely on automated bidding models, so advertisers usually pay a flat fee for traffic regardless of how it performs. Like ad networks, you can find a native DSP for virtually any niche, including profitable verticals like luxury products, nutra, and dating, so these platforms can also help bolster the results you get from your campaigns.
Pros
The process of setting up a campaign in a DSP usually takes minutes as most of these platforms are self-serve. This means that you manage all aspects of your campaign, giving you a lot of control over the performance of your ads. While it sounds complicated, most DSPs have strived to simplify the process and created intuitive dashboards that allow you to see information in easy-to-digest chunks.
When using a native DSP, advertisers have to dedicate time into toggling all the possible settings on their campaigns and monitoring performance to find the right combination. However, because you don't have to work with an account manager, the entire process is quick and painless, especially if you set up a regular schedule.
While some top publishers don't work with DSPs in general, advertisers that work with quality platforms will have access to a world-class native ads inventory. And, because so many publishers are opting for native DSPs to monetize their traffic, you'll be able to grow your campaign as much as possible.
Cons
Some marketers claim that working with a native advertising DSP requires a large budget. Despite the fact that this is not always the case, having a larger budget in a DSP will help increase your chances of success. This is because advertising parties have to pay a set rate for each visitor regardless of how the user behaves.
Most DSP companies are also slow when it comes to offering newer features or innovative native ad placements. This is partially due to the automated structure of these platforms, which works best with proven and predictable data.
Finally, demand-side platforms don't always focus on detecting ad fraud, so they may not have a robust mechanism in place to protect your campaigns. Advertisers need to take their own precautions and monitor their campaigns closely to identify any signs of unwanted activity.

Head-to-Head Comparison: What Do Experts Recommend?
The native ad network vs. DSP debate is a hot topic in the world of affiliate marketing and a lot of experts have weighed in on the matter.
According to Sabine Mansour from MediaMath, DSPs require a deep understanding of how programmatic advertising works, so the learning curve may be relatively long for some marketers. But, advertisers that put in the work can see significant returns from their campaigns.
Oleksandra Kazantseva from Bizzclick says that both DSPs and native ad networks have their unique advantages. Kazantseva encourages affiliates that are ready to explore new concepts to combine the two and potentially see a greater return on their campaigns.
Similarly, Sharon Lyon from Revcontent sees it as a win-win for advertisers because they can continue to purchase traffic from all sources as long as they continue to provide quality.
Native DSPs and native ads platforms are very similar, but each one offers a unique set of advantages as well as their own setbacks. The truth is that there is no one-side-sits-all answer to the question, so you'll need to evaluate your specific circumstances and determine what the best course of action is.
Source : thank you joinative for sharing these interviews with us.
Advantages of Combining Native Ad Networks and Native DSPs
Doubling your efforts may represent more work, but combining native DSPs and native ads platforms may actually be a superb way to exponentially improve the performance of your campaign.
Some of the advantages of running native ads with DSPs and ad networks include:
Amplify Your Campaigns' Reach
The combination of a network's exclusive traffic and a DSP's comprehensive settings can help you amplify the reach of your campaigns.
Ads platforms allow you to claim spots on extremely popular websites, so you can get a significant influx of traffic from these providers. DSPs, on the other hand, can let you narrow your targeting settings so that your ads are only viewed by users that have a high chance of converting.
Running these simultaneously will give you the best of each world, increase the reach of your ads, and potentially take your efforts to the next level.
Achieve Maximum Flexibility
Perhaps the best part about working with both traffic sources is that you get maximum flexibility. For example, you can launch campaigns on both DSPs and ad networks, wait until you have enough information, and determine which sources are providing the best results. Depending on the platform they're on, you can decide whether to optimize, pause, or stop running specific ads altogether and stick to the tactics that are working.
Again, this may represent an increase over your regular workload, but it can yield higher profits at an exponential rate.
Spread Out Your Efforts and Lower Risks
Advertisers that like to play it safe may prefer using a combination of DSPs and ads network because it can help spread out their efforts and reduce risks.
Both native DSPs and native ad networks are fundamentally different, so new regulations and consumer patterns affect them differently. If you want to avoid having your eggs in one proverbial basket, the best approach may be to use both demand-side platforms and native ad networks.

You liked this article you wish us to read: Ad Network VS. Affiliate Network and What are the best Native Ads platforms?

Find Out More About the Best Advertising Platforms
Since they were first introduced, native ads have taken the digital advertising world by storm. Consumers interact with these ads in a unique way and they have learned to appreciate their place in the online ecosystem.
Native DSPs and native ad networks offer distinct yet unique benefits, so both of them are worth exploring. Furthermore, seasoned affiliates and knowledgeable advertisers can leverage both platforms to boost the performance of their campaigns and get the best results from their ads.
If you want to learn more, stay tuned to our blog or get in touch with lemonads and our team will be glad to help.
Accelerate your Conversions, Increase your Revenue
with lemonads
---
You would like