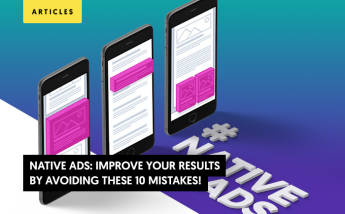 Native Ads: Improve Your Results By Avoiding These 10 Mistakes!
Native Ads: Improve Your Results By Avoiding These 10 Mistakes!
At this point, it's safe to assume that everyone in the affiliate world knows what native ads are and why they're awesome. With that said, only a small percentage of affiliates that employ this powerful ad format has developed the ability to use it at its max potential. Native ads have the ability to create deep connections with the audience, but there are many details that affiliates need to get right to keep users engaged.
Every affiliate is different, so marketers need to analyze their individual scenarios to determine what steps they need to take to succeed. However, remember that most consumers share similar traits, so you also need to ensure that the content on your native ads doesn't contain elements that repel your target audience.
Our team has worked with thousands of affiliates that have successfully developed large scale native ad campaigns and we've identified many of the mistakes that can have a negative result on the performance of your ads. Let's take a deeper look at this ad format and go over 10 native ad mistakes you should avoid increasing your chances of success.
The State of Native Ads
It's estimated that 48% of Alexa's top 500 sites employ native advertising on their pages, so it's no secret that this ad format can deliver stellar results for publishers as well as advertisers. After all, 45% of consumers are more likely to click on ads from the same website they're currently visiting so native content allows you to deliver your marketing message without getting a negative reaction from potential customers.
In terms of performance, native ads are currently used by more than 66% of advertisers and their popularity is growing every year. It's estimated that advertisers spent more than 44 billion US dollars in 2019 on native advertising alone. And, that number is set to be closer to $80 billion by the end of 2020 according to some projections.
It's worth noting that video native ads are now the hottest trend in the industry, boasting of a CTR that is almost 4 times higher than conventional native content. Just make sure that it blends with the page as 79% of users prefer it when the ads on a site aren't distinguishable from the rest of the content.
10 Native Ads Mistakes You Need to Avoid to Maintain a Stellar Campaign
Native advertising is a proven format because it has revolutionized the way affiliates produce content and the approach that consumers take to ads. But, this doesn't mean that launching a native ads campaign will automatically guarantee success. As with other formats, you need to create a comprehensive campaign strategy and make sure to avoid crucial mistakes that can sabotage the performance of your ads.
Keep in mind that native ads are effective because they don't look like promotional materials, so you shouldn't treat them as such either. When you're creating a campaign, give yourself a bit more time to let your creative juices flow and try to control the instinct of using direct sales methods right away.
Let's take a look at the top 10 native ad mistakes you should avoid at all costs.
1. Choosing the Wrong Advertising Platforms
For advertisers to be successful, native ads work on the assumption that the content on the website on which they appear is considered valuable, high-quality, and useful. But, the quality of the ads network or other traffic sources you choose will directly affect the way users see your ads. Remember, native ads appear to be part of the publishing website's content, so showing your creatives on poor quality sites is a huge mistake because it will not generate the right results.
Always take the time to evaluate the platforms where your ads will be displayed. This may be tricky if you're working with a general network that specializes in various types of traffic. You may have better luck by working with a native ads network, but it's always a good idea to ask each provider if they can show you a list of the platforms where your ads will appear even if they're not specialized.
Publishers can also help improve the performance of the native ads on their site by producing engaging and high-quality content that's relevant to their advertiser's creatives.
2. Poor Content Quality
One of the biggest errors you can make when working with native ads is producing low-quality content.
This mistake is pretty universal because it applies to both publishers and advertisers. Publishers that produce low-quality articles and overall poor content compromise the performance of their advertiser's ads. For example, if the content on a site is not valuable, the pages will probably have a high bounce rate and poor engagement metrics. This, in turn, will be transmitted to the advertiser's creatives and negatively influence their ads.
As for advertisers, running a low-quality or aggressive native campaign will make your intentions obvious. Instead of seeing ads as part of the site's content, consumers tend to notice when native advertising contains bad images or language that doesn't deliver value.
3. Lack of Relevance Between Ad and Landing Page Content
When developing native ads, advertisers and media buyers have to verify that the ad relates to the landing page. If the native ads are not relevant to the landing pages, consumers will click out right away, and the network of publishers will probably penalize the creatives.
The simplest way to avoid getting penalized for this is to be transparent about the ad and the content that users can expect to see on the landing page.
4. Failing to Study the Buyer's Journey
The knowledge you have about your audience is the most powerful tool at your disposal when building your ads. The buyer's journey, which are the steps that your customers go through before buying, allows you to see where consumers are in terms of completing a purchase and what type of content you need to generate to attract audience members in different stages.
Unfortunately, many marketers fail to extensively analyze this process, which results in the production of irrelevant content. The solution is simple: spend more time building buyer personas and understanding the stages they go through and the obstacles that they need to overcome to complete a purchase.
5. Tracking the Wrong Metrics
Tracking vanity metrics, which are statistics that don't show you the real performance of your ads, is one of the worst things you can do when running a native campaign. Rather than looking at CTR and other superficial stats, you should evaluate conversions, time spent on the page, ROI, and other metrics that will tell you how profitable your campaigns truly are.
Remember, all industries and affiliates are different, so build a list of KPIs that align with your goals and give you an accurate depiction of the performance of your ads.
6. Implementing a Disorganized Marketing Plan
Affiliates indeed work with a huge variety of platforms, regardless if you're a media buyer, publisher, or another type of marketer. But, this should never be an excuse for running an ad on a disorganized strategy.
Your marketing strategy should guide you and help you make better decisions in the short-term as well as in the long run. Before you start, make sure to build a comprehensive plan that contains your goals, the steps you will take to achieve them, and the milestones you'll use to track your progress as you go along.
7.  Testing the Wrong Elements or Not Testing At All
As with other types of ads, native creatives are made up of different elements including the native ads headline, thumbnail, and text snippet. The best way to find the ideal combination is to run a few tests and analyze the performance of your ads.
However, campaigns that build a solid campaign off the bad tend to avoid this step right realizing that the right testing can take their performance from good to great.
The same goes for publishers. Web managers and app developers can test out different placements and start offering the best location their platforms have to offer.
8. Not Analyzing Where Visitors Are Coming From
Even if the marketing platform allows location targeting, advertisers and media buyers always need to check where the people that see their native ads are located. Even if they're within your initial target location, analyzing where visitors are coming from can help you identify positive as well as negative patterns and act on them to ensure the best results.
9. Lacking a Click Verification System and Other Security Mechanism
Fraudulent clicks have become a problem for both advertisers and publishers because these can affect all types of ads. The best way to verify the quality of your native traffic is to implement click verification systems and other security mechanisms that help verify each click comes from real users.
As a general rule of thumb, working with reliable networks and traffic sources will greatly reduce instances of fraud, but it's always important to implement a second layer of security to deliver the best value to all stakeholders in the affiliate ecosystem.
10. Not Optimizing Your Content
Last but certainly not least, not optimizing your content is one of the biggest native ad mistakes we see over and over again. Native ads are superb in terms of the connection they allow you to build, but this doesn't mean they're perfect from the beginning.
Rather than settling for the first attempt, advertisers need to review their ad performance and make adjustments to their creatives as well as landing pages. Publishers, on the other hand, should attempt to detect patterns related to variables that are under their control and also make tweaks to improve performance.
Want to Find Out More About Native Ads and Other Superb Formats? Contact lemonads Today
Native ads are known for being stealthy and allowing advertisers to highlight the best benefits of their products in a friendly way. We hope that the tips above help you avoid these 10 native ad mistakes and aid you in your quest to develop a successful campaign.
To learn more about native ads and other effective formats, get in touch with lemonads and we'll be glad to help.
Accelerate your Conversions, Increase your Revenue
with lemonads
---
You would like