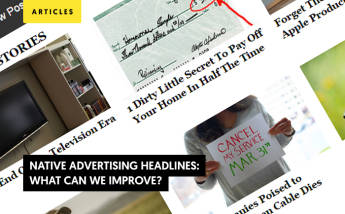 Native Advertising Headlines: What Can We Improve?
Native Advertising Headlines have never been so simple!

Going forward to start we advise you to read our article: What is a Native Advertising? If you don't know about Native Ads yet, if you know you can read on, and learn how to build Headlines that click and sell.
If you've landed here, you're probably searching for tips on how to write catchy native advertising headlines bringing people, not only to click on your Ads but also in wanting to drive more traffic and/or sales!
If so, our tailor-made article has been thought and written just for you and we are here to reveal these shortcuts to ease your thinking!
Ready to learn all these tips on how to write powerful native advertising headlines and check some examples to get inspired from?
Our guideline will focus on reaching your goal to improve your native advertising headlines by getting those wanted clicks, driving traffic with the following detailed tips and examples:
Strategy
KISS: Keep It Simple Stupid
Catchy Clicks for Great Smart Content.
Strategy
When we talk about writing the perfect headline, well, it's not because of a written rule, but for sure there are ways for successful content on how you can perfect your native advertising headlines to make them more powerful.
But, when we talk about 'powerful' headlines, what do we actually mean?
The answer could relate to a variety of outcomes, but surely, In digital advertising, first and foremost, relates to CTR.
In fact, our goal number one is to get those clicks going and focus on increasing the performance indicators related to conversion, most notably, leads and sales.
To begin with, we must not ignore our SEO as a partner for life.
Native Advertising Headlines: SEO
When we talk about SEO, you might think if SEO-friendly headlines are important… Well, yes they are!
Unfortunately, just by writing great content doesn't mean that it will attract visitors but you shouldn't shuffle those SEO keywords just to achieve ranking.
You may write the most relevant content there is out on the web for a certain niche, but if your headline doesn't feature this or your keyword research hasn't been done, then, all your effort would be lost in a second.
Internet users are constantly searching out for information on what they need and only a good headline, with your keyword research, will help you rank in Google's search engine, having a higher opportunity to catch people's attention and getting them to click through into your content.
But remember... even if they find your content and click through it without finding what they were looking for... well, they'll leave in less than 4 seconds and Google's algorithm will consider it as "bad content" not showing it up in the ranking easily.
Once you learn and apply this, you'd have a higher opportunity to draw in more traffic to your website as well as enhancing your search engine optimization efforts.
Your headline writing should always be a key component of your internet marketing strategy! If you can get this right, everything else that will follow will be a piece of cake.
So … what do "good quality headlines look like"?
Let's add our SEO to our following tips!
The use of "Numbers" - "Top"..." and "Best of..."
Adding numbers to a headline is still working big and we cannot deny that this trick is extremely effective!
"Numbers", as well as "Top", are an easy way to get your headline easily noticed. Not only because you're creating curiosity about something they might like or compare, but also because this trick, automatically assumes that the information you'll reveal will be concise and informative, especially if they don't want to waste time.
Peek at some examples
1) Top Instagram updates you need to know:
2) Top Facebook Updates that you can't afford to miss:
3) 24 free or inexpensive digital marketing tools to drive success
Or combine the two, just like this one below!
"3 Top..."
And so much more!
This is the same for the "Best of…" intro to your headline, familiarizing themselves with the content behind it.
Check some out!
1) Best time to post on Instagram
Or…
2) The 10 Best
As you can see, these native advertising headlines are effective, straight to the point, and driving curiosity aiming for users to click, and engaging them in wanting to know more!
let's check these other tips too!
Native Advertising Headlines: What, When, Why, and How
The classic approach in creating catchy headlines is by also using the trigger words like "What", "when", "why", and "how".
These words have the potential in making the reader, not only see you as a source for their answers and solutions but also relying on trusting your expertise, which is one of the most important things that affect, whether or not, if the reader will click on your ad and follow the link to your website.
Check some examples
1) How to use Facebook analytics to grow your business?
2) How to optimize your social media profiles for local customers?
Native Advertising Headlines: Powerful Words
According to "Smart Blogger's case study",  there are certain "Jaw-dropping and mind-blowing" words that could be used in your headlines, making the reader desire in discovering more about that content you've just posted!
They have a full list of words with these powerful connotations you can save and reuse for your own headlines!
Take a look at some of these persuasive words here below:
Impress your readers: get them excited, encourage and inspire them, make them feel aware and safe about something with hints or mistakes you've tested and learned that others should be aware of!
Any emotions you try to make people feel, the more influential and trusted you'll be! This will only help you increase your traffic and engagement, without even mentioning how many clicks would get!
Find the right way to fit them into your native advertising headlines and add them also into your ad content!
Now, let's kiss!
KISS: Keep it Simple Stupid
Your headline needs to be "Simple Stupid" meaning: you need to aim straight at what you're going to deliver in your content.
This doesn't mean that your headline needs to be extremely short - actually, you should find the right length - but it means you need to tell your readers why they have to click you. What can you give them? What is it in for them? What is it, that you're offering, they can't possibly do without reading about?
This is what we mean by catchy and useful headlines:
You must also make sure you stick to this rule for your content too.
If they click because of your catchy headline, but leave after a few seconds, as we said, Google's algorithm will categorize your content as "trash" since no one is actually scrolling through and you would be ranked as the worst content by ending up in the lost "who knows where" web.
Another useful tip is that everyone hates even more complicated and loaded information that readers can't even understand or have time for it.
Without following a structure or dividing your content into pieces, you will not achieve the aim at the goal you've set.
Keep It Short
When you think about headlines, as we previously said, they don't need to be extremely short but not even a long bold piece of content that is added atop your article.
The new vision of "great" headlines, in fact, are those that can preview what your content will be about by also giving the "solved problem" your readers are searching for.
In fact, most readers have very short attention and when they are searching for something, they quickly choose an article with a headline that contains the exact words that will solve their problem.
So, take the juice out of your message and put it into your headline in a way that is clear and concise.
You can check some lengths in these examples here below:
1st example 4 words
2nd example "VS" 5 words
3rd example: 9 words (giving more information by always keeping it short)
In fact, in this last example, we are looking at a headline containing not only a solution to a problem but also pointing out words like short or long giving you doubt even if you didn't have one before.
Creating short and informative headlines might take longer, but in the long run, they are surely those that bring great click-through rates.
Intrigue
We know that by intriguing, your headline will reveal exciting and interesting notes about what the article will talk about, but It might be stressful to explain complex matters in easy words, an eBook that explains how to help one's business grow or a discount that is only available right here and right now...
So, let's see some best practices to stick to:
Know your audience: Know your target audience or audiences and what they like. What problems are they trying to solve? What type of content would be valued by your target audience? Then summarize the issue you're solving in your headline.
Know your business goals: Advertisers should set clear goals for what they want to achieve as a result of users engaging with the content they create. Content marketing best achieves the goals of generating brand awareness and demonstrating thought leadership, not immediate sales!
Create engaging content: Engaging content can excite, educate, or entertain visitors. Content should first appeal to readers or watchers at an emotional level, and ultimately strive to improve the user's perception of the brand.
The next challenge you would have to set is getting a brand's target market to engage with.
Remember: It's all about the customers and how you can help them in any way possible, but also delivering this message through the first phrase they'll see: your headline.
Only this will make people click through.
Content with emotive headlines gets more clicks than other average titles. Therefore, it is beneficial to make it sound fun and exciting to grab the readers' attention or to give away the solution to their problem straightforwardly.
Look at an ad through the eyes of the readers and make sure they cannot stay indifferent to what they've just read by growing their interest in wanting to click through that ad.
Don't be afraid of exaggerating either with your headlines.
The idea of selling something by lying is WRONG and this approach will only make you fail in less than a sec!
In fact, when we talk about the exaggeration we mean something totally different!
Let's imagine that you're offering an all-in-one marketing platform service. When we say to exaggerate, we mean that you could state something like: "Save thousands of dollars by using only an all-in-one platform"!
Such a headline will contain not only a promise but also a value and it's pointing out to users what they could do with your service!
This has also been shown to be a real effective common business practice!
Satisfy
Once you've promised something you can do, people will just love you!
Don't be afraid if people could disagree with you because of a different "user experience". Feedback is always positive, and starting to think in this way, will only give you the chance to improve or learn even more!
This is why it's always important to leave space for doubt, a question, or simply feedback.
Create curiosity
"Powerful headline ideas mix and match approaches".
In fact, curiosity gaps, produce a feeling of motivating readers to read more about something.
Examples:
Don't Check for Another Job Before Testing This (It's Genius)
If You're Over 40 and Still Don't Earn Much, This Solution is a Must-have!
Also by offering curiosity with tips and tricks: we know they dominate! Everyone wants shortcuts in their lives.
Example:
These Genius Tricks Every Advertiser Should Know About!
Even lists or guides are appealing to readers because they instantly know what they're getting when they click. This approach to headlines capitalizes on many of the strategies we've covered already.
Examples:
15 Never Seen Before Strategies, Marketers Could Use To Solve Annoying Problems!
The Complete Guide to a Video Content Marketing Strategy
As you will practice these tricks, the effectiveness of your headlines will bring people's clicks from all over!
Catch Clicks for Great Smart Content
Don't only Promise, keep it!
Value is the only thing people go online to look for.
Your website visitors have pains they want to get rid of and questions they want to have answered!
This is where your headline comes in: it should shortly show them in which way exactly you are going to help them solve their issues.
Check some Examples:
Even headlines like "Learn 10 ways to boost conversion rates" or "Come up with mind-blowing topics for effect sales in 3 easy steps" are going to bring you much more clicks than regular dull titles.
So, don't be afraid to promise them useful information, but stick to your words.
A/B Testing
A/B testing is a must! You can do a lot of headline research into what generally works well and what's valuable to know, but you also need to figure out what works for your specific target audience!
For every blog post or ad you publish, you will have a full set of data information, especially which headlines work more than others and for which audience or lookalike audiences too.
Figure out more detailed information by putting two headlines against one another and check the stats! You'll quickly be aware of what your audience likes most, helping you to keep on track increasing your brand awareness and earning those wished clicks.
Creating an effective native advertising headline is no rocket science and you can do it!
Hope our Native Advertising headlines article really got your struggling cleared out!
Get ready to make your own!
and remember...
To continue your reading on Native Ads, we recommend that you read the following articles:
Accelerate your Conversions, Increase your Revenue
with lemonads
---
You would like