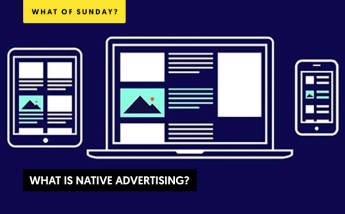 What is native advertising?
Many people in marketing and advertising aren't exactly sure what native advertising is. Back in 2014, a Copyblogger survey found only 3% of marketers felt "very knowledgeable" about it. While that's likely increased all these years later, it's still a relatively unknown term. So, if you consider yourself a marketer but have found yourself here Googling about it, don't worry! You aren't alone. Today, we're going to clear everything up for you.
Also, if you're in the "isn't it just content marketing?" camp, know that, no, it's not just content marketing. It is important to learn that native advertising and content marketing are not interchangeable terms, and while sharing similarities and methods, can be very different. So, what is native advertising?
Native advertising in a nutshell
A native advertising campaign or native ads campaign is that which uses a paid ad that fits in with the format, function, and feel of the media they appear on, such as social media or editorial content. This can be paid or "sponsored" content, or a long-form ad. The point of native advertising is that it doesn't stick out like a traditional ad, but flows with the rest of the content on a page so that it doesn't take away from whatever the consumer is viewing.
Since native ads look like normal content, consumers often won't notice they are even looking at a paid ad, giving the consumer more trust in them, as long as the content has some value and is non-interruptive. At least, in theory. In reality, many consumers spot native advertising and like it, or are happy to look past it. Native advertising, unlike traditional "look at me!" advertising, isn't annoying and is allowed to fly under most people's radar. History of native advertising
A report by the Association of Online Publishers found that:
32% of people surveyed found native ads informative, compared to 16% for traditional ads
21% of people found them useful, compared to just 13% for traditional ads
15% found native ads helpful, while only 10% found traditional ads helpful.
What's the Difference Between Native Advertising and Content Marketing?
The main thing marketers get confused about is the difference between native advertising and content marketing.
Content marketing is a long-term strategy that allows a brand to connect with their consumers on a deeper level, to obtain trust and show how they can make a person's life better in some way. This may include informative or entertaining content on their blog, social media, or YouTube channels. This calls for long-lasting commitment and investment but leads to increased loyalty from consumers as it usually has a larger impact. It also has the benefit of being evergreen – as a video you share today could still be impacting and reaching new customers five or more years in the future.
A native advertising campaign, on the other hand, is much more targeted with a specific goal, and brands are paying to place their content on other people's media channels.
What Does Native Advertising Look Like in the Real World?
There are 6 main ways in which native advertising is used in the real world:
1. "In-Feed" Ads
these are the native ads that appear on social networks while scrolling through your newsfeed
they appear in the same line as regular articles and posts
they will look different depending on the platform they are on so that they match the format of the site
2. Paid Search Listings
these are the native ads that are top-of-the-page on a Google Search results page
they look like part of the search results, but the brand has paid for them to be there
3. Content Recommendation Widgets
are otherwise known as sponsored content ads or content discovery ads
these are native ads that are typically found below the content but maybe on one side of the page
they recommend content you might be interested in, based on the web page you are currently looking at
these differ slightly in that they may not always look seamless with the page they are on
4. Paid Promoted Listings
these are native ads you will notice when you are online shopping, such as on sites like Amazon
brands pay for their products to be shown first, although they will look like part of the regular listings
5. Display Ad with Native Elements
these look like traditional advertisements, but they are entirely relevant to the content you are looking at, and the site you are on
traditional advertisements, however, are related to your browsing history rather than what you are looking at when the ad is shown
6. Custom Content Units
take, for example, a new Snapchat or Instagram filter – the filter itself will fit in with the apps intended use and its other filters, but a brand will pay for the app to include their custom filter
So, how can you recognize a native advertisement if it looks like regular content?
"Suggested Post"
"Recommended for You"
"Promoted Story/Stories"
"Sponsored"
Sponsorship credit
Recommended or Suggested videos
a small icon that, when clicked, will reveal the content is a paid ad
Why Use Native Advertising?
Native Advertising Works
Research has shown that people look at native ads over 50% more than traditional ads, and consumers are 18% more likely to purchase something they have seen through a native ad. It's not even like consumers don't know that they're there. Most people know how to identify that something they are looking at is an ad, but with native ads, they simply don't care since native ads are so unimposing. Essentially, because they are integrated with the content they're already interested in, they will readily accept them.
Native Advertising Fights Advertisement Fatigue
Advertisement fatigue happens when consumers are bored with being shown ads all the time, they'll either pay no attention to ads or, as is the case with video advertising, skip them when they can. Native advertising allows for the ad to be indistinct against the rest of the content, so it doesn't create this fatigue, as long as the ad is interesting and engages consumers.
Native Advertising is Hard to Ignore
As mentioned above, with so many ads shown across all platforms in this modern world, people have learned to turn a blind eye to advertisements, and many people even use ad-blocking software to remove them entirely.
As native advertising is specifically designed to look like part of the content, they are fairly hard to ignore and will often be viewed without thinking about it. It is also unusual for native ads to be caught by ad-blocking software, as they are found amongst real content.
Native Advertising is Affordable
Traditional display and banner ads on popular websites will cost a lot of money to run, which smaller businesses simply cannot afford. Many popular sites will only require a comparatively small fee from a brand to run a native ad, and therefore they are much more accessible for businesses of all sizes.
Better yet, they typically have higher click-rates than traditional ads since they are more subtle to consumers, so native ads usually have a much better ROI than their traditional counterparts.
Native Advertising Attracts High-Quality Visitors
As native ads are shown alongside similar content, the consumer viewing the ad will have a real interest in the product or service you are advertising. These consumers are the people you want on your landing page as they are more likely to purchase something from you. Native ads attract high-quality visitors to your brand because the consumers who click them simply have an interest in what you are offering. In other words, native ads often pre-qualify potential customers.
Ways You Can Use Native Advertising
You may be wondering how to use native advertising to your advantage. The table below outlines just some of the ways you can use native advertising to effectively get a message across to your target market.
Native advertising in a nutshell
Native advertising is a type of ad that looks like the content where they are placed. For example, on a blog, they can look like an article, and on social media, like a post. This type of advertisement is inspired by product placement.
Examples of native advertising:
History of native advertising
Arguably, product placement in movies could be seen as the precursor of native ads. Product placement is a type of advertisement in movies and TV shows where the product is used by the characters or seen as part of the setting.
A famous example of product placement in a movie is the Converse All-Stars shoes in me, Robot. The detective played by Will Smith is described as a character who doesn't like technologies, but has a soft spot for good old classics. His Converse All-Stars shoes appear on screen a few times, and he is even shown once pulling a new pair out of a box.
Another similar example is Tom Cruise wearing aviator Ray-Ban sunglasses in Top Gun. It had a huge impact on Ray-Ban sales.
There are many more of these examples, and the advantage of this type of advertisement is that it doesn't look like an advertisement. Product placement is of course different from native ads because it also works well as we associate a product or a brand with a movie character, his values, and style. So, when we wear Ray-Ban sunglasses, we feel a little like we are Tom Cruise in Top Gun.
In product placement, products are placed in the content, whereas with a native advertisement, the product and the content are merged.
Content marketing, sponsored content and "Sponsor"
The most common form of native advertising is sponsored content, also called "sponsor". For sponsored content, a brand or a company that wishes to increase its visibility works with a so-called "influencer".
It can be seen as the online version of endorsement marketing. Endorsement, also called celebrity branding, is a form of advertising where a celebrity lends their name or image to a brand or product. The values carried by that celebrity are then associated with that brand or product. Celebrities have a so-called "star power", a form of charisma that can influence many people. Brands, therefore, want to be associated with them.
Examples of celebrity endorsement deals: Nespresso and George Clooney, Calvin Klein and Justin Bieber, H&M and David Beckham…
Alt: celebrity endorsement: George Clooney and Nespresso
Nespresso ad with George Clooney, who has been endorsing the brand since 2006. George Clooney's fine humor, charm, and sophistication match the image that the brand wishes to develop.
With the development of the internet, online communities, and 2.0 celebrities, content marketing has grown more and more popular. Whether they become famous through the internet (youtube stars, social media influencers) or extend their celebrity to the internet, celebrities have a lot of influence on their online communities.
Sponsored posts also allow brands to follow the results directly and precisely, as they have access to many indicators (number of retweets, likes, comments…) and see feedback from the community. This type of native advertisement is therefore increasingly popular, and sponsored posts can be very expensive.
With 171m followers on Instagram, Kim Kardashian is for example very influential on social media. She says she usually receives $300,000 to $500,000 for a sponsored Instagram post promoting a brand or its products. Similarly to the endorsement, the brand beneficiates then from the values carried by the celebrity and benefits from their influence.
Sponsored ads are generally well-received by followers, as they feel like they can see "behind the scenes" tips from the stars they admire (beauty tips, drinks they like, clothes they wear)… It can create a feeling of closeness to the celebrity as if they were giving friendly advice on the new vitamins they discovered, and it makes them and the products more approachable than other types of ads. Online communities usually enjoy sharing the products they like, and this type of ad blends in well. However, celebrities have to be cautious not to overdo it, and to only promote products that suit their image, to look genuine to their community of followers, and not be called out for only promoting products.
Examples of sponsored content:
Sponsored video
Sponsored social media post
Collaborative content
In a sponsored video, the content producer (influencer) mentions, uses, or features a product for a certain amount of time. With the increasing popularity of video content, this type of sponsored ad is also increasingly used by companies. Beauty products are especially well suited for this type of ads, as it allows views to see the product used by someone and its effects.
A sponsored social media post is a post promoting a product or a brand. It can be for example a picture of the influencer wearing clothes from the brand, eating a certain product, or a picture of the influencer's home with a decoration product from the brand.
Collaborative content is increasingly popular. It's a collaboration between an influencer and a brand around a product or product line. For example, the make-up brand ColourPop collaborated with Jenn IM, a fashion and beauty influencer who produces content with fashion, beauty, and lifestyle tips. Together, the brand and the influencer developed vibrantly colored lipsticks and playful eye shimmers. The collaboration worked well because the colorful products developed match Jenn's cheerful personality, as well as ColourPop's image.
Another collaborative content strategy is to create a unique personalized voucher code for an influencer, who receives a percentage of the sales made with that code. It bonds the brand and the influencer, who becomes an ambassador of the brand.
Advantages and disadvantages of native advertisement
Unlike display ads (such as banners), native ads blend in with the content where they are placed, or even merge with it. It's an increasingly popular type of ads, because it's seen as less disruptive and invasive, and has a positive impact on sales.
Advantages of native advertising
Native advertising is non-disruptive for the reader and doesn't disturb the neutrality of the publisher. It's a good way to place advertisements on your blog and make money from your blog, without disturbing the original content and design.
This type of advertisement shows great results: according to studies, native ads are looked at by consumers 53% more than display ads and create 18% more purchase intent.
Another perk of that type of ads is that it reduces the so-called "ad fatigue". In a society where consumers can sometimes feel overwhelmed by ads everywhere, it can be relaxing for them to enjoy the content that looks free of ads.
Related to the "ad fatigue", more and more people now use ad blockers, that automatically hide ads from websites. It's important to note that native ads are not blocked by those ad blockers.
When it's well made, this type of advertisement can be positive for the readers. For example, if they are on a travel website and are interested in a native ad that looks like an article about travel clothes, they would probably enjoy being redirected onto the blog of a travel clothing brand.
According to a study from Stanford University, when consumers are exposed to this type of ad, they are aware that it is an ad, but it doesn't matter to them. Native ads still have an impact on their purchasing behavior.
Collaborative content or sponsored posts from online influencers allow a brand to surf on a celebrity's image. They are usually well-received by the influencer's online community because they can be seen as tips or sharing products they like, which is what online communities are all about.
Disadvantages of native advertising
If a blog or a social media page shows too much-sponsored content, there is a risk that followers or readers get annoyed by it, or that they feel duped. It's important that the content stays audience-oriented and to think of the community first. Bloggers and influencers should find a good balance between sponsored and unsponsored posts, and only accept sponsored posts that suit their image and audience. It can also be a good strategy to be very open and transparent about those sponsored posts, to create a trusting bond with your online community.
Sponsored content with celebrities can be extremely expensive ($300,000 to $500,00 for a sponsored post on Instagram by Kim Kardashian), and it can be difficult for brands to measure the exact impact of that post on sales, visibility and brand image. Online advertising allows us to follow many indicators such as clicks or re-posts, but it's still difficult to measure the global impact of that post.
Effective, powerful native advertising can be very time-consuming. To blend in with the content well but still catch the eye of readers, the content must be interesting, catchy, and personalized for the original content where it's displayed. Working with influencers also takes time and energy. If they are influential, they are likely to be receiving many proposals of sponsored content, and you'll have to be convincing enough to be chosen. You will also have to check that the content they create matches your briefing, and follow the impact of the sponsored post.
Although it is generally well-received, some internet users can still feel deceived or tricked by sponsored content.
What are the main Native Ad Network to buy advertisements or sell advertising space in native advertising?
Complete list of the best native advertising platforms.

Should I use native advertising on my blog or social media page?
If you want to make money from your blog or social media page, native advertising can be a good solution.
However, the influencers' market is highly competitive, and whilst top influencers can be picky and ask for huge fees, other less well-known influencers can struggle to find sponsors. If you are not Kim Kardashian, don't expect to be paid $500,000 for a post.
Always remember to put your audience first. Create content because you want to share what you love, not in the hope of becoming a famous influencer.
When creating sponsored content, be as genuine as possible, and make sure your content is interesting for your readers or followers. Be as transparent as possible, in order not to be called out for tricking your audience.
If you use it well, native advertising can be the perfect way to make money from your blog or social media page, without overwhelming your audience with ads.
If you are looking for other strategies, you can also try affiliate marketing, which will allow you to promote a brand's products and receive commissions on the sales.
Accelerate your Conversions, Increase your Revenue
with lemonads
---
You would like