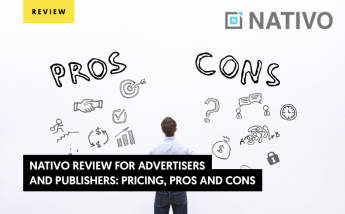 Nativo Review 2021: Advertiser or Publishers? Drive Higher Results Now!
Our Nativo review will uncover the potential of its advertising platform with prices, tips, pros, and cons: a full targeted personalized information for advertisers and publishers!
If you want to drive results by achieving traffic, move consumers from awareness to action, or control and monetize your content on the open web, the Nativo advertising platform might be the right fit you've been looking for!
Let's start and earn that engagement you're looking for by discovering all you need to know about Nativo:
Nativo Review: Company, Ads & Tips;
Native Advertising;
Nativo Review for Advertisers: Pros & Cons;
Nativo Review for Publishers: Pros & Cons;
Nativo Conclusions.
Nativo Review:
Nativo is a native advertising platform that helps to empower brands and publishers with the world's most advanced technology for content!
Nativo is known to enable storytelling at scale with the largest native reach and reveals insights that unlock return-on-content.
On the other hand, Nativo for publishers enriches monetization with the most comprehensive platform for next-generation ad formats and breakthrough technology for accelerated web pages.
In fact, Nativo's mission is to equip advertising for the age of content, improving the web experience, and creating meaningful connections for today's digital consumer with an extraordinary reach of 630M professionals, keeping the audiences engaged which is what matters most!
And Nativo achieved 3 awards in Leader, Quality Choice, Trusted Vendor!
Nativo Review Company
Nativo, Inc. is a Californian company and they have a UK subsidiary called Nativo London Limited.
Nativo's team of passionate innovators has been pioneering better user experiences for advertisers, publishers, and consumers since 2010, providing a rare opportunity to align business goals with positive consumer experience and they're dedicated to powering the next generation of native in the Age of Content.
According to recent data, Nativo's leading advertising technology platform, with its 109MM monthly uniques on desktop and 173MM monthly uniques on mobile, Nativo rises above Sharethrough with its 96MM monthly uniques on desktop/147MM on mobile and TripleLift with its 91MM monthly uniques on desktop/168MM on mobile.
For context, Facebook garners 103MM monthly desktop uniques according to ComScore data.
So, let's check out some of Nativo's Ads and see what they're talking about!
Nativo Review Ads:
"Enable brand to promote content alongside editorial"
"And provides a fully integrated user experience with content"
It's pretty hard to beat Nativo in the realm of pure native advertising which exemplifies branded content within the language of publishing streams.
All ads are made to match the individualistic feel of each publication, and the effort is to simplify the entire process. It relishes the support of a range of reputed publishers, which reflects in its commitment towards quality.
So, let's see what native advertising truly means...
What Is Native Advertising?
"Native advertising is simply a paid advertising where the ad matches the form, feel, and function of the content of the media on which it appears."
This "Native Advertising" is particularly effective on an open web, but ads are getting more intrusive, annoying, and ineffective than ever!
Have you ever got bothered by those ads that interrupted your reading while you were so concentrated?
That's how native advertising is done wrong!
Non-disruptive ads are those ads, which don't interrupt the experience of the user as they're consuming another content they've originally intended, and they easily blend in with the look and feel of the site!
Now that we are aware of what native advertising is and about Nativo's potential, let's see what their platform can offer to each one of you! Read More: What Is Native Advertising?
Nativo Review For Advertisers
Hello Advertisers! It's all about you!
Ready to discover about Nativo's price, pros & cons to see if they're the right fit for you?
The award-winning Nativo Ad Platform combines the impact of content on the science of advertising. With the largest native reach, they provide brand storytelling at scale with insights connecting content to real business outcomes!
How can Nativo help advertisers?
Greatest Native Reach: with a reach of 220MM+ U.S. monthly unique users - more than any other native provider;
Unmatched Inventory Quality: rest easy with publisher-direct, bot-free, brand-safe & guaranteed viewable inventory;
High performance: optimize creative performance with AI-powered, built-in machine learning.
With their programmatic made premium you can access direct native inventory at scale through your preferred DSP and achieve 20% greater campaign performance with creative optimization designed specifically for content.
Or take control with Nativo's Self-Service Platform having direct inventory access and exclusive native formats to scale your branded content across hundreds of premium publisher feeds - without restrictive spending requirements.
True Native Content
As a brand, you know how important content is, but also your return on content is not less important!
That's why Nativo has created NATIVO IQ™ "the content intelligence platform" that unlocks insights and ROI for an aligned and results-driven marketing organization.
Let's take a look at their platform for advertisers!
Nativo Advertising platform has a pretty user-friendly interface allowing you to control your campaigns with your network overview and create campaigns, A/B tests for images and headlines, optimize campaigns, and monitor your results!
Their user-friendly platform allows you to achieve all this by easily taking full control of your daily audience reach, budget, impressions CTR, and CPC!
Let's see Nativo pros!
Nativo Pros for Advertisers:
Ease of setting up a campaign
User-friendly interface platform
Great digital performer in the Native space.
Campaigns perform very well
Customer service provides great insights and access to a dashboard.
One of the better performers tested in the Native space.
Programmatic capabilities in the native space involve click-throughs to actual articles, not landing pages.
Nativo helps with content creation with assistance
And their features include:
A/B testing
Brand management
Budgeting
Dashboard
External integrations
Now... with all these beautiful pros, what could the cons possibly be?
Let's check them out!
Nativo Cons for Advertisers:
Difficulty in using different fonts and colors;
Creativity takes time.
Nativo Pricing for Advertisers:
Nativo has a software pricing model that consists of a perpetual license which is a common pricing model for on-premise applications.
The perpetual license requires a customer to pay an upfront sum to own the software, or other intellectual property on-premises, for a fixed term.
Upfront cost involves the fee for installation, customization, integration with existing systems, besides the perpetual license fee.
Recurring cost is low in this pricing model and may include cost for updates, maintenance, upgrades, and patches. Some vendors do offer premium support services, which come for an extra price.
Additionally, the following factors may affect the cost of customization:
User interface changes
Configurable dashboards
Data elements required for tracking
Forms to collect additional data
Dashboard, management, and operational reports that are needed.
Workflows and how complex they are.
Forms to collect additional data.
You can choose Nativo Cost of customization:
Minimal customization - integrate with 1-2 systems: $2,500
Standard customization - integrate with 3-5 systems: $10,000
Fully customized system - integrate with more than 5 systems: $25,000
Nativo - the cost of data migration:
Most companies opt for data migration services from a vendor, which raises the cost of product ownership.
Data migration cost depends on the amount of data to be transferred, your current software, availability of migration tools, the complexity of data, and gaps between the existing system and the new system.
By involving a software services provider in data migration, Nativo will have to offer additional service, for which you may have to pay extra.
The cost of data migration also depends on how many records you want to migrate. Records can include a number of customers, invoices, financial transactions, products, versions, etc. Here is a list you can use:
1,000 records: $500
10,000 records: $2,500
100,000 records: $10,000
1,000,000+ records: $25,000
Nativo - the cost of training:
As a software buyer, you are required to pay extra for in-person training, though some vendors offer web-based training as part of the package. Training costs may involve end-user training, video/self-training, group training, and department training.
In order to calculate the cost of training you can use the following estimates:
1-2 Training Sessions: $500
3-4 Training Sessions: $1,500
5-7 Training Sessions: $2,500
8-10 Training Sessions: $5,000
Comparing Nativo to its competitors, Nativo is rated higher than the average marketing software costs.
But we pay for what we get, right?
Nativo Review For Publishers
Hello Publishers! It's all about you now!
Ready to discover about Nativo's pricing, pros & cons, and see if they're the right fit for you?
Let's go!
As we previously stated, Nativo for publishers enriches monetization with the most comprehensive platform for next-generation ad formats and breakthrough technology for accelerated web pages.
"Built for content. Designed for publishers"! - Nativo
For sure, it's pretty captivating, so let's check out more!
What Nativo offers:
Manage Native Monetization Across All of Your Sites: Nativo offers publishers the widest array of demand for a complete holistic auction including server-side bidders, client-side bidders, native exchanges, unique Nativo demand, and more. Streamlined tools make it easy to activate, prioritize, and track your yield optimization strategy within one interface.
Unlock Programmatic Direct Sales: Enable your sales team to activate direct programmatic dollars via automated Deal IDs. Grant trusted DSPs with direct access to your inventory for increased CPMs and maximized revenue.
It's all about capturing and maintaining user engagement with Native articles.
In fact, Nativo exclusive click-in format seamlessly places content in the editorial feed. It's a non-interruptive native article with an authentic experience that delivers high performance and, for sure, a deeper engagement!
Content Workflow automation will make you save time by consolidating content management and approvals within one cohesive hub, to not even mention you would gain access to exclusive platform tools like content ingest and content collaboration!
Nativo Performance Optimization technology and machine learning consider the components of your ads, headlines, preview images, and campaign objectives to test and arrive at the best performing version of each ad to serve.
Since 40% of users abandon a page if it takes longer than 3 seconds to load, Nativo's superior ad serving speed delivers higher revenue to publisher partners by eliminating lag, lowering bounce rates, and increasing the time consumers stay on a site!
As true as time saves money, this is as important as your content should be.
Let's take a look at their updated platform for publishers!
Nativo Pros for Publishers:
Genuine native advertising network
Easy installation
High quality and engaging inventory
Unlike other ad networks, clicking the ad content won't get redirected to another page.
Multiple advertising options
Contextual ads
Multiple opportunities (Web, Mobile, and App)
Responsive inventory
Real-time reporting system
High rates
Timely payments
Best support
Now... with all these beautiful pros, what could the cons possibly be?
Let's check them out!
Nativo Cons for publishers:
It is currently serving content only in the US, UK, Canada, and Australia.
Publishers have to create a template page for Nativo integration. Being a publisher, you aren't able to display other networks' ads on template pages.
No referral program
Nativo Pricing for Publishers:
The revenue share publishers would get is 50%.
Publishers get paid on request once they reach threshold payout and the earning depends on the campaigns publishers run on their sites.
And we are aware that a minimum payout for the UK and Australian publishers is $250.
Some requirements for publishers to join Nativo native advertising network
The sites must attract at least 2 million page impressions per month.
The sites must not host any illegitimate content like adult, hacking, gambling, etc.
Publishers must not alter the Javascript ad code.
Publishers must not click on their own ads. They shouldn't encourage others either.
Publishers must not generate fake traffic using bots and traffic exchanges.
For sure, Nativo is for US/UK/Canada/Australia sites having over 2 million monthly views.
Nativo Alternatives ans Competitors
The Complete list of the best native advertising platforms.
Nativo Review Conclusions
Nativo is for sure doing some of the most innovative things in advertising. There are some new technologies that they'll be taking to market pretty soon enriching their – already well structured – platform.
"What's next for us is really elevating our role in the industry as a change and innovation agent within the category. We actually think there's a lot of room for innovation in space. And we want to be one of the drivers of that change" – by NATIVO
We hope we've fully satisfied all your doubts with our Nativo review!
Don't forget to leave your personal experience with Nativo in our comments below!
Accelerate your Conversions, Increase your Revenue
with lemonads
---
You would like