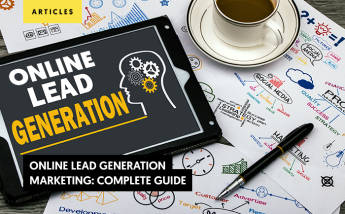 Online Lead Generation Marketing: Everything You Need to Know (Complete Guide, Potential Costs + Strategies)
One thing that all business owners have in common is that they are always trying to find new ways to generate more leads and sales for their companies.
But, creating a mechanism that consistently produces a high number of sales for your business isn't always easy. That said, there are dozens of effective online lead generation marketing techniques that can boost the number of sales you close every month.
At lemonads, we've worked with countless companies looking for help advertising their products and services, so our team is familiar with the latest lead generation methods available. Below, we'll go over the definition of online lead generation, discuss how it works, and provide a few tips on how to boost the number of potential customers you get from the internet.
What Is Lead Generation?
Before going any further, it's crucial to understand what is lead generation and what its main goal is. As the name suggests, online lead generation marketing is a promotion approach that focuses on finding prospects, nurturing them for a while, and eventually transforming them into leads. A lead can be defined as a potential customer that has demonstrated extensive interest in a product, service, or deal, making it much easier to transform this person into a paying customer.
Online lead generation marketing is an effective approach because it's results-driven. When implementing online lead generation strategies, businesses (and the marketers that these companies partner with) implement a variety of methods to a specific target audience. And, the best part is that a lead generation is a dynamic approach, so you can leverage a wide collection of digital channels to help your company attract more customers.
Keep in mind that the lead generation process varies from one industry and company to the next. In other words, the techniques that you implement will vary depending on your target audience, region, and other variables. Not only this, but there are many different methods to generate leads, and we'll go over some of the most effective alternatives in detail later in this article.
Understanding How Leads Are Generated
In simple terms, companies want to generate leads to increase their chances of getting more sales. That said, the lead generation process isn't necessarily linear, especially for advertisers that are trying to establish themselves in the industry. Learning which steps people go through before becoming leads (and eventually paying customers) can help you attract more clients with the resources you have available.
While the specific steps may vary from industry to industry, consumers usually go through three distinct steps before becoming leads. These are the awareness, consideration, and decision stages. Affiliates and other marketing specialists design content for each specific stage of the decision-making process because it helps them connect with their audiences, eventually producing better results.
Awareness
In the awareness stage, the target audience members are just starting to realize or become aware of a problem they are facing. In this stage, consumers have not made up their minds yet, but they are exploring every single alternative. This means that the content for this stage should be informative and tell the audience about the different options available.
In terms of the sales funnel, awareness stage content is what you call "top of the funnel content" because it attracts the widest group of people. It's the initial stage before narrowing down the group of potential customers, which means that the content should be designed to appeal to numerous demographics.
Consideration
After potential customers become aware of a problem, they enter the consideration stage. As the name suggests, people in the consideration stage take the time to evaluate the different options they identified in step one. But, even though users in the consideration level are closer to become leads, you still need to make sure that the content is on point.
When developing content for the consideration stage, affiliates tend to produce more specific content that caters to specific readers. The idea is that the more personalized the content, the more likely the audience is to interact with it and find it engaging.
Decision
When they finish evaluating all of the options, audience members usually create a shortlist of potential choices, thus beginning the decision stage. The decision step is the simplest, yet most important phase because it's where consumers decide which company to do business with.
Decision-level content should deliver value, but it should also discuss why the advertiser's products and services are the best options. In this sense, this content is the most promotional, but it also needs to be engaging to have the same effect.
The Lead Generation Process Explained
Although lead generation is not a new term, innovative digital marketing techniques have completely changed how the process works. A few decades ago, the only alternatives that businesses had to promote their services were billboards, television ads, and other channels that bombarded the general public.
Today, widespread internet adoption and ultra-powerful digital devices have empowered business owners like never before. Instead of promoting their services and products to the general masses, advertisers can not target specific individuals that have already demonstrated an interest in the solutions being marketed. This, in turn, increases the efficiency of the marketing materials being published and results in a higher number of leads without increasing costs.
Why Is Lead Generation Crucial for Your Business?
One thing that all businesses have in common is that they need to have a steady influx of customers to succeed. However, conventional marketing methods don't produce consistent nor predictable results, making it extremely hard to make plans and projections about your business growth.
Lead generation is essential because it helps create a steady stream of customers while also establishing a consistent, measurable, and predictable structure for business development. Additionally, having a solid lead generation plan in place also ensures that your customers can find you when they need you most, allowing you to build a reputation for being a reliable provider.
Calculating the Cost of Lead Generation
Like other forms of digital promotion, you'll have to monitor specific metrics to ensure that your online lead generation marketing strategy is working properly. Furthermore, you'll also be able to track your expenses and determine how much you're earning versus the investment you're making.
With the above in mind, there is no exact formula to calculate the cost of your online lead generation strategy. Remember, all advertisers and marketers are different. You'll need to evaluate your specific circumstances, figure out which elements you'll leverage, and determine the ideal price of each lead.
Getting Started with Online Lead Generation
Online lead generation strategies are considered the most effective because these can be tracked and measured. As we mentioned before, you'll need to develop a tailored plan that includes a custom program to attract the best affiliates and, in turn, get the most conversions.
While companies can manage their online lead generation activities, affiliate marketers can help businesses attract a large number of potential customers without putting additional pressure on their internal teams. Let's take a look at the three steps that most companies have to go through to generate leads online through affiliate marketing.
1. Develop Buyer Personas
Buyer personas are descriptions of your ideal customers, which are used to produce more engaging marketing materials. Each buyer persona is a fictional character, but it represents an audience group or segment that you want to attract. Every persona you create should be extremely detailed and includes elements like target audience location, age, and other demographic data.
Because of this, the best way to create the different buyer personas you'll target is to look at your current client base and reverse-engineer each fictional character from there.
There is no such thing as the perfect number of buyer personas. Some businesses will only have to create three or four, which others may have dozens. The good news is that the buyer personas you create will help you make better decisions later on.
2. Create an Affiliate Program
Once you know what persona you want to target and the products or services you want to promote, you can start creating your affiliate program. In simple terms, your affiliate program will include everything that affiliates need to know to convert users into leads. This includes the target buyer personas as well as the region and type of lead that the advertiser is looking for.
Some of the most common types of traffic that you can allow in your affiliate program include:
SEO and Other Organic Approaches
Search engines generate a huge amount of traffic, which is composed of engaged users. Allowing affiliates to generate leads from search engine optimization (SEO) traffic can give your business a significant boost.
Social Media
Social media channels like Facebook, Instagram, and TikTok have already ingrained themselves into our identity as modern consumers. Companies can now leverage these platforms and allow affiliates to generate leads that come from well-known social channels.
Paid Ads
Paid ads are the most common type of advertising found online and for good reason. Unlike other techniques, paid ads produce results immediately without compromising quality. That said, this technique requires direct investment, so you should think about increasing your payout amount if you want to encourage affiliates to drive traffic exclusively through paid ads.
3. Find the Best Affiliates
Now that your affiliate program and buyer personas are ready, it's time to track down the best affiliate marketers. There are thousands of potential marketers you can work with, but not all of these have the same knowledge or expertise level. To increase your chances of success you need to work with a team of knowledgeable affiliates that have first-hand experience in your industry and with the type of traffic you want to attract.
But, tracking down the best affiliates and keeping the entire program management process in-house can be tedious at best. In these cases, partnering with an affiliate network like lemonads can help relieve pressure from your internal team while still ensuring a superb affiliate program. That said, you should always research your potential partners to make sure that you choose the best provider for you.
Want to Learn More About Online Lead Generation? lemonads is Here to Help
The only way to ensure success is to create a system to attract new customers consistently. By implementing the right online lead generation strategy, you can boost sales and increase revenue while reducing the amount of work that your internal team has to handle. We hope that the tips above help you understand online lead generation and what you need to do to make it work.
If you are interested in learning more about online lead generation or working with top affiliates in your industry, contact lemonads today and we'll be glad to help.
Accelerate your Conversions, Increase your Revenue
with lemonads
---
You would like