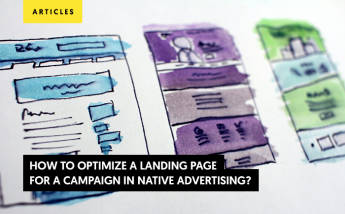 How to Optimize a Landing Page for a Native Advertising Campaign
A landing page can make or break a native advertising campaign, but few marketers are certain they understand what native advertising is, and how they can effectively use them with landing pages.
Back in 2014, Copyblogger ran a survey and found 49% of marketers had no idea what native advertising is. That number has likely increased by now, but much confusion remains.
Without a landing page, a native advertisement is not far from a traditional display or banner ad, both of which people have largely learned to ignore. Other forms of native advertising, such as "sponsored" posts, are much more effective. To get the most out of a native advertising campaign, you need to ensure your landing page converts.
But how do you do that? First, cover the basics, and then we'll jump into how you can optimize your landing pages.
What is Native Advertising?
If you're already certain about this, skip ahead, but a large percentage of marketers appear to be confused as to exactly what native advertising is, and how they can use it to their advantage to reach their marketing goals. Native advertising can be defined as a paid ad that fits into the format and function of the media they appear on, such as editorial content, publisher sites, and social media.
The most significant way in which they differ from traditional advertisements is that they don't look so much like ads, but rather as part of the actual content of the page as the native ad will be relevant to the content. They do not disrupt what the consumer is reading or viewing, but they will still be seen and interacted with, as long as the ad is engaging.
What is a Landing Page?
A landing page is a single page specifically created for an advertising campaign that the visitor will be directed to when they click on your ad or a link within it. These landing pages allow a brand to personally connect with its audience while increasing awareness of its brand. Landing page links can be used on social media, videos, and email campaigns, as well as in ads.
A landing page should not be part of your brand's existing site in the traditional sense. They need to persuade visitors to stay on that single page and take some kind of action, whether that's to buy a new product, sign up for a free trial, or sign up for their service. This is known as a call-to-action, or CTA, and will typically be in the form of a single text link or a button.
The best landing pages convert the highest percentage of visitors. Marketers who do not effectively use a landing page with their native ads are missing out on high conversion rates, which is, of course, the aim of the advertising campaign!
How Can You Optimize a Landing Page for a Native Advertising Campaign?
To achieve high conversion rates, it is important to optimize a landing page for your native advertising campaign as they are the ideal way to engage your target audience and influence them to take the action you desire. Here are 8 ways in which you can do this:
1. Only Include One Link
As mentioned above, your landing page shouldn't include any links to other pages on your website or any of your other platforms. It just needs one thing: the action you want your visitors to take.
Many landing pages fail because they include other links, as you might find on their brand's actual website, and their visitors click on one of those links instead of the CTA. Therefore, it is important to put a visitor's entire focus on just the CTA as this makes for increased conversions than those landing pages with two or more links. Remember – even a menu bar or footer can be a distraction.
2. Match Your Headline to Your Message
You need to ensure that the headline of your landing page matches that of the message of your native advertising campaign. If you don't do this effectively, your visitors will wonder why they have even been directed to this page, and bounce rates will be higher.
3. Only Feature Useful Content
Now, there is no rule on how much content there should be on a landing page, especially when it comes to native advertising. It is up to you whether it is short and to the point, or long to create a story. Either way, you need to ensure that any information and other content you choose to include is useful to help increase conversions.
You may want to add photos, illustrations, animations, or even videos to make your landing page more appealing and engaging. Just make sure it has some relevance to the ad campaign and CTA. (If you're not sure, A/B testing is a good idea here.)
4. Make the CTA Stand Out
Since the CTA is the entire purpose of the landing page, you want to ensure that it stands out to your visitors. There are several ways in which you may choose to do this:
make it a contrasting color – bright colors often work well for this
center the button or link in negative space – this makes it a focal point
if your landing page requires scrolling, repeat the button at equal points or have the button stay at the top as the visitor scrolls
create a path the visitor will follow with their eyes, such as arrows to the CTA
The table below outlines other essential elements you should include in your landing page, regarding the CTA.
5. Provide an Easy to Use Form
Some landing pages will include a form that the visitor is required to fill in to take the next step. If you decide to do this, you should make sure that your form is quick and as simple as possible. You will find that if you only ask for an email address and nothing else, your conversion rates will be higher than if you were to ask for more information, such as full name and address. You want to make the barrier to entry as low as possible.
If what you are offering requires more information, it is okay to ask for this on a landing page, but as a general rule, you should try to keep your forms short and sweet, with clear labels as to what you require from the visitor. It's often a good idea to have the CTA and then the form, so they have already decided to click before you present them with the longer form, as they will be more invested and more likely to see it through.
6. Use Social Proof to Develop Trust
To develop trust fast, social proof always helps. Social proof is a recommendation from someone else that this product or service is worth their time and money. This could include:
Testimonials from customers
Reviews with high ratings
Logos from trusted brands that use your service
Accreditation seals
"As seen on" features
Social media posts from customers or fans
Data numbers, e.g., customer count, downloads, sales, etc. (like popups of who purchased when and where)
A link to your privacy policy
Any number of these shows proof that you have a trustworthy brand, which helps to build the visitor's confidence in your brand and what you are offering. Just remember not to overload the page – a few testimonials, logos, or screenshots of happy customers is fine – you don't need to do it all!
7. Track and Measure
It is so easy in this modern age to gather and analyze digital data related to your ad campaigns. This data helps you to understand exactly how your visitors are engaging with, or responding to, the landing page of your native ad so that you can make changes if you aren't seeing as many conversions as you were expecting to.
Again, it's a good idea to carry out A/B testing with your landing page. This means creating 2 variations of the same landing page to determine which will lead to the higher conversion rate. Just because a certain style of the landing page was successful for one brand doesn't mean it will have the same effect on your intended audience, so it is important to test to increase conversion rates.
8. Start with an Effective Template
It has now been made so easy to get started with your landing page; there is no excuse for not having one when running a native ad campaign. You can get landing page templates from email service providers, marketing platforms, and or even your website theme. You will even be able to find one that has demonstrated its success and effectiveness for another brand, which is an excellent place to start.
Read more: How Do You Create An Efficient Landing Page?
Accelerate your Conversions, Increase your Revenue
with lemonads
---
You would like