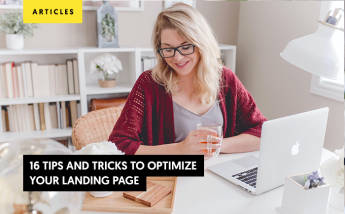 16 Tips and tricks to optimize your landing page
As much as having a website is important, having an optimized and efficient landing page is the most important platform you can focus on. An optimized landing page will bring your visitors to convert into new customers. Read our 16 tips to have the right tools to make an awesome landing page for your business.
What is a landing page?
A landing page is going to be the very first impression, the first thing people see when they land on your website. This is a decisive moment: they will develop an opinion of your business in less than 5 seconds. It's really important to think of every aspect of this webpage to keep users captivated and invite them to continue navigating through your website (or at least at the bottom of your landing page).
If a landing page is supposed to do something, it is to convert. Conversion is what we are looking for. Whereas it's to convert into a buyer, a subscriber, just a recurrent visitor… You want to show the best of your business to make people want to come back, or here in this case, stay. So you may ask yourself, what will an optimized landing page bring me?
What are the results of a good optimization?
An optimized landing page will send the right message to the right audience. It will make navigating on your website an incredible experience for your visitors. If everything is done right, users should feel safe, in harmony or at peace without even knowing it. Subconsciousness has an important role in UX (User Experience). Users will feel more satisfied, they will interact, they will take action… if your landing page is done right. The idea is to create a lead (or path) worthy enough, so that they will follow it. To make it simple, we concocted a list of our 15 best tips and tricks to improve your landing page:
1. Call to action (Actually call to value)
A call to action is the very first rule. You need to invite the user to do something on your page. Either visit another page from your website, contact you through a form, buy something… You need to place buttons inviting users to take action. Making it a "call to value" has more chances to convert as it targets emotions and feelings. For example, instead of "click here to donate" switching it to a call to value would be "I support this cause".
2. Clear design / UX
In terms of design, it is the same as having a tidy house. A tidy website helps to have a clear mind. Your landing page should feel like it is in harmony with the content, the images and the colors. Visitors will be more likely to convert into customers if they feel like something is tidy, clean and makes them feel serene. In short: make it neat.
3. Newsletter pop-up
Invite your users to subscribe to your newsletter when they are visiting your landing page. It will not only grow your mailing list but it will also make them feel special. Subscribing to a newsletter is like receiving a special gift in your inbox every week or every month. Just bear in mind the timing of this pop-up, do you want it to pop as soon as the visitor opens the website or do you want to pop it when they scroll down the landing page? This will be a matter of preference.
4. Make it mobile friendly / responsive
It's no secret anymore, websites need to be mobile-friendly in order to perform best. More than half of visitors are coming from mobile phones. That's incredible! We still see websites that are beautiful on a laptop, but aren't responsive or mobile-friendly when viewed on a mobile phone. You can also adapt the content of your website to mobile, like removing heavy visuals or content that really isn't made for small screens. A great landing page on mobile will be very airy and straight to the point.
5. Reviews from customers
If you sell a service or a product, you must show your new customers what others think of you. It's important to show that your business is trusted. This will significantly build a better image for your brand and helps grow trust between you and your future customers. Adding a few reviews to your landing page will give you credibility as well as reduce the anxiety levels for the person looking at your website.
6. Display your references and collaborators
Another way to increase trust is by showing references or companies you worked with. Whether it is by putting their logo at the bottom of your landing page or their opinion on your collaboration, it's something that will make doubtful visitors convert into confident clients.
7. Choose the right wording
Selling is about psychology and words. Take the time to think about the words you are using. The right words will have a strong impact on the visitor's mind. We can only think of strong words such as freedom, power, peace… Dig deeper to adapt your speech on your landing page and captivate your visitors.
8. Have good SEO
SEO is a very important part and will make a difference in time. You really need to be careful about your landing page's SEO, as well as the structure of your different text blocks. Titles in H1, subtitles in H2… as well as adding meta descriptions, SEO titles, slugs. Make sure to previously make a proper keywords search to help your landing page perform better.
9. Straight to the point information
Keep it simple. Having a clear offer will help visitors understand what you are selling very easily. Make sure to write concise information and that it is easily understandable. When landing on your webpage, the user shouldn't have to do or think about anything, every information he needs should be directly offered to him before he even thinks about it.
10. Increase the urgency of your offer (or "Scarcity technique")
Making your product or offer look like it's about to expire, or that it is highly requested, will convert more visitors as they will feel this rush to get it before it is too late. It can be like adding a countdown to an offer to make it look available for only a certain amount of time, or showing "only 1 left !" next to your products. This tip will surely make your landing page more effective in terms of conversion.
11. Cross links
Cross links are links that leave the homepage… then this other webpage would somehow lead back home again. Invite the visitor to visit several pages of your website, but keep in mind you should always invite the user to visit another page. It should always lead somewhere. Similar to a labyrinth except there is no dead end. If the content of your other pages is not captivating enough we do not recommend you use cross links as your main CTA on your landing page.
12. Short forms
Inserting short forms on your landing page is a fun way for visitors to interact with you. Whether it is a form to subscribe to a newsletter, or to contact you, this is a playful way to invite users to engage.
13. Good grammar and spelling
Now nothing repels a client more than bad grammar and wrong spelling. We recommend you proof-read your content and ask a few people around to make sure you have perfect grammar in all of your written content. Your landing page should be flawless.
14. Use the right pictures
Having formatted images suiting the web criterias is absolutely crucial for your landing page. The longer the website takes to load, the higher the bounce probably is. So what we are saying here is that if your website is not fast enough, you will lose potential customers, in other words, leads. You can have a look at the time and speed your website takes to fully load through tools like Google page speed insights.
Make sure your photos are formatted to fit the web criterias. There are a lot of tools to compress your images and make them the right size for optimal web navigation. To sum up, your images should load fast, they should be impactful and suit the text next to it, they should have a SEO friendly name (This makes it easy to find on search engines and helps going up the rankings as well).
15. Show social media links
Make sure that your social media accounts are easy to find and visible enough. People will often follow a company that they are interested in just to keep it as a bookmark. It is then smart to feature your social media on the landing page as people will want to see your online presence and use it as a trust indicator.
16. A/B Testing
A/B testing allows you to compare two versions of the same page, and see which one performs the best. Sometimes it takes a small detail to perform a whole lot better. For example changing the buttons colors or changing a few words to make it more personal.
Conclusion
We are hoping that these tips and tricks are going to be useful for you to have an amazing and successful landing page. Most of all you need to keep in mind that not only your landing page represents you and your company, it also sells. Having an optimized landing page is the first thing you should think about when you are building your website. Don't forget to add a lot of CTA's and invite your visitors to interact with any content you created to share with their unique selves.
To find out more about landing pages, read our article "How do you create an efficient landing page?" and learn more about "Top Of Funnel: How to Optimize for Conversions"
Accelerate your Conversions, Increase your Revenue
with lemonads
---
You would like