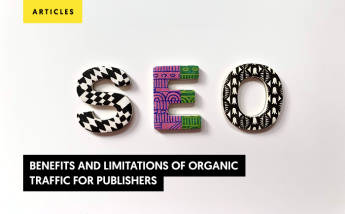 Benefits and limitations of organic traffic for publishers
In this article, we will go over the pros and cons of organic traffic for a publisher. Let's get started by having a look at all the benefits of organic traffic for a publisher.
Benefits of SEO traffic for publishers
Which websites are monetized through advertising or partnerships?
In the great nebula of websites, there are different approaches on the part of their publishers. First of all, a distinction must be made between site administrators who wish to earn income from them and sites that are not intended to be directly monetized by their owners.
Thus, we can identify 3 main types of websites whose primary role is not to generate income for their owners :
Showcase site : these websites are the property of a company carrying on an activity that is not linked to a business model related to the web. The primary purpose of these sites is to offer visibility to a brand or its products and services. They are informative sites that will support a company's notoriety and provide practical information on their activities while giving credibility to their services.
Practical sites: these brand sites complement a service marketed upstream, whether on the web or in physical points of sale. Examples include personal space sites, Wiki or FAQ sites, after-sales service sites, etc.
Expression space sites: the primary goal of these sites is to offer a public voice to everyone. They are generally blogs whose editors wish first and foremost to communicate on their passions and allow them to give their visions, their feedback, their advice... on a given theme or subject. The approach to the creation of these sites is generally behaviourist and does not imply a desire to monetize. Nevertheless, it should be noted that if this is not their primary purpose, these sites are generally monetized in the long run if they receive a large number of monthly visitors.
In contrast, all other types of websites can be considered as having the objective of generating a more or less important income for their owner. Within these sites intended for financial exploitation, there are obviously the sites of commercial advertisers. In this case, the business model is clear, their administrators earn money by marketing their products and/or services.
At the same time, many sites are produced to be monetized through advertising and partnerships, these sites rely on their content and their good natural referencing resulting from an effective SEO strategy to attract a maximum of visitors more or less qualified. They federate their users by providing them with free information or services.
Advertising and partnerships : what forms can they take?
There are a very large number of ways to monetize a publisher site, here is a non-exhaustive list classified according to the economic model:
These different formats are marketed on a CPM basis, i.e. the site publisher will receive a fee for every 1000 advertising impressions. This mode of remuneration is generally proposed by advertising agencies. It is one of the most widespread economic models for conveying advertising called "display". It includes for example banners, pop-up, slide-in, site-under, interstitial, etc. For publisher sites collecting opt'in subscribers, it is also one of the traditional marketing methods for dedicated emailing or newsletter insertion.
The exploitation of CPC advertising, i.e. cost per click, is a business model that can be applied to all display formats, but in practice it is less and less used for the marketing of traditional display formats. Only a few specialized agencies still monetize CPC banners. CPC is now mainly used for the marketing of sponsored links in search engine results as well as for redirecting highly qualified traffic from price comparison sites or shopbots.
This is a fixed price for a given implementation, it is a business model that is practically no longer used in the distribution of display formats, except in the context of a "one to one" partnership relationship with an advertiser. On the other hand, fixed-price monetization is very much used for the relay of sponsored articles, whether it is to distribute advertorials to influencers' sites or to integrate articles aimed at creating backlinks in a SEO strategy of Netlinking.
Operated through specialized agencies called affiliation platforms, it is above all a business model. In terms of performance marketing and as its name suggests, site publishers are paid according to the final performance of the advertisements they have placed on their websites. Thus, a publisher may be offered to be remunerated on the basis of a fixed cost for the sale of a product or service, a percentage of the revenue generated, or a fixed cost at the time of registration. In affiliation, all advertising formats can be proposed: display, text links, emailing, white label integration, co-registration, etc.
Why is SEO essential for a publisher monetizing its site through advertising and partnerships?
Whatever the economic models chosen by a publisher to monetize its website, upstream it necessarily derives from the traffic captured by the website concerned. In order to claim to generate revenues, a publisher must therefore above all focus on developing its visitors. In this sense, a website publisher will take care to develop its traffic according to 2 strategies which may or may not be carried out jointly:
Aiming at the quantity of visitors: the aim here is to maximise SEO optimisation actions by prioritising positioning on large requests with a very high potential for monthly impressions and/or acting on a very large number of "long tail" requests. This SEO approach is not prioritized on specific categories or products, it aims first and foremost to obtain a maximum number of low qualified visitors for a minimum cost. The visitors thus obtained will be monetized on relatively low fees, it is the volume effect that will allow the publisher to make the most of it.
Aiming for quality through identified and qualified visitors: this strategy implies that the publisher must have precise content on clearly defined products, categories and themes corresponding to a strong advertising demand. In this sense, the site publisher will build SEO optimizations aiming to index its pages in SERP's on a maximum of very precise "long tail" requests on product and service names. This approach will allow to capture highly qualified visitors who are actively searching and inclined to transform their purchases. These highly qualified visitors can be monetized at a high price.
The limits of SEO for monetization through advertising and partnerships
If the SEO presents an interesting ROI and a strong stability over time for a website publisher, we must keep in mind the inertia effect inherent to it. Indeed, a website publisher will have to concentrate from the beginning of his actions to optimize investments from which he will only reap the full benefit after several months (allow 3 to 9 months depending on the themes worked on in natural SEO). In this sense, the site publisher must make provisions for these investments and benefit from a significant cash flow or other sources of income when he undertakes to launch SEO actions on a website. Without this budgetary approach, there is a strong risk of jeopardizing his business model.
SEO strategies by type of publisher's sites
In the world of website publishers whose activity results from monetizing the audience through advertising and/or partnerships, there are several types of sites. These have a direct impact on their activity and on their SEO strategy. Depending on the nature of the site, a prioritization of the monetization business models and choices as to the SEO strategy to be applied will result. We offer you an overview of the specificities related to the main types of publisher sites.
Price comparison sites, shopbot and shopping guide type sites
These sites offer Internet users the possibility to compare the offers of different e-merchants or to obtain information or opinions on them. In the form of large, more or less themed marketplaces, these types of sites assist Internet users in their purchasing process by compiling a maximum number of products or services.
On the basis of this positioning, we identify 2 economic models of monetization that generate the majority of revenues:
The CPC, a lump sum to the visitor according to the product category from which he comes will be billed to the e-merchant each time an Internet user is directed to his site.
Performance-based compensation. Through a public affiliate platform or its own for the largest e-merchants, the site publisher will receive substantial remuneration each time one of the Internet users it redirects makes a purchase, a subscription, a registration, etc. on the advertiser's site. Events are then tracked and calculated by the tracking tool of the affiliate platform, which operates as a trusted third party. The proximity of the comparators and other shopbots to the products and services ensures a maximum transformation rate that ensures a high profitability of the marketing performance for this typology.
From an SEO point of view, these particular types of sites involve a very large number of product pages that are by nature moving. These are organized in funnel-shaped categories and sub-categories that are fixed or at least offer a high degree of stability. Thus, SEO actions will not be prioritized on product pages that are doomed to disappear, but will be mostly operated on the different levels of category pages.
Buyer community type sites
Buying communities generally take the form of a club requiring full registration/membership. Once the member becomes active, he or she will benefit from generally financial advantages each time he or she makes a purchase through the community's site at the e-merchants referenced there. These community sites also offer notices and special promotions to enhance their members' shopping experience.
The operation of this type of site relies entirely on tracking systems to be able to follow members until they make a purchase and to calculate and then impact the resulting retrocession. In fact, they will naturally turn to performance marketing and affiliate programs to ensure the basis of their revenues. They will be able to complement these with the distribution of display formats at the CPM as well as the monetization of their members' email database.
From an SEO point of view, these sites will focus on developing their brand and awareness in order to continuously expand their member community. The SEO focus will therefore be on the specificities, user benefits and competitive advantages related to the community concerned.
Content sites: news, thematic, blog, etc.
These content sites aim primarily to provide specific information to its Internet users. They produce regular content in order to build audience loyalty.
This type of site lends itself particularly well to the following remuneration models:
Display formats at CPC or CPM.
Sponsored articles marketed on a flat-rate basis, whatever the purpose.
From an SEO point of view, they will have to make an initial choice that will determine all the optimization actions they will implement. In order to make the right choice, they need to determine whether their editorial line will be based on cold content or news content. By cold content, we mean articles offering a certain timelessness dealing with a subject that is not directly related to current events. These articles often take the form of dossiers, guides, tips & tricks, etc. In contrast, there are editorial lines based on the treatment of recent current events.
It should be noted that webmasters operating in SEO are by default referenced in the traditional results of search engines, this approach is perfectly suited to the indexing of cold content that offer a stable interest over time and can therefore be subject to the inertia of traditional SEO. For news content, the webmaster has the possibility to pre-qualify its content with Google by editing its site so that this content is indexed in the news section. This configuration allows to overcome the inertia of traditional SEO since when it is well operated it allows to see a content to be indexed in less than 24 hours in the news section of Google and thus to offer a content in direct contact with current events.
What to keep in mind from this article
SEO: an excellent ROI for an advertising monetization, but actions requiring a significant cash flow.
Know the different economic models for monetizing a publisher's site.
To know which advertisements are best suited to the type of publisher's site.
Accelerate your Conversions, Increase your Revenue
with lemonads
---
You would like