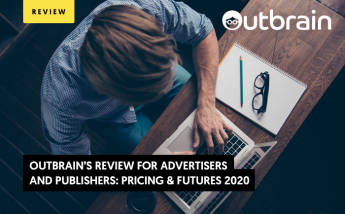 Outbrain Review 2021: Advertiser or Publisher? Start Here and Now!
This Outbrain review, will not only uncover the potential of its advertising platform with tips, prices, pros, and cons, but it will blow your mind with targeted information for advertisers and publishers!
If you're looking to raise traffic by acquiring data and tips or know-how to manage, control and monetize your content on the open web, you're in the right place!
Whether you are an advertiser or a publisher, we've got you covered!
So, let's discover more with our Outbrain Review!
Why is Outbrain so extraordinary for advertisers and publishers?
That's right!
Not only has Outbrain reached a 50% higher time on site vs search, but they also have a 20% conversion rate of Outbrain users clicking on the App store link, without talking about their 25x more monthly downloads per month!
But, as you can see...
with their world's most premium publishers, they've reached 190 billion recommendations to over 561 million people worldwide!
Surely, there is a whole world behind the scenes of Outbrain!
So, are you ready to discover about it in our Outbrain review? Let's deep dive to earn that engagement you are looking for through what we'll overview:
Outbrain Review: Ads, Company & Tips;
Native Advertising;
Outbrain Review for Advertisers: Prices, Pros & Cons;
Outbrain Review for Publishers: Prices, Pros & Cons;
Outbrain Review Alternatives and Competitors.
Outbrain Review
Outbrain is a web advertising platform that displays boxes of links to pages within websites. Their company is built on innovation, leadership, and success!
With their display's links to the sites' pages, in addition to sponsored content, they generate revenue from the latter!
So, if you are an advertiser or a publisher, you've landed in the right spot!
You've probably never realized it, but if you pay attention, you might have seen their feed recommendations on sites like CNN, Fox News, ABC News, Time, PC, and many others!
Let's check some here below with our Outbrain Ad Examples!
Outbrain Review Ad Examples:
Recommended by Outbrain!
CNN politics – Ads by Outbrain
Sponsored Headlines
See how it works?
"From Around the Web" your links will appear on publisher sites, just like in CNN's site here below:
Sponsored Stories you may like On FOX34!
"We Recommend"… "Elsewhere on the Web" With Outbrain!
If you've noticed, these sections of ads are specifically dedicated to those users who are interested in a certain page they're on and, by falling in that specific section or by the searches they've made, they could notice interesting ads set by Outbrain's "Recommended from the Web" or with a "related content"!
Imagine how much data they could even possibly have for you to use and raise your traffic from potentially interested audiences about your content or potential clients about a product.
How?
If you imagine that Outbrain is installed on thousands of publisher sites and they're always adding more by allowing your content to be served on the most compatible sites from around the world.
Many of their largest partners are news and media publishers such as CNN, US Weekly, MSN, WSJ, and The Guardian, but they also work with lots of more niche sites including sports, entertainment, finance, health, and technology.
Their unit will usually be found in the footer of the page, as we saw previously with Outbrain Ad Examples and, as you've noticed, they're always marked with their logo.
Here's another quick example of their widget on CNN:
Outbrain Review Company
Outbrain was founded in 2006 to mainly solve the problem publishers had in replicating the print experience of turning a page to discover the next article or product on the web.
Today, Outbrain develops the feed technology that makes the act of exploring and discovering new things on the open web possible and operates out of 18 global offices and partners with publishers and marketers in more than 55 countries!
Outbrain By the Numbers Today:
And, of course, thanks to their algorithm, which mainly predicts the best matches across Outbrain's publisher network, it will make you reach an audience acquisition, engagement, and retention!
Which is not surprising, the most recognizable Media Companies that choose Outbrain's Feed technology are:
Just like that:
And Outbrain connects all these Leading Advertisers below to consumers on the open Web!
So, let's see a little about native advertising to get the idea of what we are talking about!
What Is Native Advertising?
"Native advertising is simply a paid advertising where the ad matches the form, feel and function of the content of the media on which it appears."
This "Native Advertising" is particularly effective on an open web, but ads are getting more intrusive, annoying, and ineffective than ever!
Have you ever got bothered by those ads that interrupted your reading while you were so concentrated?
That's how native advertising is done wrong!
Non-disruptive ads are those ads that don't interrupt the experience of the user, as they're consuming another content they've originally intended, and they easily blend in with the look and feel of the site!
Outbrain found the non-disruptive native advertising spotting it right on the open web, but at the bottom of the article without interrupting!
Check how Outbrain boosts your Native Advertising!
Now that we are aware of what native advertising truly means and the Outbrain's potential, let's see what their platform can offer to each one of you!

Outbrain Review for Advertisers
Hello Advertisers! It's all about you!
Ready to discover about Outbrain prices, pros & cons and see if they're the right fit for you?
Let's go!
All about driving ROAS on the Open Web!
Peek here below how Outbrain's interface for advertisers looks like:
This is mainly the interflow of the intern platform you would see if you choose Outbrain!
Their platform allows to compare CTR and Clicks daily, weekly, monthly, checking how your progress is going on the way and you can check the status by:
Campaign
Time
By Publisher
By Geo
By Platform
Checking the delivery, Start, end, budget, CPC, the amount spent, Average CPC, Impressions, Clicks, and CTR!
Outbrain Pros for Advertisers:
The amazing part of Outbrain is having the possibility of reaching consumers at every stage of their buyer journey at a very cost-effective price!
As an advertiser, you would get similar or even better CPA results compared to Facebook, of course, after you carefully optimize.
Advertisers use Outbrain to show ads that mimic editorial stories, paying when someone clicks on the ad and Outbrain shares the revenue from advertisers with the publishers!
You can promote your brand building awareness, educate and influence consumers in a discovery mode, can drive performance goals, and grow the audience you are targeting by getting your content discovered!
Imagine reaching your target demographic through who reads CNN, MSN, Time, The Wall Street Journal, Cosmopolitan, Rolling Stone's website, and more! That would be your first white list campaign for sure!
So, let's sum up our Outbrain pros for Advertisers up to:
Promoting your Brand by Building Awareness
Large Reach and Volume
Drive performance goals
Cost-effective compared to Google and Facebook
Amazing Native Ads
Access to CNN, Time, ESPN, and more
Simple to use
Multiple conversion pixel events
Outbrain is very strict when it comes to approving "advertiser creatives", so make sure you review their guidelines for advertisers before launching a campaign!
For sure, if you're aiming to amplify your reach for brand awareness, education, or audience growth, Outbrain is the excellent pick!
Now... with all these beautiful pros, what could the cons possibly be?
Let's check them out!
Outbrain Cons For Advertisers:
Outbrain is one of the most difficult Ad networks that approve your creatives and landing pages but they've been allowing more direct response types of landing pages for sure in the past few months!
Another little issue is that you would need an account manager to launch "Whitelist" campaigns that are limited to select publishers.
So, let's sum up our Outbrain cons for Advertisers:
No self-serve Whitelist
Hard to get approved at the beginning
May need account management assistance for high volume
Outbrain's Pricing for Advertisers:
The minimum budget for a campaign is $10 a day or $300 a month and the minimum CPC (cost per click) is $0.03.
Depending on your industry expect to start your CPC around $0.10 to $1.50!
Keep in mind that, in the real world, a good testing budget range would be from $500 to $2.000 to find publisher sections that result in a conversion.
Explore success stories case studies of some advertisers.
Outbrain Review for Publishers
Hello Publishers! It's all about you now!
Ready to discover about Outbrain prices, pros & cons and see if they're the right fit for you?
Let's go!
The Outbrain advantage in obtaining the highest and best RPMs by maximizing them with Outbrain's index of quality brands.
You can also grow total revenue with Outbrain's optimization, ensuring audiences stay engaged and onsite.
And that's not all! You can maintain full editorial control by gaining a better understanding of your consumer's needs, to optimize their experience as well!
Outbrain Pros for Publishers:
Promoting your Brand by Building Awareness
Large Reach and Volume
Drive performance goals
Solutions: Video, Smartfeed, optimization engine, and native Ad server
Cost-effective compared to Google and Facebook
Amazing Native Ads
Simple to use
Outbrain's solutions for publishers are the following:
Video: engage your audience & drive awareness with high-impact native video
Smartfeed: Editorial, video, and sponsored content in one personalized feed discovery
Optimization engine: Dynamically create and test continuously optimizing for engagement
Native Ad Server: Flight content across your owned & operated channels plus 35 and more social, native & mobile networks
Outbrain works with publishers of all sizes and categories. You can find Outbrain powering engagement and revenue on sites like CNN, ESPN, NY Time, and many more we've previously checked above.
For sure, Outbrain works with high-quality publishers, regardless of site size.
Publishers with value-adding, engaging content, can apply anytime to join Outbrain's Engaging network.
Now... with all these beautiful pros, what could the cons possibly be?
Let's check them out!
Outbrain Cons for publishers:
To become an Outbrain publisher, you need to contact the engaged support team and see if you fit their standards
Usually, they require your website to have over a 50k monthly views
Make sure to check out their additional guidelines for publishers!
Outbrain's review Conclusion:
As we arrived in our conclusion, we hope our Outbrain Review fully satisfied all your doubts, and don't forget to leave your personal experience with Outbrain in our comments here below!
Accelerate your Conversions, Increase your Revenue
with lemonads
---
You would like