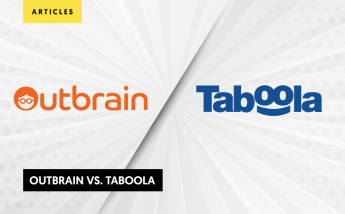 Outbrain vs. Taboola: How to Choose the Best Content Discovery and Distribution Platform
The widespread adoption of internet-capable devices has fueled the development of a huge range of digital ad formats. With that said, the most effective ad formats focus on sharing quality content and engaging the target audience through captivating creatives. This is because content development and distribution is still one of the most effective ways to build a brand's reputation in the short and long run.
However, there are dozens of different content discovery and distribution platforms you can work with. Also known as ad networks, these platforms come in all shapes and sizes, plus they can specialize in one single region or type of traffic. But, not all of these provide quality results, so you need to evaluate the different alternatives until you identify the one that gives you the highest chances of being successful.
Taboola and Outbrain are two great examples of reliable networks that can help you discover the best content distribution opportunities. Nevertheless, these platforms are slightly different, so you need to analyze each tool's features in order to select the best fit.
In this article, we will compare Taboola vs. Outbrain, analyze their features head-to-head, and share all the information you need to know to choose the best alternative for your case.
Taboola and Outbrain: Two Leading Content Distribution Platforms
Content marketing has become one of the leading forms of advertising because it costs a fraction of inbound techniques, but can still field more than three times the revenue. With that in mind, you need to partner with a reliable ad network that allows you to either purchase traffic from the best sources or monetize your platform by selling ad spots to the best bidders.
Both Taboola and Outbrain can help you achieve this goal, but remember that the best choice will depend on your unique requirements. All advertisers, publishers, and networks are different, so you need to analyze your case and figure out which features will help you achieve your goals.
Taboola
Taboola is a native ad network that has earned a reputation as one of the leading content discovery platforms out there. The team behind Taboola has forged exclusive partnerships with some of the best publishers on the web. This means that Taboola advertisers have access to high-quality traffic, which exponentially amplifies the impact of the content these stakeholders develop.
The Taboola network registers more than 500 million daily active users and a collection of more than 9000 publishers. Additionally, the platform has partnered with tens of thousands of advertisers, deploying more than half a million impressions per second. All of these impressions are served across 540,000 different sites and platforms, which fall into categories like entertainment, news, science, education, arts, motor vehicles, sports, games, technology, and adult content, among others.
Outbrain
Outbrain promotes itself as a technology company that powers discovery feeds across the most popular sites on the internet, and that description is extremely accurate. Needless to say, Outbrain is a direct Taboola competitor because it's also a native ad network that has exclusive deals with some of the top publishing platforms on the internet.
With almost 350 billion impressions per month, Outbrain has almost as much reach as other leading networks. The platform serves an impressive list of 55 countries, which has attracted top advertisers like CNN, MSN, Sky News, and Opera Browser, just to name a few. That said, the network prides itself in working with advertisers of all sizes, paying close attention to the performance of smaller advertisers through dedicated customer service.
The main goal of the Outbrain team was to develop a platform that delivered valuable content to audiences while enabling stakeholders in the advertising ecosystem to connect with these consumers. Note that Outbrain actually has two different platforms, which are Amplify and Engage. The former is designed for advertisers who want to purchase native spots, while the latter is designed for publishers who want to make these placements available.
Comparing Outbrain and Taboola Head-to-Head
Which is better, Taboola and Outbrain? The truth is that there is no one-size-fits-all answer for this question. Modern advertisers are always looking for the best marketing platforms to promote their solutions and both of these networks can help them achieve that goal.
At the same time, publishers need to identify the content discovery tools that allow for the most effective monetization schemes. Taboo and Outbrain both fit the mold once again, giving publishers the ability to connect with media buyers who want to pay top dollar for the best placements.
Below, we'll compare the most important elements of Taboola and Outbrain heat-to-head to help you determine which is a better fit for your business.
Pricing
The pricing for Outbrain and Taboola varies depending on which side of the affiliate marketing equation you're in. That said, it's important to note that neither platform provides a free version nor a free trial.
Advertisers that want to run a campaign on Taboola don't have to pay any upfront fees. Just keep in mind that there is a daily budget minimum requirement ($10 at the time of writing), which means that there is a minimum cost you need to cover every month. As for publishers, the cost of implementing Taboola depends on the vertical and other variables. So, the best way to get an exact quote is to speak to the account manager that's responsible for your project.
Feature List
One thing that these two platforms have in common is that they are both packed with great features.
Outbrain allows advertisers to run cost-per-click campaigns, but the placements and exact costs are determined using powerful in-house technology. Not only this, but the platform also provides customized modules to help you build tailored campaigns, plus campaign shaping features that help you get the most value for your investment. Plus, Outbrain also provides reliable auto-optimization features, responsive design, native mobile campaign support, and a dedicated API.
Taboola earned a reputation for the sheer size of its network, but the platform also boasts of a spectacular set of features. These include retargeting features for advertisers, site monetization capacities for publishers, and reporting options for both sides. At the same time, the predictive engine allows advertisers to find the best placements, while the same feature gives publishers the ability to sell each ad impression for the highest possible amount.
Support and Customer Service
Both Taboola and Outbrain are technical platforms that can overwhelm even the most experienced stakeholders. For this reason, you need to pick a platform that has a reliable customer support team as well as self-teaching resources like a knowledge base that shortens the learning curve.
Taboola is easy to contact for general support questions via email and phone, but note that this platform doesn't have a knowledge base or similar tool. So, even if the support team answers in a reasonable timeframe, you'll almost always have to rely on these agents to solve small issues.
In addition to phone support, Outbrain also provides online chat support and training videos. At the same time, the platform has a basic FAQ that helps answer beginner questions and provides steps on how to contact the support department for more complex scenarios.
Content Campaign Development
Companies that develop affiliate programs usually do so to complement their content marketing efforts. Taboola and Outbrain are stellar tools to bolster your content efforts, especially because both allow for large-scale native ad campaign development. That said, these platforms provide slightly different suggestions based on the audiences they attract.
Taboola encourages advertisers to develop content that's fun, but also informational or otherwise valuable. For example, the platform recommends including statistics, numbers, and listicles to help engage the audiences that are being targeted.
In the Outbrain network, content with shocking language and dire approaches tend to perform better than upbeat, positive materials. At the same time, the content guidelines for Outbrain are known for being more restrictive, which results in a better user experience but also limits the campaign creation process a bit.
Additional Elements to Consider
In addition to the main features, there are many additional elements that stakeholders should keep in mind before choosing one of these platforms.
Integrations
One of the most important elements you should note is the platform's integrations in terms of your current marketing mix.
Outbrain integrates with applications and business software like Xero, Inventory Planner, Bigcommerce, Etsy, WooCommerce, eBay, Shopify, and Magento. On the other hand, Taboola includes pre-set integrations for Site Scout, CBS Interactive, SAY Media, Pocket Media, Opera, and Pandora, plus it also has the API we mentioned previously.
Device Compatibility
Device compatibility is another element you need to keep in mind as changing devices for a network is not an option for some stakeholders. The good news is that Taboola supports Windows, Mac, and Linux devices. Plus, you can also work with mobile traffic that comes from both iOS and Android devices. Outbrain doesn't allow as much compatibility because it's only available for Windows and macOS devices.
Suitability
Knowing whether the platform you choose is suitable for your future plans is crucial, but remember that you're the only individual that can determine what that entails. Take the time to create projections for your business and figure out which one of the two platforms has the highest chance of providing great results in the short and long run.
Found the Best Marketing Software? Look for the Top Affiliate Programs at lemonads
So, have you decided which platform is best for your particular project? The truth is that both of these are superb alternatives that currently lead the industry, so you need to take a long look at your requirements and figure out which one of the two is best for your case.
If you want to find the top programs or partner with leading publishers, our team at lemonads will be glad to help. Simply give us a call and we'll help you move your project along right away!
Accelerate your Conversions, Increase your Revenue
with lemonads
---
You would like