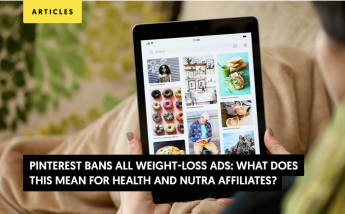 Pinterest Bans All Weight-loss Ads: What Does This Mean for Health and Nutra Affiliates?
The most popular social media platforms in the world allow affiliates to develop superb campaigns and connect with audiences across the globe. But, these networks also have to adjust to consumer trends in order to stay relevant and retain the ability to forge these deep bonds. In some cases, the adjustments that networks make don't always benefit affiliates, like Pinterest's ban on weight-loss ads.
If you're an affiliate publisher that specializes in weight-loss content on Pinterest, you may be wondering what's next. At lemonads, we work closely with many of the leading Pinterest affiliates that are being affected by this phenomenon, so we're aware of the challenges these publishers are not facing.
Below, we'll explain Pinterest's ban on weight-loss ads, why it matters, and what options affiliates have to replace this network.
Pinterest Bans All Weight-loss Ads: What Has the Network Banned Specifically?
According to the platform developers, Pinterest was developed to inspire people and empower them to create the life they want, regardless of size, shape, race, or orientation. Therefore, the platform has taken a proactive step to reduce the pressure that some users feel by banning weight-loss ads.
The exact elements that Pinterest has banned are:
Language or images about weight-loss
Testimonials about weight-loss products or the benefits of weight loss in general
Images, languages, or content that disparages or glamorizes body types
Making references to indexes like BMI or similar measures
Products that specifically claim to help lose weight with topical application
Additionally, remember that Pinterest already had a strict policy on certain types of weight-loss content. This included a full ban on appetite suppressants, weight-loss pills, and weight-loss supplements. Additionally, it also prohibited images of before-and-after, the promotion of treatments like liposuction or fat burning therapies, content that set unrealistic cosmetic standards, and body shaming.
Pinterest's ban on weight-loss products is designed to protect its users from hateful, misleading, or offensive content. However, this change has also altered the way transparent affiliates are running their campaigns and limits what some publishers can do on the network.
Why Has Pinterest Banned All Weight-Loss Ads?
While the fact that one of the major social media platforms out there has banned ads from an extremely profitable industry is surprising, there are several reasons why Pinterest decided to pull the trigger on this.
These include:
Reducing Subtle Discrimination on the Platform
Like other major platforms, Pinterest had already implemented different safeguards that protect users from many forms of discrimination. While there are still many forms of discrimination that need to be eradicated, the platform has taken a bold step by potentially leaving billions on the table in order to get behind its users and reduce subtle prejudice.
Combating a Rise in Unhealthy Eating Habits
COVID lockdowns have exacerbated an already existing problem and exponentially increased the number of individuals experiencing issues with unhealthy eating habits.
Since the start of COVID-related lockdowns, there's actually been a significant rise in unhealthy eating habits as well as eating disorders. Additionally, consumers are now feeling additional pressure because many are just starting to reintegrate into their social circles after more than a year in lockdown. The team behind Pinterest has taken it upon itself to combat the rise of these habits and attempt to eliminate potentially negative content from the platform.
Minimizing Effects of Eating Disorders on Mental Health
The link between mental health and eating disorders has been well-documented, plus new research has also proven that social networks influence this connection. Pinterest is attempting to eliminate content that has a negative effect in order to help users who are either facing or prone to developing mental health issues related to eating.
Promoting Body-Positive Concepts
It's worth noting that there has been an outcry from a large consumer segment because of the amount of body-negative content being published on some networks. This movement is what partially led Pinterest to eliminate this type of content and only allow the promotion of body-positive concepts in its ads.
Maintaining High Safety Levels for All Users
Finally, Pinterest is also creating a safe environment for its users and advertisers. There are many unethical parties that sell low-quality products as well as entities that distribute inaccurate information in order to boost sales. Both of these practices impact user experience and can end up being detrimental to consumers, so Pinterest has made this change to keep its users protected.
Body Acceptance: The New Hottest Trend on Pinterest
Despite the fact that the ban on weight-loss products will undoubtedly affect a large number of affiliates, it's important to note that the platform has not banned all content about living healthy. According to the platform, terms like "body neutrality," "body acceptance quotes," and "healthy mindset quotes" have increased as much as 13 times. Plus, for terms like "self-love illustration art," search volume has increased by 63 times.
Rather than simply taking the hit, publishers can find new, creative ways to monetize these new trends. There are plenty of businesses that focus on these types of ideas, so reach out to your affiliate network and inquire about programs that may be suitable for this traffic.
How Can Nutra and Weight-Loss Publishers Promote Advertiser Products?
As we've mentioned previously, Pinterest's ban has had a huge backlash for transparent affiliates that specialize in weight-loss products. But, even though there is no doubt that the change will have an impact, these publishers should not lose all hope as there are still many great alternatives that allow them to distribute content about weight loss.
Some of these platforms include:
Google Ads and Google Display Network
Google Ads is regarded as the largest ad network in the world because it allows you to place ads throughout Google search results pages. Although this platform only allows plain text ads, it offers superb targeting settings which allow you to show your content to very specific users. For example, you can target users who specifically use terms like "weight-loss supplements" and similar keywords to perform a search.
Affiliates that are used to working with rich media ads can leverage the Google Display Network (GDN), which is the search giant's platform for video and image ads. Rather than showing these ads on results pages, the GDN displays ads throughout a network of third-party properties, but the platform still offers superb targeting features.
Facebook Ads
Facebook has almost 3 billion monthly active users, easily making it the most popular search engine on the planet. A huge portion of these individuals proactively shares a lot of information about their interests, topics they are passionate about, and things they like. Additionally, the platform collects user behavior data in order to help advertisers target these individuals through Facebook Ads.
Simply put, Facebook Ads is the social media platform's advertising network, but these adverts are only displayed inside the network. However, this gives Facebook a lot more flexibility in terms of the formats it provides, the targeting settings you can use, and the features that appear on the ads. For instance, the ability to make a purchase directly through the platform. So, it's fortunate that affiliates can still run weight-loss campaigns, as long as they adhere to the rest of the network's terms of use.
Instagram Ads (with Some Adjustments)
Instagram Ads is a content-centric platform where users share quality images and videos with each other, which sets the perfect stage for weight-loss campaigns.
But, it's important to note that there are some limitations in terms of who the campaigns can target. The reason for this is that Instagram has already experienced negative backlash due to a weight-loss ads-related incident.
Affiliates can develop weight-loss campaigns on Instagram as long as they target users above the age of 18. Additionally, the platform has also cracked down on campaigns using language that can be misinterpreted as "miraculous" claims, so affiliates need to be extra careful with the wording they use.
TikTok Ads
TikTok Ads has gained a huge amount of traction with millennials and Gen Z consumers, mainly due to its unique structure and attractive set of features. The platform still allows for the promotion of weight-loss products and similar goods, making it one of the top places to target younger segments.
Twitter Ads
Most Twitter users are located in the US, but there's no denying that the platform has a massive reach and can influence the way consumers behave. Twitter Ads is another platform where affiliates can promote weight-loss content without the risk of being penalized.
Amazon Advertising
Affiliates that are familiar with Amazon Ads already know how effective this platform can be. One of the reasons it's so effective is that consumers are already looking to make a purchase when they enter the platform. So, a properly developed campaign should only convince interested users that the weight-loss products being promoted are the best on the market.
Ready to Get Started? Find the Best Affiliate Programs at lemonads
The fact that Pinterest has banned weight-loss ads will have a profound impact on the way this vertical performs in terms of affiliate marketing. That said, the good news is that there are still many viable alternatives that help you promote this type of offer, including the top search engine on the planet as well as the most popular social media platform out there.
With the above in mind, tracking down the best weight-loss programs can be a daunting task, especially if you don't have a solid partner. At lemonads, we specialize in helping our partners create profitable partnerships with the top advertisers in their space. To learn more, contact our team today and we'll be glad to help.
Accelerate your Conversions, Increase your Revenue
with lemonads
---
You would like