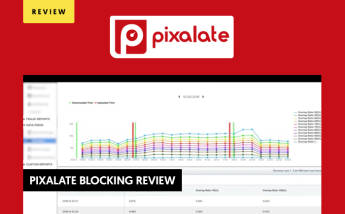 Pixalate Blocking Review: Fraud Prevention and Invalid Traffic Prevention for Your Campaign
Pixalate is credited for being one of the first platforms to develop a comprehensive system designed to create a transparent environment in programmatic advertising. Today, this tool has become one of the most popular fraud prevention alternatives out there. But, is Pixalate a great alternative for all stakeholders in the affiliate world?
Every year, the marketing industry loses billions of dollars to ad fraud, so affiliates need to increase their chances of success by taking steps to protect their assets. Pixalate is a superb platform that can safeguard your resources and ensure that every interaction registered comes from a legit user.
After thousands of successful partnerships, our team at lemonads knows a thing or two about the best fraud prevention tools out there. Below, we'll break down the features available in Pixalate Blocking, discuss the benefits of this platform, and give you an objective take on this affiliate tool.
What is Pixalate?
Pixalate is a fraud monitoring and protection software developer based in California, but the company has offices in London, New York, and other cities around the world. Known as one of the leaders in the fraud monitoring and protection industry, Pixalate provides real-time monitoring for hundreds of billions of interactions.
This allows it to provide unmatched insights and provide accurate parameters for fraud detection and elimination. In simple terms, the company wants to raise the transparency and quality bar for RTB and programmatic marketing as a whole.
Fraud Prevention for All Stakeholders
Founded back in 2012, Pixalate has collaborated extensively with leading advertisers, networks, and other stakeholders in the affiliate world. The list of names includes Amazon, IBM, and Microsoft, just to name a few. But, the most impressive thing about this platform is its ability to protect every member of the ecosystem, including networks, publishers, advertisers, and even consumers.
This ad fraud protection platform relies on six advanced blocking lists that reduce the risk of suffering from a cyberattack. Not only this, but the team at Pixalate works restlessly to identify emerging types of fraud and develop innovative features that protect stakeholders against these new threats. A result is a superb tool that provides comprehensive cross-channel protection against well-known methods as well as more obscure fraud techniques.
Pixalate Features Overview
The best way to describe Pixalate is as a feature-packed and robust fraud protection platform. Rather than analyzing interactions after they occur and notifying the traffic source, Pixalate relies on pre-bid technology. This means that the platform blocks interactions before they even occur. This, combined with the fact that it's suitable for campaigns running on multiple channels, makes Pixalate one of the most well-rounded options available for affiliates today.
At the time of writing, Pixalate has analyzed trillions of interactions occurring across 80 million domains, 1.5 million apps, and 2.5 billion devices. The company has created an ultra-accurate picture of the affiliate ecosystem and the role that fraud plays in it, allowing users to get ahead of the trend and block out all unwanted interactions.
Pixalate has developed numerous awesome features based on its findings, for instance:
Protection Across Multiple Channels
Protecting your campaigns against fraud is challenging, especially if they're running on multiple channels. The problem is that the level of protection needs to be the same across all of your assets. If you don't safeguard one channel, you may be compromising the integrity of all your ads.
Pixalate can help prevent unwanted interactions across a variety of formats and channels, including in-app ads, video ads, over-the-top (OTT) ads, and display creatives. The platform's fraud protection features work simultaneously with its analytics and media rating capacities. This offers a new level of campaign protection that can only be found in this powerful fraud management solution.
Superb Fraud Coverage
Publishers, advertisers, and other stakeholders face a collection of challenges, but invalid traffic is perhaps the biggest one of them all. Whether they come from bots or fraudulent users, these unwanted interactions can consume your budget without generating anything else but vanity metrics.
Pixalate can block up to 38 different types of fraud across different ad formats, giving stakeholders the highest level of protection available. These fraud variables can be found across 6 different areas or lists. These are IPs, device identification, data centers, user agents, domains, and applications.
The types of fraud that Pixalate protected against at the time of writing include:
Auto-Reloader
Data Center
Data Center Proxy
IAB Crawler
IAB Dummy Bot
Idio Bots
Malware
Bad Proxy
Smart bot
Cookie Stuffing
Device ID Stuffing
Doorway Site
IP Obfuscation
Location Obfuscation
Masked IP
App Spoofing
Inactive App
Click Farm
Display Click Fraud
Display Impression Fraud
Video Click Fraud
Video Impression Fraud
Fast Clicker
High-Risk Device ID
High-Risk IP
Hijacked Session
Blank User-Agent
Duplicate Clicks
Duplicate Impressions
Private IP
High CTR Traffic
Publisher Fraud
High-Risk Developer
High-Risk Domain
High-Risk App
TOR Nodes
Phishing
Robust Fraud Identification Algorithms
Modern fraudsters successfully extract billions of dollars from the marketing industry every year because they are constantly developing new approaches. The team at Pixalate has decades of combined experience, so it has developed a powerful set of cutting-edge proprietary algorithms that work simultaneously to protect its clients' assets.
The platform's superior fraud identification and user authentication mechanisms allow advertisers and networks to eliminate unwanted traffic while also keeping false positives to a minimum. The best part is that these algorithms are constantly being improved upon, which allows Pixalate to keep up with new techniques implemented by fraudsters.
Dedicated API that Provides Real-Time Updates
Pixalate can be deployed as a software-as-a-service (SaaS) solution for companies that don't want to take care of installation or deployment. In these cases, the platform provides fraud lists that provide extensive information about the performance of the campaign. These fraud lists are updated daily and contain valuable insights that stakeholders can use to improve their results.
Additionally, advertisers and networks can also opt for a dedicated API, which allows for the tailored implementation of Pixalate. Not only this, but the API provides updates in real-time, so the information reflected on the interface is accurate to the minute. And, the API is relatively easy to deploy, so it won't put a huge amount of pressure on your technology team.
Tailored Risk Selection
Every single advertiser and network is different. Even if fraudulent interactions follow a similar pattern, the best way to eliminate all unwanted traffic in your campaigns is to customize the way your security platform assesses risk.
Fortunately, Pixalate lets you choose the level of risk that triggers its blocking feature. The platform assesses the level of risk before an interaction occurs, so it can block potential threats directly from the traffic source.
This eliminates potential instances of fraud before they occur, allowing you to invest all of your budgets into growing your ROI. Just take the time to understand the risk customization interface so you can ensure that the feature is triggered under the right circumstances.
Detailed Reports that Include Evidence of Fraud
Combating digital ad fraud is difficult for a variety of reasons and the fact that there is no set standard only makes it more challenging. Many fraud prevention platforms simply block interactions without providing proof or context, leaving users to blindly trust the system implemented by the provider.
Pixalate stands out of the crowd because it allows users to generate detailed reports that include the reason for blocking each interaction. The platform offers evidence of fraud as well as the potential financial cost, so you can see exactly what made the interaction invalid and how much you could have lost.
Maximum Financial Flexibility
It's common for stakeholders to spend a significant amount of their budgets on platforms like Pixalate. The good news is that the platform offers different pricing options that vary according to the deployment you choose. For stakeholders that need a budget solution, Pixalate can deliver block list delivery via FTP, which doesn't cost much to implement.
Advertisers and other users that have a big enough budget can have the blocking list delivery via API, which has higher costs but can also improve efficiency. Well-known platforms like Voluum use Pivalate's API to help them reduce fraud at the pre-bid level and deliver better solutions to their clients.
Full-Fledge Fraud Prevention and Management Platform
It doesn't matter if you want to monitor your metrics, analyze the impact of your security infrastructure, or implement changes to your protection protocol, Pixalate is a full-fledge platform packed with a variety of great features. The platform consists of three main tools, which are Analytics, Media Ratings Terminal, and of course, the Blocking feature.
As the name suggests, the analytics provides insights into the performance of your campaigns. You can slice the data and view it in different ways to gain a full understanding of what causes your audience to behave a certain way.
The Media Rating Terminal is a tool designed for network developers, agencies, and large-scale publishers to help them identify the best traffic sources. Rather than assessing each one individually, the tool highlights the traffic sources that may potentially be a good fit depending on your goals.
Custom Sensitivity Scoring
One of the only disadvantages of online marketing is the propensity for fraud. But, every good marketer knows that there is always some risk, but the outcome greatly outweighs the potential negative effect.
To increase your chances of success, the team at Pixalate has developed the custom sensitivity scoring feature. This feature can help you find the balance between risking fraud and succeeding without forcing you to spend a huge amount of resources. Plus, you can see the blocked interactions and how these would have affected your campaign in real-time.
Want to Learn More About the Best Affiliate Tools?
It's no surprise that Pixalate Blocking has become one of the leading platforms available for affiliate fraud prevention. After all, this tool is a part of a more wholesome marketing performance tool that empowers affiliates and marketers as a whole to take control of their campaigns and prevent fraud before it even occurs.
If you're ready to test out Pixalate, contact lemonads and we'll be glad to help you find a great affiliate campaign.
Accelerate your Conversions, Increase your Revenue
with lemonads
---
You would like