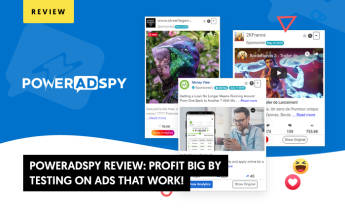 PowerAdSpy Review 2021: Profit BIG By Testing On Ads That Work!
Our PowerAdSpy Review is a complete full guide of what you need to know to put them into practice in 2021!
Competition is high and many ads are achieving the goals you wished you wanted to achieve? Our PowerAdSpy tool will review not only the features but will uncover those guarded secrets kept among advertisers!
Stop struggling and start earning the advantages of those marketers who are in the loop!
This is why PowerAdSpy will help you check what's working for your competitors and, through metrics and insights, test to see if their strategies will also work for you!
If you've landed here, you're probably overloaded and need something simple that will not only help you but will also work in getting that traffic and awareness you are hardly trying to earn!
Social media advertising spy tools are strongly efficient and they're truly proving how advertisers are scoring high by researching competitors' strategies, especially with Facebook's ads!
With PowerAdSpy Review you'll get an in-depth analysis of what their tool can do for your advertising through:
PowerAdSpy Review Company;
PowerAdSpy Review Dashboard;
PowerAdSpy Review Features;
PowerAdSpy Review Analytic Tab;
PowerAdSpy Review Pros & Cons;
PowerAdSpy Review Affiliate Program;
PowerAdSpy Review Pricing Plans;
PowerAdSpy Review Conclusions.
PowerAdSpy Review Company
PowerAdSpy's tool is a great resource for any marketer who wants to look beyond the creative and ad copy for their social media ads!
Spying on your competitor's ads will help you beat the wonders through detailed breakdowns of each creative, along with landing page URL,  last seen date, social engagement, and targeting options you wished you knew before getting that right start!
PowerAdSpy's tool is not only powerful to reveal Facebook Ads insights, but also to spy on your competitor's ads published on:
Google Display
YouTube
Instagram
Reddit
Quora
You can search ads by keywords, domains, advertisers, and sort by the newest ads, longest-running ads, and social engagements stats as well as targeting options and landing page properties, and so much more!
PowerAdSpy's can make you discover insights with its incredible database offering compelling service to advertisers, media buyers, publishers, and more, providing quality ads for business growth with a snap.
You can discover which are the most popular ads running that are hooking audiences and driving more traffic, all thanks to competitors' techniques and strategies! It's not only aiming high, but you would succeed in higher results!
PowerAdSpy offers ad examples composes of attributes such as:
Demographics and Location-based ad examples by choosing any location.
Suggest keyword searching if you are unaware of how to find the best converting ads to reach in finding the right "searching keywords".
Boost ROI with insights into trending ads and increase your ROI tremendously.
Complete full support throughout your project submission: a reason it has been trusted by Fortune 500 companies in the world.
Main big companies decide their marketing strategy based on what their competitors are executing, and PowerAdSpy is the best bet where you can keep an eye on the most popular ads to earn that successful marketing strategy.
With PowerAdSpy you can keep track of competitor's campaigns across a large number of social platforms at the same time, allowing you to have everything in one place.
Ready to see their dashboard and get familiar with it? Let's go!
PowerAdSpy Review Dashboard
PowerAdSpy has a huge database, with 6 million ads from 15+ countries, and the data is updated every day. This is why PowerAdSpy's dashboard, with its many filters, is important to find the aimed ads that are more relevant to your own campaigns.
How to use Power Adspy
As you can see, in the left-hand column of the platform, there is a full list of filters we were talking about, so, let's get a closer look:
Keyword Type: Select keywords, advertiser, or domain for your search mode and search in the ad text, comments, or landing page text. You can sort the results by newest, longest-running, and engagement stats such as Likes, Comments, Shares, and Views. Next, select your dates for the ad or post and click search.
Filter Mode: This mode will enable you to hone in on your competitor's strategy. You can filter by CTA (call to action), Country, Ad Type, Ad Position, Gender, Language, and Age. This is super useful for discovering audience targeting and advertiser intent.
Lander Properties: This section is useful to affiliates and eCommerce advertisers who want to spy on what other affiliates are doing. Sort by popular trackers and eCommerce platforms, funnels, device source, and niche. This is where the PowerAdSpy's strapline – built by Affiliates, for Affiliates – comes into play.
Use it to find some juicy competitor campaigns and discover new and trending dropshipping and eCommerce products and hot affiliate offers.
Take note that the filters will change depending on which network you are on.
You won't find engagement stats on native ads, but you can instead search by native ad networks, including MGID, Outbrain, RevContent, Taboola, and others.
PowerAdSpy focuses also on video creatives, which are becoming increasingly popular on Facebook and Instagram stories.
Social networks are continuously adapting to changes in advertising and, since native ads have been proven to have a much higher CTR than other ad formats, social networks are creating new features for advertisers to use and to ease brands, affiliates, and marketers to stay profitable and scale their campaigns.
Many advertisers who are succeeding are constantly reviewing their strategies to maximize their returns, comparing which ads are performing better and on which platform!
With PowerAdSpy, that loaded work you had piling up will be simply completed by them. All you need to do is simply check which strategies are prevalent across different networks among your competitors and the trick is done!
Check out all the creatives on PowerAdSpy navigation bar:
Results will dynamically change by the searched filters you use and each ad will show you:
the creative;
the ad title and ad copy;
the social media engagement stats for the ad;
CTA button to show you analytics or view the original ad.
You can also contribute to the platform by adding tags to the creative, submitting a bug report, or labeling the ad as an affiliate or non-affiliate ad.
The advertiser's name in the top left-hand corner will allow you to view all running ads of that advertiser, and if you find its strategy interesting and fitting your needs, just go ahead and subscribe! Subscribing will give you the way to receiving notifications any time that the advertiser will publish a new ad!
Or you can simply save ads or any other interesting ad to your "favorites" by clicking the "star icon".
Ready to get a deeper look into PowerAdSpy's features?
PowerAdSpy Review Features
Improving your advertising campaigns with PowerAdSpy will drive you into succeeding with their power-packed features earning a higher ROI.
With PowerAdSpy you can focus more on your business strategies instead of looking for new marketing ways that will work for your Facebook ads or other social media ads, saving so much time just by finding profitable niches!
Filter by Ad-positions
This filter will test the best positions that perform well for your FB campaigns and you'd have complete control over researching ads, based on positions such as News Feed or Side location.
By researching FB ads based on the position, you can analyze ads to perform well for higher conversions!
Crystal Clear Visibility
See live ad posts! This is why PowerAdSpy is the top converting tool, allowing you to visit live ad posts from the platform itself and by offering crystal clear visibility for you to know about your audience's opinion over the ads, so you can analyze and understand their engagement!
Huge ads data
PowerAdSpy has a huge database of ads that keep adding up every day to deliver the best converting ads and, with just a few clicks, you can look for the best performing ads from data collected from 15+ countries with millions of ads!
Search with keywords
Broaden your search experience with the PowerAdSpy "search keywords" option, giving you the ability to search those ads based on keywords in your niche.
You can search advertisers, competitor's domains visiting top-performing advertisers, and check the maximum working ads they're running!
Bookmark Ads
Save your time and bookmark your favorite ads with just a click. Once they're bookmarked, check them again and personalize the ad inventory for when it's the time of your new upcoming ad campaigns!
Ironclad Search Algorithm
Search for ads based on keywords, phrases, and terms within ads and get the exact results that you hope for.
To outperform the ads, sort out by date, share, likes, or comments to run the best performing ads and you'll be set!
Engagement oriented details
Segmenting ads based on gender or age will help you identify the winning ads in your niche.
Image and Videos Ads
PowerAdSpy displays video and image ads.
Images are always converting, but video ads are now becoming more popular than ever, especially on FB! By understanding and deciding which best video ads keeps your audience engaged and download them for your next video ad campaign!
Geo-targeted
PowerAdSpy has a massive database of millions of ads helping you in providing real-time data information about the Geo-targets of your competitors, helping you in identifying your audience who could be interested in your product or service.
CTA
Who doesn't use and know the importance of CTA? For your ad campaigns to be successful, PowerAdSpy's based sorting CTA will help you identify the most outperforming CTAs working for your niche.
Funnel breakdown
PowerAdSpy gives you also the possibility of knowing the top converting landing pages where maximum traffic is being sent and, along with winning ads, you can also replicate the winning funnels!
Extra Features
With PowerAdSpy you can identify your competitor's Shopify ads to discover winning ads run by successful Shopify owners, analyzing and managing your upcoming ad campaign for maximizing profits.
PowerAdSpy Review Analytic Tab
The "Ads Analytics tab" is that section when you click to see more details of an ad; you sure want to click to grab all of the most important information for affiliates!
It will show you stats for social engagement, and ad is seen, country, relationship status, age, and gender by giving you valuable targeting data to use for your campaigns.
You'll also be able to see the current landing page for the ad, allowing you to click through to your competitor's landers, finding cloaked money pages to discover which eCommerce platform the product is hosted on, along with basic info and redirects, outgoing links and country list.
And with PowerAdSpy's GEO targeting, you'll save a lot of time and money on testing data and ad spend!
You can then use this valuable insight from your competitor campaigns to promote your offers, grow your list or start your own Shopify store.
However, make sure you research an ad's lifespan over time and drill down on the engagement stats before drawing any conclusions!
There's even a free Chrome extension on PowerAdSpy that paid users can install! This will let you view competitor ads as they are surfing social networks, vastly increasing the usability of PowerAdSpy and making it work as you are browsing!
Let's check some pros & cons!
PowerAdSpy Review Pros & Cons
PowerAdSpy Review Pros
The filters are extremely useful for refining the search parameters that are relevant to your campaign.
Finding and analyzing sales funnels is incredibly easy, to not mention their call-to-action filter which is extremely helpful by searching for the right one that fits your niche with insight into which actions users are more engaged with.
Having everything all in one place, without having to log in to a separate platform, is another benefit that will appeal to time-conscious advertisers!
PowerAdSpy Review Cons
The free version is pretty limited in its use, and the trials from $7 are a no-brainer!
PowerAdSpy Review Pricing Plans
Whether you are marketing on FB, Instagram, Google, or YouTube, you are fully covered with PowerAdSpy.
The pricing on PowerAdSpy is organized according to tiers and greater access to the 6 social networks will increase in price!
You can choose any plan and pay only for the social media platform that interests you most and where you are running your ads.
PowerAdSpy offers the testing of its features with a free limited plan including up to 20 searches on all 4 social networks.
Apart from the free plan, you can choose from any of the following paid plans:
The price structure is as follows:
Free: Get 20 free searches on Facebook, Instagram, Google, and YouTube with no restrictions on search filters.
Basic: Unlimited searches on Facebook, but with limited options for search filters. Try it free for $1 then pay $49/mo.
Standard: Unlimited Facebook and Instagram searches, excluding lander property filters. Try it for $7 for 5 days then $99/mo.
Premium: This is where the software really starts to shine and you'll gain access to unlimited searches and all available filters on Facebook, Instagram, and Youtube. Start with a $7 trial then $149/mo.
Platinum: Everything in the premium plan, including Google network for $249/mo. Trial for $7.
Titanium: This plan unlocks Native content at $299/mo with a $7 trial.
Palladium: The whole enchilada for $349/mo, including GDN. It also has a trial at $7.
It's competitively priced, but to get the most out of PowerAdSpy's insights and features, you would really need the "Premium plan", especially for affiliates or it won't be possible to access the lander properties filters.
There is the possibility to scale in with flexible plans, according to which networks you most frequently use, and it can surely save on costs!
Power Adspy Pricing
With this spy tool, you have free access to 100 searches during a period of 10 days. The basic plan starts at $49 per month and it goes up to $349 per month. We leave you the pricing table below with all the details:
PowerAdSpy Alternatives and Competitors
PowerAdSpy Review Conclusions
Remember, whether you are a marketer, affiliate, media buyer, eCommerce advertiser, or ad agency, PowerAdSpy can give you a crazy advantage over the competition, and with the inclusion of 6 social ad networks is a feature that sets it apart from the competition, making it unbeatable for social ads marketers who work across multiple ad platforms!
We truly hope our PowerAdSpy Review fully cleared all your doubts and if you're ready to become part of PowerAdSpy .. Sign up now!

Continue reading: Best Affiliate offers for Facebook ads and Scale Facebook Ads campaign


Accelerate your Conversions, Increase your Revenue
with lemonads
---
You would like