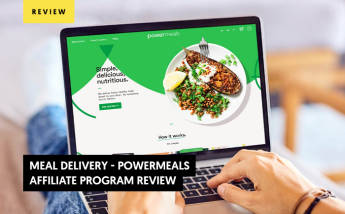 Powermeals Review - Why is this affiliate program a great opportunity?
Powermeals came into the Swiss market in 2020 as a fresh and healthy option of ready-to-eat delivery services. At lemonads®, we are very proud to have the exclusivity of the Powermeals affiliate program.
In this review, we will tell you about their products, how the affiliate program works, and why if you affiliate with it you will make money for sure.
But first of all, if you are not familiar with this type of service, let us begin with the basics.
What are Ready to eat meals?
Just as it sounds, ready-to-eat are meals that have been designed and prepared by professional chefs and nutritionists for consumers to heat and eat at a time of their convenience.
Ready-to-eat services are the ultimate solution for busy homes. We all want to eat healthy and balanced, however, life gets hectic and somehow we put our alimentation in a second plan.
These services make the task of feeding you and your family so much easier and better.
When people subscribe to a ready-to-eat delivery service, they receive at their doorstep, a box with portioned meals in the quantities of the customer's choice. No need to think about what to cook or if you have enough ingredients, or the ingredients alone, to cook something decent. With ready-to-eat meals, you will assure that you and or your family always have a healthy balanced plate of good food at the table.
About PowerMeals
Power meals arrived in the Swiss market with the mission to make healthy and quality eating easy for everyone. They produce home-cooked, ready-made meals labeled "made in Switzerland" out of handpicked locally sourced products designed by top nutritionists and cooked by professional chefs.
How do Powermeals work and how was our experience?
Powermeals offers an amazing user experience that is as simple yet detailed as it gets. It's important to review this so you can understand why your customers will likely convert making you earn good money. We reviewed the UX from A to Z and this is what we experienced.
Users pick their favorite dishes from a weekly menu that it's inspired by worldwide cuisine.
What we especially loved about this very first step was that the user can really personalize the meals:

The first filter "General" lets you decide if you have a dietary preference such as vegetarian, plant-based, meat & fish, etc. the calories amount, net carbs, and proteins! This last is ideal for people following a keto, low carb, or paleo diet for example.
Still, on the first step, the customer can check from a very comprehensive list of ingredients that they don't like or are intolerant/allergic to.
They can also choose the main protein between fish and seafood, lamb, beef, chicken & turkey, eggs and cheese, or plant-based.
As if all these options were not enough, the users can also decide if they want the meals to be eaten hot or cold. This makes it so cool for people who take the meals to the office where there is no microwave or simply for summertime.
Once the customer selects from these filters (or not), Powermeals provides a list of the dishes that not only the client will love for their taste but that adapts conveniently to their needs!
The customer chooses from the list the number of meals for each recipe, which get added to the shopping cart without changing pages and making it annoying as in other ready to eat meal services sites. There's no time to waste, right?
As soon as the clients choose and click on the check out button, they need to fill a simple info card with their name and delivery address. They offer the delivery for free but also some additional services that the user can choose if needed:
Free option: Before 5 pm - Dropped at the building entrance
4.-CHF- Before 5 pm - Carry upstairs (presence required!
11.-CHF-Shipping via Premium - Before 9 am - Dropped at building entrance (Default Monday & Saturday)
15.-CHF-Shipping via Premium - Before 9 am - Carry upstairs (presence required!)
We found these options convenient. For people that work out of home, being able to receive in the morning before leaving is a plus. People drop all the time their online shopping cart for other similar services because they can't provide a convenient delivery time… And for elders, having the option that someone carries the box upstairs is great.
As for the price, If you choose only delivery of 3 meals,  each meal is priced 18,67.- which we found correct for the swiss standards. But if you choose 14 meals the price per meal drops to CHF13.- per meal which is even better!
The delivery was perfect and the meals were amazing! Fresh, well portioned, and delicious.
We know it is important for you to love the products and offers you promote. We guarantee you that your readers or users will love this product.
So now, let's talk about business… right?
Powermeals Affiliate Program
Ready-to-eat meals and meal kits are trending products. If you are interested in promoting a ready-to-eat delivery product in Switzerland, Powermeals is definitely a healthy, well-priced option with a website UX that your customers will love. This guarantees that you will work to earn commissions at the end!
Powermeals Affiliate Program Conditions
Business model: CPS
Payout: 21 EUR
Powermeals and lemonads
We are very proud to be the only network offering Powermeals' affiliate program. If you tend to work only with one network, we suggest that you open up to working with lemonads too. By affiliating with us, you will have access to more offers than you currently have. You can find products that are exclusive to our network and that your competition might not be aware of.
How To affiliate to Powermeals Affiliate Program?
If you are already registered as a lemonads' publisher you can affiliate to Powermeals affiliate program here.
If you are not yet in lemonads this is the step-by-step to a 2-minute subscribing process.
2. Fill in the easy form as a Publisher with your work email, name, a messenger platform where we can contact you like skype, telegram, WeChat, or WhatsApp and your language and click on "create account".
3. Right after you will get a confirmation email
4. Go to your email, open lemonads' message, and click "Complete Registration".
5. After choosing your password you will be taken to few more questions so we can know better about your publishing activity. All this info is with the aim of giving you the most relevant offers available for your vertical of interest.
6. Welcome to lemonads! You have immediate access to a dashboard where you can start browsing the programs available and affiliate to Powermeals' affiliate program.
Conclusion- Why promoting Powermeals?
On your client's side:
Quality: 100% natural ingredients, locally sourced whenever possible.
Convenience: No planning or cooking. The subscription is fully flexible so you can skip deliveries, or cancel anytime.
Taste: Developed by chefs and nutritionists the recipes are varied and full of favor.
Tailored: They cater to a range of diets with low-carb, plant-based, or larger portions available.
On your side as a publisher:
A very interesting commission per sale.
Working with a network that offers a complete range of payout solutions with a weekly cashout possibility when +$€100 in commissions.
If you need some guidance or have any questions, conntact us!
If you are ready to rumble, apply as a publisher on our Affiliate Network.
Accelerate your Conversions, Increase your Revenue
with lemonads
---
You would like