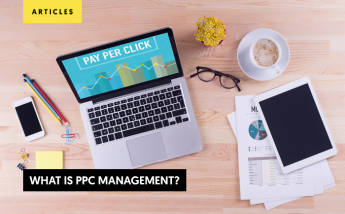 What is PPC Management? For Advertisers
At lemonads, we like to develop ideas from the bottom up. Understanding a concept requires understanding all the parts involved. This article aims to give you a full understanding of PPC management and we will take you from the basics up until you have all the full ideas clear.
Let's start!
What is PPC?
Pay per Click (PPC) is an online advertising model, where advertisers pay every time a user clicks on their online ads. PPC is one of the most effective ways of getting website clicks and done right, it can set you apart from your competition.
What is PPC Management?
PPC management is the process of monitoring and managing a campaign PPC ad spend.
PPC management can be done in-house by the e-merchant or these companies can hire a third party, most times a digital specialist, marketing services, or digital agency specialized in media buy and or PPC management.
If your digital marketing strategy involves PPC, it's very important to do it correctly, simply because PPC done right can set you apart from your competitors. So PPC Management does require time and a set of digital skills. If you want to focus on other parts of the business, paying for PPC management services is a good investment. If you are hands-on with your digital ad spend and want to do it yourself, these are the things you have to learn.
PPC Main objectives
These are the 3 main objectives you should have when working with a PPC model and some tips on how to achieve them.
Increase your return on ad spend (ROAS)

Return on advertising spend is a marketing metric that quantifies how much your business earns in revenue for every dollar spent on advertising.
How to improve your ROAS
Use Target ROAS Bidding
Bid on your branded Keywords
Add Negative Keywords
Optimize your landing pages
Adjust Bids by device
Adjust bids based on time
Adjust Bids based on Geolocalization
Improve the Quality Score of your ads constantly
If you want to learn more, read our article on What is ROAS and how to maximize your return on Ad spend.
Reduce your average cost per click (CPC)

By following the tactics to improve your ROAS you will be automatically decreasing your CPC. CPC is the cost per click and it's the amount of money an advertiser has to pay for every click a user makes. The lower your CPC the more leads you will get with your advertising budget and the lower your cost per acquisition will be.
Control your waste on ad budget and ad spend

Wasted ad spend is a significant problem in the marketing industry. Preventing digital advertising waste means focusing on quality over quantity. This is a major task for PPC managers amongst a list that we describe below.
Tasks of a PPC Manager
Keyword Analysis
It is the process of understanding the words and terms your target customer uses when searching for your products or services online. A keyword analysis is essential in digital marketing and the base of an effective PPC campaign. PPC managers should always start their ad creation by organizing keyword lists and bid on keywords that are relevant to their campaign.
Learn How to find the best Keywords.
Monitoring
PPC monitoring is the act of evaluating and improving the performance of your pay-per-click marketing campaigns. The only way to make sure that your PPC budget is driving business growth is to track and monitor your results.
The Click-Through Rate (CTR) is one of the most closely monitored metrics by PPC managers. To calculate your CTR divide the number of clicks by the number of impressions. A good CTR is a sign that your target audience found your ads compelling and helpful.
Competitive Analysis
One of the magic things about digital marketing is that you can use your competitors as a source of inspiration both for good and for bad. Another major task of PPC managers is to constantly analyze what the competitors are doing, what are their weaknesses, and their strengths. This is not for you to be similar to them, but to find a way to be better by being different.
Negative Wording - Negative Match
PPC management requires not only knowing what words are the most used in search queries when searching your products and or services but also what words are not relevant to your brand while being used on search engines.
If you for example have a dance studio for adults, you might use "kid" as a negative keyword. This will avoid your ad being displayed to people searching for non-adult dance lessons, and in consequence, stop wasting budget on users that will not convert.
A/B Testing
AB testing is designed to optimize the performance of your ads. The main idea is to try different formats of a text ad to see which works better with your audience. The things you can modify from one ad to the other are title, ad copy, or call to action (CTA).
Channel Strategy
Channels in Digital Marketing are the different platforms that you can use to reach your target audience with information about your brand, product, or services.  Every channel can help with very different business objectives. Some are more suitable for certain ages or interests. Knowing what channel to use is a key task of a PPC manager and a very important part of your PPC strategy.
The channels in digital marketing are: Email, websites, organic search (SEO), Paid Search / Search ads (SEM), Mobile, and Display.
The top Channels used for PPC
1.Google Ads
Google Ads is the most popular pay-per-click (PPC) advertising system hands-down. It allows businesses and website owners to show an ad next to searches on Google.com, right when people are looking for what you have to offer.
2. Facebook Ads

Facebook allows you to create your own PPC ads within the Facebook Ads Manager. These ads can be a standard photos, video ads, or carousel ads (amongst other formats) with a compelling copy, a CTA corresponding to your campaign goal, and several links.
3. Instagram Ads
Instagram is owned by Facebook and you can manage Instagram ads from the Facebook Ads manager. What is interesting is that the target and the campaign objectives can be very different from Facebook to Instagram.
You can read this Facebook ads vs Instagram ads article to learn more.
4. Linkedin Ads (especially for B2B)
Linkedin has one of the highest costs per click of all networks. This platform is great for B2B advertising and you can target your prospects almost in full detail. The amount of data about users in LinkedIn is huge. You know where they work, what position they have and almost every move on the company's side. So if you want to target store managers or store owners, you can even define the company's name and the position of the people inside the company… also the geolocalization of these stores you are interested in, which makes your clicks very expensive but with the certainty that you will reach exactly the person you want to see your ad.
5. TABOOLA
Taboola & Outbrain both offer advertisers access to some of the biggest and most visited websites in the world. Amongst them, NBC News, CNN, The Guardian, Mashable, Business Insider, Bild, Bloomberg, Le Figaro, MSN, The Independent, and The Weather Channel.
6. Bing Ads
Microsoft Advertising (Bing Ads) is a pay-per-click (PPC) advertising system. You bid based on how much you are willing to pay per click on your ad. When your PPC advertising campaign through Bing, your ads are also displayed on Yahoo and Microsoft Network Partners. Bing counts around 10 billion searches per month.
7. RevContent
RevContent's platform provides advanced targeting options for marketers, in order to grow audiences and increase sales. It partners with top-tier media brands.
Conclusion
PPC is a very efficient model in digital advertising and when it is done correctly it can help businesses increase their conversion rates. The optimization of PPC ads is the core task of PPC management and by it, they help the ad rank better on search engines.
Being in charge of PPC is not only creating a simple ad and launching it. It requires beforehand study of keywords, competitors and choosing the right channels plus constant monitoring to ensure the best performance of the ads and the less as possible budget waste.
If you want to receive notifications for tailor-made blog posts for advertisers, don't forget to subscribe to lemonads blog.
Accelerate your Conversions, Increase your Revenue
with lemonads
---
You would like