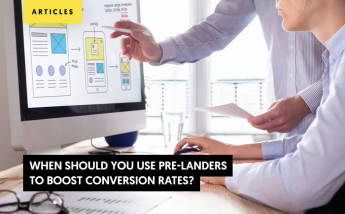 When Should You Use Pre-Landers to Boost Conversion Rates?
Affiliates have a wide variety of tools available to help them build campaigns that convert.
Some of these resources, like competitor analysis tools, are extremely complex and represent a relatively big investment. However, some of the most powerful adjustments you can make are very simple and they can exponentially improve the performance of your campaign. For instance, strategically placing pre-landers before the offer page.
Pre-landers can have a great impact on the results you get from the traffic you acquire. But, like any other tool, you need to know how to use pre-landers, understand their downfalls, and take precautions to make sure they work exactly how you want them to.
In this article, we'll briefly define pre-landers, go over their pros and cons, and tell you when you should use them to boost your conversion rates.
What's a Pre-Lander?
In their simplest form, pre-landers are pages that appear before the offer is presented to prospects.
Offers usually have their own landing pages (or landers), so pre-landers are designed to warm up customers and prepare them for this part of your conversion funnel. So, the users that make it to the final offer page will be more likely to complete the conversion as they will know exactly what to expect after the pre-lander.
If implemented properly, pre-landers limit the number of people that see the offer landing page. But, while this may not sound positive, sending only ultra-interested users to the offer page results in much higher conversion rates and better engagement metrics.
What's the Difference Between Mobile and Desktop Pre-Landers?
Mobile users already constitute the most common type of internet traffic at a global scale, so developing pre-landers for smartphones and other devices can bolster the performance of your ads.
But, remember that users on mobile behave differently than on desktop devices. You need to consider these nuances and make sure that your mobile pre-landers are designed to fit properly on different screen sizes. Additionally, survey the industry and make sure that the user experience will not be disrupted by adding a step to the buyer's journey.
Landing Pages vs. Pre-Landers
Although implementing pre-landers is a great idea, many affiliates make them look like a second landing page and this may yield mixed results. Landing pages are designed to push conversions and get users to provide personal information, credit card details, and other data. Therefore, a landing page features numerous call-to-action (CTA) buttons that prompt users to complete the conversion.
Pre-landers, on the other hand, are meant to be informative in the sense that they give information about the product and tell users what steps they should take once on the offer landing page.
Pros and Cons of a Pre-Lander
One of the keys to succeeding as an affiliate marketer is to focus on quality and performance. Pre-landers are great resources because they can boost your metrics and teach you what type of user has a higher chance of conversion with your content.
Not only this, but these dedicated pages also tend to keep users informed and produce a better user experience by letting prospects decide whether they want to see the offer page or not.
But, pre-landers are not perfect. Let's take a look at some of the pros and cons of implementing pre-landers into your campaign.
Pros
The pros of using a pre-lander in your campaign include:
Improved CTRs
Higher conversion rates
Empower users
Enhance engagement
Smoothly transitions users from informational to commercial content
Lower landing page bounce rate
Scalable
Applicable to multiple vertical and offer types
Highlights potential areas of improvement
Cons
Pre-landers are outstanding additions to most campaigns. However, there are some scenarios where these additional pages don't always boost performance as well as other disadvantages you need to keep in mind. These include:
Not always allowed by merchants
Extensive testing is required for long-term success
Considered an advanced tactic for experienced affiliates
When Should You Use a Pre-Lander?
As a general rule of thumb, pre-landers tend to perform well when combined with a variety of industries. Remember, pre-landers add an extra step to the buyer's journey. So, if you're working with a vertical that already struggles to keep users engaged throughout the conversion flow, then pre-landers may not be the ideal option.
Keep in mind that Nutra, finance, gambling, dating, and electronics offers tend to produce great results when mixed with pre-landers. But, we've also noticed that mobile content and gaming don't usually bode well with an additional page in the conversion flow, so we'd advise against it.
Additionally, some of the scenarios you want to use pre-landers include:
Promoting Multiple Offers
If you're running a traditional affiliate page and you're promoting several offers at once, you probably attract a lot of traffic. But, it's common for users to get confused and click on the wrong parts of your page when trying to access and navigate sites that have a lot of content.
Landing pages can help ensure that only relevant segments make it to each ad, thus boosting your conversion rates as well as other important metrics.
Receiving Lower-Quality Traffic
Everyone wants to work with high-quality traffic and there is certainly enough of it available. Nonetheless, some affiliates are forced to work with traffic that's less-than-stellar in quality. In these cases, implementing pre-landers can help you filter a large percentage of uninterested users and enhance the performance of your campaign without having to switch providers.
In case you're running retargeting campaigns, pre-landers also offer a great option to improve the results from your campaigns that aim to monetize users who've been on your site already.
Attracting General Traffic
Some websites are great at attracting high-quality traffic, but this doesn't necessarily mean that these visitors are from the right demographic. Affiliate sites that attract traffic from all niches should implement pre-landers to help users understand where they are being redirected.
Besides improving user experience, this can also help affiliates understand the most profitable audiences and the content that keeps these users engaged.
Working with an Offer Has a "Friendly" Conversation Flow
Offers that have an aggressive landing page or overall conversion flow don't really need any help in terms of assertiveness. However, if you're participating in a program that has a "friendlier" flow, you can always usher visitors in the right direction and increase the number of conversions your campaign is generating through a pre-lander.
Remember, there is a fine line between informing users and coming off too strong, so always stay on the moderate side and change your tone gradually over time.
How to Create a Pre-Lander that Benefits Your Campaign
Now that we've discussed the best scenarios to implement pre-landers into your campaign, it's time to go over the steps to successfully deploy these tools.
In addition to a solid structure and reliable hosting, your pre-landers need to feature an attractive design that entices users and fills them with confidence. Moreover, some of the essential steps you need to take to successfully implement pre-landers include:
Test, Test, Test!
Developing a brand new pre-lander is much more complicated than optimizing an old version because there is no starting base. For this reason, carrying out a full range of comprehensive tests during the early stages of your campaign can shorten the learning curve and help you find a winning combination right from the get-go.
Keep Symmetry and Other Aesthetic Element in Mind
The transition between the ad and your pre-lander should be just as seamless, if not smoother than the transition to the landing page. To achieve this, you should maintain symmetry throughout the conversion flow by choosing the same title for your pre-lander and the ad. This feeling of consistency will instill confidence in users and encourage them to stay receptive to your ad's message.
Develop Relevant Content
Besides disgruntling users, affiliates that create irrelevant pre-landers to attract high volumes of traffic to their offer pages are actually behaving unethically. This technique is a type of bait switching, which can get you penalized by networks as well as advertisers. To avoid this, you should only craft pre-landers that are relevant to the offer and the users you're trying to attract.
Implement an Intuitive Design
Another major mistake that some affiliates do is thinking that simply placing another page before the landers will improve their campaign. However, the pre-lander is a unique page that users analyze as part of the overall conversion flow. If the design elements are not right or if the page features low-quality content, users will not respond well.
Affiliates that take the time to implement an intuitive design exponentially increase their chances of developing an effective pre-lander. That said, make sure that the content is also up to scratch as poor quality copy and imagery can cause the wrong impression even if your site has a great design.
Include Powerful CTAs
The CTAs you choose should tell users what steps you want them to take during each step of the conversion flow. With this in mind, make sure that your CTA buttons are not repetitive and that they contain powerful verbs that encourage users to trust your ads and follow your instructions.
Ensure a Fast Loading Speed
We mentioned hosting briefly previously, but this is an essential part of the performance because it affects the loading speed of your pre-lander. As a general rule of thumb, you need to ensure that your pre-lander loads in one second or less to minimize the friction in terms of added conversion steps. If not, you run the risk of creating a gap and seeing a large portion of your users leave your sales funnel, which in turn would hinder the profitability of your campaign.
Find Out More About the Best Techniques to Boost Campaign Performance
There is no denying the fact that pre-landers can significantly improve the performance of your campaigns, but these tools need to be implemented in an organized way. Our article above aims to help our readers understand pre-landers and identify the best scenarios to use these resources.
Follow our blog if you want to learn more about the best techniques to boost the performance of your campaign. Interested in finding the best affiliate programs? Contact lemonads today and our team will be glad to help.
Accelerate your Conversions, Increase your Revenue
with lemonads
---
You would like