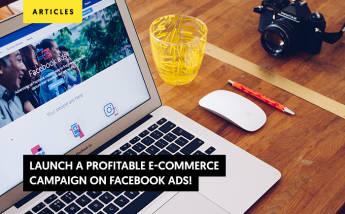 Launch a Profitable e-Commerce Campaign on Facebook Ads!
Are you wondering how to launch a profitable e-Commerce campaign on Facebook Ads? Do you already have an e-Commerce campaign on Facebook Ads, but you want it to become more profitable with excellent ads?
In this article, we will give you all the insights for your e-Commerce campaign to gain a profitable income through Facebook Ads in 2020!
Don't worry, we've got you covered!
Let's see what you "Must know" and "How To" launch a profitable e-Commerce campaign on Facebook Ads:
1.  How to Advertise on Facebook;
2.  Facebook Ads to master your e-Commerce campaign;
3.  E-Commerce campaign on Facebook Ads: strategies that convert;
4.  Launch a profitable e-Commerce campaign on Facebook Ads
1. How to Advertise on Facebook
Social media is constantly changing its algorithms to personalize what users see in their feeds, and sometimes it's hard to understand how to keep up with the competition!
What is new today might not be tomorrow and, as for businesses, it has become harder than ever to increase profitable incomes, especially through social media.
So, what should we do?
It has become necessary to pay to play! But what do we mean by this?
Well, in a word: advertisement!
Advertising has risen as the most powerful and influential approach to multiply conversions and move your potential customers through sale funnels.
This is how these platforms are making money and we're here to show you how you must do it right.
Why through Facebook Ads?
Facebook has turned into the world's biggest social network worldwide with its 2.6 billion monthly active users
Let's discover how to score Facebook Advertising ROAS (return on ad spend):
Set up your Facebook business account.
Determine the campaign type you want to run, either cold traffic campaigns or re-marketing campaigns.
Determine the customer awareness stage you are targeting, either awareness, consideration, or conversion, as outlined by Facebook's ad manager.
Determine your ad format, either single image, video ad, carousel, or collection.
Choose your targeting based on Facebook's options, including interests and brands, life events, age and gender, specific location, specific language, or lookalike audiences.
If running a lookalike campaign, download a list of your best customers from BigCommerce and upload it into custom audiences for a highly targeted lookalike campaign.
Build out your creative Facebook Ad
Determine overall budget and your return on ad spend KPI (Key performance indicator).
Track and measure results using the Facebook pixel and a custom conversion.
Monitor the campaign and optimize to hit your desired ROAS (Return on Ad Spend). You may need to update ad creative or targeting criteria.
You can build your Ads in Facebook's Power Editor, but it could be a little more complicated, especially if you're doing testing and you have several variations.
No worries … there is a solution for this!
Several excellent Facebook Ad building tools will help you create, test, and schedule your ads quickly and efficiently.
Top 4 Facebook Ad building tools:
- AdEspresso is one of the most amazing leading Facebook ad creation platforms where you can create multiple variants for testing. It was actually the reason it was set up in the first place but, since then, they've implemented it with so much more!
Now, you can even do:
Scheduling
Tracking
Ad management
Analysis
AdEspresso also integrates with several other platforms like MailChimp, AdWords, and many more.
- Canva is a general image builder, but it has many templates for social media platforms, including Facebook Ad templates.
You can create multiple variations of your images to test.
Canva also includes a large image library (some of which are free but for some others you might need to pay for), so you can grab a compelling image for your Ad.
- Qwaya also lets you easily create multiple Ad variations, including schedule delivery of your ads with analytics tools, allowing you to have more control over your split tests, thanks to its Ad rotation tool, and lets you set up rules to control your Ad spend.
- Wave.video is where you can create amazing Ad videos, customizing them with Call to Actions (CTA), click below on links, add music, backgrounds, pictures and so much more, all-in-one!
Now, let's dive further into mastering a profitable e-Commerce campaign on Facebook Ads!
2. Facebook Ads to master your e-Commerce campaign
Let's master how to run an e-Commerce industry and make your audience aware of your brand, for them to be engaged with it!
Let's start to take a look at your funnel, from awareness to consideration to transaction.
Once you figure out where the advertisement falls within that funnel…what is the goal of your Ad?
Traffic, Conversions, or Brand awareness?
The goal of your Ad should directly impact the copy, image, and message you send out. If you don't have a direct goal for your advertisement, your ad will not obtain what you want in the first place, making you waste time and money.
There's so much more to Facebook Ads, they not only allow you to reach targeted traffic to your site, but for E-commerce businesses, you can use them at any stage of your sales funnel!
Before checking into which Ad we can create, let's check the "Must know" about how to make the Facebook Ads of your e-Commerce campaign profitable, to reach your audience!
Images to use in your ads:
The pictures should be bright, very colorful, and eye-catching.

Avoid images that are the same colors as Facebook (blue and white) because they can blend in, and users won't notice them.
Try to incorporate images of happy people. It's even better if they are actually shown using your product.
Typically, pictures of women perform better than photos of men.
Make sure you choose an image that is the right size for the ad type you've selected.
Facebook Pixel for your website:
Why? So you can see Facebook customers' actions on your website and this will help you in creating ads that will directly target your customers.
Use the "interests" section to target your audience:
80% of people on Facebook are there to socialize, keep in touch with loved ones, and usually not to shop, but this doesn't mean they won't.
This is important for your product to get results from your audience. If you target the wrong audience, it's going to be impossible to drive conversions.
Also remember, if you're selling a niche product, the "Interests" field is crucial!
Be more specific as possible and you will reach a wider target!
Create custom audiences for those who have already noticed you!
Now, let's see which type of Facebook Ads will do just right for your business:
·  Picture Ads: these ads are presented in a single image form. They're relevant images that create a really strong impact on users, making them understand your eCommerce Facebook Ads in one glance! Of course, you could also use more than one picture by using the slideshow, carousel, collection, and instant experience Ads.
·  Carousel Ads: as we said before, these are part of the picture Ads, but give you the chance to present more than one picture or video in just one Ad! In fact, you are allowed to add up to 10 images or videos and you can easily slide to the right and check them one by one!
·  Collection Ads: these give your business away in presenting your collection the best way possible by having an image or video on the top and a small preview underneath. This gives your audience the possibility to view your product full-screen! A high user experience that allows them to slide through your catalog product image with a more interactive and detailed ad.
·  Slideshow Ads: this ad format is similar to Carousel Ads but shown as a form of slides. It's a full package! You can insert text, videos, images, and sound as well! Users are very easily attracted by the sounds and this is a good way for your audience to draw attention to your ads and get to know all about your brand!
·  Instant Experience: this is the best option if you want to enhance the shopping experience of mobile users. It allows you to highlight and grab good responses for your brand!
·  Video Ads: These ads add more visual appeal to expand your reach and increase your engagement. Video Ads promotion gets conversations quickly and they can be created directly from the home page or by using the advertising tools such as business manager or Ads manager.
The above mentioned are all the basic types of Facebook Ads that you can run to attract your audience with a specific purpose.
This encourages the users to take the action of their choice.
It's all about Engagement, Brand Awareness, Video Views, Conversion, and Traffic, so to increase brand awareness, your reach, traffic, and drive your audience to visit your store!
Get benefits through Facebook Ads for e-Commerce with AdsTriangle!
This is where you want to start!
Their case studies show how they can improve and increase your conversations and clicks boosting your online sales!
Why is it beneficial for your business?
It's all about cost-effectiveness, boost revenue, being well targeted with your PPC Ads, and delivering faster results!
Now, let's improve your strategies!
3. E-Commerce campaign on Facebook Ads: strategies that convert!
Since Facebook sells user's data to advertisers, growing an organic audience on social media platforms has become more difficult but not impossible.
While social media platforms might look simple and fun on the outside, the reality is that each one is an authentic business and, to reach your audience, you need to invest.
Not only 2.95 billion people were using social media in 2019, but it's actually estimated to increase to 3.48 billion in 2023 worldwide and users are keeping using these platforms regularly.
And, 90% of social media users are on Facebook –– which is significantly higher than the other platforms!
In other words: this is the fastest way to reach your target audience!
So, which is the strategy we must follow to have a profitable e-commerce campaign on Facebook Ads?
The biggest strategy is to know when to post our Facebook Ads!
Statistics show that the highest traffic to reach your audience occurs during mid-day on Wednesdays and Thursdays, between 11 a.m. and 2 p.m.
Following times and days can really impact the engagement of your eCommerce Facebook Ads to be more profitable!
A WordStream study calculated the average cost per click (CPC) for a Facebook Ad across all industries and found $1.72 to be the benchmark number.
Knowing the CPC (cost per click) can really help you understand how much you might need to spend on Facebook Ads to get a good ROI.
For a profitable e-Commerce campaign on Facebook Ads make sure:
1.  You score your brand recognition
2.  Identify your niche audience
3.  Retargeting
4.  Target users who abandon the chart to fish them back in!
5.  Lookalike audience
6.  Lookalike audience overlapping
7.  Upsell to increase the sales
8.  Target the Subscribe-Audiences
9.  Entice audience with offers in your Ad
10. Quality and content
11. Audience behavior to increase CTR
Take a look at this case study from SEMrush in order to find the best ways to Create Your Facebook Ads Strategy for your e-Commerce campaign!
Earn the trust of your audience and make sure you target your audience: let them know what you do, who you are, what you offer, and how you can help them!
4. Launch a profitable e-Commerce campaign on Facebook Ads!
As we said, you have to earn people's trust before trying to sell them your products or services, so create your Facebook Ads throughout the year setting yourself different goals:
Start from a Like campaign to get your audience interested in your brand (Facebook Audience Insights can help you a lot); you have to add real targeted fans to your page. Even 5€ per day will show great results!
Promote Videos throughout the year, especially before you launch your products or services sale. Your goal is to get people engaged watching your videos, especially for those who ask for more information about your brand that wants to know what you do or sell. If you don't have any, it's time you start creating them! When creating your campaign's audience, you need to type your brand name's competitors in the "Detailed Targeting" section just as shown below.
This will show your Ad to people who're interested in your competitors' activities!
Now you know all about how to launch a profitable e-Commerce campaign on Facebook Ads!
Accelerate your Conversions, Increase your Revenue
with lemonads
---
You would like