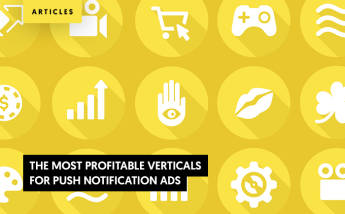 The Most Profitable Verticals for Push Notification Ads in 2022 and Beyond
Although push notification ads only came into the spotlight a few years ago, this format has become one of the best alternatives in terms of performance and revenue production.
Thousands upon thousands of campaigns have taught us that push notifications are suitable for almost all verticals because they engage the audience like no other format. With that in mind, there is no question that some industries are more suitable for push campaigns, so knowing which verticals produce the best results can be a game-changer for affiliates.
At lemonads, we partner with world-class advertisers that want to promote their products using effective methods like push notifications as well as publishers that acquire the highest-quality traffic. Our team is extremely familiar with push ads and the verticals that produce the best results when paired with this type of advertising.
In this article, we'll go over the most profitable verticals for push notifications for this upcoming year and beyond. Plus, we're going to cover some of the benefits of push ads and give you tips on finding the best push offers.
What Are the Advantages of Push Notifications?
Before going over the top industries for push, let's take a look at some of the best benefits of this super bad format.
For starters, push ads can be displayed on desktop as well as mobile devices, so they allow you to target any type of ad. Most users receive dozens of notifications on their smartphones and other devices every single day, so it's become a common occurrence that's not associated with advertising.
In addition to the above, some of the biggest benefits of push notifications include:
Fraud-Free Form of Traffic
It's no secret that cybercrime is on the rise, but push notification fraud is particularly hard to achieve because spoofing consumer behavior is particularly hard with this format. Creating a false subscription to a push notification provider is difficult from a technical perspective. The result has been refreshingly low fraud rates, highly engaged users, and an extremely profitable ad format.
With the above in mind, remember that some fraudulent parties may attempt to sell other types of ad formats as push notifications, so media buyers need to pay close attention to the sources they work with.
A Format that Still Captures User Attention
Push notifications are presented to users in the same way as other device and application alerts. This is because push providers always adapt their technologies to suit new devices and appear exactly like other notifications, keeping audiences engaged even after the release of new devices.
Moreover, some push notification providers now allow you to place small thumbnails and other rich media elements that help improve ad functionality and overall user engagement.
Risk-Free Pricing Model That Allows You to Reach Millions of People
There are billions of push notifications served to millions of users every single day, so publishers and advertisers that take advantage of this format can reach a global audience at a competitive price. And, depending on the pricing model that advertisers choose to work with, push notifications are a risk-free model that only requires payment when users reach their landing page.
That said, remember that the CPC rates will vary from one country to another. It's safe to assume that higher tier countries have higher CPCs, but advertisers should always verify potential costs with the push ads network before launching a campaign.
The Most Profitable Verticals for Push Notification Ads in 2021 and Beyond
Although they are dynamic enough to be applied to almost any scenario, push notifications tend to work extremely well with a handful of ad formats. This is mostly because the ad's message is presented using concise language and delivered in a non-aggressive way. And, since this format also creates a stronger emotional bond, it's perfect for audiences that react well to personalization.
Some of the most profitable push notification verticals for the rest of the year and 2021 include:
Cryptocurrency and Finance
Cryptocurrency is one of the least established verticals in affiliate marketing. But, as such, it's also the one that has the most potential for sudden exponential growth.
Consumers who are looking for new crypto platforms tend to appreciate personalized insider tips, so you can use this approach to deliver your marketing message through push.
As for banks and other established financial service providers, push notifications also pose a great solution that can help them deliver a tailored message without coming off as too aggressive.
Sweepstakes, Coupons, and Freebies
Everyone loves a good freebie, but consumers now suspect that these promotions come with strings attached when this is not usually the case. Push notifications are a great way to offer a free product, coupons, sweepstakes opportunities, and other promotions designed to engage potential customers.
To achieve the best result, you need to provide information about the sweepstakes, coupons, or freebies in your ad without misleading users. Your best bet is to take a more casual approach and work with offers that require user opt-in to register a conversion.
Gambling, Casino, and All Forms of Betting
The gambling, casino, and betting industries have experienced mixed results since the beginning of the global health crisis. Online gambling platforms saw a sharp rise in activity, whereas sports betting didn't perform nearly as well as possible, for obvious reasons.
Some affiliates have been able to adapt by reading the trends, shifting to esports betting or similar industries, and leveraging effective ad formats. Push notifications are ideal because they deliver low-key messages that don't trigger any negative reactions in users.
Health, Beauty, and Nutra
While the global health crisis has harmed most verticals, some industries are experiencing a boost in performance. The health, beauty, and nutraceuticals industries are among these lucky verticals.
In simple terms, consumers are now more focused on their health than in prior decades. Affiliates that work with supplements, natural beauty enhances, and similar products can employ push notifications to send out short, personalized messages that hit directly on the audience's pain point.
Ecommerce
The eCommerce vertical usually performs well regardless of the ad format used. With that in mind, eCommerce push notification ads tend to produce stellar results because it combines the exciting products being sold online with one of the most innovative ways to deliver your marketing message.
Push notifications can be casual, but eCommerce affiliates use these alerts as direct sales channels to boost the results they get from their online stores.
Mobile Games, Utilities, and Subscriptions
Consumers trust personal recommendations almost as much as their own first-hand experience. This is one of the reasons why push notifications are a great option to promote subscription, utility, and entertainment mobile apps.
When consumers receive a push notification that looks like a casual message from a friend it's much easier to suggest a game, mobile utility, or subscription service without sounding too direct. However, you need to make sure that your push delivers valuable information about the landing page, which can be tricky in this vertical.

The gaming audience has expanded now to include not only consoles but mobile devices too, which makes the gaming niche – generally speaking –  one of the more competitive affiliates marketing niches.
News and Entertainment
Political instability, misinformation, and global events that affect every country have pushed consumers to find reliable news through paid platforms. This has opened a world of opportunity for affiliates, especially marketers working with push notifications.
News and entertainment offers are now among the best to promote through push notifications because people are more susceptible to the idea of paying for these services. However, creating pushes for these is a unique process because these creatives can be more direct, so make sure to adjust your approach to get the best results.
Where to Find the Best Push Offers
Media buyers, publishers, and other affiliates can form direct partnerships with advertisers that want to promote their goods or solutions through push campaigns. However, finding these offers can become a time-consuming task in its work right, let alone testing and vetting every option until you find the best alternative.
Fortunately, you can also turn to affiliate networks like lemonads, which create partnerships with the best advertisers to house all the top offers in one single place. Our collection of push notification offers is ideal for affiliates of all sizes, so get in touch with us today and create an account to get started.
How to Build a Successful Push Campaign
Producing engaging ads is just one of the many ingredients for a successful push campaign. All affiliates are different, so the approach used by another marketer may not yield the same results when applied in your circumstances. Simply put, you need to create a tailored strategy designed specifically for you if you want to succeed with push ads.
Some of the general steps you'll need to take to achieve the right results include:
Carefully Choose Images and Icons
Push notifications are relatively simple ads with a limited amount of space, so you need to choose every single element wisely. Start by checking if you can add emojis or images, then make sure to choose creative elements that will help you achieve your goals.
Create a Powerful Copy for Each Ad
All push notification ads contain text copies, so you need to write engaging materials that entice users to complete the conversion you're looking for.
Analyze Competitors and Test Your Creatives
Finally, you should learn from the leading companies by analyzing competitors and figuring out what techniques they're using. Then, you can develop a tailored plan and test your creatives to determine which ones yield the best results. There aren't that many elements to test, so the good news is that you should be able to develop a winning ad in a relatively short time span.
Notable Push Ad Networks
Find Out More About the Best Verticals for the Hottest Ad Formats
Affiliate marketers have a huge collection of effective ads at their disposal, but this doesn't make the campaign creation and management process any simpler. We hope the tips above allow you to choose the best verticals for your next push notification campaigns.
If you want to find out more about the best verticals or how to work with lemonads, contact us today and our team will be glad to help.
Accelerate your Conversions, Increase your Revenue
with lemonads
---
You would like