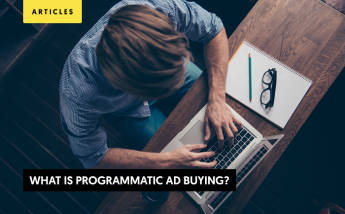 What Is Programmatic Ad Buying? The Complete Beginner's Guide 2021 and Beyond
The value of the programmatic advertising industry was estimated to be around 130 billion US dollars in 2020. According to projections, this number will exceed $155 billion by 2021, making it one of the most popular forms of advertising available. Not only this, but this form of marketing is available in major markets like Japan, the US, and the UK, so the widespread adoption of programmatic shows no signs of slowing down.
While it can be used in a variety of contexts, programmatic ad buying has become an essential part of the affiliate ecosystem. Affiliate marketing is a form of advertising where companies (advertisers) form partnerships with independent digital marketers (affiliates) to promote products and services. At lemonads, we specialize in helping advertisers find the top marketers and promote the best programs, so our team has firsthand experience with programmatic marketing and how it works.
In this article, we will cover the definition of programmatic advertising, how this type of buy ad method works, and the role that different stakeholders play in the ecosystem.
What in the World Is Programmatic Ad Buying?
In simple terms, programmatic advertising is a promotion mechanism that allows you to purchase digital ad space in real-time throughout the internet with the help of artificial intelligence (AI) and machine learning. Rather than going through traditional negotiations and working with pre-set prices, programmatic advertising allows content publishers and website owners to sell ad spots at the best price. The cost is calculated by complex algorithms and ultimately influenced by the ad demand, time of day, ad type, user location, and hundreds of other variables.
Programmatic advertising technology is used in a wide variety of online promotion channels, like mobile, display, video, social, and banner ads. Even though this type of advertising was only used by large brands, the development of independent programmatic tools and third-party platforms have made this technology more accessible. Today, media buyers, advertisers, and other stakeholders can implement this type of advertising without putting a massive dent in their overall budgets.
How Does Programmatic Ad Buying Work?
The programmatic advertising ecosystem consists of a few different stakeholders, but the two main players are content publishers and the entities that want to purchase ad spots on the internet. In its simplest form, the programmatic ad buying flow looks something like this:
A user accesses a website, app, or similar platform
The publisher puts out the ad impression order, which resembles an auction
Advertisers, media buyers, and other stakeholders place their bids
The stakeholder that won the auction gets to display an ad
The ad is served to the user, and if engaged, the user clicks on the ad
Even though the process has to follow all of the steps above, remember that this occurs in a split second. The AI and machine learning technology decide what the ideal bid is, how much each stakeholder offers, and who wins the offer. Depending on the publisher or ad network, the winner of the bid may be decided by the highest amount or through a complex calculation that includes variables like landing page quality.
The Role of DSPs and SSPs
Demand-side platforms (DSPs) and supply-side platforms (SSPs) are two essential parts of the growing success of programmatic marketing. These platforms work together to create a link between publishers and the entities that want to purchase their traffic.
Demand Side Platform DSP s are used for media buying by media buyers, advertisers, and other stakeholders that want to purchase the ad spots. Side platform SSP s, on the other hand, are the tools that publishers and website owners leverage to send alerts whenever an ad can be served. DSPs and SSPs can come in a variety of forms, ranging from customized platforms to cloud-based tools that are only compatible with other specific tools.
Are There Different Types of Programmatic Ad Buying?
It's important to understand that there are different forms of programmatic ad buying. Programmatic advertising is an umbrella term used to describe a mechanism that employs AI, machine learning, or a similar piece of technology to automate the way ads are sold. But, this term is relatively open, so publishers and advertisers can opt for different ways to implement this tool.
For example, many forms of programmatic advertising only allow for the buying and selling of bulk ad inventory. Therefore, publishers and advertisers that want to perform transactions at the interaction level need to implement real-time bidding (RTB), which is a type of programmatic marketing in itself. The most successful stakeholders often leverage a combination of RTB and other forms of programmatic to get the most bang for their buck and produce the best result.
Benefits of Programmatic Advertising
Type caption (optional)
Programmatic advertising has a wide range of benefits, starting with the fact that it's more cost-effective for all parties. Advertisers and similar stakeholders can often purchase more inventory because the price of each impression or bulk is adjusted based on the time of day and similar variables.
As for publishers, having an automated process that helps them monetize their inventory makes it easier to find buyers while ensuring that the top spots get top dollar. Besides, website owners and similar publishers can ensure that all of their premium inventory is sold and get more from the traffic they generate.
Additionally, some of the benefits of programmatic ad buying include:
Wider Reach
Programmatic ad buying can improve reach for both sides of the equation.
For advertisers, programmatic advertising can become the last piece of the puzzle to achieve sustainable growth. This is because programmatic advertising solutions usually support multiple platforms, giving advertisers the ability to work with tens of thousands of websites and countless spots at affordable prices. Plus, instead of creating more materials, all of these stakeholders can grow their campaigns by simply increasing their budget.
As a publisher, you can also experience great benefits as this form of advertising can help broaden your potential customer base and increase demand for your ad spots. Higher demand translates to more expensive ad spots, which can increase profits across the board.
A More Transparent Setup
One of the unsung benefits of programmatic is that it creates a more transparent structure for all stakeholders. During conventional negotiations, publishers can attempt to mislead advertisers or massage their website metrics to seem more appealing. Likewise, advertisers can attempt to use false leverage, like ensuring they found a better deal elsewhere.
The good news is that programmatic technology gives both parties access to data about placements, activities, costs, and other variables to create a transparent environment.
Intricate Metrics
Click-through rate (CTR) is a basic metric that's available for almost all types of online advertising campaigns, including programmatic buys. That said, this is not a real key performance indicator (KPI) because having a high CTR can be extremely misleading. Fortunately, programmatic ad buying can unveil a huge amount of information like conversion rates and other impactful metrics, so make sure to use these to your advantage come optimization time.
Real-Time Data Analysis and Insights
Even though it's difficult to use effectively, it's important to understand that programmatic provides a breakdown of the information collected in real-time. The reason for this is that making several changes based on real-time information can disrupt the campaigns in place.
That said, both advertisers and publishers can see information in real-time thanks to this feature, so they can detect any anomalies in the traffic before the optimization.
Powerful Targeting
Programmatic advertising supports many different targeting options, which is the reason why many DSPs and similar providers allow for advanced filtering. This includes targeting by location, interests, age, gender, location, searched keywords, and similar options.
Is Programmatic Advertising Being Adopted By All Businesses?
Many business owners are not aware of the fact that programmatic marketing now makes up around 88% of all digital display ads. This year, businesses and media buyers will spend a whopping 81 billion US dollars, which makes up 87.5% of the entire digital advertising display ad spend.
Although it was often left for large enterprises, programmatic advertising is now accessible to businesses of all sizes, so it's safe to assume that this form of marketing will keep growing. That said, stakeholders that implement this technology before the marketing is officially saturated will always hold an upper hand in comparison to more recent abiders.
Programmatic Advertising Costs and Publisher Profit Margins
Programmatic advertising is mainly used in display advertising, which means that the traffic is sold in a cost-per-1000-impressions model. Also known as cost-per-mille (CPM), this approach sells off impressions in sets of 1000. Again, the price can vary based on the platform and other variables, but in most cases, the price per 1000 impressions is somewhere between $0.50 and $3 depending on the source.
As for publisher profit margins, programmatic ensures that publishers are selling their inventory at fair, yet competitive prices. With this in mind, publishers need to find the right partner or custom DSP to keep operating costs low.
Integrating Programmatic Ad Buying Into Your Current Strategy
As an advertiser, including programmatic ad purchasing into your marketing mix, can be challenging, especially if you don't have experience with similar forms of promotion. Learning how to use the programmatic platform itself is important, but the most essential part of deploying a superb strategy is partnering with publishers that provide the best traffic.
Rather than putting pressure on your internal team, you can also partner with affiliate networks like lemonads, which focus on attracting the top publishers and connecting them with leading advertisers across different industries. To learn more about working with our team, contact us today and our team will be glad to help.
Ready to Leverage the Power of Programmatic Advertising and Affiliate Marketing? lemonads Is Here to Help
It doesn't matter if you're a publisher trying to scale your platform or an advertiser looking for the best traffic, programmatic marketing is a superb alternative that can improve the results you get across the board. That said, you should take your time and find a partner that handles your affiliate interactions so that you can focus on the areas of your project that boost your revenue.
To learn more, contact lemonads and our team will be happy to assist!
Accelerate your Conversions, Increase your Revenue
with lemonads
---
You would like